Posted in: Applications,Ideas for your websiteLast update: 04/08/22
A poll is a great way to gain access to your followers. You can engage with them, learn about their opinions and also receive feedback. Here is how to use a poll maker to increase engagement on your social media profiles!

What is a poll maker and how does it work?
A poll maker allows you to create custom-built polls across your social media networks.
The poll maker offered by Easypromos allows you to fully customize your quiz. Starting with your desired number of questions, colors, images, text, you name it! You can fully personalize the promotion to match your corporate image for extra brand exposure.
Once your poll is ready, you can share it on your social media pages. Another way to disseminate it would be embedding it on your blog or website. Sharing the promotion link in your newsletter is also a great idea! Take a look at this example from a Spanish clothing-retail company that decided to communicate their Valentine's Day promotion through their newsletter.
As already mentioned, the Easypromos survey app is fully customizable! Apart from the appearance aspects, you can also determine many other things. Decide when the promotion starts and when it ends! You can choose the exact hour of the day, and you can run it for one day, or as long as one month, or more! This fully depends on you, and the number of responses that you want to collect from your followers. Once the poll is finished, you can then receive your final results and begin to analyze the information.
An online branded poll can be a great tool to discover your audience's preferences and likes, and also to receive customer feedback and opinion on your brand, products, and services. It can also be used as your decision-making tool when you want to introduce new ideas. Let's break it down!
Branded polls to receive customer feedback
Polls are a great way to gain data from your online community. This can be regarding their likes or dislikes, preferences or general feedback related to your brand, products or services. This is great for customer satisfaction and also for you to understand what you can improve.
The Easypromos survey is easy to use for any follower, no matter whether they're tech-savvy or not. Also, this kind of promotion guarantees some results. Receiving feedback from your followers is a great way for them to feel engaged with your brand. It also makes users feel valued and appreciated, especially if you take the time to listen to their opinion, and implement changes suggested by the community. You might also get some really interesting ideas on how to further enhance your brand.
Boost brand engagement and entertain your audience with a branded survey
Using a poll maker is a way to really push engagement on your social media networks. Depending on the type of questions surveys can be fun. Therefore they're also a great way to entertain your audience, especially as online communities enjoy interactive content.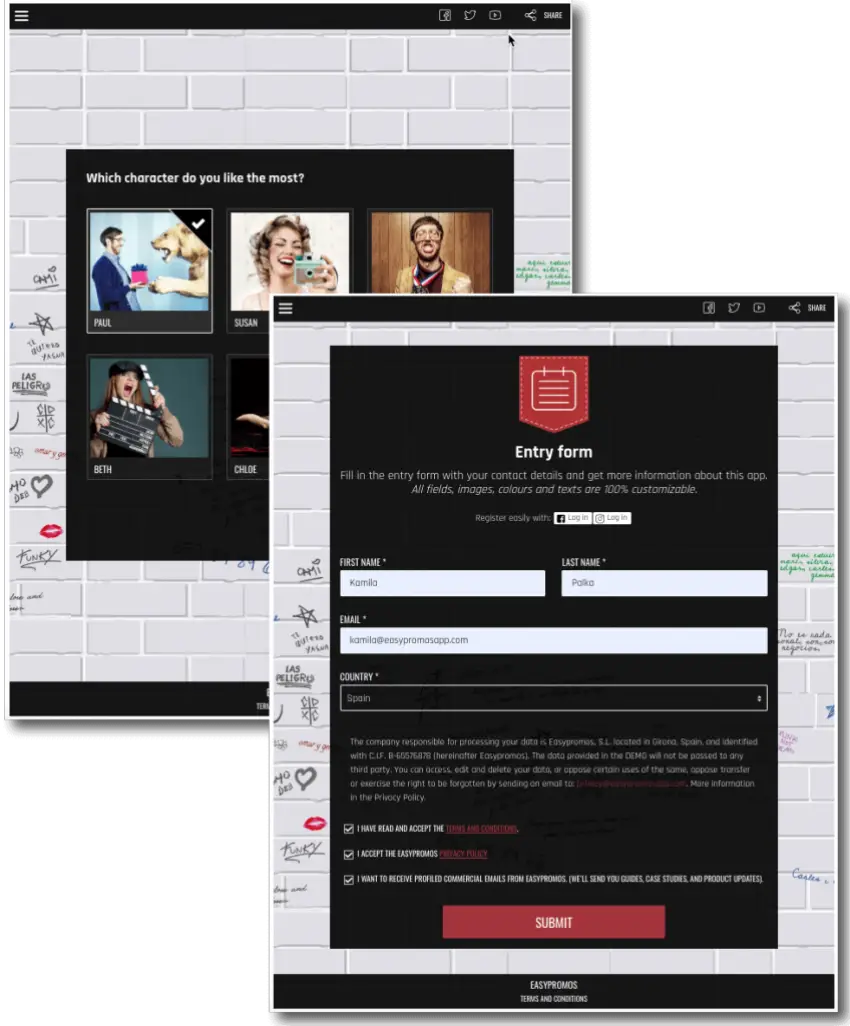 An added benefit of polls organized by brands is that you get to find out about the personal preferences of your followers and direct future marketing and branding actions accordingly. So if your followers prefer ice cream to pizza, it does not make much sense to post content related to pizza. Listening to your followers is what will keep them engaged with your page in the long-term.
Open up a debate with a poll maker
You can also use a poll maker to really get your followers talking. By asking a controversial question or one that easily divides opinions, you can boost engagement quickly and encourage real conversations. If it is asking about who will win the football match tonight, expect plenty of answers and a lot of traffic. Make sure that your questions match current topics as well as your brand and strategy. You want to stay ahead of the crowd, not behind. Current issues will also strike a chord with many of your followers. This will drive traffic to your page and boost engagement. The most important thing is to have fun, so keep questions light and not too divisive!
Use branded polls as part of your decision-making process
Are you about to launch a new product but you're not sure what color would work best? Or maybe you're a travel agency looking to promote new destinations but you're unsure which part of the world will seem attractive to your audience? Great! Create a survey! Ask your audience some simple questions and wait for their response. This way you'll launch a product that will match the likes and preferences of your target audience.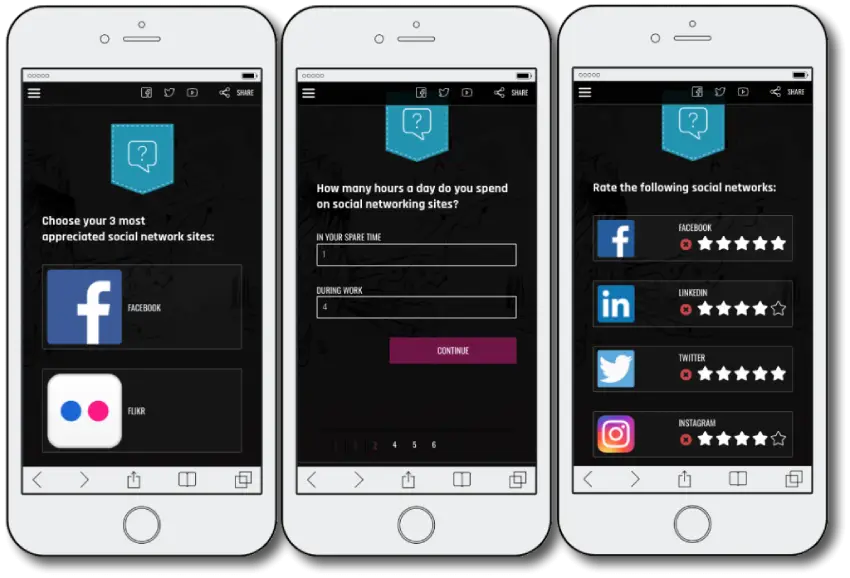 The above example shows how you could use a branded poll to decide on your next marketing campaign. If you're unsure, which social media network will be the right one for your next campaign, ask your audience!
Incentivize participation to collect leads
The poll maker by Easypromos comes with an entry form that you fully customize. Therefore, you can ask the participant for all the information that you need. But there is a risk that not everyone will be willing to share their contact details. But there's something you can do to encourage more people to do it. Add an incentive!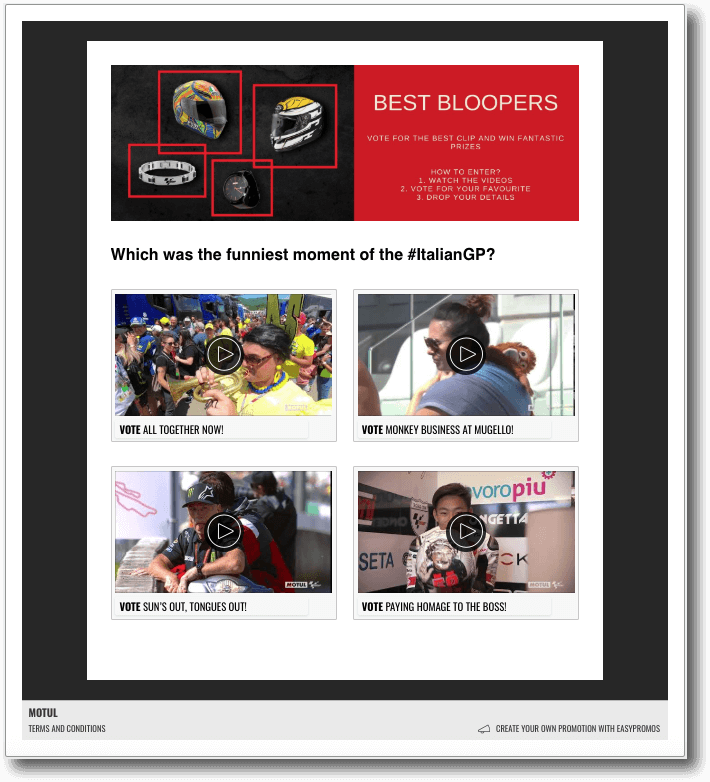 People will be more motivated to leave their details for a chance to win, and you will be able to gather more new leads! Like in the example above, the participants were choosing their favorite bloopers from the Italian MotoGP, and in return, they were getting a chance to win one of four prizes that the brand put up for grabs.
Sounds interesting? Then it's time to set up your own promotion! Or maybe you're unsure how to create and personalize your own poll? Don't worry, our Support Team is ready to solve your doubts!
And if you want to learn even more about how to use surveys in your Inbound Marketing strategy, please read along.
Publication date: 2018-03-28