Posted in: Applications,Applications for FacebookLast update: 27/08/21
Advertising on Facebook continues to evolve, providing new ways of reaching your target audience. Each day brings flexible new options that adapt to the needs of companies and brands. One of the most versatile of all advertising models is that of Facebook Lead Ads. If you don't know what they are or how to integrate them into your Online Marketing strategy, keep reading. Below, we outline the most essential tips for ensuring that your next campaign is a success.

What exactly are Facebook Lead Ads?
Facebook Lead Ads are defined as an advertising format designed to increase your user database. The list of contacts obtained from the ads belongs to you, not Facebook. These types of ads are effective for brands. The organizing brand uses a sponsored Facebook post – with a configurable call-to-action button – to offer a reward to the user for clicking and providing data. The advert attracts users who can see that their efforts are rewarded.
As you can see, lead ads work in the same way as a form, enabling users to fill in a series of predefined fields with information requested by the company. However, there are a series of characteristics which differentiate lead ads from the subscriptions tabs of a landing page:
Designed for mobile device users. Facebook Lead Ads have been designed for mobile device users. Filling in forms on the small screens of mobile phones used to be a difficult task. For this reason, Facebook Lead Ads are highly visual and require just a couple of taps to complete and submit.
Request essential information only. One of the main reasons that the bounce rate of forms can be high is that companies request too much information from users upon first contact. Facebook Lead Ads avoid this problem by automatically filling in the form with data that the lead has already shared with Facebook. Once users have subscribed to your services or newsletters you can encourage them to advance along the sales funnel by using special offers connected to forms through which you'll be able to learn more about the leads and their needs.
Versatility. Adverts for capturing subscribers can be employed with a variety of objectives: webinars, eBook downloads, newsletter subscriptions, demo tests of products, etc.
Facebook Lead Ads provide the perfect complement to an Online Marketing strategy and can be adapted to a variety of situations. The most important thing is to always keep in mind which phase of the conversion funnel the subscriber is in when you are creating the forms.
How can a lead capturing campaign on Facebook benefit my company?
You've already seen the benefits that Facebook Lead Ads offer internet users, but lead ads also provide a series of direct benefits to companies planning advertising campaigns on Facebook. Here are the main ones:
Find the right people. Combining Facebook ads – aimed at capturing leads – with the network's segmentation tools enables you to make an impact on those users who will be most interested in hearing from you, based on their online interests and actions. This reduces the technical complexity and expense of your campaigns.
Simplify the process of requesting data. Users only access forms that are relevant to them based on their interests. This reduces the bounce rate, since it is less intrusive. The process of form creation is intuitive and simple.
Your database is exportable in a variety of formats. Once the data has been compiled you can export it in different formats for later use. This allows you to analyze it and use it in different campaigns or promotional actions such as carrying out a sweepstakes based on a list of registered users.
Integrate your new leads with your CRM. One of the big advantages to combining contacts coming from your ads with your own CRM is the possibility of sorting your leads into different phases using the structure and software of your choice. This gives you total control over the evolution of the status of your contacts.
Combine with promotions and contests. Ads aimed at capturing leads have great versatility and can be combined with different types of sweepstakes and contests. If you'd like to incentivize the registration of new users, don't hesitate to prepare a promotion using Facebook giveaway app.
Now that you know the basic principles behind Facebook Lead Ads, and the advantages they provide to your business or brand, it's time to set up your first campaign! But first, read our breakdown of the key points to be aware of.
Tips for setting up your first Facebook Lead Ads campaign
As with any new adventure, setting up your first ad campaign on Facebook with the aim of capturing leads can seem intimidating at first. If you are already familiar with the Facebook Ads Manager, go to the Lead Generation section in order to create your first lead ads campaign. If you've never used the Ads Manager before, pay a visit to Facebook's own quick guide for more information.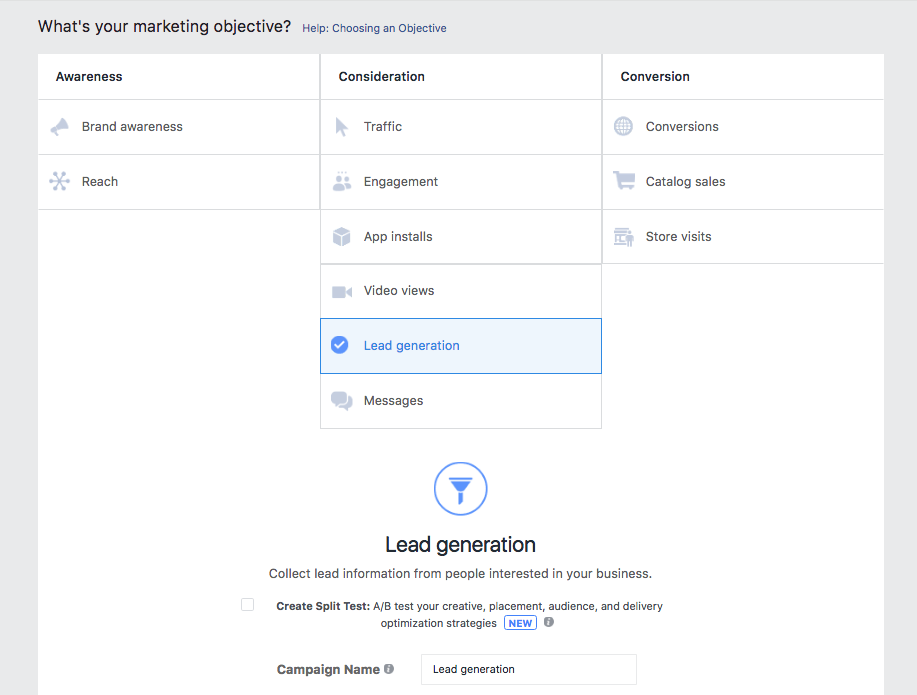 There are a series of general good practices which yield good results with little effort. Take note!
Define your target audience and segment them according to their interests. This practice is important for any type of advertising campaign you want to launch on Facebook. Define your target audience in advance and segment your ads according to your followers' needs and concerns. This will reduce the cost of the campaign and ensure that the contacts obtained are all qualified.
A picture paints a thousand words. Accompanying your lead ad form with an appealing image can mean the difference between success and failure, so don't skimp on the design. Let your imagination off the leash to attract your future contacts.
Carefully weigh up which information you require. Facebook Lead Ads enable users to autofill the forms without having to manually type in all the requested data. Make the most of this by only asking for information that you really need. Users will appreciate it. You'll have the chance to ask for phone numbers or postal addresses later, when your leads are ready to take the next step. ?
Test, test, and test again! People's interests and needs evolve over time. Don't let your ads stagnate. Test each version. Try using different combinations of artwork, copy and information requested until you find the winning combination.
These are just some of the reasons why using Facebook Lead Ads is a wise choice for your online marketing strategy. Now you can integrate them with Easypromos and carry out Facebook Lead Ads sweepstakes! Unsure how to go about it? Our technical team will be happy to help.
Publication date: 2018-04-11