Posted in: Ideas for your websiteLast update: 31/08/21
Although online retail provides many advantages to customers and has experienced huge growth over the last decade there are still some sceptics who are reluctant to buy in an eCommerce store. There are a number of ways to ensure that potential customers don't abandon their virtual shopping baskets before going through with a purchase. Among the many tools that can help you generate loyalty among visitors to your online store is the discount code. One of the keys to using discount codes effectively is distribution.

Used within the framework of an integral online marketing strategy, discount coupons fulfill a variety of functions which aid the smooth running of an online store. Today we're going to look at how to distribute Magento discount coupons to help ensure that your business makes an impact on its target audience and finds success.
Reasons to use Magento discount coupons
Using discount coupons in combination with products from your eCommerce can give you a series of advantages over competing businesses that don't use them. Here are some of the key benefits they can provide:
Capture of potential clients. Offering attractive discounts via codes or coupons that can be redeemed in your online store can be a good practice for capturing the attention of new users and finding fame among a potentially active audience. If you also distribute these discounts via a sweepstakes app like Easypromos, you can obtain the email addresses of users in order to subsequently move them along the sales funnel.
Loyalization. Discount coupons offer a clear method of generating loyalty in certain sectors, especially when used in combination with data from your subscribers. Ensuring that coupons reach current or potential customers, encouraging sceptics to revisit an abandoned shopping basket, or increasing the frequency of visits to an online store are all part of a recurrent strategy. Email automation also enables you to deliver codes and coupons automatically once you've established rules and triggers in your mailing list tool or coupon distribution app.
Testing new products or services. One of the most stressful moments for any entrepreneur is just before the launch of a new product or service, which the entrepreneur is uncertain about how the product or service will be received. Offering a batch of discount coupons to previously selected users serves as a useful way to test how a new product or service will be received before it officially goes on sale.
Incentivize purchases on specific dates. As we've already mentioned, offering discount coupons on special days can help increase the average amount spent by your customers. If the customer has a predetermined amount to spend on your goods, he or she can be encouraged to increase this amount if you use the right incentives, such as purchase discounts. For special days or periods like Black Friday, Christmas or World Book Day, discount coupons can be an important tool to promote both upselling and cross-selling.
Applying discounts to all your products is not likely to be a winning strategy as it will reduce your profits. You should also think carefully about under which circumstances to use these incentives, with which customers, and how to achieve maximum diffusion, both digital and offline. Once you've considered these points you can create your coupons and discount codes and disseminate them via the channels that are best suited to meeting your objectives. Keep reading, because now we're going to show you how to create discount coupons in Magento and distribute them afterwards. ?
Creating discount coupons in Magento
To set up your discount coupons in Magento you'll need to follow a series of steps that require some technical knowledge of the software. If you already know the tool well, here are the steps to follow:
Access "Promotions" and click "Shopping cart price rules".
Select the contents (essential) of the following fields that appear when you click on "information of the rule":

Title and description of our discount code.
Choose a code for the coupon. It can be alphanumeric.
Users who can apply this discount based on previously defined customer groups.
Check that the status of the rule you have designed is "active."

Check that the "conditions", "tags" and "set up discount coupon" tabs are still on their default settings.
Check that the coupon has been generated correctly.
These are the essential steps to generating discount coupons in Magento. However, if you already know the platform well you can also take the opportunity to configure the following:
The expiration date of the coupon (in the information tab of the rule).
The number of uses per customer and total number of the coupon (in the information tab of the rule).
These last two options are not essential, but we explain why they might be worth keeping in mind below.
To distribute discount coupons from Magento among your target audience, use the coupons and codes app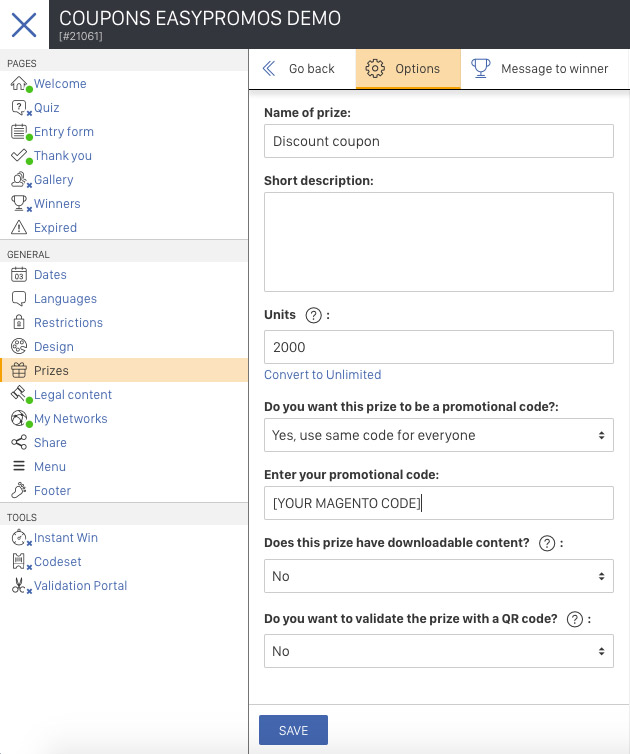 To distribute discount coupons effectively you can launch a contest or sweepstakes with registration via the Easypromos coupons and codes app, combining these promotions with segmented advertising across your social media channels. These actions will enable you to capture leads who are genuinely interested in your brand. The prize could be, for example, the promotional code itself. With a sweepstakes app you'll be able to do the following:
Obtain contact details from your target audience. All Easypromos applications are fully configurable. You can customize the fields of the registration form in order to obtain the information you need in the way that suits you best. One of the easiest promotions to set up is the coupons and codes app.
Upload the codes you've created with Magento to distribute them easily among promotion participants.
Create a customized image for your coupon that is attractive and attention-grabbing. With the coupons editor you'll be able to configure the coupon 100%.
Responsive promotion suitable for all devices.
Obtain a link to the promotion that will enable you to share it via different channels.
Complete promotion statistics in order to analyze the behavior of users: where they connect from, when, whether they've shared the promotion, etc.
In the case of Facebook, you'll be able to run advertising in Facebook from the app itself, without the need for creating advertising accounts… easily, with just a couple of clicks.
So what do you say? If Magento is your eCommerce platform then don't think twice. Use the strategy we've outlined above to distribute discount coupons effectively.
Publication date: 2018-06-19