Posted in: Applications for TwitterLast update: 03/05/22
The World Cup provides the perfect opportunity to give a boost to your online marketing. Contests and sweepstakes are always a great option for digital marketing campaigns, but during global sporting events like the World Cup, they become even more powerful tools. And if you run them through your social media channels, the sky's the limit! Twitter is, without a doubt, one of the most-used social networks for commenting on and discussing sporting events as they happen. Let us show you how to get the most out of your World Cup-related Twitter sweepstakes.

Why run your World Cup giveaway on Twitter?
These days, soccer fans can express their passion for 'the beautiful game' across a wide variety of social networks. Almost all social media activity intensifies during big sporting events such as this one. However, Twitter remains one of the most-used platforms for sporting events since it enables users to keep up to date with news, while enjoying free reign to comment on the matches as they take place. Twitter users can also reply to and share tweets quickly and easily, giving them the feeling of being in the thick of the footballing action. But fans aren't the only ones to take to Twitter during the World Cup. It's also a great opportunity for companies to launch sweepstakes, enabling them to increase and loyalize their community of followers, attract traffic to their profile, and viralize contents quickly and easily. Below, we outline three ingenious ideas for launching your own World Cup Twitter sweepstakes.
Reply giveaway
If the option that appeals to you most is a Twitter giveaway between everyone who replies to a post, you'll be happy to hear that applying this option to the World Cup is a piece of cake. ;). All you have to do is post a tweet announcing your World Cup sweepstakes and inviting users to reply directly with their views. For example, ask users "Who do you think will win the World Cup?" and enter everyone who replies to your tweet into a sweepstakes.
You can then pick the winner/s easily using our Twitter sweepstakes app. This, as you might imagine, is a great way of boosting users' engagement with your Twitter profile.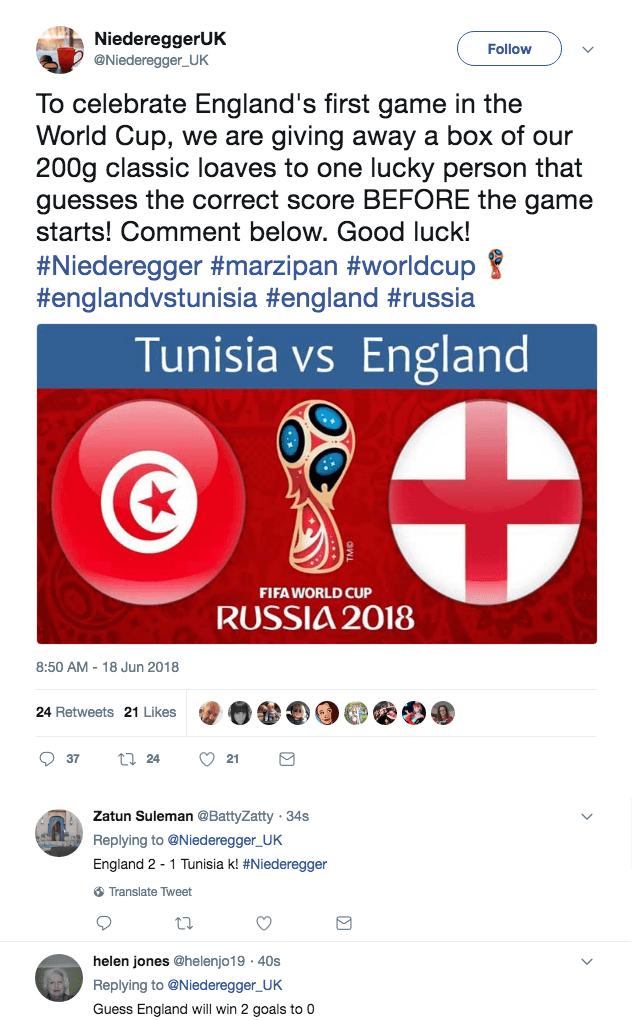 Retweets giveaway
When it comes to sweepstakes based on retweets, there are plenty of interesting options you can choose. One is to launch a random giveaway between everyone who retweets your tweet. For example, throw down a challenge: "If we get more than 100 retweets in under 24 hours we'll run a sweepstakes for tickets to the next game". You could also encourage users to retweet a series of tweets over the course of a week for example. Select up to 10 tweets and collect all participants who have retweeted one or more of the 10 and run a sweepstakes between them. With this second option you'll be able to boost both engagement and diffusion.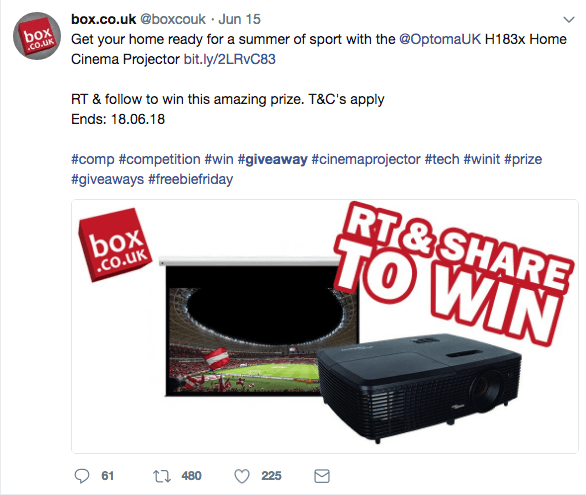 Mention + hashtag giveaway
When used individually, hashtags and mentions can bring lots of benefits, but used in combination they can have a huge impact. The first thing you need to do when launching this type of sweepstakes is come up with a hashtag. You'll use this to identify participating tweets and viralize the sweepstakes on Twitter, so it's important to choose your hashtag very carefully. Since this campaign is going to be all about the World Cup, we suggest your hashtag makes that clear, e.g. #EasyWorldCup. Once you've chosen your hashtag, make it clear in the competition rules that the users have to mention one or more users. In this way you'll be able to reach more users and viralize your campaign in no time at all.
Why use our Twitter giveaway app?
We understand your need to set up an effective sweepstakes that you can manage quickly and easily; a sweepstakes that makes the most of the tools that Twitter puts at your fingertips: retweets; obliging participants to become followers of your brand's Twitter profile or to reply to your tweets; asking users to include mentions and hashtags in order to take part, etc. We know you want an app that is as intuitive as it is reliable and that can help you achieve optimal results. For this reason, we recommend our Twitter giveaway app. Here are just some of the advantages it can provide:
A single app for all types of Twitter sweepstakes. Whatever kind of Twitter sweepstakes you choose, the app will pick the winner/s and alternates at random for you based on the criteria that you decide. It will even allow you to activate a filter so that only users who meet the requirements of the sweepstakes can participate.
It enables you to accumulate sweepstakes participants from up to 10 different tweets. This option is handy as a way to dynamize the promotion. You can post a series of tweets and give users several chances to interact with your tweets and be entered into the sweepstakes.
Filter users. You can choose to prevent certain users from taking part in your sweepstakes. Our app enables you to create your own filters, so you can exclude users who don't follow your profile; users who haven't used the hashtag; repeat participants; former winners; and so on. The app also gives you the power to create and manage your own blacklist of users.
Simple winner selection. With just a couple of clicks the app will pick winners and alternates for you at random.
Publish your results easily and efficiently. The app will take care of everything: from picking the winning entries to generating a certificate of validity proving that all winners have been selected randomly and transparently via Easypromos.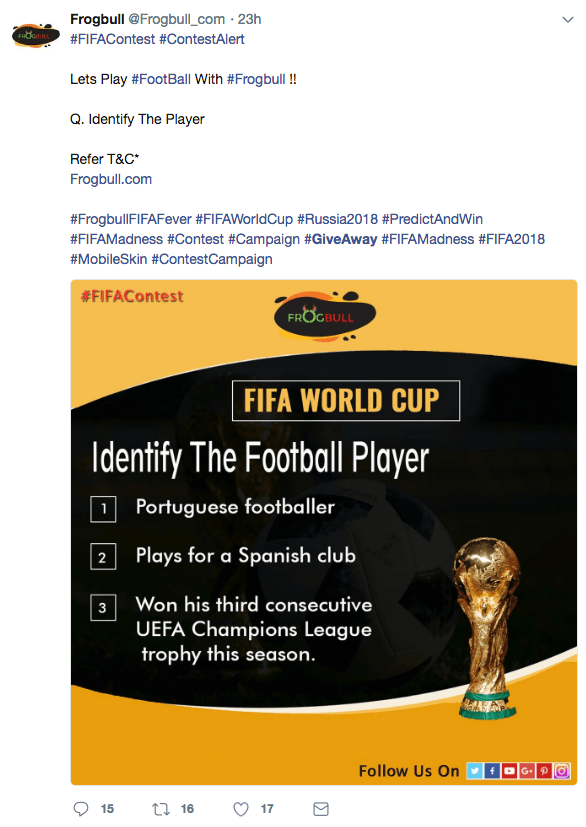 What are you waiting for? Make the most of the world's greatest soccer tournament! Launch your Twitter sweepstakes today!
Publication date: 2018-06-18