Posted in: Digital marketing,Ideas for your websiteLast update: 31/08/21
ECommerce continues to grow at a phenomenal rate, all over the world. That is why online marketing strategies are increasingly important. SEO positioning is one of the most effective tools for attracting customers, but there are other tools that can help you gain online visibility and boost sales. One of these is discount coupons. If you're still not sure what they are or how you can integrate them into your strategy, and if your online store operates with Prestashop, then this post is for you. Below, we outline all the key points you'll need to keep in mind if you want to successfully distribute discount codes made from this eCommerce platform. Ready, set, go!

According to the latest Annual Study of eCommerce in Spain by IAB, 7 out of every 10 internet users makes purchases online. In an increasingly competitive market – where the difference between one brand and another is often small – offering a discount to consumers is a sure way of getting their attention. A coupon or discount code provides added value to consumers. It doesn't even have to be an economic discount: it could also be a gift, a free trial or a sample of a product, an exclusive promotion, and so on.
Advantages to distributing discount coupons
Boost your company's visibility. This is one of the most effective methods of capturing new clients. The primary motivation for this new audience is usually the price, so keep that in mind when defining your buyer persona.
Incentivize sales on specific dates. Make the most of special occasions and holidays like Christmas, Valentine's Day and Father's Day to launch promotions with discount coupons. When creating these types of campaigns, it's important that the brand's image and values are noticed and appreciated by the customer as much as the discount itself. As well as marking special dates you can incentivize purchases during other periods based on your company's marketing plan, when launching new products, or during seasons with low sales.
Increase in average money spent. Many of the customers who visit your online store are likely to be tempted by the attractive discounts. One oft-used dynamic is to reward customers who purchase an expensive product by giving them a generous discount. So, what benefits does this dynamic offer you? Firstly, an increase in the amount of money customers spend on their purchases; and secondly, the conversion of customers into loyal, recurring customers.
Analysis and assessment. Discount coupons are easy to measure. You can check which campaigns work, and which don't.
Viralization of offers. Their content is easily shared across social media, WhatsApp, email, etc.
What shouldn't you do with discount coupons?
We've already told you the advantages of using discount coupons in your online store. But before you start, it's worth looking at what not to do:
Don't overwhelm your store with discount coupons. If your customers get used to having discount coupons all the time, and not just as part of a special campaign, they'll stop valuing them as much. Your audience is then likely to be made up of bargain hunters seeking online discounts and deals, rather than customers with a genuine interest in your brand.
Don't lose sight of the objectives. As with any marketing campaign you should establish actions that are consistent with your goals.
Anticipate the demand. Beware of running aggressive campaigns that can kill you with their success. Always mark your limits when launching offers.
Don't forget to measure the results. Once your campaign is finished, remember to analyse and measure the main results of the action. In this way you'll avoid making the same mistakes in your next discount coupon giveaway.
Now you know all the pros and cons of using discount coupons in your online store, here's our step-by-step guide to creating and giving away Prestashop discount coupons.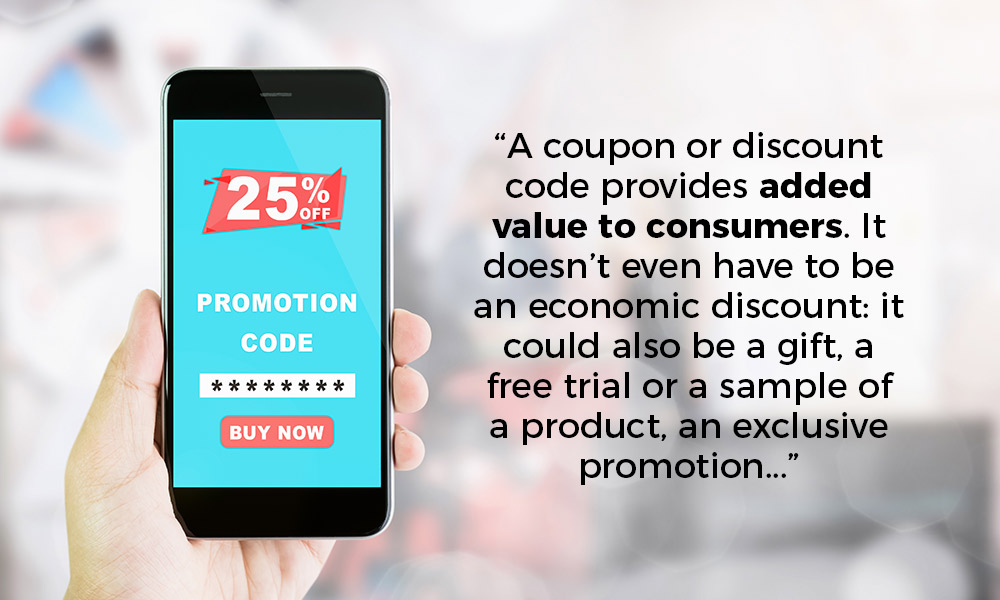 How to create discount coupons in Prestashop
In Prestashop, discount coupons are administered from "Discounts" section, and there are two types:
Cart Rules. These succeed and build on the voucher system from previous versions of PrestaShop. They enable you to create a coupon code for each customer, as well as other advanced options.
Catalogue Price Rules. Catalogue price rules enable you to assign price reductions by category, manufacturer, supplier, attribute or feature. For example, you can establish a rule that says that recurring customers from a specific geographic area obtain a 10% discount on dresses from a certain brand during the first week of September.
The process of creating the Cart Rules type discount coupon is as follows:
Once you've logged in, go to the Sell block. Then, click on Catalog > Discounts > "Cart Rules" tab > "Add new". This will give you access to a page (Cart rule) with 3 tabs where you need to fill in the following fields: information, conditions and actions.
Information:

Name. Give your Cart Rule a name. This name will be public.
Description. The description is not public and can only be seen by the administrator. It's a good idea to use it to describe why the rule was created.
Code. Give your rule a unique code. You can either create one manually or have one generated randomly by clicking the "Generate" button.
Highlight. This can be enabled or disabled. It appears in the purchase summary.
Partial use. This only applies if the value of the coupon is greater than the total of the purchase. If partial use is disabled, the rule/voucher can only be used once, even if it is not completely used. If enabled, a new voucher is created when the current one is not completely used.
Priority. This is used when more than one voucher can be applied to an order. You can establish the number.
Status. You can enable and disable a rule whenever you need to.

Conditions:

Limit to a single customer. This is where you indicate that the voucher is for one customer only. If left blank, PrestaShop will understand that any customer can use it.
Valid. Here you indicate the period of validity of the voucher.
Minimum amount. The minimum order amount from which the voucher is applicable. You can choose whether that amount should include taxes and/or shipping costs.
Total available. Define the number of customers who can use the coupon.
Total available for each user. Similarly, you can set the number of times a voucher can be used for each user.
Restrictions. Here you can apply restrictions for carrier selection and customer group selection. You can also add a new group rule.

Actions:

Free shipping. You can choose whether shipping is free or not.
Apply a discount. This is the discount you apply to the order. It can be a percentage or an amount.
Exclude discounted products. If activated, the coupon will not be applied to products that are already on offer.
Send a free gift. This option allows you to choose a gift and send it automatically.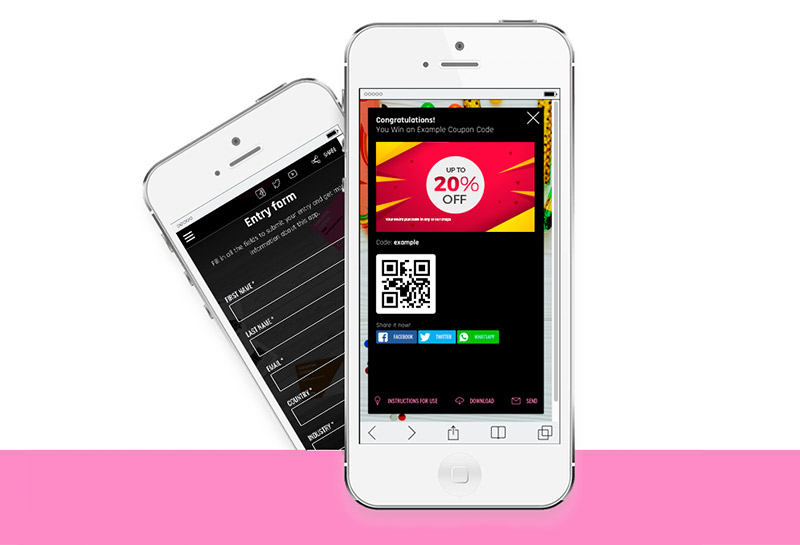 How to distribute Prestashop discount coupons with Easypromos
Distributing the discount codes that you've created in Prestashop is easier than you think! All you have to do is upload a list of the codes that you've generated with our coupons and codes app and create a promotional dynamic for distribution. You could carry out a registration sweepstakes to which users must register in order to win the discount coupon. Alternatively, you could distribute the unique code you've created and simply reward all the participants with it. Take your pick!
Share the sweepstakes link on your social media channels, via email, on your website, and so on, so that all users can participate in the promotion! By using Facebook Ads you'll be able to manage any advertising you wish to create for your Facebook sweepstakes post.
Would you like to know about its advantages? Check them out here:
Obtain the contact details of your target audience. All Easypromos apps are fully configurable and enable you to create registration forms for obtaining the information you need in the way that suits you best.
Create a customized coupon image that's attractive and designed to grab people's attention. Thanks to the coupons editor you'll be able to configure your coupon 100%.
Responsive promotion, suitable for all devices.
Complete promotion statistics to analyse the behaviour of users: when and where they connect from, whether they've shared the promotion, etc.
You'll be distributing your coupons via a reliable platform, with guarantees, a good reputation and strong values – values that will be transmitted to your own brand and campaign.
So how about it? If your eCommerce solution is provided by Prestashop, don't waste another minute: you now have all the information you need to distribute discount coupons effectively.
Publication date: 2018-07-20