Posted in: Applications,Applications for InstagramLast update: 03/08/22
Publishing Stories on your Instagram profile has become a social media must. Stories achieve excellent reach and engagement. We're all used to regular updates to this feature by Instagram, and the platform adds new tools to boost user interaction all the time. But how easy is it to run contests and giveaways with Instagram Stories? What makes a story attractive and engaging? Setting up pick-a-winner contests on Instagram is easy and effective – once you know how to do it. For example, at Easypromos we offer a reliable tool for collecting comments on your brand's posts.

Giveaways based on Instagram comments are booming, and Easypromos is designed to help you make the most of the opportunity. In order for an application to read and import comments from an Instagram post, it has to use Facebook's APIs and tools for developers. (Yes, Facebook runs Instagram now.) Facebook has to verify the business which is going to use its tools. It also has to review and authorize the exact use of the app. Facebook has verified Easypromos and authorized it to use tools for developers and administrators of Instagram accounts. Our tools guarantee the transparent and proper use of data, for both the competition organizer and users.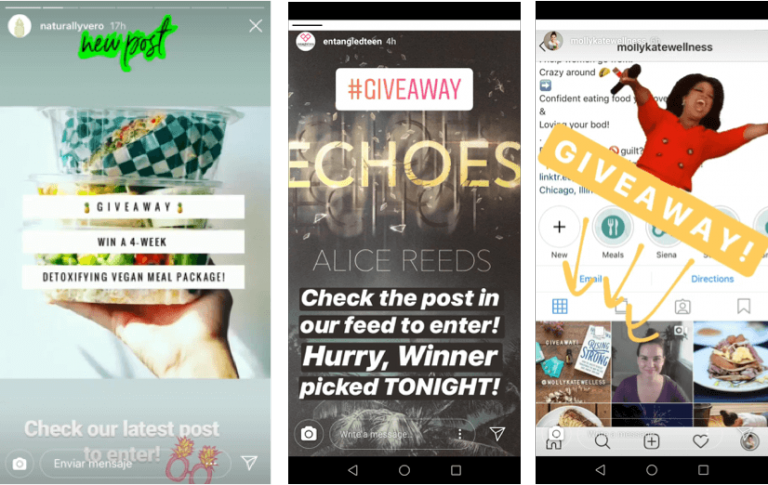 However, Facebook's tools are limited. Its apps only work within Facebook's permissions. For example, Facebook offers tools to collect comments on Instagram posts, but it doesn't collect users who interact with Instagram Stories. So if you're running giveaways based on Instagram stories, there's no application to read and register users automatically.
We must learn how to use Stories to publicize giveaways and boost profile engagement.
Click To Tweet
Does this mean I can't use Stories for my Instagram giveaways? No! Of course you still can. Right now, Stories are one of the most important sources of traffic for any online promotion. We must learn how to use them to publicize giveaways and boost engagement with Instagram profiles.
Here are some examples and practical suggestions. They combine giveaways with Instagram Stories and specific marketing objectives.
Instagram profile giveaways
What are the aims of an Instagram profile giveaway?
Boosting engagement. There are lots of benefits of users interacting with your brand. You can learn about the tastes and preferences of your brand's community. Instagram's algorithm will also show your profile more frequently. Result: increased reach and better brand recognition, while you can offer your users the products they like best.
Building brand loyalty. The followers of your brand will feel rewarded by the giveaway. As a result, they'll have a positive image of the brand. This then creates new interactions and conversion.
Improving communication. A happy customer is the perfect ambassador for your brand. Your giveaway will quickly go viral and you'll gain new followers too.
How to run a giveaway from your Instagram profile
We recommend Instagram pick-a-winner contests based on comments. It's an easy way for users to take part. And choosing the winners only takes five minutes with Easypromos! Publish a giveaway post and ask users to comment. Then you can run the contest between everyone who leaves a comment.
To encourage participation, highlight the giveaway in your Stories and direct users to your profile to interact with the post. Stories will also help you to win a bigger audience and visibility. They're the most used feature on Instagram – Instagrammers love Stories! They're a great chance to be creative, with filters, stickers, drawing tools and questions.
What should you put in Instagram Stories?
The image in the original giveaway post should be clearly identified. You don't want users to get lost looking for the post on your profile!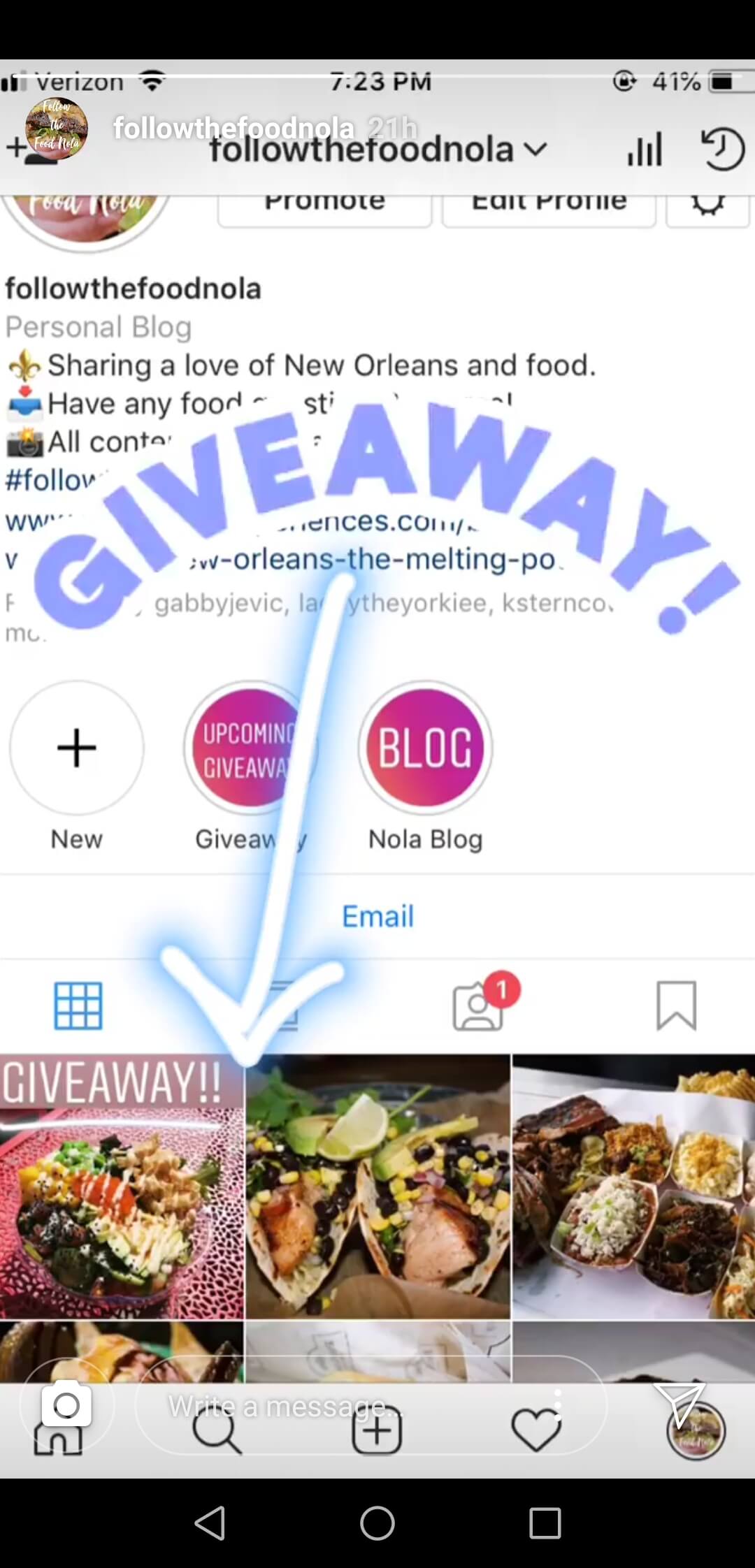 You can add a mention of your own profile. Then users will be able to reach your page with one tap.
Make it clear that you're running a giveaway, and what the prize is too.
Use .gifs, music and bright colors to attract attention. Make sure your Story isn't overlooked!
Stories only stay up for a short time (24 hours), so make sure you repost them while the contest remains open. Remind users of when the contest closes, too!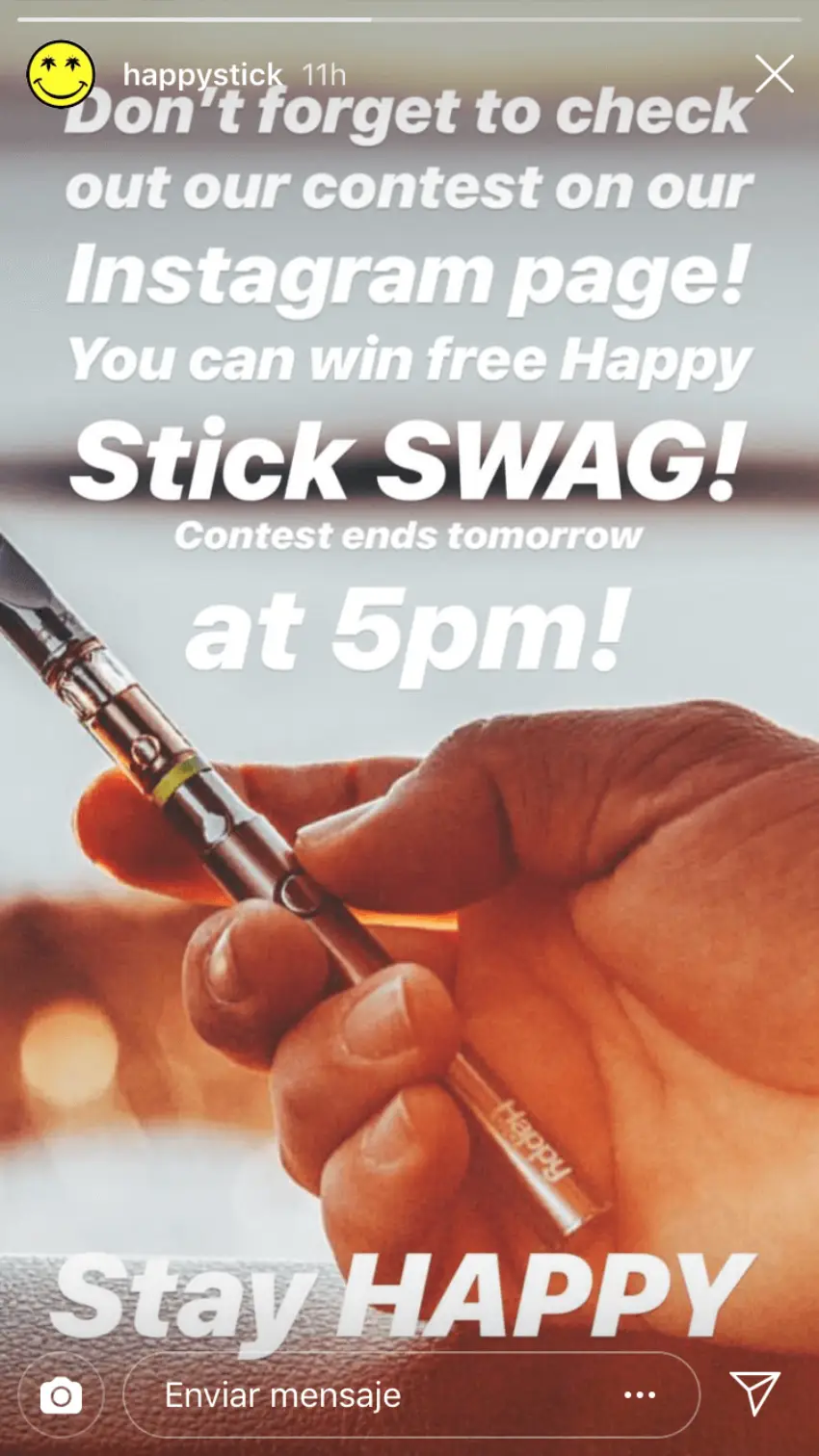 Highlight the giveaway Stories on your profile. Then they'll always be there for users who want to know a bit more about you and your brand.
Top tip: Don't have a graphic designer? Limited design skills? Then use Canva to create the perfect image for your story.
Giveaways outside Instagram
This section is about any giveaway which you announce on your Instagram profile and Stories, but which asks users to go to another platform to take part. This usually takes the form of an external microsite or another social network. Many of them take users to the brand's Facebook profile.
What are the aims of promoting a giveaway through Instagram Stories?
Whatever platform you use to set up and share your giveaway (website, email, microsite, social networks, Whatsapp and more), don't forget to promote the campaign on Instagram. Views and interactions with Stories just keep increasing, as does the number of Instagram users. So it's easy to achieve these aims:
More diffusion of your campaign. We'll say it again: your giveaway will have more reach if you promote it on social networks, above all on Instagram. This way you'll gain more participants.
Power up your brand. The more entries in the giveaway, the more users can get to know and love your brand. Don't waste the opportunity – share the contest as much as you can.
Get more leads. If your giveaway includes a registration form for participants, thanks to the huge traffic your Instagram Stories will create, you'll get quality contacts who could be very interested in your brand.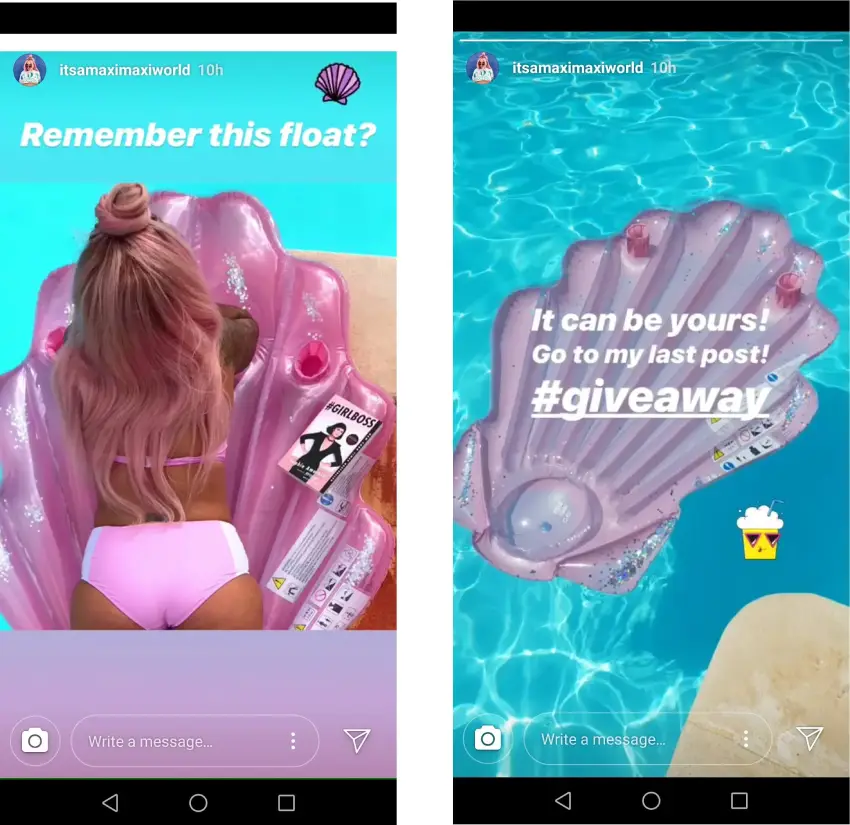 How to set up and publicize an external giveaway
One of the fastest promotional strategies to set up and run is a sweepstakes with user registration. Taking part is as simple as registering to enter the contest. This type of promotion is displayed as a microsite with a link designed for sharing. So you can embed the giveaway on your website, share it easily through social networks or mobile messaging, and more.
Of course, links written in Instagram posts are not clickable. This means it's difficult to add live links to your posts. However, we have a solution for sharing links on Instagram: we can use Stories to publicize the link to the giveaway. There are two ways to do it:
Instagram Stories with Facebook Ads. You can post a Story about the giveaway, and add a link with a call to action. Users then just have to click the link to the contest. Because the Story is made via Facebook Ads, it's also easier to reach a bigger audience. You can get more participants and even divide them into your target segments.
Post a link in your Instagram bio. Another popular option for sharing links to contests is adding them to the bio in your Instagram profile. You can include the link and a short description, too.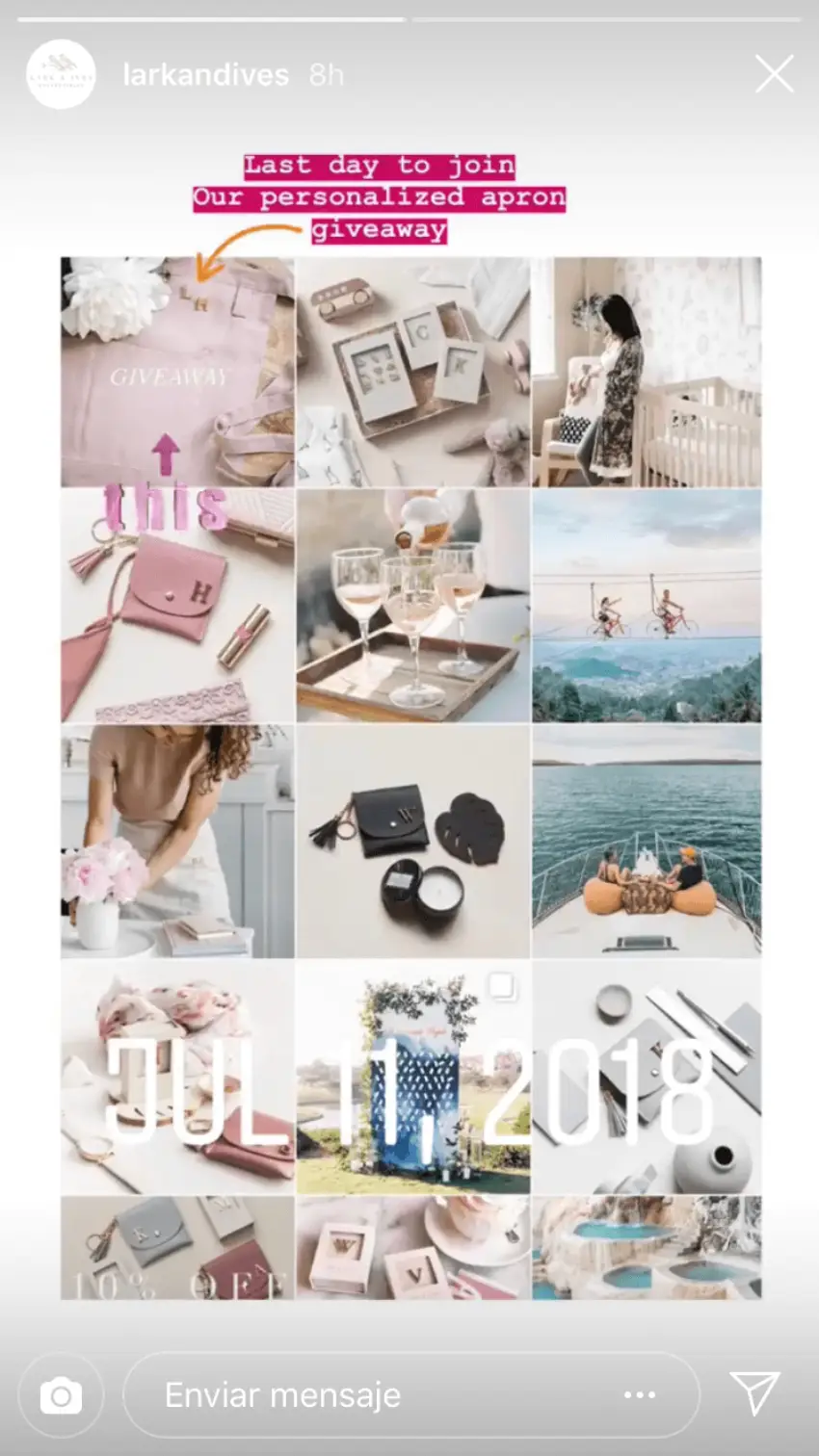 What should you put in Instagram Stories?
The Story must include good images of the giveaway and the prize.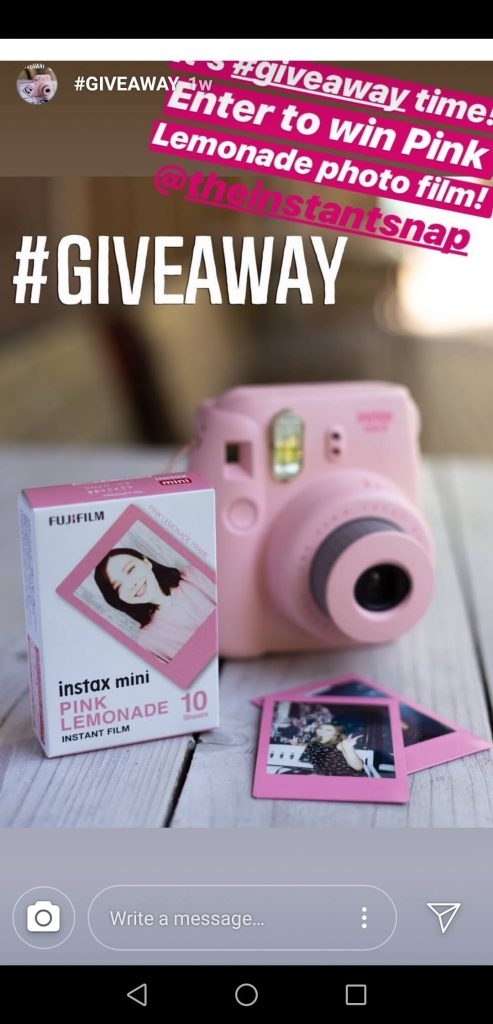 If you're sharing a link in the bio, make sure the Story mentions your profile. Use the @ sign so that users can click through to your profile directly.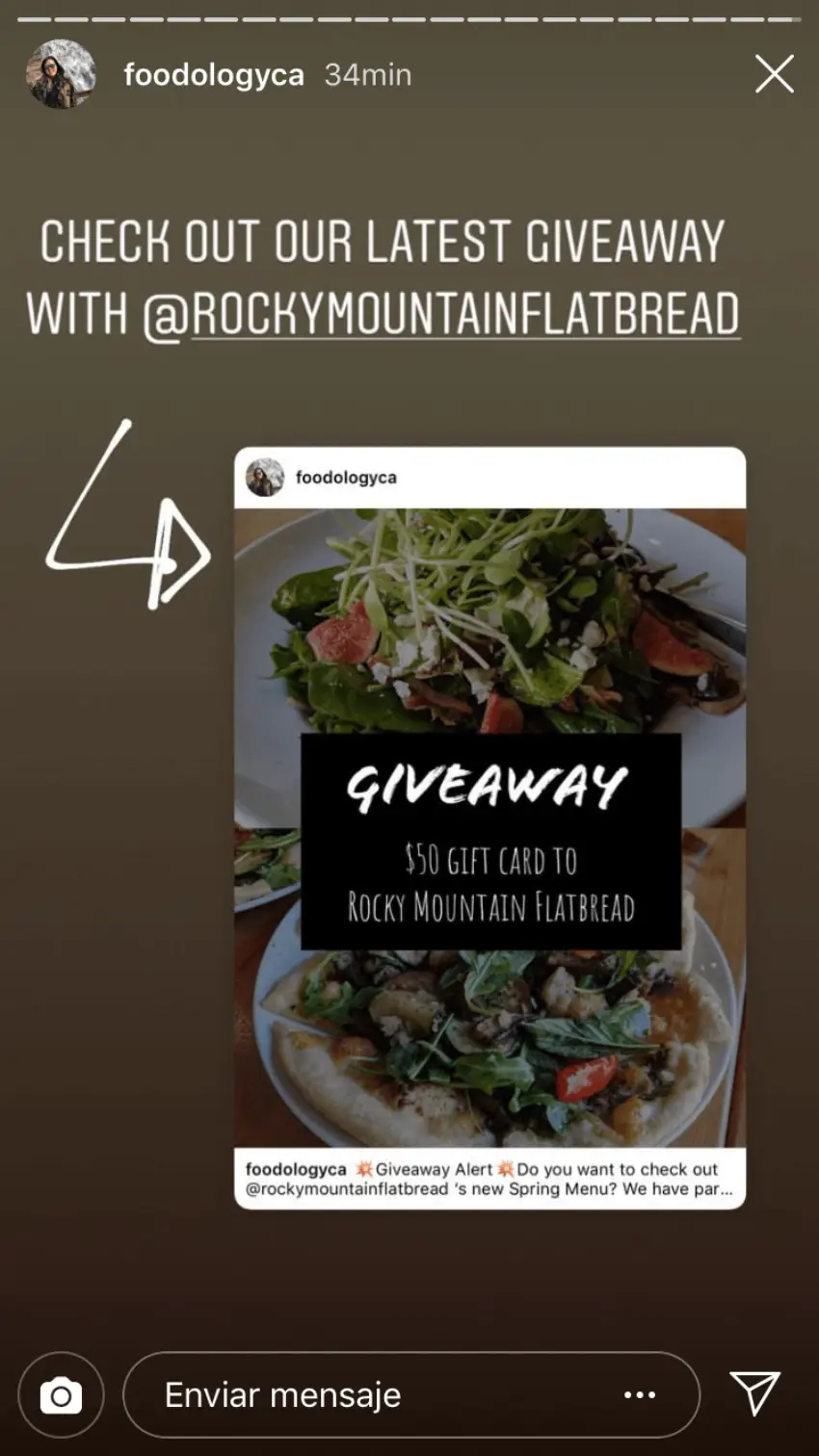 Make the most of gifs, music and bright colours to catch users' attention.
Stories only stay up for a short time (24 hours), so make sure you repost them while the contest remains open.
Highlight the giveaway Stories on your profile. Then they'll always be there for users who want to know a bit more about you and your brand.
Top tip: You can only write one link at a time in your Instagram bio. However, there are lots of free tools which generate a link to connect to a list of your campaigns. Try Linktree or url.bio! Just make sure you use a quick, clear description for each link, and highlight the giveaway link while the contest is running.
Competitions with Instagram Stories interactions
Do you have an active brand community? Do your followers hang on every update, and engage with every post? If you think that Instagram Stories are the key to success in your giveaways and promotions, try running a competition. We've put together some suggestions for you to keep in mind.
What are the aims of boosting Instagram Stories interactions?
Make your giveaways go viral. Depending on the type of contest you run, you can use Instagram Stories in different ways. Use your creativity to get followers talking about the giveaway with their friends.
Get your social networks buzzing. Social gaming is a hot trend in 2018 – users love to have fun and beat challenges. So stand out from the competition by staying up to date! Use games and quizzes to build your brand.
Find out what your followers think. The latest features in Instagram Stories let you ask questions to your community of fans. Ask them to rate your posts and leave comments on your Stories. Take advantage of the opportunity to learn more about your followers. Then you can tailor messages, products and giveaways to their taste.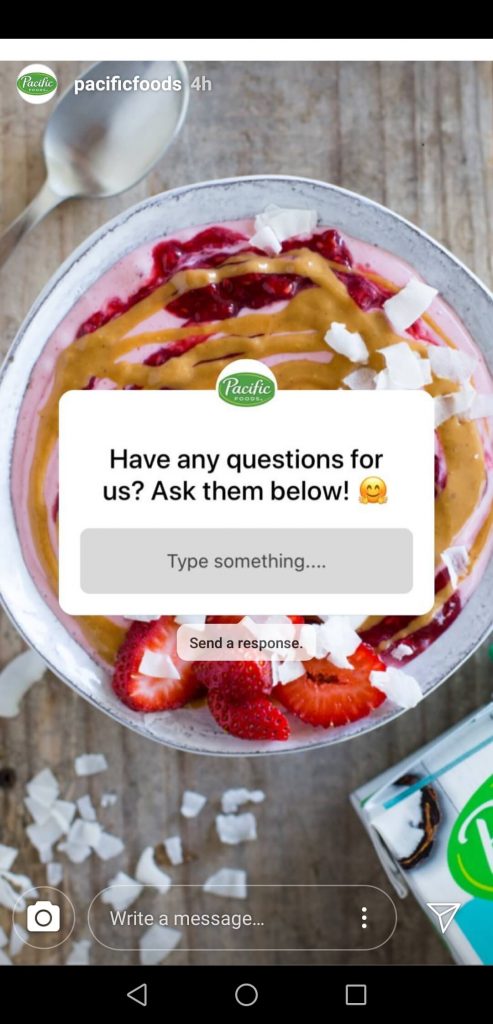 What kind of contests work with Instagram Stories?
Before you pick the best kind of contest to interact with your Stories, there's one key point to bear in mind. Any promotion has to be easy for the participants. You can also use Stories to explain how to join in. But whatever users have to do for the competition, you must be able to count those interactions so that you can count participants.
So Hashtag Contests are often the best option for competitions on Instagram Stories. You can follow posts made with a specially chosen hashtag and mentions of your brand. The user just has to screenshot the Story, then share it on their profile with the correct hashtag and brand mention. You can collect the hashtags and, as a result, all the users who've taken part. When users create content using your hashtag, they become active members of your brand community quickly and easily.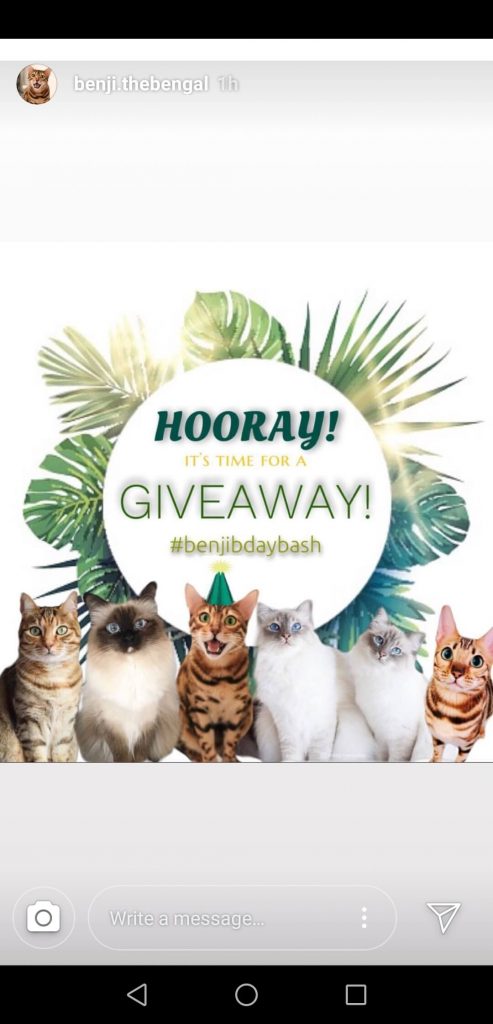 Try setting up one of these original competitions in your Instagram Stories:
Freezeframe roulette. Create a video with a rapid-fire round of images. When the user taps to pause, they get a message or response to share on their profile. And of course, they'll use mention your brand and use the hashtag too.
Template tales. Users respond to questions, using the image in your Instagram Stories as a base. They can add text or emoticons, use the drawing tools… and repost with your hashtag and handle.
Story screenshot. This is one of the simplest strategies. Users just have to post a screenshot of your Story with the correct hashtag and mentions.
What should you put in Instagram Stories?
The instructions to participate must be very clear. Worried there's too much information on the screen? Post instructions, terms and conditions in a separate Story before the actual competition.
The competition hashtag must be memorable and easy to read.
If users have to write a response, make sure there's plenty of space for participants to express themselves.
Make the most of gifs, music and bright colours to catch users' attention.
Stories only stay up for a short time (24 hours), so make sure you repost them while the contest remains open.
Highlight the giveaway Stories on your profile. Then they'll always be there for users who want to know a bit more about you and your brand.
Top tip: Take the time to think up a really good hashtag. It should be short, unique, and clearly related to your brand or campaign. Make sure it hasn't been used before by someone else!
And what if I've already launched a giveaway on Instagram Story?
Currently, Instagram doesn't share any Story information to external tools, therefore it is impossible to automatically draw a random winner of such giveaway. We have seen many different attemps to organize giveaways on Insta Stories, and the main problem is always collecting the entries. In order not to miss any new participation you have to be aware of all new mentions, which means being conntected to Instagram 24/7. You then would have to enter all the entries into an excel document to then be able to draw a random winner.
As you might already know, Insta Stories disappear after 24 hours and it's impossible to recover the information. Therefore you'd have to be constantly monitoring new mentions.
However, if you still decide to run an Instagram Giveaway between all the participants that mentioned you in their Stories, here's what you should have in mind:
Always ask the participants to mention you in their stories. This way you'll receive a notification and will be able to collect the participant's username
Giveaways shouldn't run for longer than 24 hours, as the stories disappear. In the next example you can see how the organizer ran the giveaway only for a couple of hours and then communicated the winners.
Keep on updating your excel sheet or external csv with all the users. Upon finalizing the giveaway you can upload the list to the List Giveaway app by Easypromos to draw a random winner of your giveaway!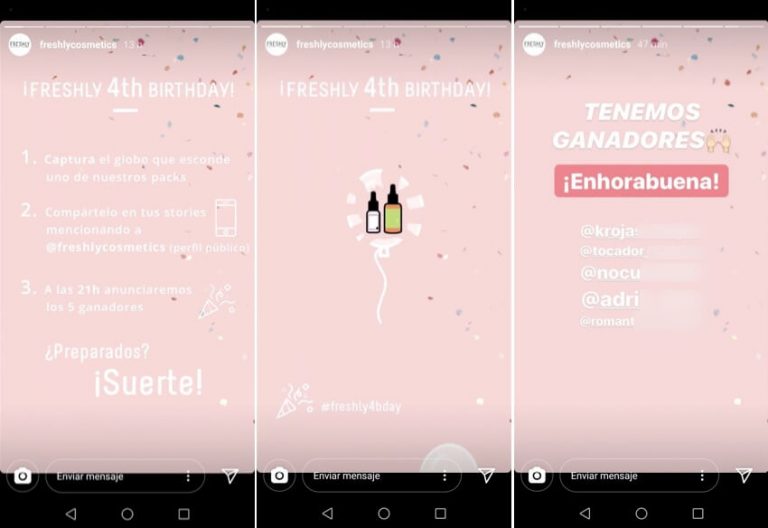 In this case the Easypromos app will be only able to help you in drawing a winner of your giveaway. The app won't be able to help you collect all the entries.
We hope that from now on you can get the most out of your Stories and use them to accomplish your objectives set in your marekting plan! But in case of any questions, don't hesitate to chat with our Support Team. They're here to help and inspire!
Publication date: 2018-07-18