Posted in: EventsLast update: 04/02/19
The 70th Emmy awards are coming up soon, and nominations have already been announced. More than 11 million viewers from the US alone will tune in to watch. But is your brand ready? We've collected ideas and inspiration for your Emmys giveaway, with tips for social media, photo competitions, hashtag contests and more.

Everybody loves the Emmys. TV stars and celebrities flock to the primetime television awards ceremony, and viewers at home love to watch the evening unfold. Whether or not your brand is directly related to television shows, this is a fantastic opportunity to increase engagement and connect with the online community. You can ask your followers about their award predictions and favorite shows. Run giveaways for themed prizes and discounts. And encourage followers to create and share their own content to win an Emmys giveaway! In this post, you'll find all the pointers you need for a glamorous Emmys giveaway.
Run an Emmys giveaway
Classic sweepstakes are still popular for a reason: they work. It's easy to set up, easy for followers to take part, and easy to pick a winner, too. A sweepstakes with a prize is a great way to attract followers, increase brand loyalty, and collect information about your customer base. You can run a social media giveaway that encourages your users to comment and tag friends. Or you can run a stand-alone giveaway, independent from social media, with a form to register users' contact details. Alternatively, you can pick a winner from your own database of email contacts, or make things competitive with a guess-the-winner contest. Read on to find out about all your options.
Start with a social media sweepstakes
This is a quick and easy option if you're just getting started with giveaways. First, set up your Emmys giveaway by creating a post on Facebook, Instagram, Twitter or YouTube. Then you can use the Easypromos platform to import comments on the post. Finally, pick a winner with a random draw.
Think carefully about the prize you want to offer. Since the Emmys are awards for TV series, you could offer gifts like DVD box sets, memorabilia of the stars, or merch. If you want to emphasize your brand's products, ask yourself if you have anything relevant to the theme. For example, a food and drink business could highlight their cinema-ready snacks. A furniture warehouse could boast about how their comfy sofas are perfect for movie marathons.
If you want to make the competition more elaborate, there are lots of options available. You can set up filters so that only comments which include photos, videos or friend tags are eligible to win. You can require followers to comment on multiple posts in order to take part, too.
Register contact details in exchange for a prize
Here's another classic option. Consumers love free gifts and discounts, and they're often happy to share contact information or answer questions in exchange. You can use the Sweepstakes app to organize a prize draw – and learn more about your brand's followers in the process.You can ask participants for information like contact details, consumer tastes, shopping habits and more.
Linking the giveaway to an event like the Emmys will boost the success of your campaign even more. So motivate users to fill in the registration form by offering an attractive prize that highlights your brand and celebrates the Emmys.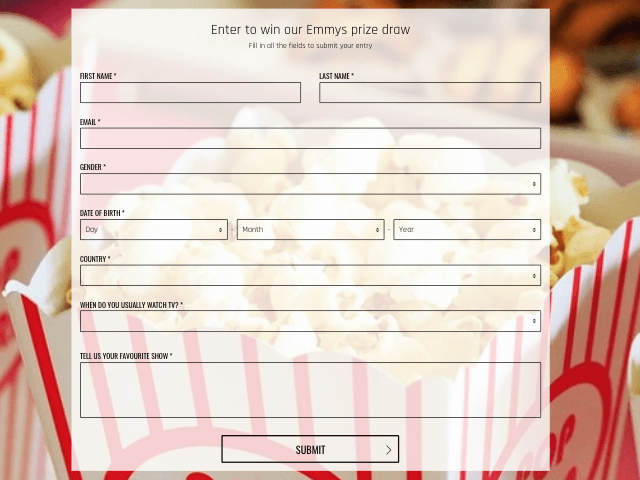 Guess the winner competition
Another fun option is to make your Emmys giveaway competitive. Try this if you're confident using the giveaways platform and you have an Easypromos Premium account. Use the Predictions tool and ask your followers to guess who the winners will be in each category of nominations. Then award your prize to whoever makes the first correct guess. You can run this giveaway for just one of the Emmy award categories. Or you can choose to run a giveaway for each award! Create a group of promotions to link your giveaways together. Then award a prize for each category, or one grand prize to the follower who guesses the most correct answers.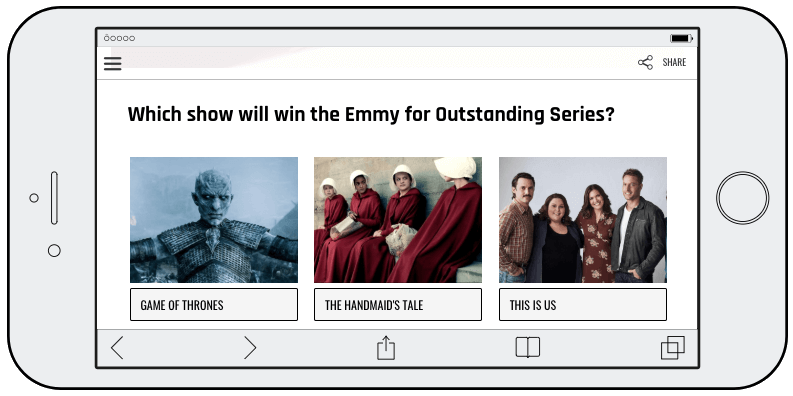 Coupons, co-branding and exclusive events
If you don't want to offer a concrete prize, discount coupons and promotional codes are an excellent alternative. We recommend this option if your brand focuses on big-ticket items, or if you want to encourage followers to visit you in-store. For example, promotional codes are a great marketing strategy for fashion brands and electronics retailers. In this section, we've got some novel ideas for sharing coupons with your brand's community. The range of possibilities will surprise you!
Celebrate with coupons and promotional codes
Let's start with the traditional option: sharing coupons and codes for discount offers. You can distribute the same coupon to everyone who registers for your Emmys giveaway. Or if you want to make the promotion more exclusive, create unique codes for individual users. Then you can verify the alphanumeric codes, QR codes or barcodes with our Validation Portal, in-store or online.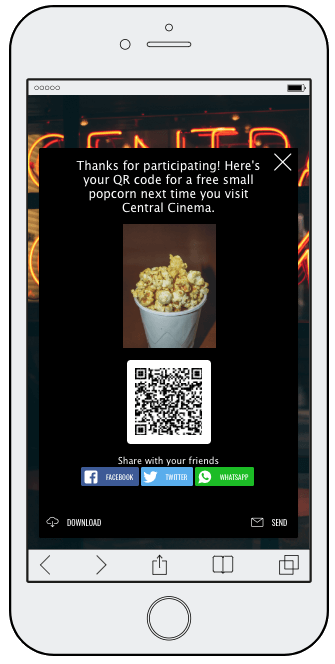 Use co-branding to build your audience
Struggling to make a clear connection between your brand and the Emmys? Coupons are a fantastic solution, with the magic of co-branding. Instead of trying to make an unconvincing link, just team up with a brand that has products or services relevant to the TV awards. You can offer benefits to your followers, increase your viral reach, and build a relationship with your partner brand, all at the same time.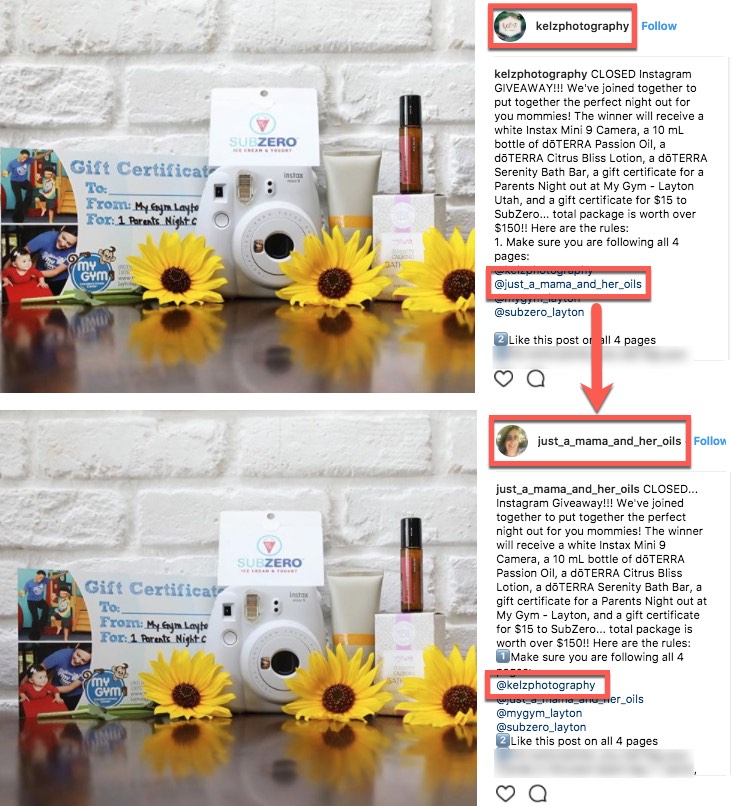 Host an exclusive Emmys event
Invitational coupons for special events are a campaign style we love. Again, this is a great option if you can't make a strong link between your brand and the Emmys, but you do have space to hold events. It also works well for exclusive brands whose marketing strategy is to project a good look or lifestyle. Hold an Emmys screening party or TV marathon, with coupons shared online as entry tickets. Your followers will feel like celebrities for the evening, and your brand will gain a reputation for being friendly and fun.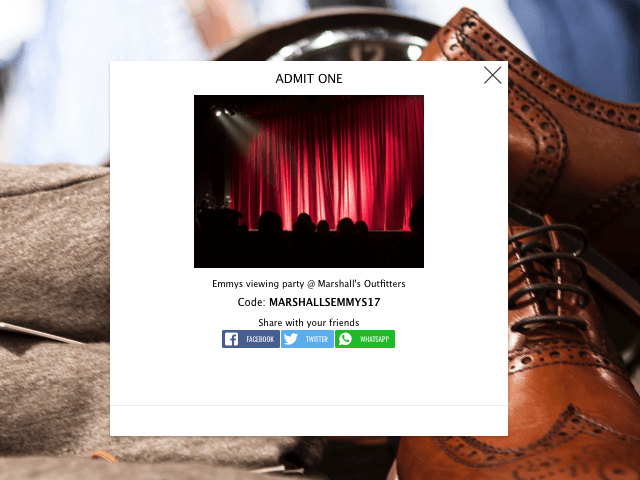 Share your followers' TV reviews
We're sure you've got a lot to say about your favorite shows. What did you think of the latest series of Game of Thrones? Are you watching the new season of Orange is the New Black? Well, you can turn all those opinions from your followers into brand engagement with Twitter contests, YouTube videos, and competitions for review writers. Now take a look at the sections below for more ideas.
Run an Emmys giveaway on Twitter
Twitter is a great platform for quick opinions and hot takes. First, kickstart your Emmys giveaway with a Tweet announcing the contest. Then you can use our Twitter sweepstakes tool to collect replies and pick a winner. You can also run a Twitter giveaway based on retweets, follows, or mentions and hashtags. Ask your followers for a 140-character review of a TV show. Find out their favorite – or least favorite! – shows, by asking them to Tweet with your chosen hashtag. You could even ask them to tag their TV-viewing buddies with a @mention.
Remember that Twitter is the only social network which currently allows giveaways based on followers and mentions. So it's the perfect platform to build a sense of community and brand loyalty. And the key to a successful Emmys giveaway on Twitter is choosing a desirable, relevant prize that you can describe in one Tweet or less.
Run an Emmys giveaway with YouTube comments and hashtags
Video is rapidly becoming one of the most popular formats to consume and share content online. More and more internet users have their own YouTube channel, or share videos through Instagram Stories. So you should seriously consider making your Emmys giveaway film-friendly!
The simplest form of YouTube contest is creating a giveaway video and asking your followers to comment. Next, you can import the comments to the Easypromos platform, select a winner and award the prize.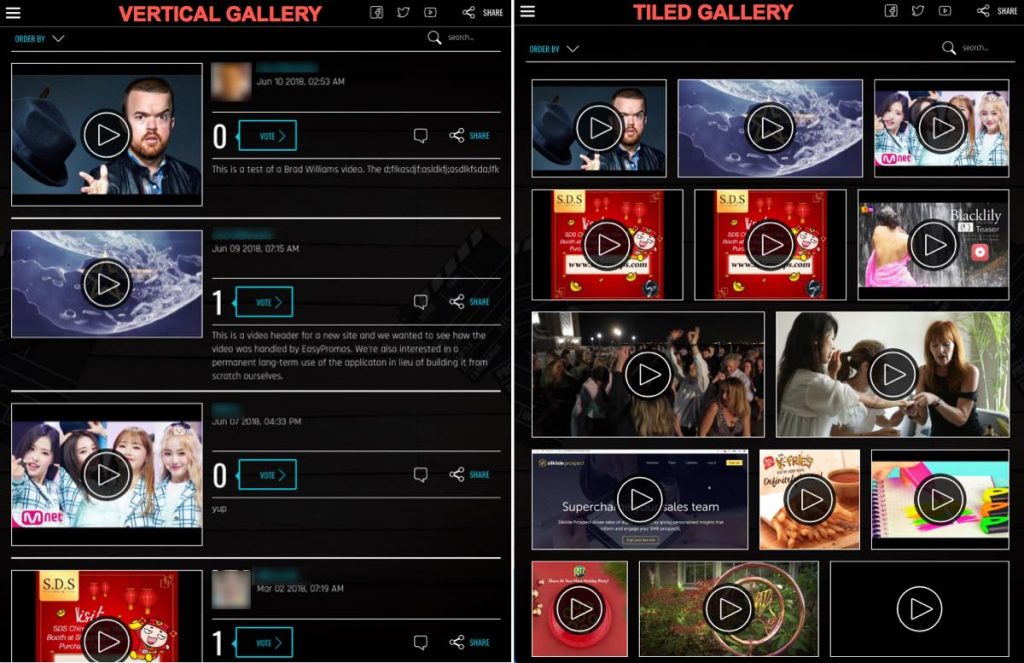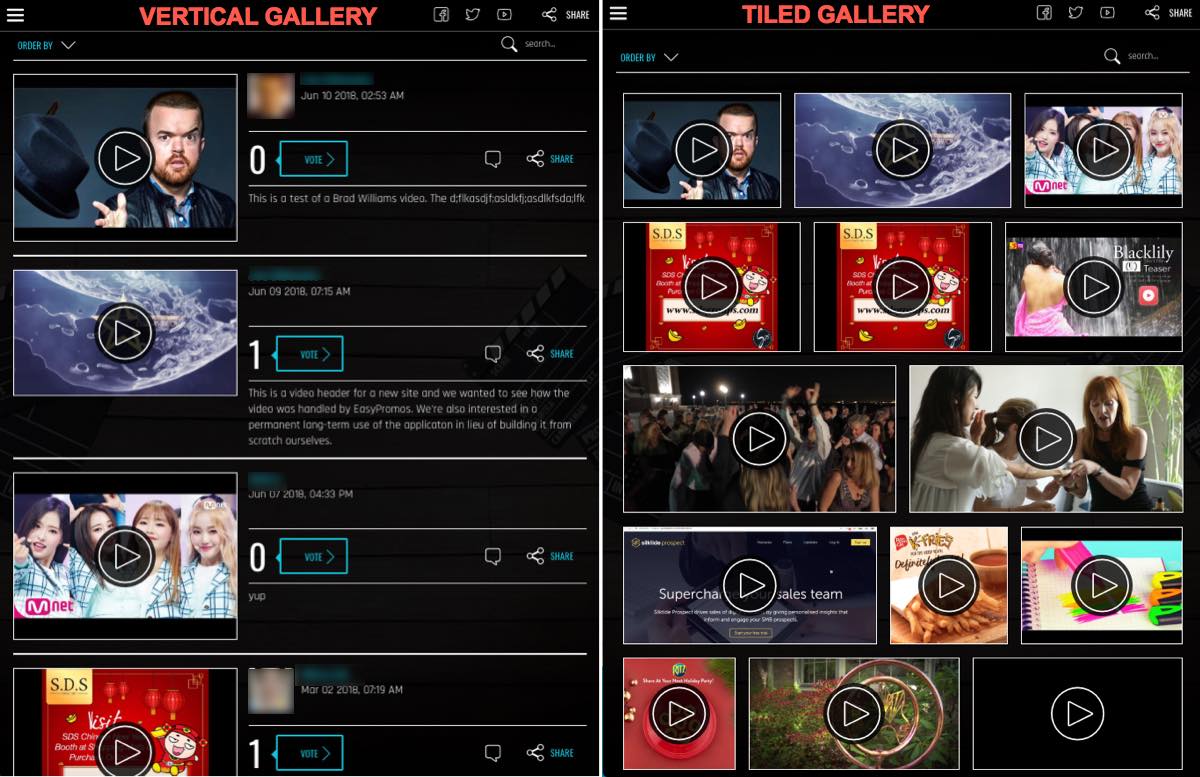 Run a writing contest
Here's a more traditional format, without the character limits of Twitter. Ask your followers to share their TV opinions with you in writing. Then you can collect entries directly or from any social network, and display them in a public gallery. Users can read the texts, share their favorites, and finally vote for a winner.

Run a creative competition for TV fans
Fandoms are some of the strongest, most active communities on the internet. So use your Emmys giveaway to connect with TV fans in your brand's community, and increase engagement, too. In the previous section, we discussed encouraging users to share their reviews and opinions. Next, we've collected some more ideas to tap into your followers' creative side.
Run a photo contest
With the photo contest tool, you can set up a public gallery to display entries of photos and videos. You could ask users to share selfies of themselves with your brand's products. Or go for a theme with a direct connection to your Emmys giveaway. Participants can share TV-watching selfies or photos from Emmys night parties. If you want to engage with serious fans, ask for portraits of their TV show cosplay outfits, or images of art they've drawn or painted.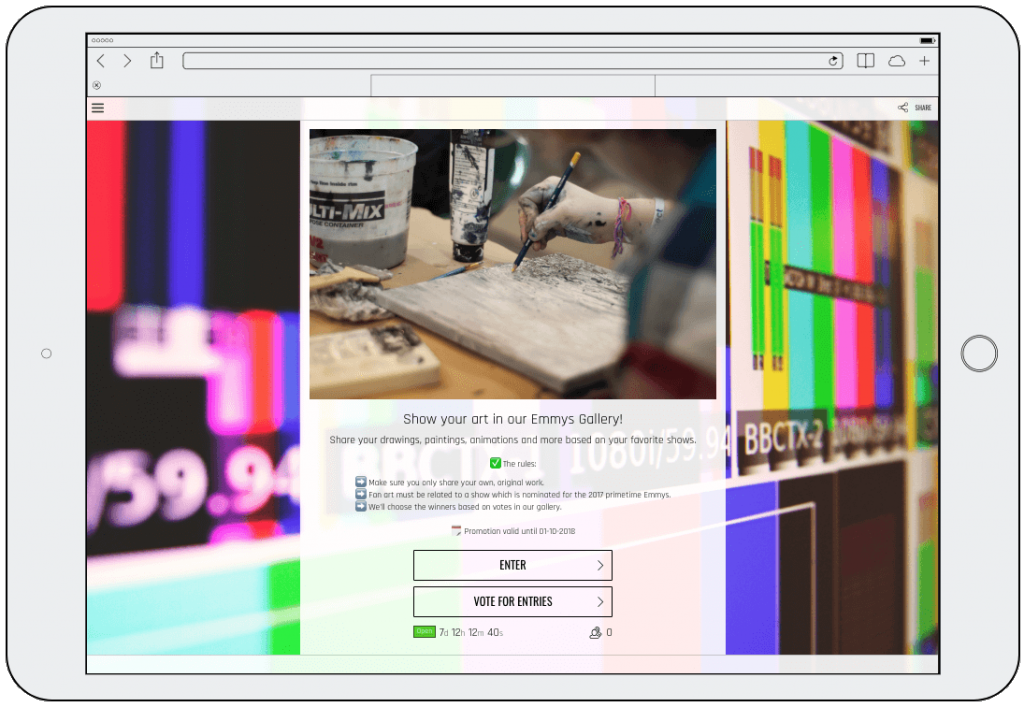 Run a video contest
Here's an advanced option for Easypromos Premium users who have a tech-savvy audience for their brand. Your followers could post reviews, reactions or their own versions of classic TV moments. Participants just have to make sure they post with your competition hashtag. Then you can collect all the entries into a public gallery. Next, choose whether you want to select the winner, hold a random prize draw, or ask your community to vote.
Run a writing contest
Just like the photo contest, you can use the writing contest tool to run an Emmys giveaway with content that your followers create. As well as writing reviews, they might submit ideas for their dream TV show, short fan fiction, or their arguments for who should win the Emmys this year. You can pre-moderate entries and display them in a public gallery. Then viewers can read, share, and vote for the most popular submissions.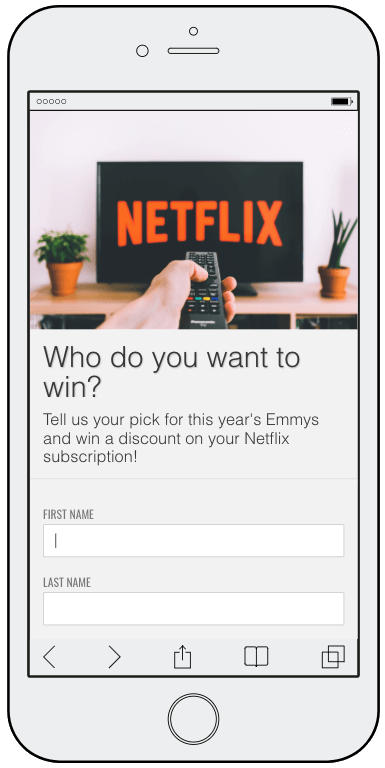 Take a film quiz or viewer survey
Quizzes are another fun way to bring out your followers' competitive streak. And an Emmys giveaway offers endless possibilities! So we've offered just a few of our favourite ideas in the sections below.
Test your followers' TV trivia knowledge
Use the quiz creator to run a trivia test. You could focus on one specific category of the award nominations, or build a quiz which covers all the Emmys! Write a classic quiz to really challenge your followers – or if you want to go easy on them, make the questions multiple-choice. Then encourage participants to share and compete with their friends.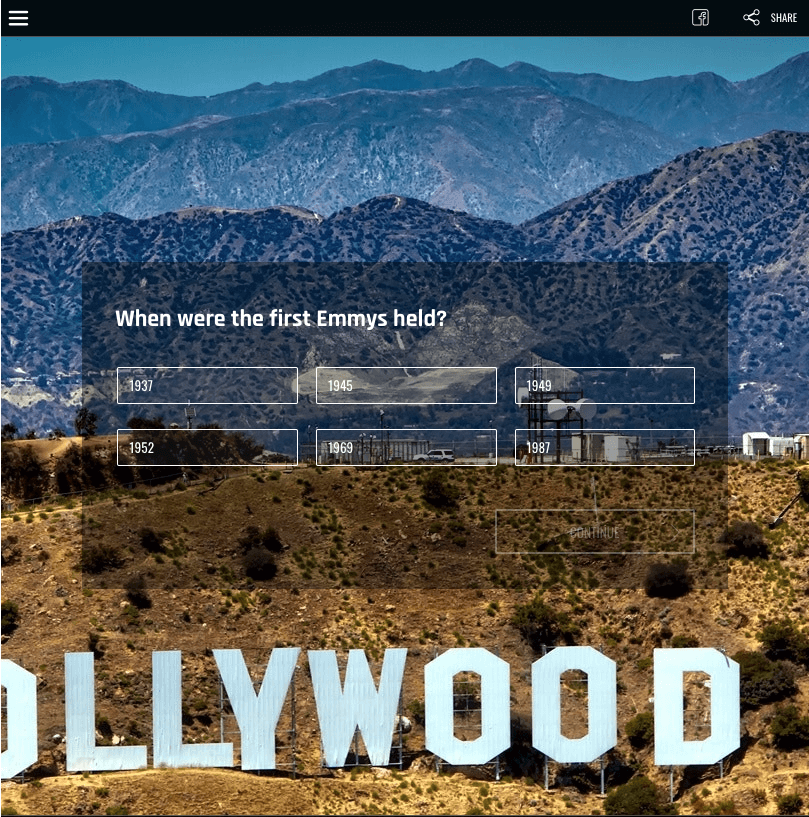 Find out more about your followers' TV habits
Another option is to learn more about your customer base with a survey. What shows do they watch? When? Do they binge-watch shows in epic marathons, or ration new episodes to once a week? You can fit in questions that are targeted for your brand, too. For example, if your business sells food or drink, ask followers about their favourite movie snacks. Even if your brand isn't closely related to TV or the Emmys, simply finding out more about your customers' leisure choices and routines could be valuable intel. Motivate your followers to answer the questions with a tempting prize or coupon reward.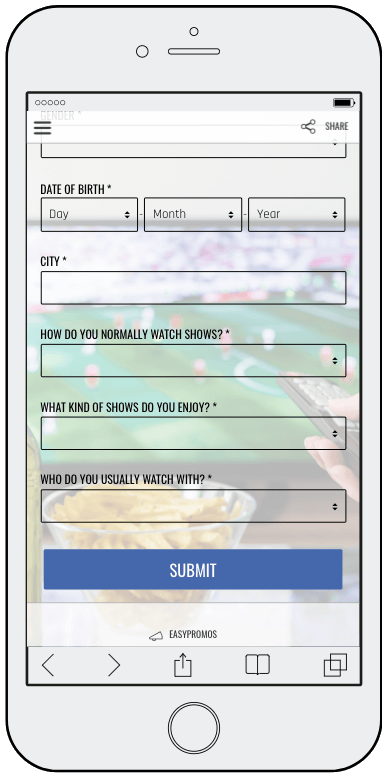 Follow the live ceremony with real-time giveaways
Add some extra excitement to your Emmys giveaway by running it in real time. Chances are, most of your viewers aren't Academy members – so they won't have the thrill of voting for the award winners. But you can offer them the chance to contribute and vote in contests from home!
Run an instant win competition
An instant win Emmys giveaway is easy to run. And it creates a real buzz among your followers! Taking part is incredibly simple: users just register their data and then click through to find out if they've won.
You can run a series of instant win contests, where new prizes are released over a set period of time. This incentivizes followers to keep logging back in. Use this contest mode to count down to the awards ceremony, or hand out prizes while the on-screen winners are being announced. Make your followers feel like they're the guest of honour at your virtual Emmys event!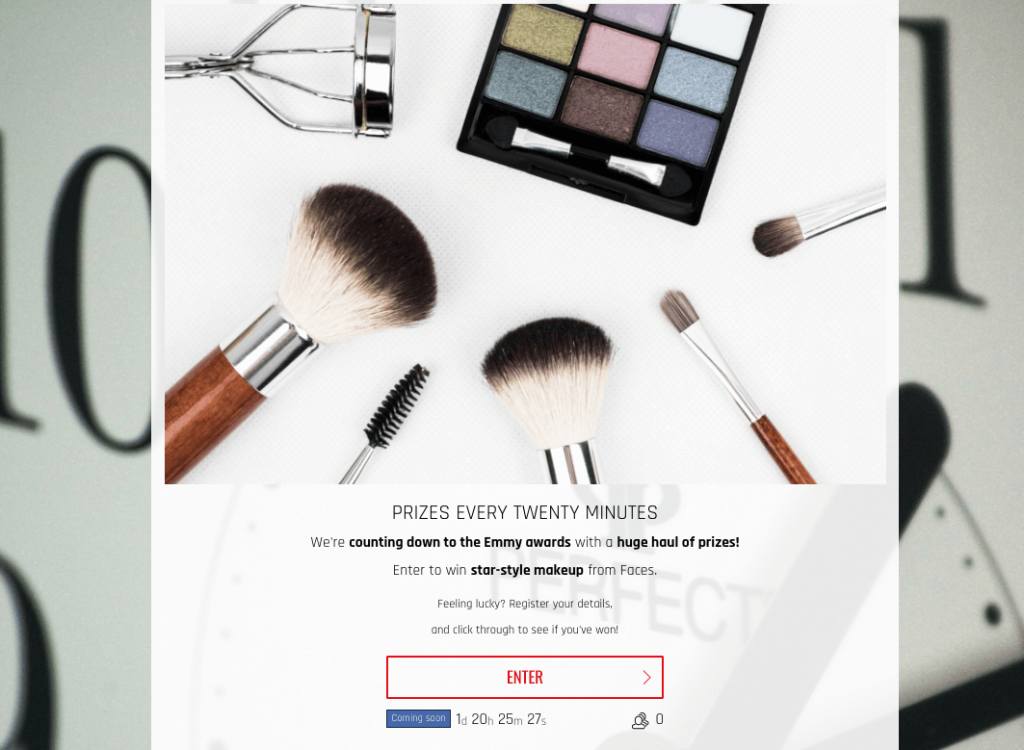 Run a hashtag competition
Another electrifying option for your Emmys giveaway is a hashtag competition. Users can take part from Instagram and Twitter, with comments, photos and videos as well. The key to a hashtag contest is as few restrictions as possible. Just encourage your followers to share and engage!
We love this campaign style, because you can accompany the live broadcast of the awards ceremony. Reward your followers for their thoughts and reactions in real time. Show that your brand is in touch with their interests, and share the drama of the evening with them.
Terms and Conditions
Even the Emmys follow strict rules! If you want to run a giveaway for your followers, you must include terms and conditions. Depending on what information you collect, you'll need a privacy policy and cookies policy, too. Finally, you'll need to ensure that the contest is free and fair.
Easypromos offers a free tool to write, edit and host all the legal documents you need. Our platforms are also authorized by social networks, and comply with their rules. Every time you run a contest, a certificate of validity is generated, to show participants that you've run an impartial contest. Finally, you can blacklist users who break the rules. And our Premium platforms include a host of other anti-fraud tools.
We hope you've found these suggestions helpful. We can't wait to see the promotions you create! So set up your Easypromos account and get started on your Emmys giveaway right away.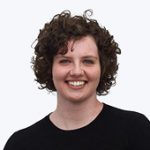 Corinna Keefe
English copywriter at Easypromos marketing team