Posted in: Applications,Ideas for your websiteLast update: 19/08/20
Halloween is almost here. Have you started planning your marketing campaigns yet? Here at Easypromos, we're getting a head start with some spine-chilling suggestions for Halloween promotions on YouTube.

It might seem hard to believe, but YouTube is set to take over from Facebook as the social media site with the most traffic. If you have a digital marketing strategy, then you should already be working with video content. And Halloween is the perfect time to join the party… with a YouTube Halloween giveaway!
Video is the ideal format for costume contests, scary films, tricks and treats. In this post, you'll learn how to set up and run a Halloween giveaway on YouTube, get the maximum benefit for your brand, and avoid common mistakes.
Your YouTube Halloween giveaway: attract participants with an attractive prize
Before we get into the details of your YouTube Halloween giveaway, let's talk about rewards.
You'll need to choose a thrilling prize for your Halloween giveaway on YouTube. This is the main incentive for your viewers, so it should be both desirable and relevant. The ideal prize is something that reminds viewers of your brand, and the Halloween theme.
Follow these four tips for a perfect prize:
Value. The prize should motivate followers to participate. And it should be a special treat – something they wouldn't usually buy for themselves.
A range of prizes. If you don't want to offer one big prize, this is a neat alternative. Then your followers have more chances of winning, and you get to show off more products. The more people win, the more you reinforce customer loyalty.
Gift cards and coupons. Participants love prizes with clear monetary value. If you're offering a product haul, tell your followers exactly how much it's worth. Then the prize will seem even more desirable and you get to boost sales.
Choice. Another advantage of gift cards is that you empower participants to choose. The winner can pick a prize they really love, and your generosity will be clear to all your followers. What a way to work on those customer relationships!
Boost engagement and social media presence with you YouTube Halloween giveaway
Here's a great example of a YouTube Halloween giveaway. A women's lifestyle brand decided to give away a $500 Sephora gift card – combining value and choice.
The brand made a giveaway video with Halloween makeup tips, and won amazing engagement in return. But what led to increased engagement?
In the video, the organizer asked the viewers a simple question and in order to participate in the draw, interested participants had to leave their answer in a comment. Comments and interactions increase engagement, which then improves your video's positioning, and that boosts your online presence and visibility.
Tip: ask open-ended questions! They encourage real conversations, which help your brand engagement and customer relationships.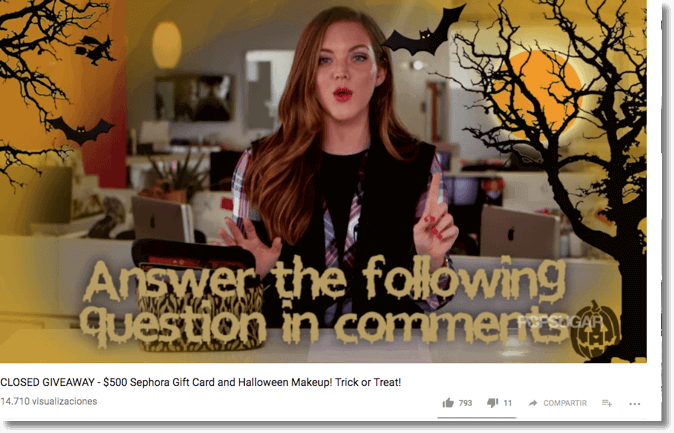 So how did the prize draw work? Viewers just had to comment – then our YouTube random comment picker tool drew a random winner and alternates in an automatic and transparent way.
To make it more challenging, the brand asked people to answer a specific question. They used keyword filters so that only correct answers would be included in the prize draw.
Here's another example, from a technology reviewing channel which wanted to share the Halloween excitement… even though they didn't have a clear connection to the holiday.
They teamed up with an electronics brand to film a video about Halloween decorations and tricks with a smart projector. Then, followers could comment for the chance to win the projector.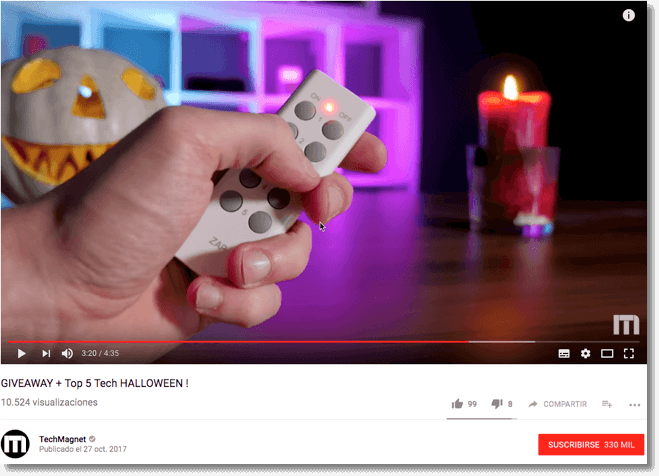 There are lots of different ways to run a Halloween giveaway on YouTube. Try asking quiz questions, hiding keywords in the video, creating visual puzzles, or inviting your followers to share their opinions.
However you design your YouTube Halloween giveaway, here are two general recommendations to keep in mind:
Keep it simple. When you're designing a giveaway, always think about how motivated your followers are. Do they regularly like and comment on your posts? Do they like to share content, or are they shy? Prizes are a great way to encourage engagement but don't expect participants to follow complicated rules. Make it easy to join the competition, with a single action to take part.
Be yourself. Other channels and brands can be great sources of inspiration. But make sure they don't overshadow your own identity! First, think creatively about your brand and the image you want to project. Then design a promotion that suits you.
Follow rules for your YouTube Halloween giveaway
A Halloween giveaway on YouTube is a chance to show followers that your brand is trustworthy and transparent. But in order to do that, you must follow YouTube's rules for promotions.
Here are the details you need to keep in mind:
Competition dates. YouTube giveaways usually last up to a week. Make sure your followers know exactly when the giveaway starts and ends.
How the prize works. Explain exactly what the prize is, and how winners can collect it. If you have any conditions for awarding the prize, spell them out clearly. That includes…
Location. If your promotion is restricted to a certain location, then announce it in the video, video description, and terms and conditions. Don't leave any room for doubt! Then, if you have to disqualify any winners because of their location, you've got receipts.
Be accountable. Tell your followers who is responsible for the giveaway. Include a name, address, and multiple ways to contact them. Remember, a good promotion is an opportunity to build trust.
Terms and conditions. Every social media giveaway must include a set of legally binding terms and conditions. If you're not sure where to start, check out this guide.
Check out our Halloween campaign hub for even more ideas, inspiration, and free resources for Halloween giveaways and promotions.
Are you ready to launch your own YouTube Halloween giveaway? Don't worry if you have doubts or questions, as our Support Team is always ready to help!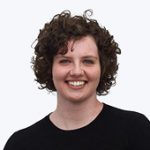 Corinna Keefe
Content marketer at Easypromos
Publication date: 2018-08-27