Posted in: Digital marketing,Ideas for your websiteLast update: 01/08/22
Children's Day is a time to celebrate children all over the world. So we've collected our favorite ideas for fun promotions! Challenge kids and parents to competitions with photos, videos, songs, coloring, and more. Give away prizes and share the excitement with your audience online.

The history of Children's Day
Children's Day is celebrated all over the world. It's an opportunity to show that children are important in our society, to campaign for children's rights… and even to appreciate parents! However, Children's Day is different in almost every country. Every culture has its own traditions, dates, and customs. Here are a few of our favorites.
In China, children get half the day off school. Many schools celebrate with camping trips, cinema trips, and special activities.
In Japan, Children's Day is celebrated twice a year. People decorate their houses with dolls and streamers.
In Mexico, children wear bright colors to celebrate youth and spring. They get presents from their parents, too.
In Vanuatu, Children's Day is a national holiday. Adults are encouraged to listen to children and take their opinions seriously.
In Australia, the celebration lasts for a whole week!
In many countries, it's common to give presents and run fun activities for children. You can join in the excitement by sharing competitions, contests, and giveaways for kids and parents who follow your brand online. Take a look below for our top tips for a Children's Day giveaway, as well as advice for children to stay safe online
If you're looking to organize a social media giveaway to celebrate Children's Day head to our blog post dedicated solely to this topic!
Key safety tips for your Children's Day promotion
Social media can be a tough place for anyone. Children run the extra risks of cyberbullying or inappropriate content. So make the most of your Children's Day celebration by keeping it fun, safe, and friendly.
Get parental permission. If you run a contest aimed at children, remind them to ask their parents or caregivers before taking part. Be especially careful with photo and video contests: don't publish or share photos of children without their parents' consent.
Set age limits. You can use the Easypromos age restriction tool to control who joins your promotions. Set a safe minimum age for participants, or set it to 18 so that children can't sign up without their parents' help.
Be a community leader. Set an example for your followers. Be friendly and polite. Write your giveaways posts in an accessible, appropriate style. Watch out for bad comments, and filter or delete them immediately. You can pre-moderate competition entries before publishing them, too.
Check the legal details. Every online promotion must include terms and conditions. Depending on the giveaway, you may also need a privacy policy or cookie policy. Use this free tool from Easypromos to create, host, and share legal documents.
So let's explore some engaging ideas of Children's Day promotions!
1. Get creative with Children's Day photo and coloring contests
Parents love taking and sharing photos of their kids. Every photo is a precious memory of their time together. So why not celebrate a Children's Day giveaway with a photo contest?
Here's an example from a website that recommends kids' activities. They offered an exciting list of prizes, with tickets to fairground attractions, museums, parks, and more. Parents just had to enter a photo of their child enjoying the summer, for a chance to win. All the photos were displayed in a public gallery, and parents received a link to share their photo entry with family and friends.
Do you want to entertain and engage your audience this Children's Day? Why don't you create branded mini-games to connect with your online community and reinforce brand awareness? Try our EasyGames platform to see how you can use gamification in your marketing strategy.
Here's a contest with a twist from a go-karting center. Instead of photos, they asked kids to share their drawings and coloring pages. This is a fun way to tap into kids' creativity. And parents will thank you for keeping the kids busy with a craft activity!
2. Mark the day with a special experience
Why are online contests and giveaways such a powerful marketing tool? Well, of course, they serve to advertise your products and services and increase your follower count. But there's another benefit, too. Online competitions and rewards are a way to demonstrate your brand's values and commitments.
How? When you run a contest that's transparent, free, and fair, you show customers that you can be trusted. When you offer prizes that your customers value, you show that you understand their needs. You can also offer competitions for exclusive experiences that illustrate what your brand is all about.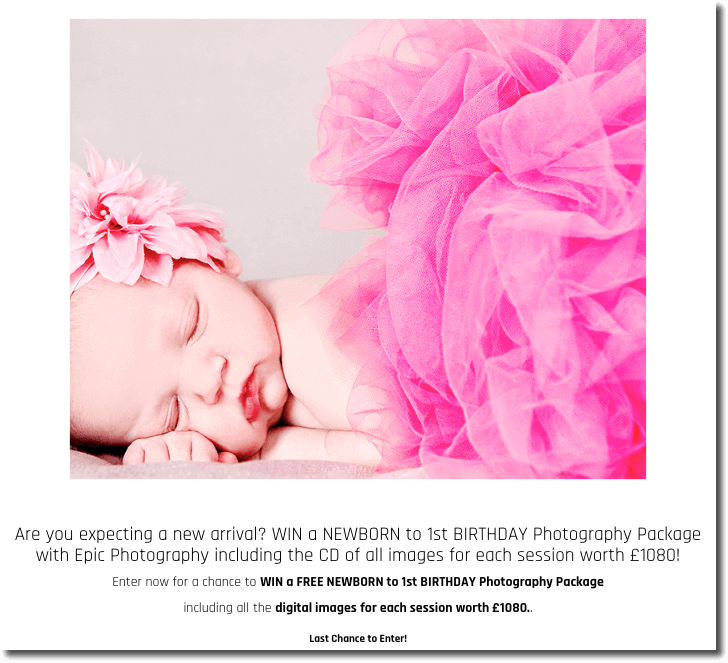 To explain that idea, here's an example from a photography company. They wanted to show that they care about their family customers. So they chose a valuable prize: a free photoshoot session for new or expecting parents and their babies. They showed that they understood how special the first year of parenthood is. Their clients felt seen, appreciated, and rewarded.
3. Challenge your followers with a fun quiz
If you have a bright, active community of followers, then it's fun to offer them a challenge. Share an educational quiz for kids, get children and parents to compete together, or ask adults if they still remember their school days!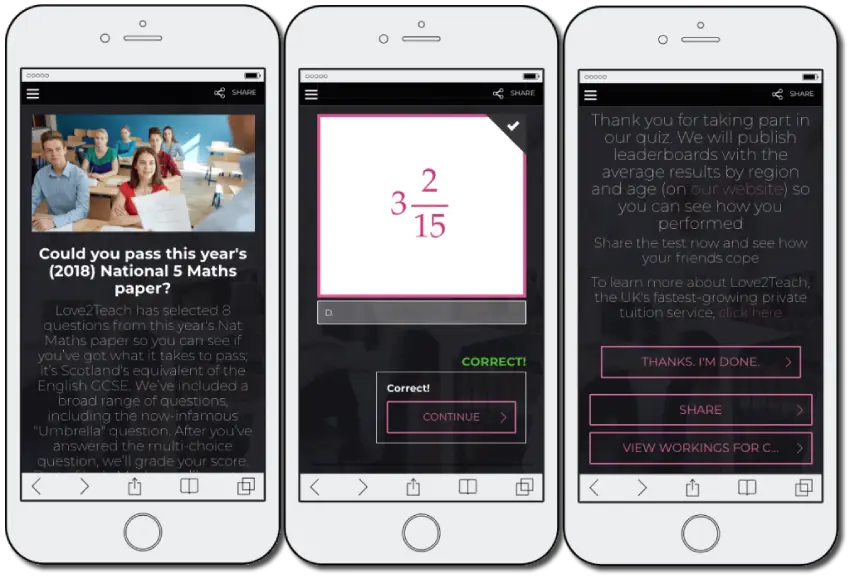 We love this example from a private tutoring company. They asked their followers to answer questions from an official maths exam. How much do you remember from your high school classes?
Remember to offer a rewarding prize for your Children's Day promotion. Make the quiz entertaining, and then offer a free gift or discount for extra motivation.
You can design a range of questions, including a Personality Quiz, Knowledge Quiz or Survey with drop-down menus, autocomplete, radio buttons, and even star ratings.
4. Share songs, poems, and nursery rhymes
Children can be wonderfully creative. And so are parents, too – think of the hours they spend reading stories, singing rhymes, and playing games with their kids. Build your community online by asking children and parents to share their favorite poems, songs, fairytales, games, or even recipes.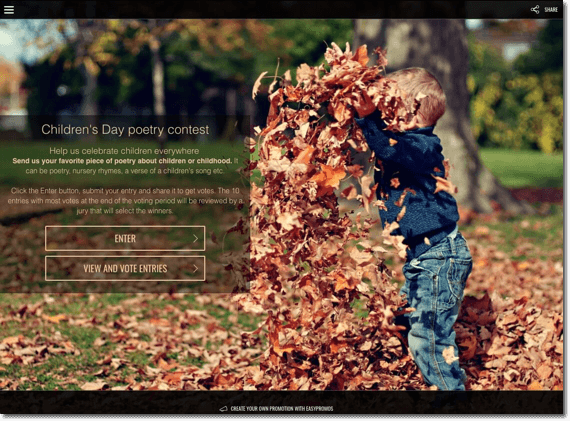 You can invite users to share text in a Writing Contest. Collect the entries, then display them in a public gallery, and even invite users to vote for their top picks.
You can also run similar competitions for photos and videos. Here's a cute example: a kids' entertainment company asked viewers to compose a new theme song. With help from their parents, the children could record videos of their songs and share them in the contest.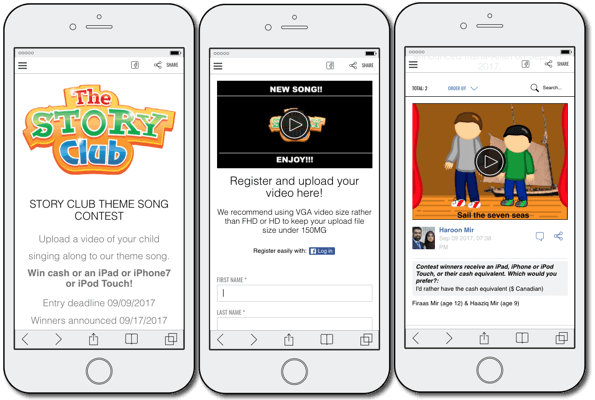 To bring all these ideas together, consider a Mention + Hashtag Contest. You can collect photos, videos, and even text in a single Children's Day giveaway. Invite your followers to take part from Instagram and Twitter.
5. Recognize young people's talents
Video contests are a very flexible promotion dynamic. We've already discussed sharing family memories or favorite songs. But what about showing off kids' special talents?
Here's an example from an elite summer training camp. They offered summer scholarships for exceptionally gifted young players. In order to take part, the children just had to share a video of them in action on the field.
Similarly, this contest offered cash and mentoring prizes for young entrepreneurs. They could join the competition by uploading a video with their best business pitch.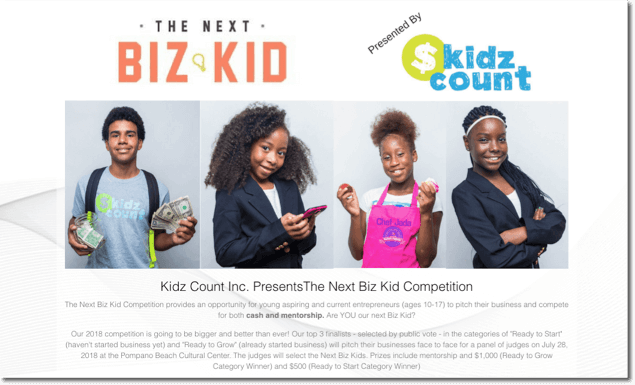 6. Give away coupons, gifts, and prizes
Not every Children's Day giveaway has to be complex. Sometimes, you just want to share gifts and rewards, without demanding too much from your followers in return.
Here's a sweet competition from Molly Mojo, a health and beauty brand for children. They decided to celebrate parents, and reward them for their commitment to their children.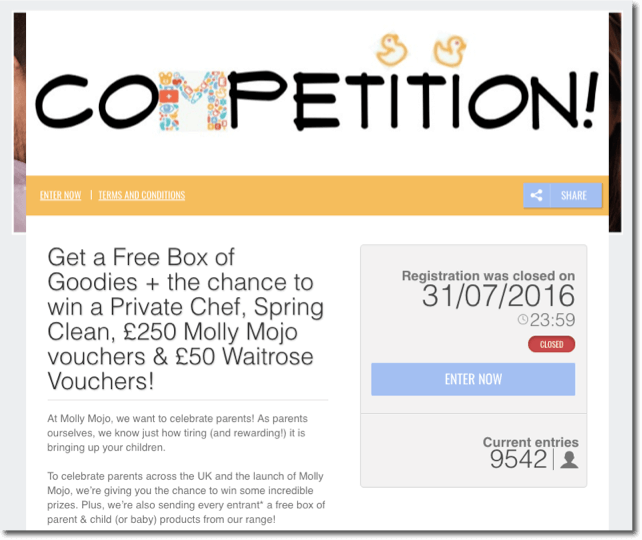 Users just had to fill in a giveaway registration form for the chance to win a range of valuable vouchers and experiences. And the brand maximized the benefits from registering users. As well as getting contact details, they asked one extra question to qualify their leads and learn more about their customer base.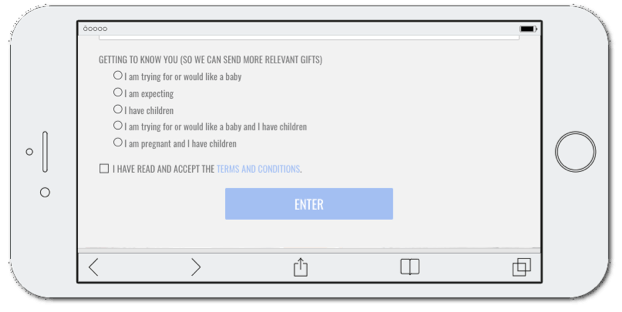 If you're interested in collecting and qualifying leads, then rest assured – all Easypromos promotions are designed to help your CRM strategy. You can download participant data and integrate it with your CRM.
Now it's your turn
We hope you're feeling inspired by all these ideas and real-life examples. Now try designing your own Children's Day promotions! Remember, it's free to create an Easypromos account and start drafting promotions. You can also Chat with our Support Team in case of doubts and questions.
Publication date: 2018-09-21