Posted in: ApplicationsLast update: 11/03/20
Social media is at the center of every brand's marketing strategy. And giveaways are a key tool to increase and engage followers online. So here's the natural next step: a giveaway which unites users from across different social networks. Let's look at how to get the most out of this new feature.

Reasons to run a giveaway on Facebook, Instagram and Twitter
We know that some brands have been searching for a multi-network solution for a while. But you might be new to the idea of a simultaneous giveaway on Facebook, Instagram and Twitter. If that's the case, then here are some of the advantages you're about to discover:
It's easy to share prizes. Sometimes you have a prize so good that you want to share it with all your followers. Or, more simply, you just don't want to waste time creating separate giveaways for all your socials.
Reach multiple goals with a single campaign. We know that giveaways are uniquely powerful at increasing and engaging followers. With a single giveaway on Facebook, Instagram and Twitter, you could achieve your targets for each network.
Reward your loyal customers. Your followers will notice when you reward them with prizes. And if you share a giveaway on one network, they'll certainly ask about it on other social media.
Make the most of Facebook and Instagram cross-posts. When you promote a post on Facebook, it automatically appears on Instagram too. Your followers are already seeing cross-posts. So it makes sense to keep your giveaway strategy up to date.
So the advantages of a multi-network giveaway on Facebook, Instagram and Twitter are clear. Now let's learn how to create this kind of giveaway, get all the benefits, and avoid common mistakes.
Is it difficult to run a giveaway on Facebook, Instagram and Twitter?
The multi-network giveaway app is designed to make your life easier. If you have a social media plan for Facebook, Instagram, Twitter – and maybe even YouTube, too! – then you can save a lot of time by running one giveaway across all those networks.
However, the difficult part is designing a giveaway which works well on every network. What do we mean by that? Here's a breakdown of the challenges you need to consider:
Social network rules and community standards. Make sure you understand the rules and regulations for each separate platform.
Be consistent. The giveaway rules should be the same for all your users – for example, don't ask for comments on Facebook but likes on Instagram.
Include terms and conditions. Every online giveaway has to have T&Cs, and multi-network giveaways are no exception.
Automate the giveaway. No one wants to count comments by hand, especially if you're collecting entries from so many different sites.
Pick a winner at random. Make sure the contest is fair by using a trustworthy, randomized tool to select winners.
Keep it simple. If you make the contest too difficult, or ask users for too many personal details, they won't participate.
We see a lot of contests and giveaways at Easypromos. We know what works, and what doesn't. Here are the two most common errors:
Breaking the rules. If you ignore social network rules, you could have your account suspended. Facebook, Instagram and Twitter are all cracking down on spam accounts and irresponsible posts.
Creating an impossible giveaway. For example, if you run a hashtag giveaway, it's impossible to collect entries from Facebook. Your followers will not be impressed.
So there's an idea of what not to do. But if you want to create a smart, viral, valuable giveaway… read on!
If you are sure to run a multi-network giveaway, create an Easypromos account now and start your giveaway. We will help you step by step.
How to run a multi-network giveaway on Facebook, Instagram and Twitter
1. Ask an engaging question
When you plan a giveaway on Facebook, Instagram and Twitter, you have 2 key needs. Firstly, it should be easy for users to take part. Secondly, it should be easy for you to collect the competition entries.
So what we recommend is asking your followers an open question. They can answer with comments and replies on each social network. Then the multi-network app will import all those comments at the click of a button. And as an extra bonus, social media algorithms will reward you for high-quality engagement and user interaction.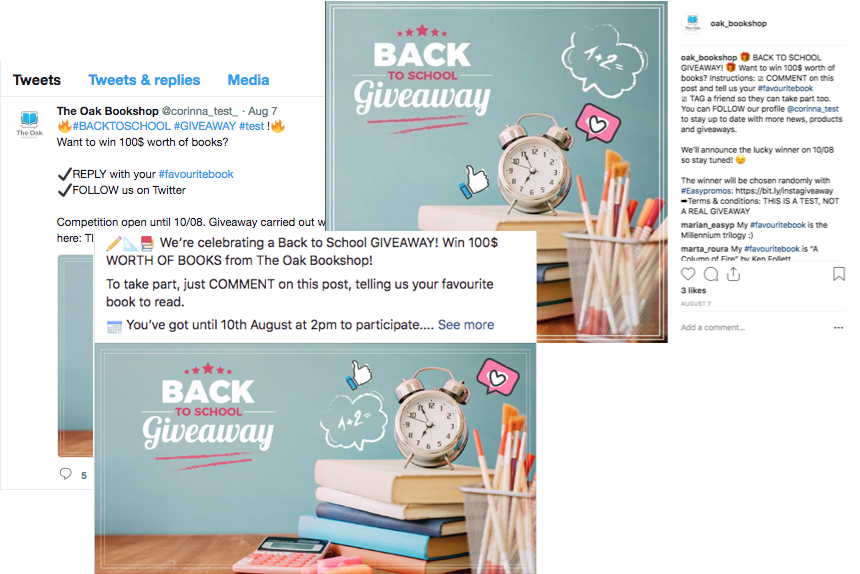 2. Make your promotion go viral
Viral… on every network. What made your posts successful in the past? The answer is probably different for Facebook, Instagram and Twitter!
Each network has its own style, voice, and features. And they have rules, too. For example, if you require users to share your Facebook giveaway post, your account could be banned.
Here's a tip: don't force your followers to do too much. Design your giveaway with only one requirement, such as making a comment. Then you can invite followers to share or tag. In fact, we've found that many users will share a giveaway on Facebook, Instagram and Twitter – without even being asked!
3. Choose your prize
We've said it before, and we'll say it again. The best incentive is a great prize. Our research shows that users only join a promotion if they're excited about the rewards on offer. Click the link to learn which prizes are most popular!
Choose a special treat for your followers that highlights your brand, or matches the theme of a special event.
For a giveaway on Facebook, Instagram and Twitter, pick a prize that has universal appeal.
If you ask users to make a big effort or share lots of personal data, then make sure you offer a big prize. So the prize should be in proportion to the giveaway.
Show off the prize with photos or videos, and explain any conditions or rules clearly.
Decide whether your users would prefer lots of little rewards, or one grand prize.
4. Prepare the giveaway posts
Your giveaway on Facebook, Instagram and Twitter will run more smoothly if you prepare everything in advance. Here's a quick checklist of all the content you'll need:
Text for giveaway posts on each social network.
Terms and conditions to share in each post. Use our free tool to create, host, and share a short link to the legal details of your giveaway.
Dates and times to start the giveaway, close the contest, and announce the winner. Most giveaways on social media last just 24 hours. A special contest might stay open for 4-5 days.
Images with the correct dimensions for each social network. The image should show your prize and brand logo. Remember that Facebook and Instagram Ads put limits on the amount of text in each image.
Publicity. Plan how you're going to spread the word about your giveaway on Facebook, Instagram and Twitter. Think about Facebook Ads, email marketing, Instagram Stories, in-store advertizing, and more.
Brand collaborations and influencers. If you want to work alongside another brand or social media personality, make sure you have a clear agreement in place before the giveaway begins.
5. Pick the perfect date and time
Let's talk about timing in more detail. The moment you post your giveaway on Facebook, Instagram and Twitter can be key to its success.
So think about when your online communities are most active. Make sure your publicity is all planned out, so that you can launch all the elements of your campaign simultaneously.
If you've run a promotion with Easypromos before, then check out the advanced statistics module. You can view peak dates and times for your promotion, and break the figures down into individual social networks.
6. Follow your promotion in real time
So you've launched your giveaway on Facebook, Instagram and Twitter. You've published the posts, alerted your mailing list, and shared a cute Instagram Story to highlight the campaign. But you're not finished yet!
Follow your promotion closely as it develops. Then be ready to answer any questions or issues in the comments on each social network. At the same time, you can monitor the success of your promotion, and keep notes on what worked well for your next campaign.
7. Pick a winner with the Easypromos guarantee
Once your followers have shared their comments, it's time to pick a winner. Follow this tutorial to add your giveaway posts to the Easypromos platform, collect competition entries, and instantly choose a random winner.
You might be tempted to point a finger at your screen, and choose the winner that way. But here are 4 reasons why a randomized tool is essential:
Brand reputation. When a giveaway doesn't seem fair, users notice. They will expect to see the result announced, and they will want proof that the process was honest. The winner selection tool will generate a Certificate of Validity which you can share online.
Alternate winners. Sometimes, you select a winner – and then can't reach them. The winner selection tool automatically chooses alternate winners, so you have a back-up plan ready to go.
Blacklists and exclusions. There are lots of reasons you might need to exclude someone from the prize draw. Previous winners, members of your team, and anyone who behaves badly online can easily be removed from the list of participants.
Additional entries. You control whether users can make more than one comment on each social network. However, if someone enters a giveaway on Facebook, Instagram and Twitter, that will count as three separate entries.
8. Share the result on all your social channels
Once you've picked the winners and alternates, it's time to announce the result.
What's the most popular form of content on every social network? That's right… video.
When you pick a winner for your multi-network giveaway, the platform automatically generates an animated video with sound effects. So you can announce the winner with plenty of drama!
You can save the video in horizontal or vertical format, too. Click here to learn more about the video Broadcast Mode.
You can also set up a Claim Your Prize page. Use this to collect the winners' contact details, and deliver their prize as soon as possible.
We designed the multi-network app based on your feedback. Now we're excited to see the promotions you create! Try out the new tool, and be sure to tell us how it goes at marketing@easypromosapp.com.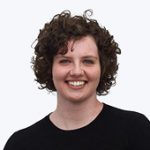 Corinna Keefe
Content marketer at Easypromos
Publication date: 2018-10-17