Posted in: Business newsLast update: 26/02/19
We love to hear about creative campaigns, unique ideas, and successful promotions. And we're always interested in the latest news on digital marketing, social media, and online promotions. Could you be an Easypromos contributor?

Guest post topics for Easypromos
If you've spent some time on the Easypromos blog, you'll know that we write about online promotions and giveaways. That's our niche. We don't publish articles about marketing in general, or other specialist areas.
Every blog and guest post falls into one or two of these categories:
Apps for Facebook, Instagram, Twitter, and Youtube. We're always interested in new social media tools.
Digital marketing: ideas, innovations, industry news, and best practices.
Ideas for your website. We like to share content for different businesses and brands. For example, we've shared posts about marketing for restaurants or cinemas.
Success stories. Have you used an Easypromos app for your promotion? We'd love to hear about it.
Interviews with interesting people from the worlds of social media, digital marketing, and promotions.
Events. We're always ready to celebrate holidays, festivals, and national days!
We like specific posts about online promotions, giveaways, and social media contests. And we like to hear from writers who can offer a unique perspective or added value to their posts.
Easypromos is committed to sharing and following best practices online, including data security and privacy. We will not accept posts which make suggestions that are against the law or against social network rules. Check the rules for social media platforms before making recommendations.
How to plan and structure your guest post
If you'd like to contribute a guest post to the Easypromos blog, you'll need to follow our in-house style guide. Please note that we reserve the right to edit posts and remove any examples, images or links as we choose.
Here are the basics:
Word count. Posts should be a minimum of 1000 words. Individual sections should not exceed 300 words.
Title. This should clearly describe the topic of the guest post. Please do not use brand names or colons in titles.
Break up the text with headings, sub-headings, and bullet-points. Try to use headings and subheadings which include the keyword and imitate search queries.
Key word or phrase. Write your post for a unique, targeted keyword or phrase. The keyword does not have to appear in every heading or section; however, try to distribute it throughout the post.
Key excerpt. This is displayed as a preview on the blog homepage, and as the first paragraph of the blog itself. Use the excerpt to introduce the keyword, outline the blog content, and explain why users should read the post.
Images. Easypromos will create a featured image to head the post. However, you should also provide images which illustrate your points and break up the text. Screenshots, mobile previews, and infographics are all useful images. Please do not use stock photos or generic images.
Links. Posts should include a maximum of 3 unique links. Please do not repeat links in the same post. Use links to provide sources, explain concepts, or link back to your brand. Make sure that links are relevant and in context.
Easypromos' main audience is marketing professionals who work with individual brands or advertizing agencies. Feel free to refer to common marketing concepts or terms. If you discuss a new or complex concept, then explain it briefly within the post. You can also include a link with more information.
How to contribute
If you have a great idea to share with us, then get in touch at marketing@easypromosapp.com. Send us your complete post, or a pitch of 200 words.
Don't forget to…
tell us why our readers will love your post
include a short bio
attach a photograph of you
share a link to your Twitter and/or LinkedIn profile
confirm that your recommendations do not breach legislation or social network rules.
If you send a complete article, please attach any images separately.
Then we'll get in touch to discuss your idea further. We're excited to hear it!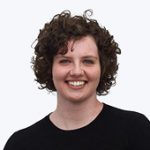 Corinna Keefe
English copywriter at Easypromos marketing team