Posted in: Applications for InstagramLast update: 28/10/19
Now, we don't usually like to blow our own trumpet. But we know that brands love working with the Easypromos platform. It's secure, transparent, professional, and full of extra features and benefits. So we've rounded up the top 20 reasons why you should use Easypromos for Instagram giveaways.

So here we go: 20 reasons why Instagram giveaways with Easypromos are the best option for your brand.
1. Get a Certificate of Validity
Let's start with the most important point: trust. Participants in a giveaway usually want to know how the winner was selected, and they may well ask for proof. Whenever you run an Easypromos giveaway, you'll receive a certificate which outlines the selection method, the winners, and the alternate winners. It's a secure document which can be publicly shared, but never edited.
2. Import all comments with one click
Your users value trust, but you're concerned about efficiency, too. Easypromos has access to the full Facebook API. So when you run Instagram giveaways with Easypromos, the platform is able to import all comments and all users from your chosen posts. Many alternative giveaway platforms don't have the full Facebook API, which means they can only run contests for the first 150 commenters.
3. Generate instant, viral video
Here's another way to save time, without cutting corners. Announce the winners of your Instagram giveaways with a thrilling animated video and sound effects.
You can also publish a Winners' Page with all the details of the prizes, winners, and certificate of validity. Serve up a link for winners to claim their prizes and share their contact details.
You can customize the video and the winners' page with your own choice of texts, fonts, and colors.
4. Manage winners and alternates
It happens more often than you think: you can't contact the giveaway winner, or it turns out they're not eligible for the prize. So Easypromos automatically selects alternate winners. Then you can replace and manage winners with just a few clicks.
5. Claim your prize
If you just have one or two winners, you can easily contact them with an Instagram DM. But what if you're running a larger competition? Use the Claim Your Prize tool to create a page where winners accept their reward and leave their contact details. You can download all the information for your records, too.
6. Run a test
Test your Instagram giveaways with Easypromos until you're completely confident. You'll be able to preview the design and check the giveaway is operational, before you open it up to your followers.
7. Guarantee a random prize draw
Easypromos uses a randomized tool to select winners in an Instagram giveaway. But you don't just have to take our word for it! The Easypromos tools have been witnessed and certified by a notary. So you have a legal guarantee that the tool works randomly, and the results cannot be tampered with.
8. Filter participants
Make sure that your Instagram giveaways with Easypromos are under your control. You can filter by:
number of comments
specific hashtags used
number of mentions
You can also exclude participants based on:
user blacklist
former winners
frequent participants
participation after a certain date
minimum number of posts
maximum number of hashtags
For a complete explanation, click here.
9. Manage promoted posts
You can include comments on promoted posts in your Instagram giveaways with Easypromos. Find out how.
10. Add more posts
You can include comments from several different posts in your Instagram giveaways in Easypromos. You can even require users to comment on all the different posts in order to take part.
11. Run more giveaways
If you'd like to run a sequence of promotions, or repeat a successful campaign, then it's simple. You can run repeated giveaways on the same Instagram post or posts.
12. Connect more social networks
With the latest Easypromos update, you can run a single giveaway to bring users together from Instagram, Facebook, Twitter and YouTube. You can even include posts from multiple social media profiles. Learn more about the Multi-Network giveaway app.
13. Download participants' data
One of the great benefits of a giveaway is getting a list of participants. When you run Instagram giveaways with Easypromos, you can collect this data – and more. Download an Excel or CSV file which includes participants' names, Instagram usernames, and even their competition comments. This is especially useful if a judge or jury is going to select the competition winners.
14. Use design templates
The first step in creating an Instagram giveaway is to publish a post on your profile. Use this to announce the contest, describe the prize, and explain how your followers can take part. We've created a library of free templates for you to use – including posts for seasonal holidays and special events.
15. Use legal templates
You can access the Easypromos template for terms and conditions from your account. Use the free app to edit the legal template with your brand's details.
16. Host terms and conditions
Of course, those terms and conditions must be accessible to everyone who joins your Instagram giveaway. Use Easypromos to create a webpage to host the legal details, and share a short link on social media.
17. Get ideas and inspiration
We're proud of our record of best practices in social media giveaways. Read our blog and subscribe to our newsletters to get promotion ideas, design resources, marketing tips, and case studies from successful campaigns.
18. Try it for free
Your first giveaway is free! So you can discover just how easy and effective it is to run Instagram giveaways with Easypromos. However, to enjoy the full range of benefits – including repeat giveaways, downloadable data, and promoted posts – you'll have to sign up for one of our plans.
19. Get support
We're always ready to help. Read our library of tutorials to guide you through creating Instagram giveaways with Easypromos. You can contact us via email at support@easypromosapp.com. And we have a live chat service to assist you in real time.
20. Share in the Easypromos reputation
One of our greatest strengths is our reputation. After ten years of experience, and thousands of Instagram giveaways, Easypromos has become a leading authority for social media giveaways. Organizing a promotion with our platform will give your campaigns credibility and reach.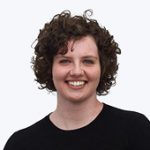 Corinna Keefe
Content marketer at Easypromos
Publication date: 2018-10-10