Posted in: EventsLast update: 11/01/19
Did you know about Singles Day? The natural counterpart to St Valentine's Day, this holiday is increasingly popular in China, the US and the UK. And consumers spend more on Singles Day than Black Friday or Cyber Monday! Join the celebration with these promotion ideas, designed for single people.

What is Singles Day?
Singles Day is the biggest event you've never heard of. Although this holiday brings hundreds of millions in retail value each year, it's kept a low profile. But now, retailers are finally waking up to the opportunities of Singles Day marketing and sales campaigns.
First invented as a singles' alternative to St Valentine's Day, this holiday has the unofficial motto: treat yourself.
It's the biggest day for online shopping, all year. In 2017, the Chinese retail giant Alibaba made $25 billion in sales, with a special focus on electronics.
And we can expect those sales figures to rise. Each year, the number of online shopping orders for Singles Day rises by hundreds of millions.
It's not just about sales – the number of single people is rising too. Today, about a third of Americans are single; and many of them are happy with their choice. Only 12.7% of people say they're actively dating.
Different countries celebrate different dates. In the US, it's September 12th. Chinese singles enjoy the holiday on November 11th. And finally, the UK version falls on February 15th, the day after St Valentine's.
How to celebrate Singles Day
Of course, the slogan "treat yourself" has a different meaning for everyone. But we can make a few generalizations. Single people tend to be younger, and enjoy more free time. They spend that time on hobbies or with groups of friends. The younger demographic means they're interested in mobile shopping and social media.
In this post, we'll share different types of promotions that appeal to savvy, single, mobile users. We'll also take examples from retail brands which have a special appeal for young and single people:
Fashion, health, and beauty
Foodies, recipes, and dining out
Sports and leisure hobbies
Leisure experiences, like festivals, concerts, and cinemas
New technology, electronics, and smart devices
Best giveaway ideas for Singles Day
Instagram giveaways
Giveaways on social media are a great choice if you're marketing on a budget. They're quick, easy, and effective. However, you'll need to think carefully about your audience: each network has its own demographic.
Instagram is a strong choice for your Singles Day campaign. The average user is young and relatively affluent. You can use profile posts and Stories to share tempting images of your products and prizes. And Instagram giveaways are becoming ever more popular!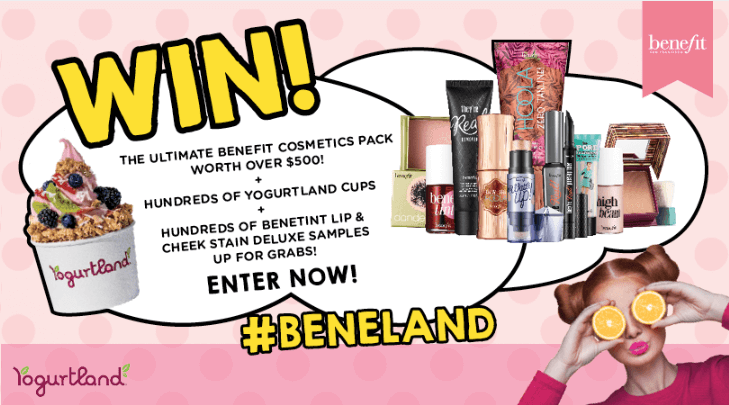 Here's an example of a co-branded promotion. The cosmetics brand Benefit teamed up with a frozen yoghurt company to offer a grand prize, plus a range of little treats for users who took part. Offering a range of rewards like this is a great way to increase engagement.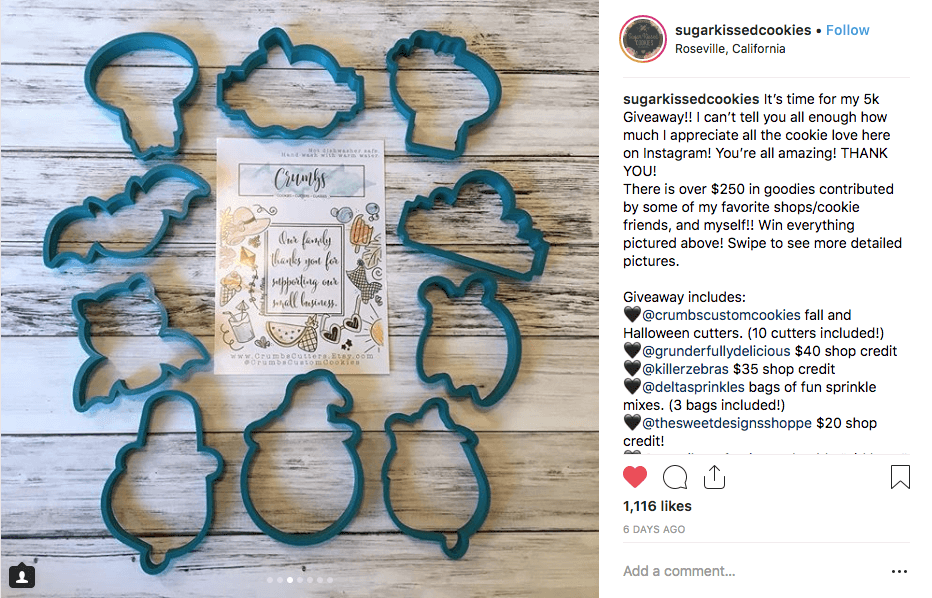 Here's another example, on a smaller scale. This baking brand shared gift cards and kitchen tools with one lucky Instagram follower. Virtual gift cards are a very popular giveaway prize: they're versatile, easy to share, and perfectly suited for mobile use.

Twitter giveaways
You should also seriously consider a Twitter giveaway. Although this network has a smaller audience, it offers the most flexibility for giveaways. You can ask users to follow you, retweet your posts, reply to you, or even post Tweets with a specific #hashtag and @mention.
Here's an example from a radio channel, which shared a prize for video game fans. To take part, users had to retweet the post and tag a friend.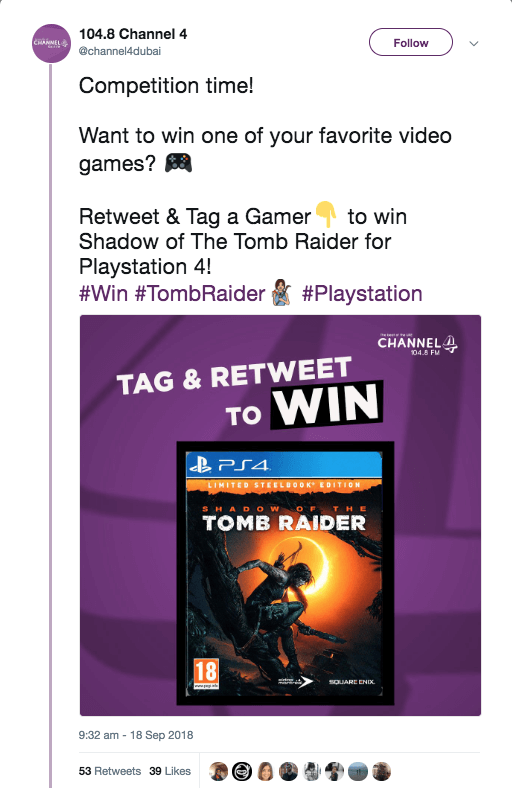 Next up, this cosmetics brand shared a valuable skin care kit for "bright young things". It's a great example of best practices for a Twitter giveaway. They livened up their post with emoji, included terms and conditions from Easypromos, and shared an image of the prize with clear instructions.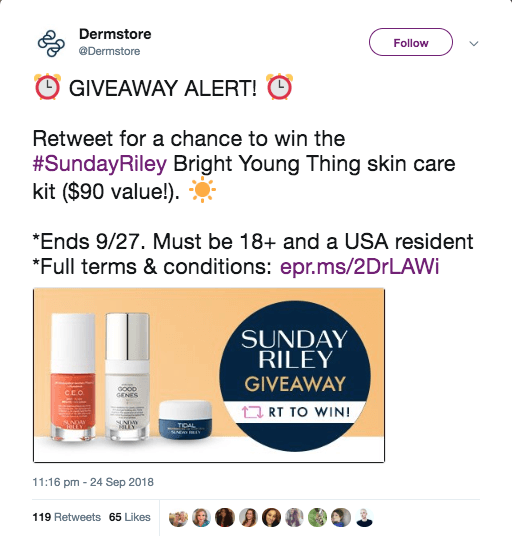 Giveaways with user registration
One of the greatest challenges of social media marketing is taking users beyond the network. You need a way to contact them and drive sales, outside of Facebook, Instagram, Twitter, or YouTube.
So to keep things simple, we recommend a giveaway with registration form. Offer a desirable prize, and then ask users to share their email contact details for a chance to win. Here's an example, perfectly designed to appeal to busy singles on the go: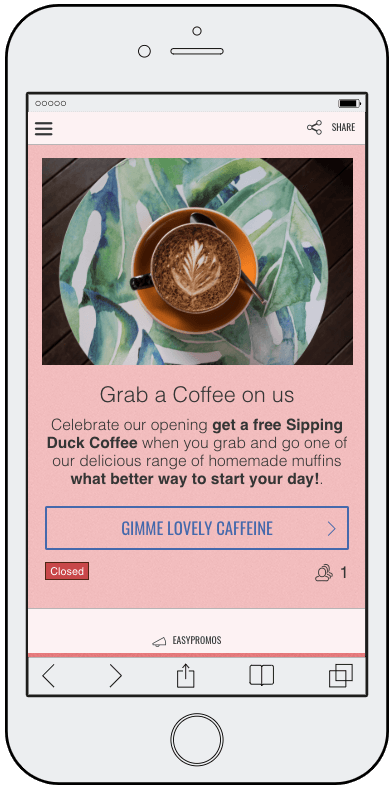 Coupons and limited-time promotions
We know that consumers today are very deal-conscious. They're looking for added value, rewards, and special offers from their chosen brands.
You can use a coupon promotion to share deals, tickets and even experiences. For example, this cinema offered cheap tickets to anyone who signed up for their email newsletter. Then they added some tension to the promotion by setting a time limit, and only sharing a limited number of coupons.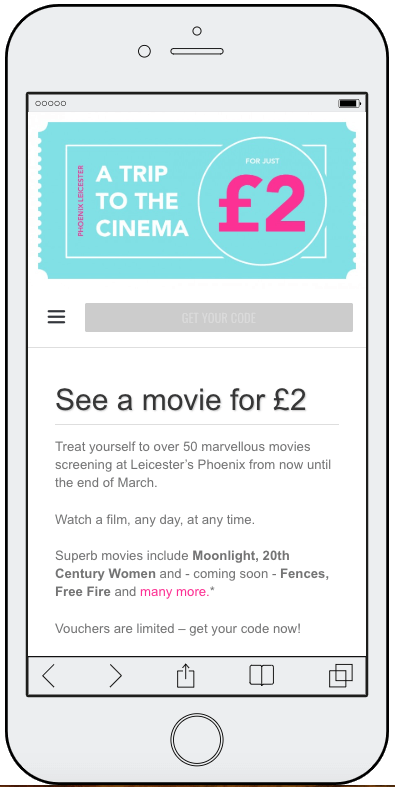 You could run a coupon offer for Singles Day sales, with special deals on specific products. Think creatively about how you can reward and incentivize customers to visit your store.

Photo contests
So far, we've focused on low-commitment contests. Social media giveaways and simple registration forms make it easy for anyone to take part. But you might want to offer your followers more of a challenge, or tap into their creativity.
For example, take a look at this photo contest from a brand which sells photography gear. They asked users to share their best photos. Then they posted the results in a public gallery, so that everyone could view their favorites and vote.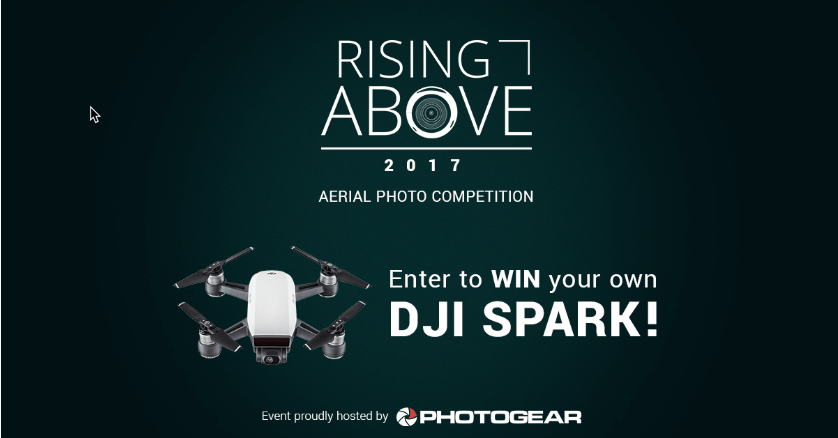 In return, contestants could win a sophisticated camera drone. This is a great choice for Singles Day, when many consumers shop for electronics, devices, and new tech.
Here's another example of a photo contest – this time, with a sports theme. Stihl offered a VIP experience for one lucky winner and their friends. To enter, users just had to share a photo of themselves wearing Stihl World Championships merch.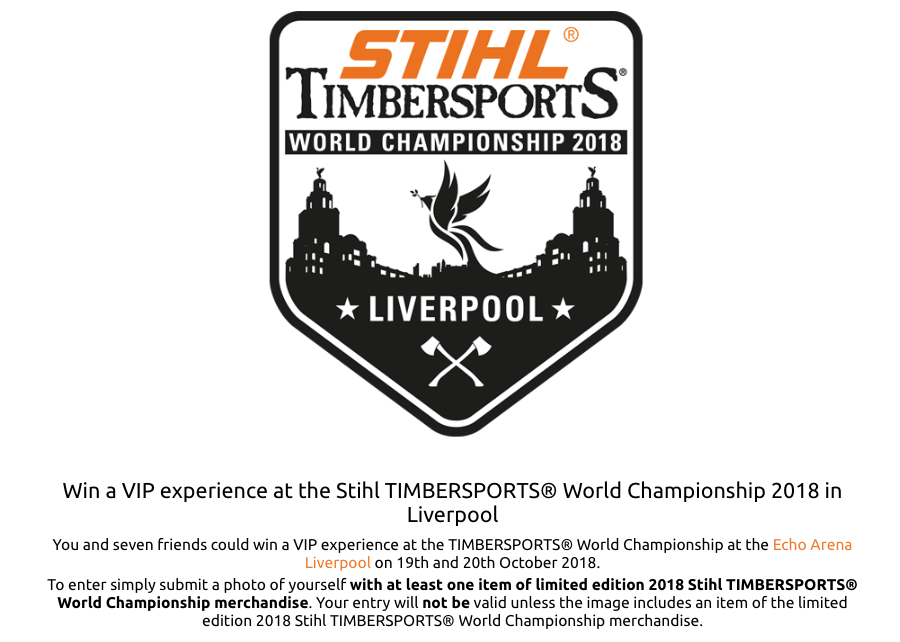 Remember, Singles Day might not be the best time to share experiences and rewards for two. But offering a prize which people can share with their group of friends is a fun idea, and very popular with consumers.

Surveys and quizzes
Another fun dynamic is a quiz or survey. Users don't have to create their own content, but you still obtain more information and interaction than in a basic giveaway.
In the example below, a vape tech company shared a survey with their followers. They learnt more about customer opinions and experiences – and offered an in-store discount as the incentive.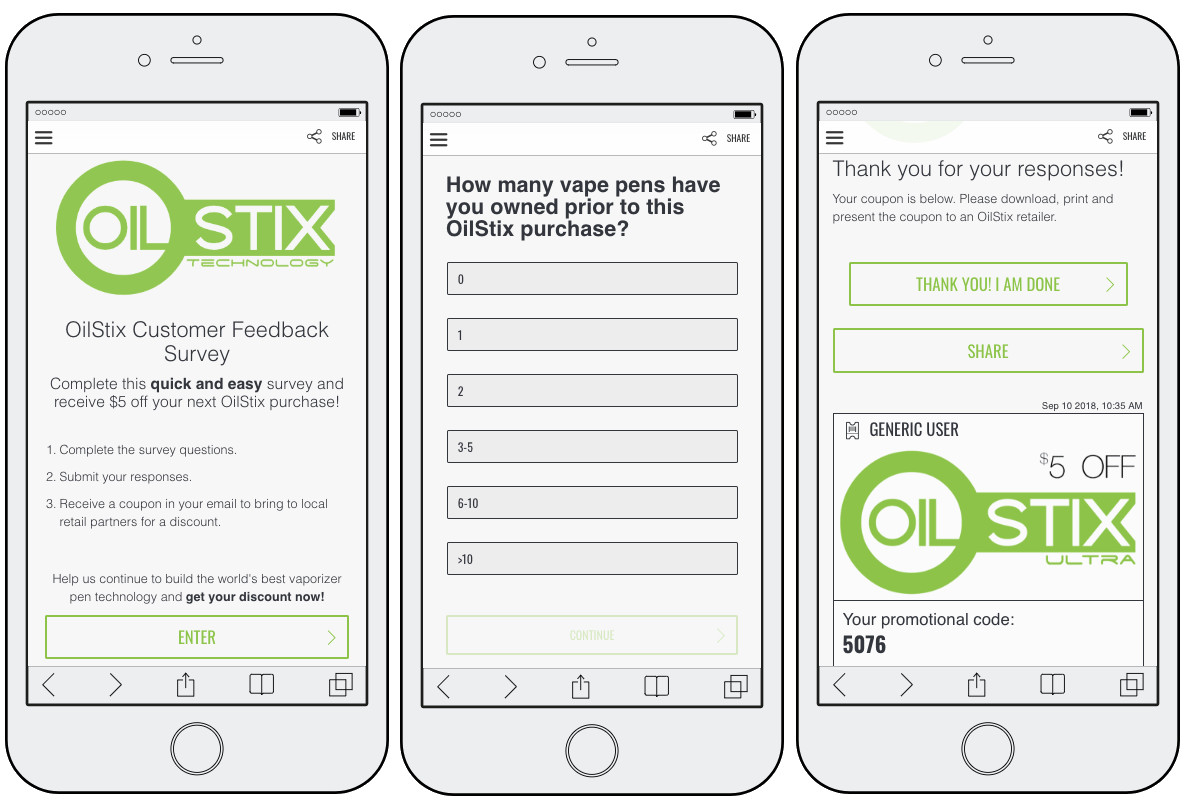 Refer a Friend promotions
As we saw with the sports photo contest above, it's great to run promotions which speak to single people's social side. One option is a recruiter or Refer a Friend contest. Use the power of word of mouth marketing to spread the good news about your brand.
Here's a fantastic example from a music festival. The organizers offered free tickets in a prize draw. Every time users recruited a friend to the promotion, they gained an extra entry in the prize draw – so an extra chance to win.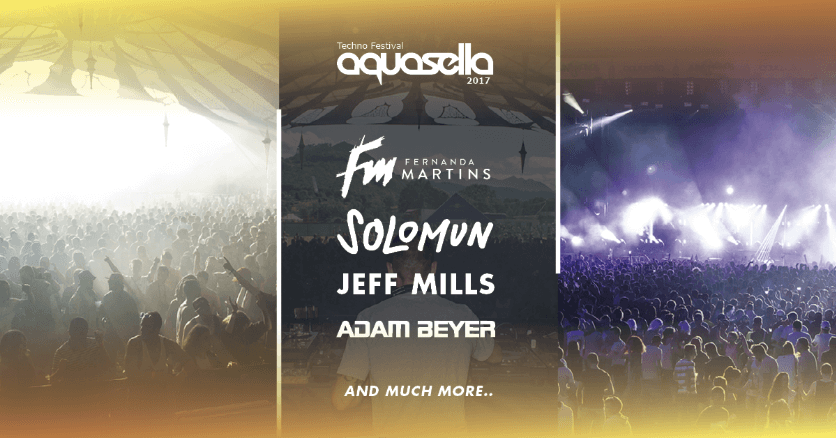 Create your marketing strategy for Singles Day
All these promotions were great examples of how to reward your fans, and show a human side to your brand. And by now, it should be clear that you can't afford to miss out on this event. Get started today with a free Easypromos account. How will you celebrate the day with your followers?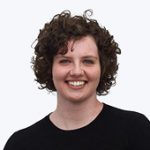 Corinna Keefe
Content marketer at Easypromos
Publication date: 2018-10-05