Posted in: Applications for Twitter,Ideas for your websiteLast update: 22/08/22
As the cold weather sets in, we're all happy to stay home, curled up on the sofa with some digital entertainment. Now is the time to reach new followers with fun online contests and generous giveaways – and Twitter is the social network to watch.

You may be asking yourself, "Why Twitter?" In 2018, Twitter pivoted to video and live streaming, and threw out literally millions of unused or spam accounts. What's left is a lean network, with high-quality content and impressive advertising ROI. Here are just a few reasons to run a winter giveaway on Twitter:
Ad engagement is 50% higher than last year. And the cost per engagement is cheaper, too. While other social networks are making brands less visible, Twitter is open for business.
85% of small businesses use Twitter as a customer service platform. If customers can't find you on Twitter, they will turn to other brands.
Twitter users are mobile – and mobile is the biggest trend in shopping. Build your presence on the micro-blogging network to support your sales campaign.
If you don't have a very active presence on Twitter right now, it's never too late to turn things around.
Drawing a random winner of your winter Twitter Giveaway has never been easier. Use our Twitter Giveaway app to choose a winner in an automatic and transparent way.
Top ideas for a winter giveaway on Twitter
So why specifically a winter giveaway on Twitter? Well, at this time of year, your followers need a little bit of love. Winter is cold, dark, and often a very busy time of year. Plus, it offers a neutral theme if you'd prefer to avoid Christmas and other cultural holidays. Try these ideas to increase engagement and make your customers feel appreciated. This is where social media giveaways can really help.
1. Winter Twitter giveaway: Retweet to win
Let's start with something simple. Retweets are a great way to spread your posts across the social network, showing your products and services to a wider audience than ever before.
You can encourage people to share by running a winter prize draw for everyone who retweets a specific post – or up to 10 different posts. Here's a cozy example from Brintons, a homeware and fashion brand.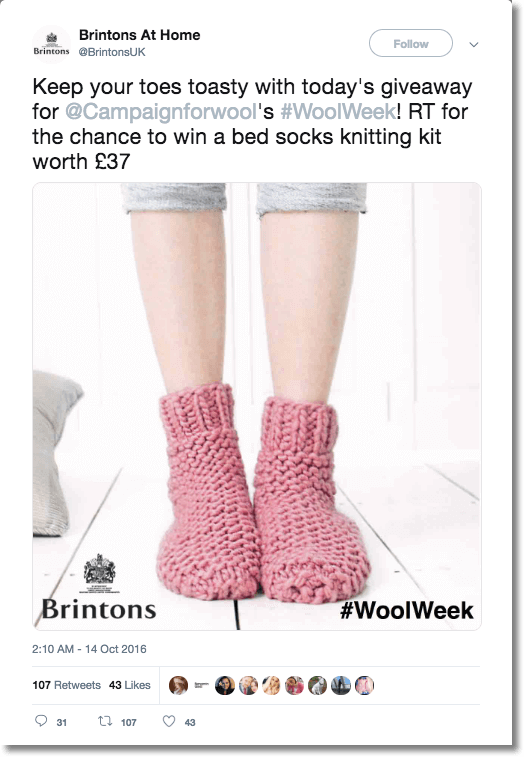 They teamed up with the Campaign for Wool to get extra attention for the campaign. All users had to do was retweet their post for a chance to win some warm, cuddly winter socks.
Read about how Salomon got over 5,000 retweets in a single day with a simple Twitter giveaway campaign.
2. Winter Twitter giveaway: Follow to win
You can also run a winter giveaway on Twitter that's exclusive for your followers. You can combine this with other rules: for example, ask people to retweet you, but limit the prize draw to followers.
In the depths of winter, it's important to take care of mental and physical health. This is a great moment for health and beauty brands to remind customers of their pampering products on offer.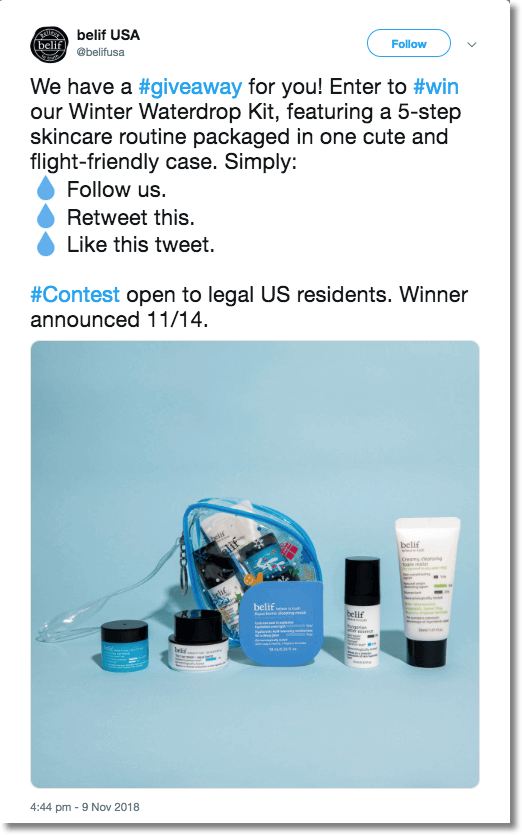 This skincare brand offered a bundle of products, all designed to protect skin from the cold and dryness of winter. It even came in a flight-friendly case, since so many people travel for holidays during the winter season.
We love this example because of its on-brand design and clear rules. Illustrate your winter giveaway on Twitter with product photos and relevant emoji. Explain the rules and dates clearly, and make sure you link to terms and conditions in your tweets or bio.
3. Winter Twitter giveaway: Reply with comments, stories, or feedback
Once you've activated your Twitter community with retweets and follows, it's time to focus on high-quality engagement and interactions. That means replies – the Twitter version of comments.
Customers love to feel that they are contributing to your brand. They want you to hear their ideas, experiences, and feedback. So you can run a winter Twitter giveaway to hear their thoughts, and show your appreciation with a prize.
Here's an example from an artisanal whisky brand. They offered tickets to a foodie event – a prize that was carefully calculated to appeal to their followers.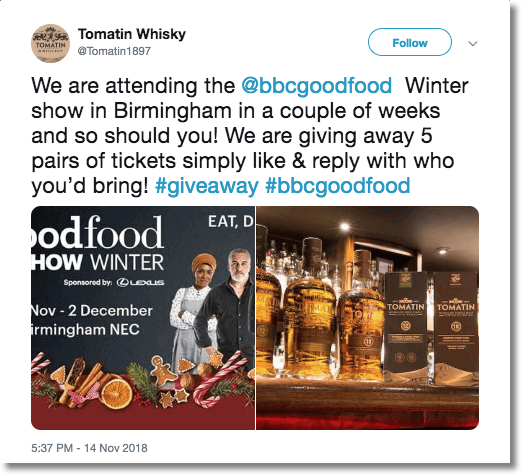 The Scottish Ballet took a similar approach when they asked followers to share their memories of the famous ballet, the Nutcracker. They asked people to mention which city they would see the show in.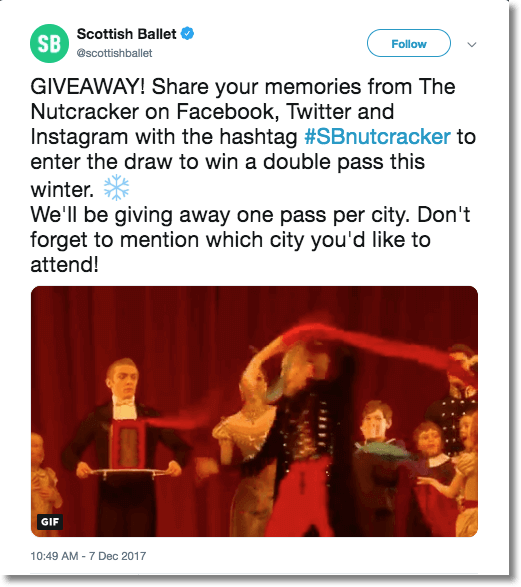 This was a really smart strategy: they didn't just create buzz about the ballet, they even targeted content for specific locations.
This example united followers from Facebook, Twitter, and Instagram. You can run a single comments contest for all networks – and YouTube too – with the Multi-Network Giveaway app.
4. Winter Twitter giveaway: Share user-generated content with Mention + Hashtag
Finally, you can take things a step further, beyond replies and comments. Social media is extremely visual: people love to share photos, GIFs, and videos.
Ask your followers to share original content, use your campaign hashtag, and mention your brand. Then you can use the Easypromos giveaway app to collect competition entries into a public gallery, where people can share and vote for their favorites.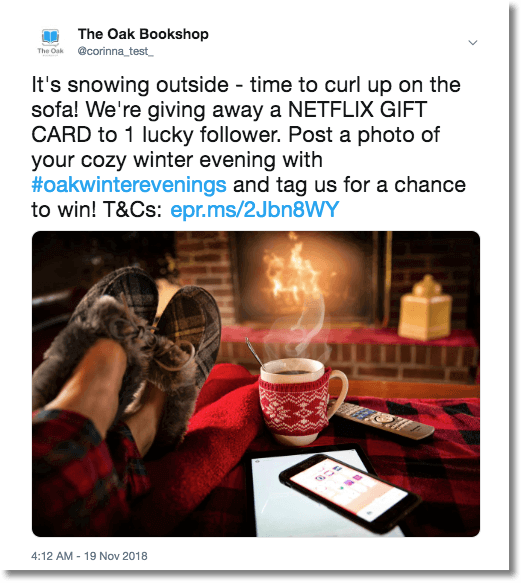 You'll also collect valuable user data and consent. And since users have directly interacted with your profile, you can set up automatic replies to thank participants and nurture new leads.
Create your own winter giveaways on Twitter
Now you've seen all the advantages on offer, you should be ready to run your own Twitter winter campaign. It's as simple as writing a tweet! Set up your Easypromos account for free, and start collecting retweets, follows, and replies. And in case of questions or doubts, contact our Support Team!
Publication date: 2018-11-20