Posted in: EventsLast update: 15/01/19
Quick personality quizzes have been popular since the days of printed teen magazines. Remember poring over those glossy pages, biro in hand, trying to add up your score to get the result you wanted? But now you can create a Valentine's Day quiz online – to sell your product, segment leads, and celebrate the holiday, all in one. Here's how.

Why create a Valentine's Day quiz?
One of the hottest trends in social media marketing right now is interactive, gamified content. In other words, people love a Valentine's Day quiz, game, puzzle, or challenge.
What's more, a popular holiday such as Valentine's Day gives you a ready-made theme to work with. Think pink and red highlights, with plenty of hearts, cherubs, flowers, and chocolates. The theme of love is universal, so it's a festival which everyone can celebrate. (Although depending on your specific brand, you might choose to focus on different aspects of the holiday.)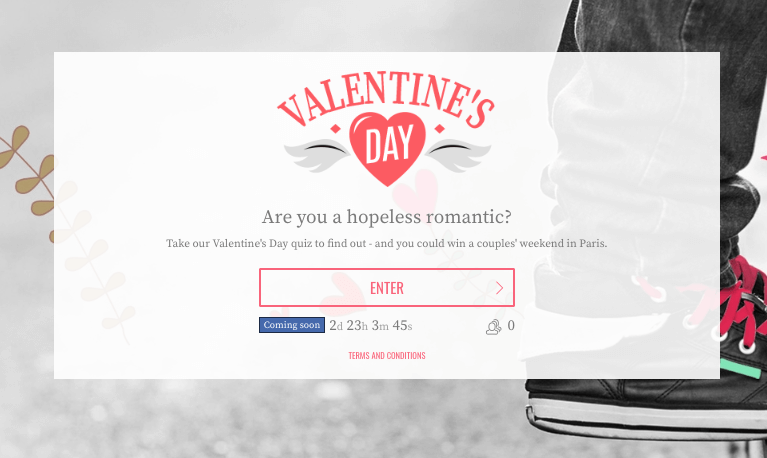 But what's in it for you? Here's a quick list of the Valentine's Day goodies on offer for marketers and brands:
Sell your products or services. Your sales pitch doesn't have to be blunt. Just by participating in Valentine's Day, offering fun challenges and rewards, you'll raise brand awareness and keep your brand top of mind. Use product samples or discounts as quiz prizes to give your sales an extra boost.
Segment your leads. Your Valentine's Day quiz has two parts: the quiz itself, and an entry form. Use the entry form to get contact details so you can follow up with everyone who participates. And you can qualify those new leads right away, by asking strategic quiz questions.
Celebrate Valentine's Day. It's not all about the numbers. One of the joys of marketing is that you get to celebrate every last holiday in the calendar! So make the most of February 14th and have some fun creating your Valentine's Day quiz.
How to create a Valentine's Day quiz
Design your landing page and quiz questions
Let's start – just like your users will – with the landing page. Explain how the competition works, as clearly as possible. Don't forget to describe the prize, so that people have an incentive to take part.
Next, you need to design the quiz itself. Start by choosing how many questions to ask. The Valentine's day quiz should be long enough to intrigue and challenge users, without demanding too much effort from them. 4 or 5 questions is usually about right.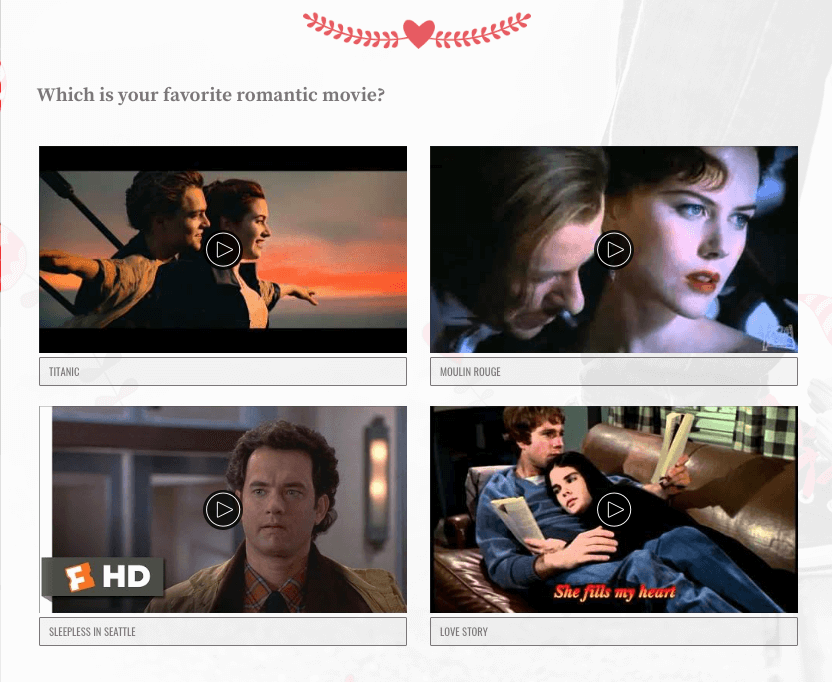 Next, dress it up a little. You can add images, gifs, videos, music, and links to your questions. Use them as simple illustration, or make the media part of the puzzle.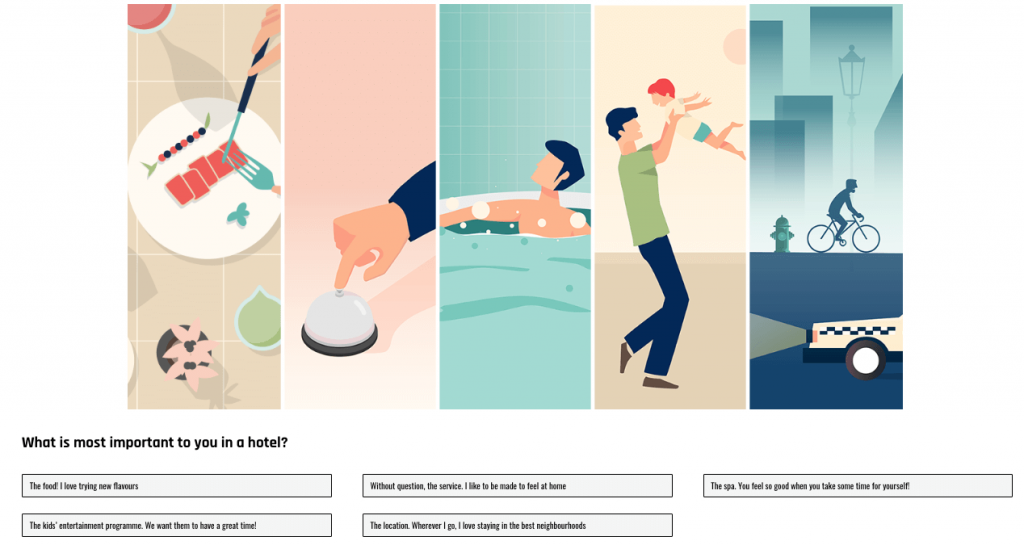 Remember to ask questions which will segment your leads, too. Try to mix general Valentine's-themed questions with more valuable data. In the example above, a hotel brand asked people about their perfect romantic weekend away – and found out which factors affect their hotel bookings.
Read our beginner's guide for more tips on designing an effective multiple choice test or quiz.
Share a variety of rewards
If you've come up with some fun questions, then your Valentine's Day quiz should be rewarding in itself. But if you really want to maximize participation, then you need to offer a prize. It doesn't have to be enormous, or even very valuable. The point is that users have an incentive to share their time and data
with you.
The most basic prize is their quiz result. Offer your customers some kind of insight in return. In this example we created, you can answer four questions to find out your romantic personality.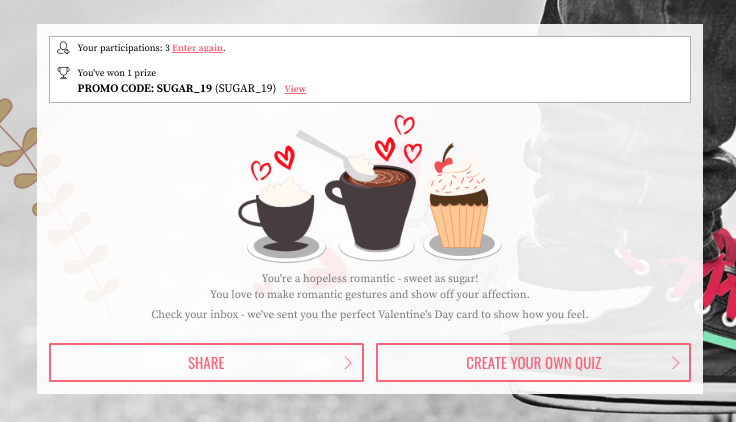 But you can offer prizes with real-world value, too. The prize you choose depends on your products, budget, and goals.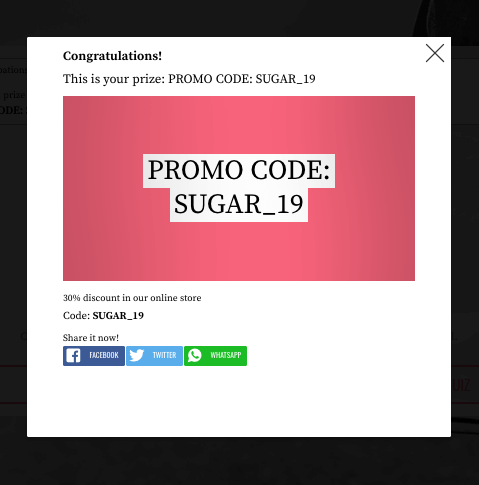 Share an online discount code, a free gift, a couples' experience, or a bundle of small prizes. You can even team up with other brands or sponsors to extend your reach.
Follow up with email and social media
We can never repeat this enough: there is no point collecting leads if you don't follow up. When someone completes your quiz, they share a wealth of contact details and customer insights. So don't waste it!
Make sure you follow up right away via email. You can thank people for trying the quiz, let them know about upcoming events, or even share a bonus prize such as a Valentine's day e-card.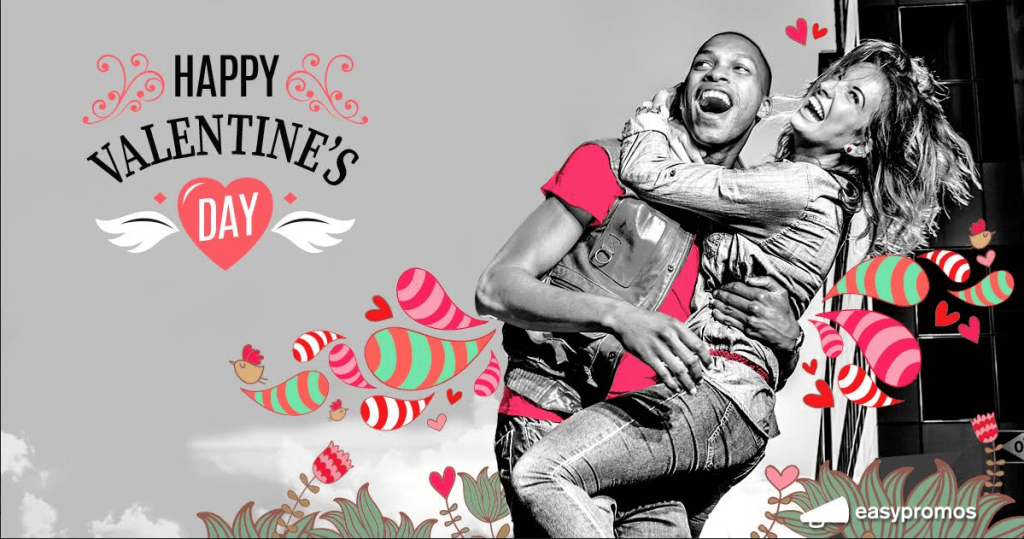 Following up on leads doesn't have to be laborious. Use automated and personalized emails so that you can contact everyone personally, without spending hours writing emails. When you create the quiz entry form, add an option to sign up for your newsletter, to funnel users into your regular onboarding process.
You can get participants to do some of the work for you, too! That's right – we're talking social media. Add follow buttons so that people can connect with you. And encourage people to share their quiz
results so that your contest goes viral.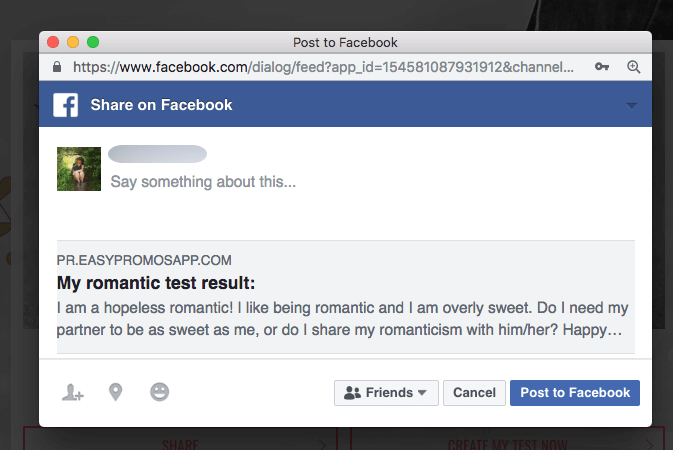 Ready to start? Click here to use our quick template for a Valentine's Day quiz.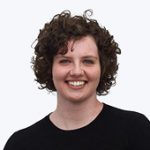 Corinna Keefe
Content marketer at Easypromos
Publication date: 2019-01-15