Posted in: EventsLast update: 29/03/19
For more than a century, people around the world have celebrated International Women's Day on March 8th. It's a day to focus on the achievements of women, and continue the fight for global equality. So how can you get involved?

Think of the women in your life: family, friends, colleagues, customers, students, peers, role models. IWD is a chance to highlight their success – and give something back to the community. Below, we've collected 5 ideas for International Women's Day celebrations.
Run an International Women's Day event
Hundreds of events are already scheduled around the world, from Boston to Bangladesh. You could set up a party, dinner, or brand event to mark the day too.
Here's an example from The Edge, a business news service in Singapore. Women are still under-represented as leaders in the financial industry. So The Edge is organizing an exclusive event for women to celebrate and network.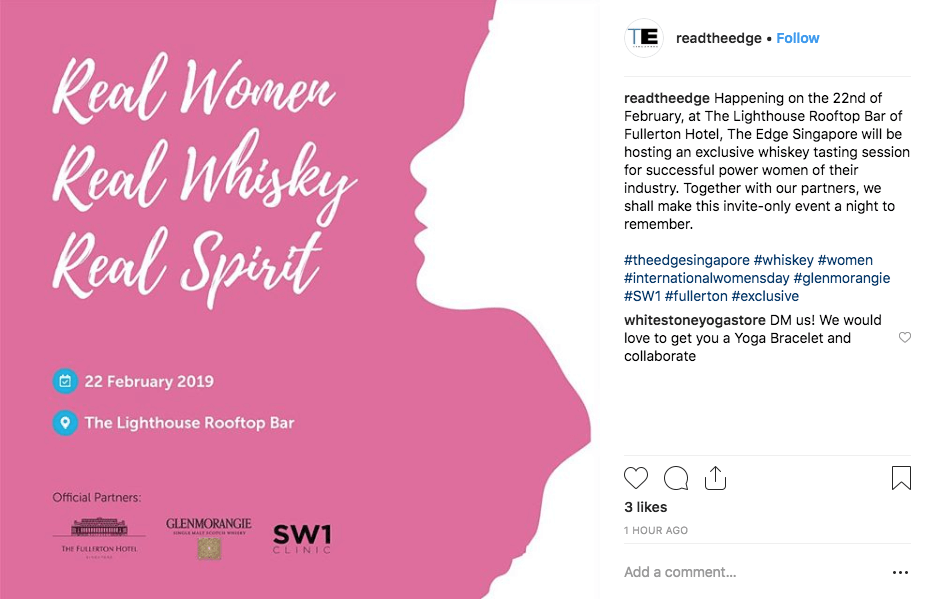 Think about how to focus your event on women and their achievements. For example, you could raise funds for a women's charity, or support businesses owned by women.
Look for local companies, or social enterprises that play a role in the community. For example, this catering company is run by the Serbian NGO ATINA, and employs survivors of human trafficking. (We can also confirm that those bagels are delicious.)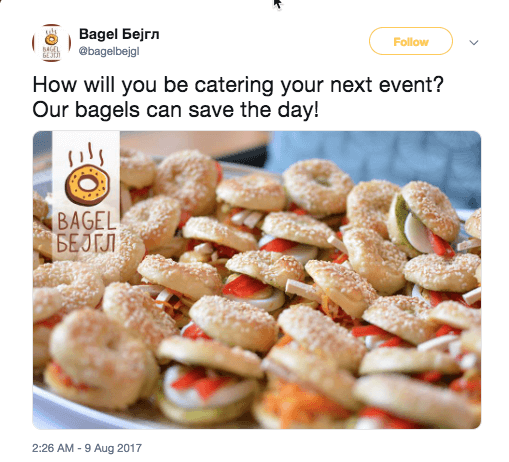 If you don't have much time, don't worry! The IWD organization has event packs to help with decorations and gift bags.
And if you really can't organize your own event, you still have options. Think about teaming up with another brand, or offering to sponsor an International Women's Day event. Local charities and sports teams are a great place to start.
Organize an awards ceremony for women in your industry
Sometimes we don't hear enough about women's achievements. But the world is full of inspirational, powerful women! International Women's Day is the perfect time to make some noise about the women who have impacted your life. Let's take a look at some examples.
Fashion brand Knomo celebrates their 15th birthday on International Women's Day 2019. So they have organized the Knomo Award for "extraordinary and entrepreneurial women".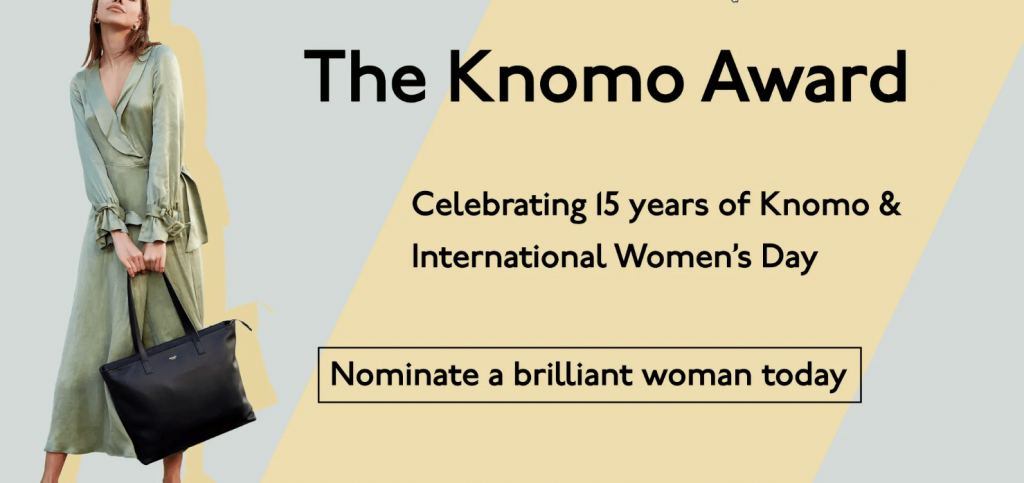 Finalists will receive generous prizes from Knomo, Sweaty Betty and The Fold. And for as long as nominations remain open, the brand will donate to Smart Works – a UK charity which supports unemployed women to return to work.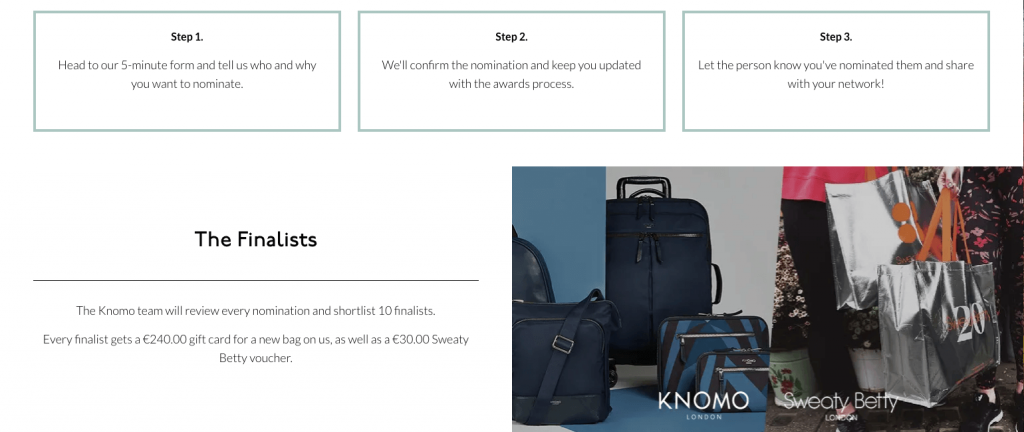 Think about creating an award for women in your industry. It's a chance to highlight best practices and inspire new recruits! For example, freelance platform PeoplePerHour has just introduced its own award for International Women's Day. Each nominee has shared her story, and anyone can vote.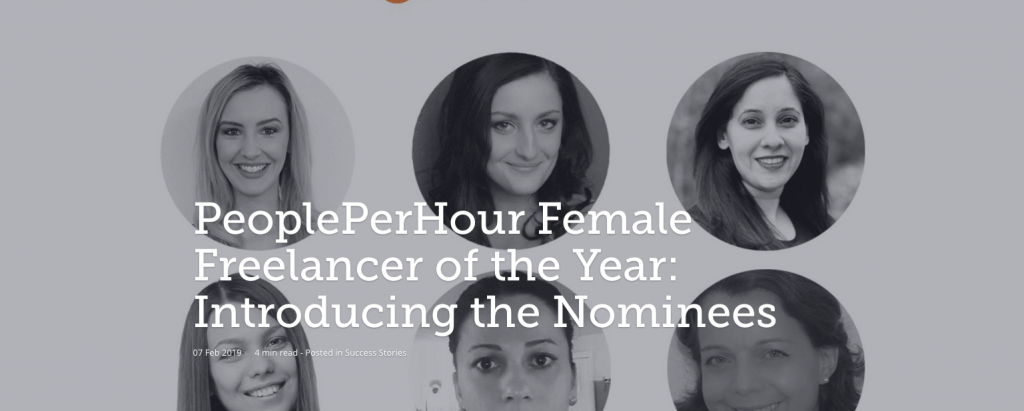 If your budget doesn't run to a glitzy award ceremony, then you can still celebrate women in your industry through social media or an in-house event. You could profile women in your business, or organize an International Women's Day workshop.
Share special products for International Women's Day
Here's a fun way to celebrate International Women's Day, especially if you run a B2C brand. Everyone likes a treat – so you could share one-off, themed products.
The official color of International Women's Day is purple, so this bakery in Australia is sharing some special purple-iced cakes on March 8th. They also had the bright idea of screen-printing the IWD logo on some cake toppers.
Little details like this are great for an IWD event, or to share around the office. You could also think about running a themed giveaway or special offer to celebrate the day.
Boost donations to International Women's Day
International Women's Day isn't just about recognizing the progress we have made – although that's very important! The day also serves as a reminder that we have a long way to go.
So it's a good moment to highlight the efforts of women's charities, and support them where possible. Here's one example from espell, a global translation and localization company. They run an International Women's Day drive to collect sanitary products for a shelter in Budapest.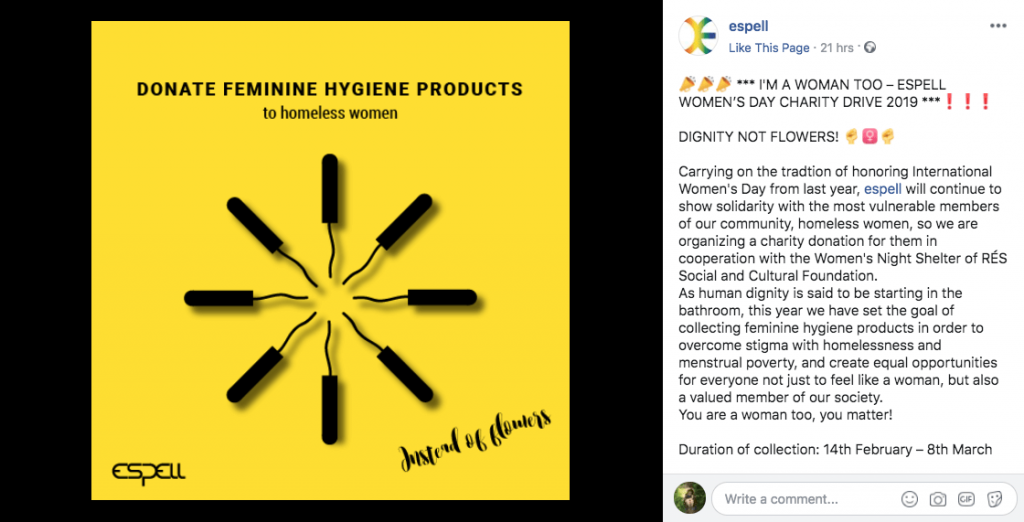 You can combine charity efforts with other events. In this example, two brands team up to offer free blow-drys for International Women's Day. However, to join in the party, customers are asked to make a donation to Share The Dignity, an Australian foundation for at-risk women.
Set up an International Women's Day contest
Finally, you could run a creative contest on social media. There are about 3.75 billion women in the world – and up to 1.6 billion of them are on social media!
Ask people to share their hopes for International Women's Day, quotes that have inspired them, or photos of the women in their lives. You can even download and print selfie cards for people to share slogans in their photos.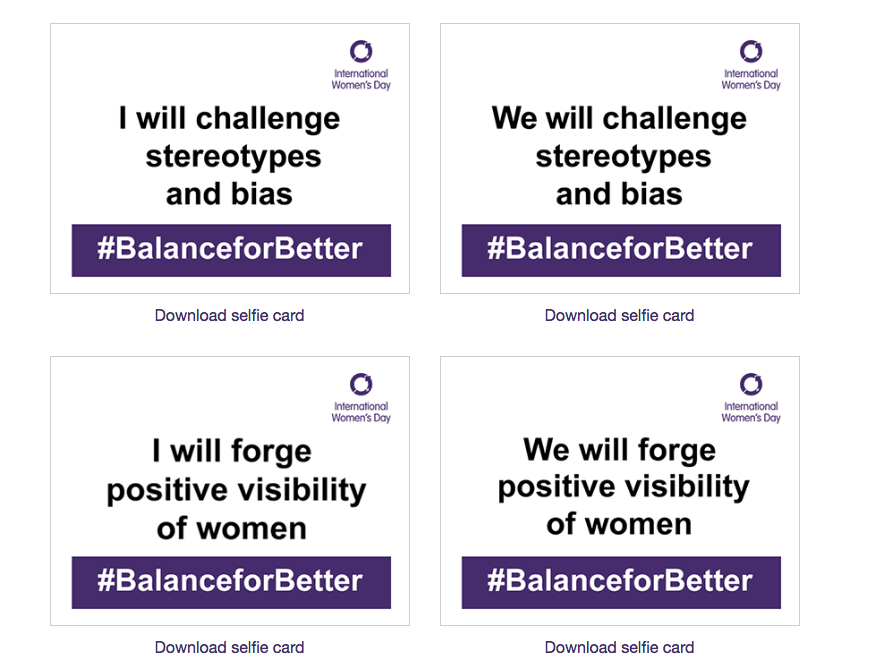 If you don't have customers visiting you in person, then you could try a virtual photo booth to share IWD slogans and icons. Use an app to display the photos in a gallery where people can share entries and vote for their favorites.
Don't forget to join in the official International Women's Day photo gallery, too! They're collecting selfies with the hashtag #BalanceforBetter. You can also access the IWD 2019 photo collection to use diverse, up-to-date images of women in your content.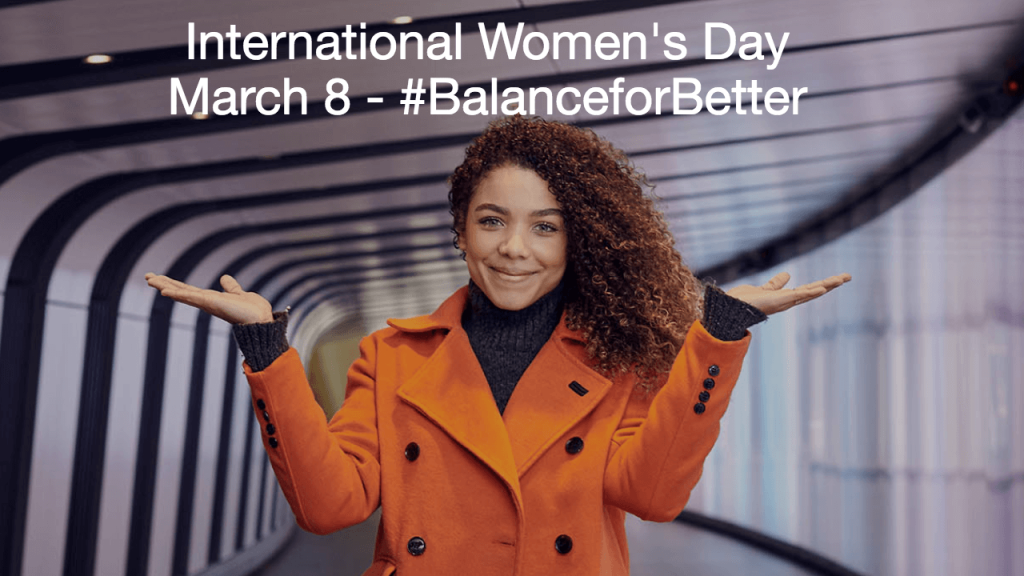 We'd love to hear about your plans for celebrating International Women's Day on March 8th. Get in touch to discuss your ideas for contests, events, and giveaways!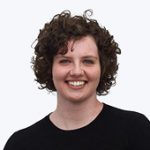 Corinna Keefe
Content marketer at Easypromos
Publication date: 2019-02-21