Posted in: EventsLast update: 25/03/19
We recommend the 7 best prizes for Easter giveaways on social media – including ideas and resources for Facebook, Instagram, and Twitter.

Easter is a festival which brings people together to feast, play, and enjoy family time. So instead of going for the hard sell, treat Easter as an opportunity to make your brand part of the tradition. Join in the holiday with Easter giveaways and games on social media. And don't forget the prizes! From Easter eggs to special events, we recommend the top 7 Easter rewards on social media.
Let's begin.
1. Easter chocolates
You probably saw this one coming. The long Easter weekend is a glorious occasion of luxurious gluttony… by which we mean lots and lots of chocolate.
So chocolate eggs, treats, and Easter hampers make an excellent prize for your Easter giveaways. Let's start with this example from The Key Safe Company on Facebook. They set up a comments contest with the question "How does your family like to spend Easter?"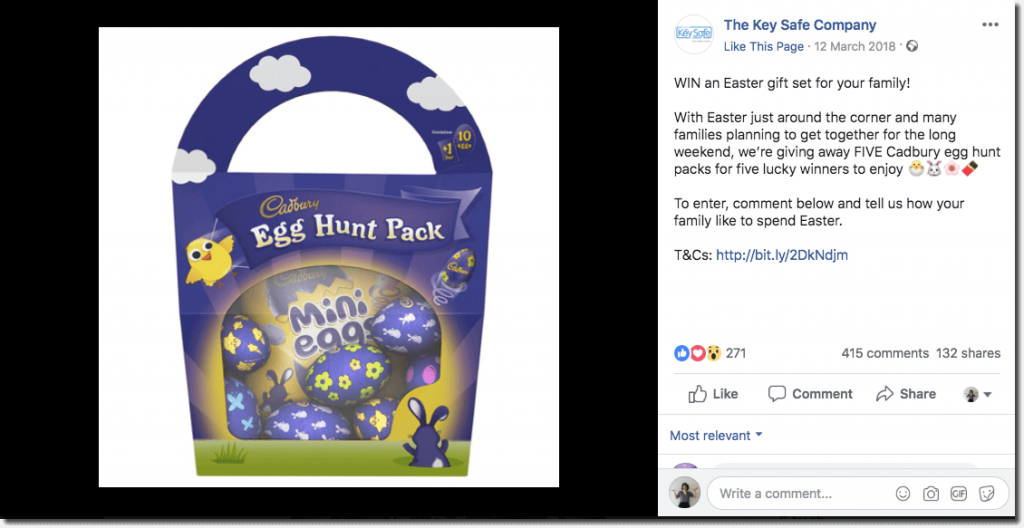 You can run similar giveaways on Instagram and Twitter, too.
Here's an example from Sunrise Cafe on Instagram. They gave away giant, solid chocolate eggs to their followers who commented and mentioned a friend.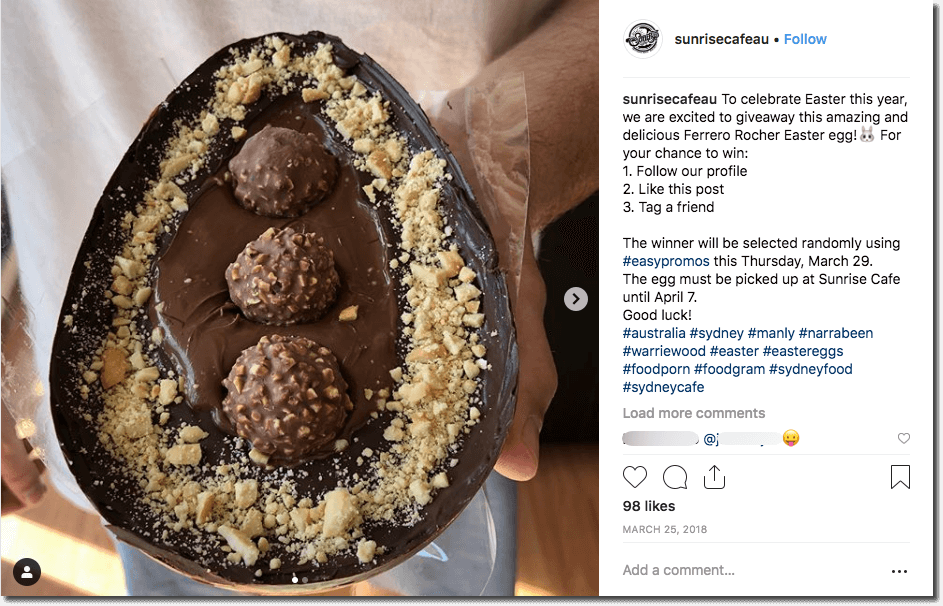 The winner had to collect their prize in person. This is a really clever tactic to bring people into your store, and creates a photo opportunity to follow up on your social media.
Can't choose a social network? Run Easter giveaways that unite your followers on Facebook, Instagram, Twitter, and YouTube. Click to learn more about the multi-network app.
2. Easter baking
Don't forget about other traditional Easter bakes and sweets, too. Every country and region has its own Easter treats – from Austrian Osterstriezeln to Russian pashka.
So Easter bakes and cakes are a great alternative to chocolate prizes. Here's an adorable example of an Instagram contest by Cookie Countess.
3. Kitchen tools and baking sets
If you're not a baker or food retailer, you can still give your followers the ingredients for their own Easter treats! Easter giveaways of cookware, recipe books, or seasonal ingredients are always popular online.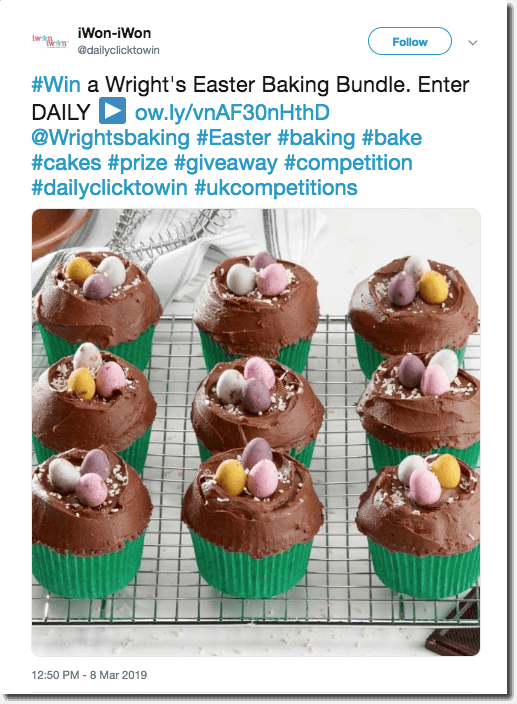 4. Easter crafts
As well as traditional meals, Easter has lots of decorations, games, and activities associated with it. Remember decorating eggs with paint or stickers when you were a kid? Hunting for eggs in the garden? Maybe even dressing up for the day?
Well, you can still play all those games – with Easter giveaways on social media. Share craft materials, activity sets, or decorations as prizes!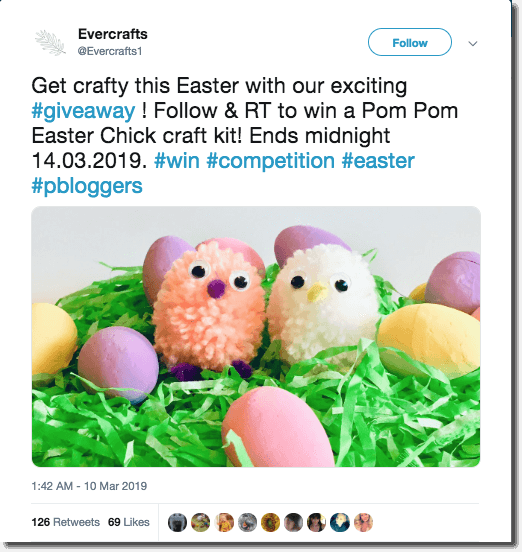 Here's a cute example from Evercrafts on Twitter. This was a simple, low-commitment giveaway: people just had to follow and retweet the giveaway announcement to enter.
Evercrafts ran their Easter giveaway a few weeks early – so that the winners would have time for their craft projects before the holiday. At the same time, Evercrafts reminded shoppers of all the Easter products waiting for them in store.
5. Toys and activities for kids
As well as craft activities, why not share toys? Although the winter holidays still dominate retail sales, more and more people are shopping for presents at Easter.
The kids' brand Chicco runs regular giveaways on social media – and Eastertide is no exception. Last year, they celebrated the slogan "better together", with toys designed for children to share.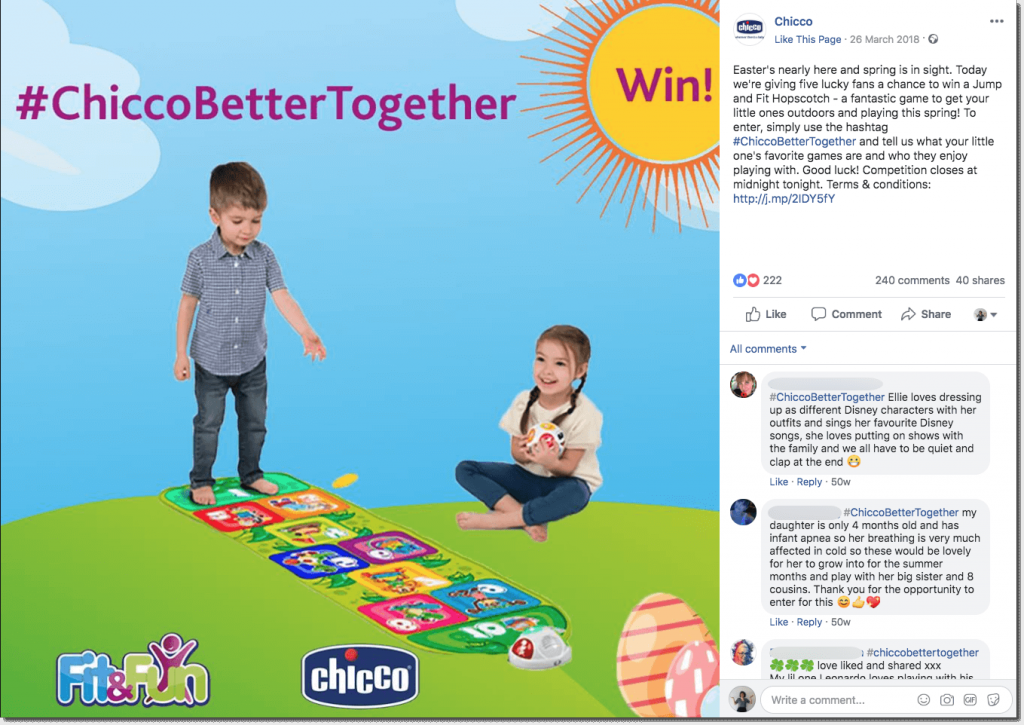 To join the giveaway, people had to comment with their child's favorite toy, and explain why it was so popular.
Asking this question was a canny move by Chicco. They entertained and rewarded their followers – while performing valuable market research.
6. Tickets and giftcards for Easter events
Although Easter giveaways start online, you should always aim to move customers off social media, and into your store.
We've already discussed how to share rewards in store, or offer prizes that remind people to visit you in the run-up to Easter. But if you really want to increase footfall, then consider organizing an Easter event.
Set up an Easter egg hunt, festival, or day full of games in your store. You could team up with other local businesses, or get involved with community events. Even if you can't contribute products or time, consider becoming a sponsor.
In the example above, people could win $100 in gift cards – but the grand prize draw would take place at the Easter Carnival.
7. Fashion, health and beauty
Last of all, there's space for fashion, health and beauty brands to celebrate Easter too. The festival is deeply connected to themes of spring, youth, and new life.
Take this example of an influencer giveaway, organized by L'entrée Cosmetique with beauty blogger Patricia Seitz. They gave away an online giftcard – but used carefully designed images to boost their Easter giveaway.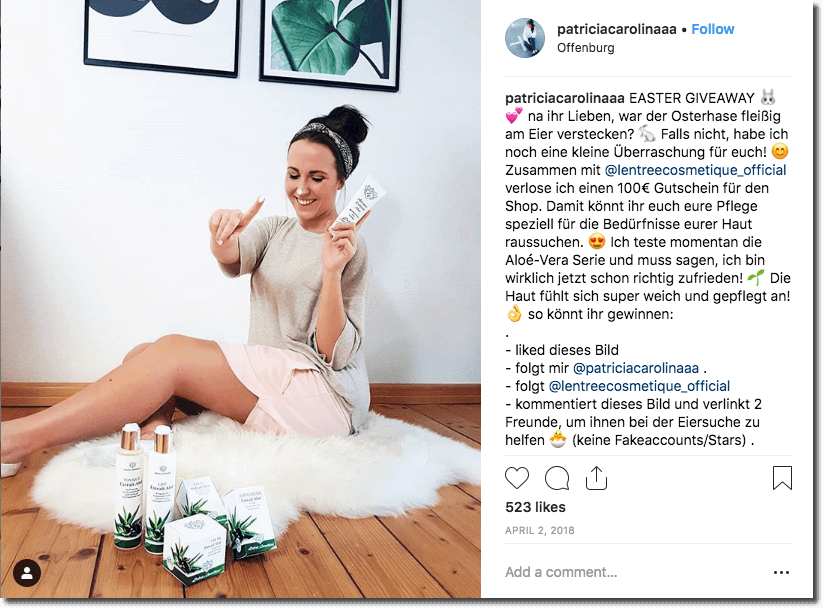 The photo they used on Instagram shows products with leaf motifs and a clean, natural look. What's more, Patricia is testing out the product with a little dab on her nose – almost like Easter bunny face paint.
Whatever your prize, save time by using our social media templates for Easter giveaways. Click here for free design resources.
Create your own Easter giveaways on social media
We hope you've found some inspiration in this article. And whether you choose to run Easter giveaways on Facebook, Instagram, Twitter, or all three – we're here to help!
If you want to learn more about Easypromos and your campaigns, you can click to chat with us now. Let's get started!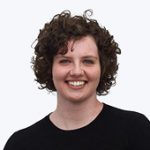 Corinna Keefe
Content marketer at Easypromos
Publication date: 2019-03-25