Posted in: Applications,Digital marketing,Ideas for your websiteLast update: 16/08/21
Father's Day is coming up soon! Whether you want to inspire kids with gift ideas, or reward dads directly, Facebook is one of the best places to start. Let's investigate Father's Day giveaways on Facebook, with examples from 5 brands that super-charged their strategies.

First of all, why Father's Day giveaways on Facebook? There's a reason that the big blue social network is so popular with marketers.
75% of parents online use Facebook – that's 66% of all dads in general. And 94% of those Facebook users love to comment, interact, and share posts. Fathers use Facebook to celebrate good news, share their parenting wisdom, and build a support network with other parents.
So it's the perfect social medium to run a comments contest. Dads already want to share parenting stories, tips, and memories on the platform. With a Father's Day giveaway, you can offer them an extra incentive with a personal reward.
Let's dive in with 5 examples of Father's Day Facebook giveaways.
Get started with your Father's Day giveaway on Facebook and take brand engagement through the roof! Use our Father's Day Facebook giveaway template to launch your promotion in less time!
1. Choose a meaningful photo for your Father's Day Facebook giveaway
Compared to other annual festivals, Father's Day is a relatively new holiday. But it holds a lot of meaning for consumers.
You may want to show off your branding or products with photos on social media. But for Father's Day, think about sharing an image that speaks to people's emotions and memories. You need something that will attract the attention of your target audience, and also motivate them to participate in your promotion.
Here's a great example of a visually striking photo, which perfectly summed up the brand's message.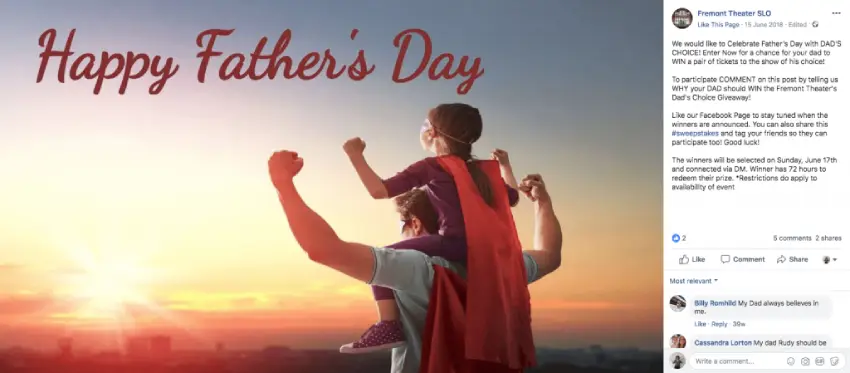 But choosing a photo or graphic is only the beginning. Think carefully about the colors and text styles that you use in social media images. When we researched this article, we found that red is the most popular color for Father's Day giveaways on Facebook.
Keep an eye out as we discuss the next 4 Father's Day examples. You'll see that they all use red as the dominant color in their social media graphics.
2. Boost engagement with a Father's Day Facebook giveaway
Next, let's talk about how Father's Day giveaways on Facebook actually work.
In order to collect a list of users for your prize draw, you need people to comment. But this isn't just about taking names: it's also an opportunity to get feedback, build relationships, and make your brand a part of the conversation on Father's Day.

Here's a cute example from Papa John's Pizza in Alaska. They asked a simple question: "Why is your papa important to you?". Open questions encourage conversations, which help your post positioning, as Facebook and Instagram algorithms reward posts with high fan engagement.
Father's Day is an occasion that brings up strong feelings – so give your followers the chance to open up and share their stories. If you can add a joke or cheeky brand reference like Papa John's, even better!
3. Link the Father's Day giveaway on Facebook to your products
Let's not lose sight of your marketing objectives. In the end, you run Father's Day giveaways on Facebook for a reason – whether that's to attract followers, increase engagement, or get more brand recognition.
So don't miss the opportunity to showcase your products with Father's Day giveaways on Facebook. Here's a neat example from STAR Fine Foods. Their giveaway, and the images they used, subtly combined their products with a charming family scene.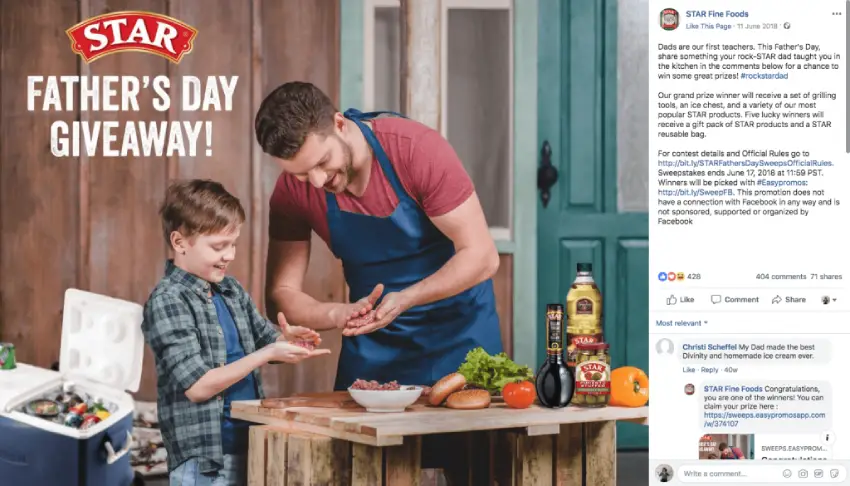 Who taught you to cook? Chances are, you made your first attempts at home-made cookies or mac & cheese in your mum and dad's kitchen. So STAR asked people to share what their dad had taught them.
Try and ask a question which links back to your brand image, values, or products. Even if you can't make a direct link with your giveaway question, choose prizes which show off the best of your brand!
4. Promote products and increase sales with Father's Day Facebook Giveaways
Facebook is still developing as a sales platform. So it's important to stay up to date on new features and opportunities to share your products.
As we discussed before, you may not want to plug products in the main image of your Father's Day giveaway. But you can add shopping tags – smaller, thumbnail images at the bottom of your post, which link directly to your store.
5. Father's Day Facebook Giveaway prizes
Last of all, let's take a minute to think about prizes.
Often, giveaways are an opportunity to share your products – whether you want to highlight a new release, or simply clear out last season's stock.
But the prize you choose depends on your target audience. Increasingly, consumers want experiences, not objects. That's especially true for a family-oriented holiday like Father's Day.
So you should consider giving away Father's Day experiences on Facebook. Take the example above, from the Ramada Addis hotel: a celebratory brunch for one lucky dad and his children.
Get more ideas and resources for Father's Day marketing campaigns
We've collected all of our Father's Day content, resources, case studies, and demos in one Father's Day campaign hub. Check it out – or chat live with us to discuss your marketing goals.
Publication date: 2019-03-21