Posted in: Digital marketingLast update: 16/08/21
There have been arguments upon arguments about whether email marketing is better than social media marketing, and which one has has the biggest reach. This is not another article aiming to settle the question. Email marketing's reign is an undeniable fact.

Want proof? This graph shows the number of emails sent and received in billions per day worldwide.
Wondering how many users social media has? Let's take a look:
Numbers don't lie. It's obvious that these numbers work in favor of email marketing. After all, emails reach way more prospects than social media ever could. Almost all internet users have an active email address, but not all of them have a social media profile.
Here's an idea: Maybe businesses and marketers should combine those two channels to achieve maximum market reach!
How? Keep reading to find out!
First, set your goals
You can do absolutely nothing unless you don't set your goals first. Now, according to the title of this post, you're here to find out how email marketing and giveaways can increase your marketing reach. So this is, in theory, your goal.
But "reach" can mean many things. So let's see what it means to you.
It could be the number of people exposed to your giveaway, which will boost your follower count.
It could be the number of followers you gain from that giveaway, which will give you brand awareness.
It could be the number of people who have subscribed to your mailing list. Brand awareness has already been achieved; you only need to work on leading those prospects down the sales funnel.
So, are you looking to create buzz and generate leads through that? Or create a viral promotion or giveaway that will turn your followers into subscribers? Or would you like to entice your subscribers to make a purchase?
Once you've set your goal, the second thing to think about is demographics.
What is your target group? What's their average age, income, occupation, etc? What are their likes and dislikes? More importantly, why would they find value in your product?
And finally, what is your brand's tone of voice?
Once you've got these three points down, you're ready to create a viral giveaway!

Make an impression with the right prize
So, you're on your way to plan your giveaway. Use the three points above – your goal, target audience, and tone of voice – to figure out what would make an impression on people.
Think of a prize that would be of value to them.
What does value mean in our case, though?
You can't always put a price on the prize itself. And you can't always offer costly prizes, as this would bring you unwanted followers that never convert down the line.
Let's assume that your goal is brand awareness. Don't instantly go for the free product, as many would do. Rather, go for something smaller that would still be of value.
For example, if you're an eCommerce or a retail company, don't go for the limited edition or full-sized product. Instead, send out a sample product, discount coupon or free shipping. The same goes for non-retailers. Offer a free consultation to generate buzz, or a free trial that will only last a week.
But if you want to increase subscribers, or convert your subscribers to customers, then you'll have to bring out the big guns. That's when you go for the full-sized product or free one-month trial.
And here's why: your subscribers are already there and already loyal to you, up to a certain degree. So they want to feel pampered, valued, like the business is their beloved friend.
Remember: whatever your goal, make sure that your prize is relevant and desirable. Otherwise your giveaway will never go viral.
So… what about email marketing?
You've planned everything down to a tee by now: prize, data, rules, the works!
This is where email marketing comes into play. Because whatever your goal is, email marketing will help you to get the word out about your giveaway.
So, start promoting your contest everywhere with the use of an email marketing software like Moosend.
Don't be shy. Share the promotion on LinkedIn groups, Facebook, and Instagram. Add it to your email signature. And every time you share, include a link that leads to the promotion landing page.
That landing page should be designed to convert. Take a look at this example: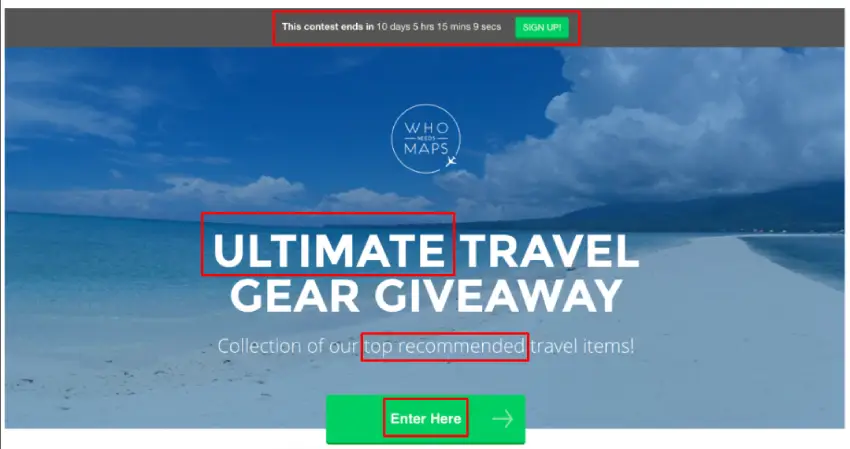 A countdown that creates urgency? Check.
Phrasing that makes the prospect think that the prize will solve all their problems? Check.
Clear and simple CTA? Major check.
This way, you won't just get followers. These are subscribers who will actually convert, since they bothered to give out their email in the first place.
One more insight for the road
Don't forget to use call-to-action buttons on your social media. Your Facebook page's CTA button is a powerful tool to score more impressions and increase your marketing reach.
When it comes to Instagram promotions, add some clever copy under the rules of your giveaway to lead participants to your bio – where they'll find a link to your landing page.
Here are two ideas to start with:
Like what you see? Follow the link for something extra.
Click here to learn more about the prize.
For more exposure on your social media, always include links to your business' profiles in your email newsletters. Show off snippets of your social media content, too. Remember: you are preparing for the day when emails and social media are interchangeable, down the road.
In conclusion
Email marketing might be on top of the list for promoting your products or services. But social media could, in a few more years, prove to be just as useful.
By combining email marketing and giveaways to push your subscribers further down the sales funnel, you are guaranteed to generate more leads. Eventually, that means you score more sales. What's not to love?
Publication date: 2019-04-30