Posted in: Digital marketingLast update: 04/08/22
You've spent hours setting up your promotion, checking the settings, working with your graphic designer, editing the perfect copy, and you're finally ready to launch – just in time! But there's one more task on your to-do list: Test the promotion before you launch.

You might be asking,
"But why? I've gone through every step of the tutorial, and I know the application by heart."
Every promotion is different. Sometimes you want to test a new format. Or perhaps you're used to running promotions, but the platform has been updated.
Here are just a few problems that could happen if you don't test your promotions first:

The system awards all the prizes to the first user who signs up, because, by mistake, you chose the prize type as "on participating" instead of "by random draw".
Your customers can't redeem their loyalty rewards, because you forgot to validate their codes.
You get a thousand participants, but no leads, because someone checked the box: "enable anonymous registration", when what you really wanted was to collect participants' data.
You forgot to set up automatic emails to your participants, and now you can't keep them up to date on the promotion.
We've seen all these missteps happen in real life! So, to avoid any problems, accidents, or last-minute panics, let's take a look at how to test your promotions before launching them.
Be careful with teamwork
Teamwork is the best. But if you have several people working on the same promotion at once, you need to be extra careful:
If you have the promotion open in more than one browser, the system may overwrite changes. Imagine you are setting up the voting options, while your colleague is working on the quiz. If she hits the save button before you do, your work will not be saved.
Only change the settings if you know what you are doing. Encourage your team to notify you whenever they make changes so that everyone is on the same page.
Activate the test mode
Once your promotion is ready to publish and share with your target audience it's time to give it a real test.
Enabling test mode gives you the real user-experience. It's a fantastic way to test the promotion in all aspects. You can register like a real user, participate in the promotion, vote, share and even receive an email.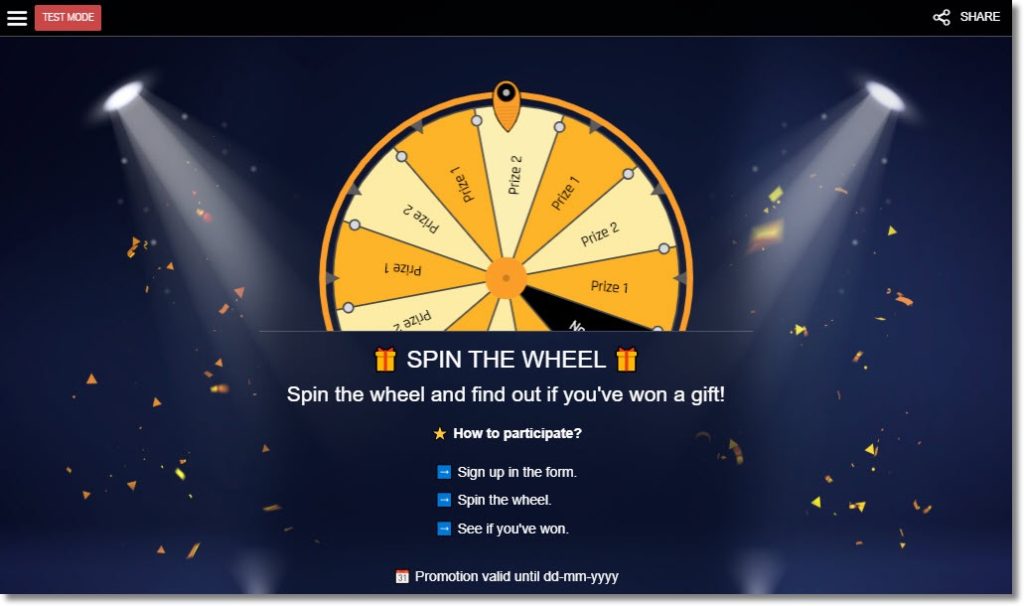 Here are all the features you can test with the Easypromos test mode:
Complete registration process including: registration process, real participation such as answering quiz questions, playing a game.
Upload images in the registration form, and also video files (with the Video Hosting extension).
Vote in a contest with voting enabled.
Send emails through the Email Platform.
Assign prizes of the type "On participating", "Spinning the wheel" and "Instant Win".
Multi-participation in the promotions that have the login system activated.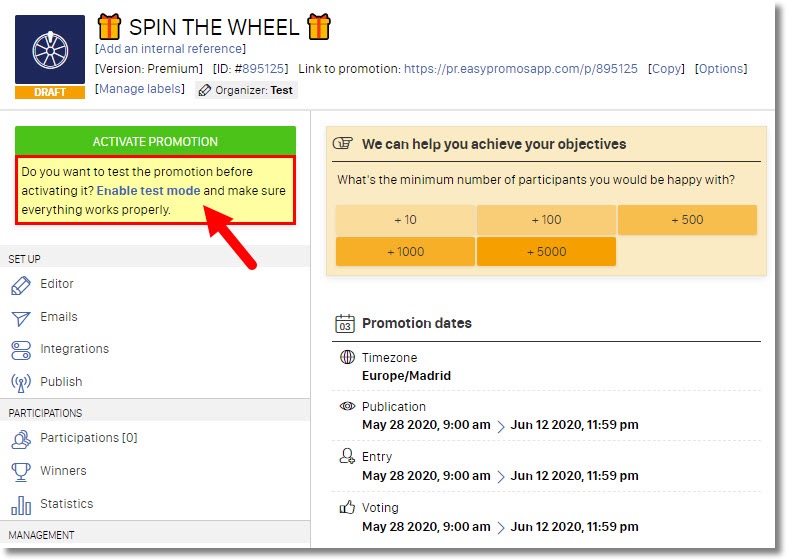 The test mode feature has been developed to substitute the promotion preview, simply to offer a better experience Easypromos clients. The tool will be deactivated in January 2021. Here's where to find it: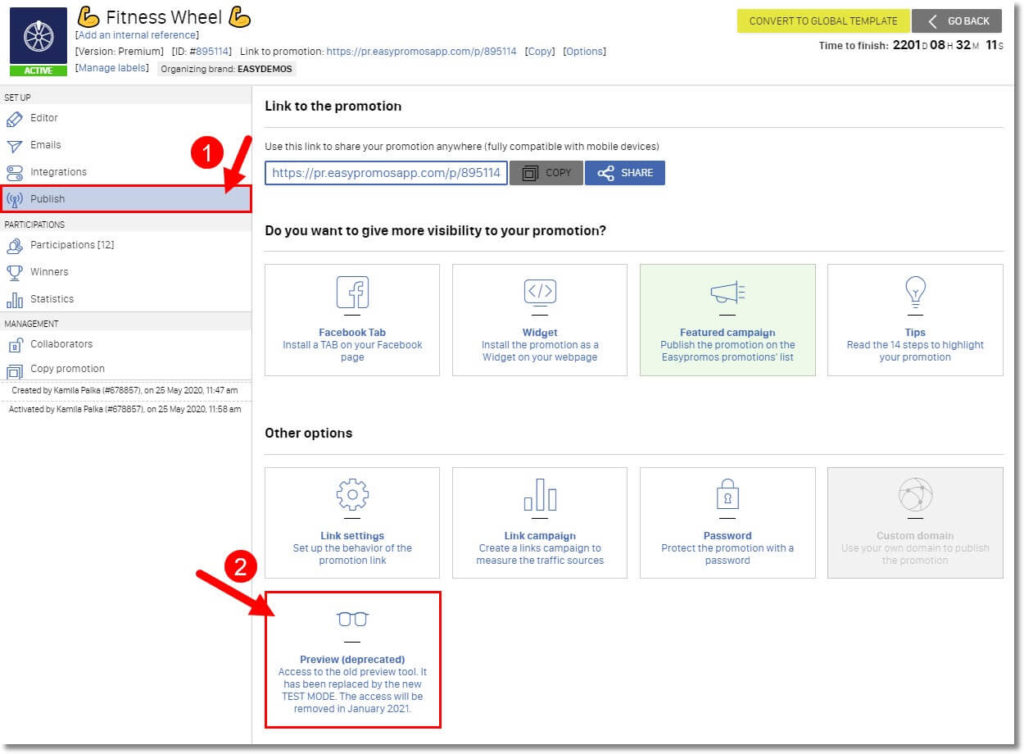 Before you share the URL of the promotion, there's very little risk that anybody will find it by accident. But be aware that if you feature your campaign with Easypromos, then it will be visible to our followers. To be absolutely sure that nobody can find the promotion before you're ready and participate, protect it with a password. Click here to learn how.
Test your promotions from title to footer
Doing a full test means more than a quick check. Enter the promotion microsite and look through the menu, editing any icons or text which don't look right.
Test the sharing options, and go through the participation process from beginning to end. Try skipping some fields in the entry form to see if the error message appears. If you have set up automatic emails, check your inbox for messages about the promotion.
Don't forget to check any specialist elements of your promotion. If it is a photo contest, can you vote and share each entry? If you created a loyalty rewards scheme, can you validate your codes?
Remember that you are testing for impact, not just functionality.
Read every little text. Does it create the reaction you were looking for? Is there a clear call to action on every page?
All of this might sound obvious, but when you have worked on a promotion for a long time, it's easy to lose perspective. If in doubt, ask someone else to test your promotions so you can get another perspective.
Quick fixes: troubleshoot your promotion
I didn't receive a thank you email. Did you activate the email when you created it?
I can't validate my code. Have you linked the codeset to the validation field?
My dictionary changes aren't reflected in the promotion text. Make sure that the dictionary has been linked to your specific promotion.
I built a quiz, but the final messages don't match the user's answers. Check that you have set up the correct scoring system for each quiz answer.
Posts with my hashtag haven't been imported from Twitter and Instagram. Just like the email platform, check that your integrations are activated and have the correct dates.
I could go on… but that covers the most frequently asked questions when you test your promotions.
When you're done testing, just delete your test entries and open the promotion up to the public. It's time to go viral!
Found a problem when you test your promotions? Can't figure it out? Come and chat live with us!
Publication date: 2019-04-25