Posted in: Events
How will you celebrate National Grandparents Day? Try these ideas for fun events and contests to celebrate at school, with families, or with social media marketing.

What are the best gifts and prizes for National Grandparents Day?
The key to choosing a prize is understanding the importance of National Grandparents Day. It's an opportunity to celebrate family ties – so the best prize is one which promotes family time together, and shows grandmoms and granddads how much they are loved.
Try these ideas on for size:
hand-made gifts from grandchildren
personalized or monogrammed gifts
activity kits for families to do together. Think baking, crafting, or boardgames!
restaurant vouchers or day passes for family-friendly events
flowers
But what's the best way to hand out those prizes? If you want to make sure everyone gets a gift – or share just a few prizes – then you'll need some kind of contest or giveaway system.
The good news: contests are easy to organize. And you can even make them part of the Grandparents Day celebrations! Read on for 4 National Grandparents Day ideas to share gifts and rewards.
National Grandparents Day ideas for competitions
Play traditional games and puzzles together
Let's start with the classics. These ideas work best at live events, like a school celebration or an in-store campaign.
Play traditional games of chance, like bingo, a lottery, or a spin-the-wheel. They're simple games, so anyone can join in. And the element of chance gives them a special thrill.
Craft and baking competitions for the kids
If you work with children, or in a brand aimed at kids and young families, then competitions and activities are bound to be popular.
Choose something that's easy to do, or kids can work on with their parents. We're thinking drawing contests, easy baking recipes, or craft challenges.
So how does the competition part work?
Ask people to upload photos or videos of their creations. Then you can let the public vote for a favorite – or just pick your own. The winner receives a gift to share on National Grandparents Day!
Click here for tips to organize a children's drawing contest.
Story-telling contests
So we've discussed contests for grandchildren – but what about a challenge for grandmom and granddad?
Try running a story-telling contest. You could collect original stories with a writing contest, or ask grandparents to read a story out loud in a video contest. Once again, you could put the entries to a public vote, or select your favorites to win prizes.
If you want to get more participants, try offering small rewards as an incentive to sign up. So as well as a grand prize, you could offer a quick discount code or National Grandparents Day e-card to all your users.
Social media giveaways
Finally, let's take a look at quick social media contests. If you're looking for National Grandparents Day ideas which are low-commitment for you and your followers, then Facebook and Instagram are good places to start.
The idea behind a social media giveaway is really simple. You just publish a post about Grandparents Day, invite people to comment, and then select a winner from that list of comments.
If you use a sweepstakes app for Facebook or Instagram, then you don't even have to bother copying out the list of usernames – it all happens automatically.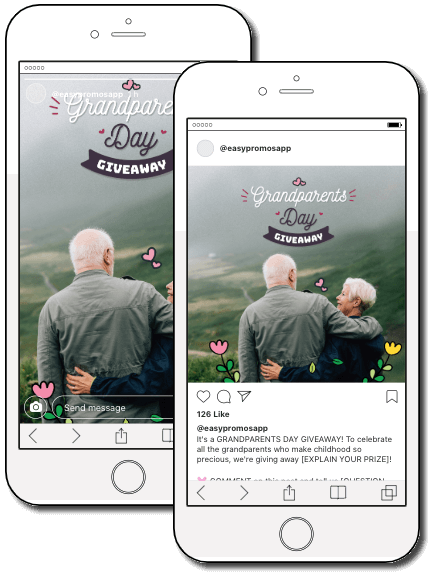 And to make things easier, we've even created instant templates for you to use on Facebook and Instagram! Use the images above, plus our recommended text, to run a National Grandparents Day giveaway that will get plenty of attention online.
Click here for free templates to start your own Grandparents Day giveaway on Facebook or Instagram.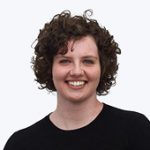 Corinna Keefe
Content marketer at Easypromos
Publication date: 2019-07-12