Posted in: Business newsLast update: 26/02/20
Facebook is currently the best major social network for reach, engagement, and return on investment for marketers. But there's one problem – you don't own the leads you generate on Facebook. We suggest 6 simple ways to combine Facebook reach with successful lead capturing.

Owning your leads is a key goal for every marketer. When you own your sales leads, you don't have to depend on a single social network. Instead, you can add those leads to your CRM – then start converting them into paying customers via email marketing, re-targeting, and any other strategy you choose.
Let's start by taking a closer look at the Facebook dilemma: powerful reach, but no ownership over your list of contacts.
Why generate leads on Facebook?
In 2019, social media marketers have a love-hate relationship with Facebook. The big blue social network is still the best source for social engagement – but it's also beset by privacy scandals, and brands have to rely increasingly on promoted posts for reach.
This perfect storm has got some marketers thinking. A big Facebook following is a great asset – within the walled garden of social media. But what about getting followers outside the garden, and converting them into customers?
So there's a compromise to be made. You want the reach and follower numbers of Facebook; but you want to own your database of leads, too. In this article, we'll explore 6 different ways to generate leads on Facebook – and own your address book.
Run a Facebook giveaway to collect comments and leads
The simplest way to resolve the Facebook dilemma is to treat it as a two-step process:
Acquire followers on Facebook
Convert followers to owned leads
So first of all, you'll need a dedicated strategy to grow your audience. Then you'll need to gather more contact information from those leads – without scaring them off with a change in strategy or style.
Take the example of cult Spanish baking blog, María Lunarillos. They built an audience of over 100,000 followers by sharing fun, informative content with high production values. They also shared giveaways for Facebook commenters twice a month.
Once María Lunarillos had established their Facebook audience, they continued running the giveaways – but switched to asking participants for their email addresses, instead of comments on Facebook posts.
The result? A healthy database of over 170,000 owned leads.
Click here to read the full case study from María Lunarillos.
Use Facebook Ads to target specific audiences
In the case of María Lunarillos, the brand selected each giveaway prize carefully, so that their campaigns would only appeal to the right people. But if you plan to collect and convert leads via giveaways, then prizes are just one of many strategies you can use to target high-quality leads.
The #1 tool we recommend is Facebook Ads. With dark posts and promoted posts, you can:
In the next few sections, we'll discuss more ways to use Facebook Ads in a range of formats. Click here to see the full range of Facebook Ads available.
Follow up with commenters via Facebook Messenger marketing
Although reach for organic posts is dropping, a new frontier has opened up for Facebook marketers: Messenger.
Direct messages on Facebook have high open rates, high click-through rates – and, at this point, minimal competition from other brands. Satart using Messenger now, and you'll have an advantage over marketers who are slower to adapt.
What's more, the social network is introducing new features to help organize your campaigns and generate leads on Facebook:
Run Lead Ads with an incentive for new leads
The social network does now offer native tools to generate leads on Facebook. That's right – even Facebook recognizes the Facebook dilemma!
With Lead Ads, you can set up ads to target specific audiences, just like on any sponsored post. But instead of getting viewers to react to the post, visit your profile or click through to your website, the goal is for them to fill out a registration form.
However, Lead Ads raise an obvious question: Why should anyone fill out that form? Here are some suggestions to incentivize conversions:
Share links in Facebook Stories and Facebook Watch
Facebook is increasingly dominated by video content. The social networks has invested heavily in its long-form video platform, Watch, and Mark Zuckerberg has publicly suggested that Stories will replace the Newsfeed. What's more, Facebook marketers have already seen how the latest updates to Creator Studio prioritize videos above all other content.
So if we're about to live through another "pivot to video" – this time, with a focus on Stories – how can you use that content to generate leads on Facebook? Once again, the answer is two-fold.
Video content on Facebook consistently outperforms other post formats, so it's a great way to increase your reach and engagement. Then, just as we discussed above, you can use ads and link-sharing strategies to convert those Facebook viewers into owned leads.
Use the call to action button on your Facebook Business page
Finally, don't forget about the basics. Setting up a call to action button on your Facebook Business page is one of the easiest ways to generate leads on Facebook and convert them into customers.
You can only create call-to-action buttons if you have a paid ads account – but these buttons are extremely versatile. You can set up almost any type of conversion, from customer phone calls to sending you an email or… you guessed it… visiting a registration form.
Got even more ideas? Tell us your tips to own and generate leads on Facebook in the comments!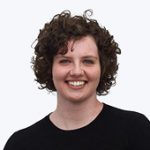 Corinna Keefe
Content marketer at Easypromos
Publication date: 2019-09-05