Posted in: Digital marketing,Ideas for your websiteLast update: 03/08/22
Coupons have always been popular with customers – and right now, they're going through a period of innovation. Brands are breathing new life into old marketing strategy with dynamic campaigns, social sharing, and a seamless customer experience. Why? Because a well-designed coupon campaign is the perfect vehicle for data-driven marketing. Here's how…

In this post, we're taking a look at the latest ways to distribute coupons – and why email verification is always essential. Read on if you want to collect more data about your audience, figure out attribution for sales campaigns, and stand out from the crowd.
21st-century coupons: new ideas, new challenges
In the old days, you'd find coupons in magazines, on the packaging or as rewards handed out in-store. And those distribution methods still exist. But brands have started to get more creative with their campaigns, too.
Modern marketing campaigns are focused on three things: entertainment, personalization, and data. So how can you create a campaign that's entertaining, tailored to each individual shopper… and supports your data-driven marketing strategy?
Here are just a few successful ideas we've seen:
Collecting user-generated content on social media in exchange for coupons and promotional codes
Conducting customer surveys and brand awareness quizzes with promotional rewards
Challenging customers to mobile mini-games or AR challenges with a coupon prize at the end
All of these campaigns are fun to play and provide the brand with tons of relevant, actionable data about their audience.
If you're looking for fun and unique ways to promote your brand and gain new leads, check out the Easypromos games that you can use as part of your marketing strategy!
But it's not all plain sailing. As coupons go digital, it's easier for rogue consumers to use fake email addresses and social accounts to sign up for rewards. So brands can add another challenge to the list: How do you make sure that all your coupon recipients are the real deal?
What is email verification?
Email verification is a tried and tested method for online security. You send a message to someone's email address; they click the link to confirm they're a real person; they receive the coupon they've been waiting for. It's quick, simple, and effective.
The ideal email verification service will help you filter out throwaway or spam email addresses before they're even verified. You can also use it to personalize the messages you send and give consumers a chance to pick the content they want to receive.
Of course, you'll have to start by collecting email addresses from your coupon participants. You could integrate a sign-up page into your mobile games and apps, or ask people to sign a consent form so you can share their user-generated content.
How email verification makes marketing more effective
The first, most obvious benefit of email verification is that it protects your campaigns from fake users. Every email address you collect as part of your coupon campaign will belong to a verified consumer.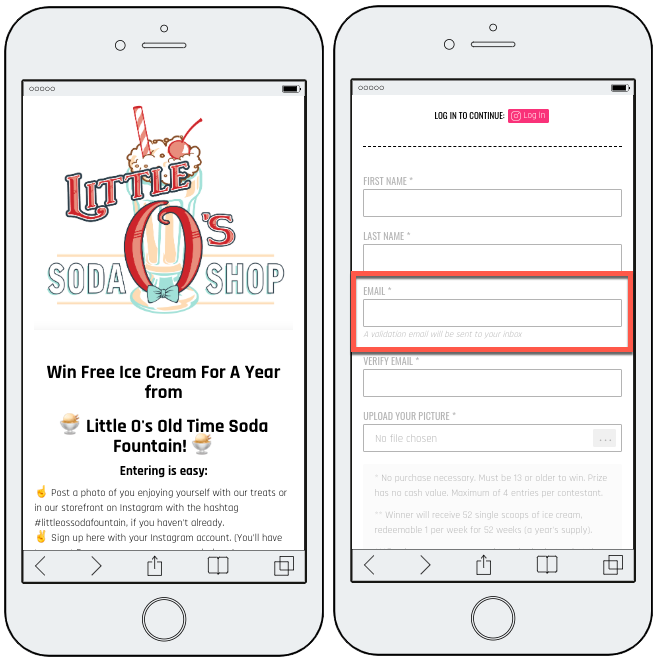 But that's not all. Once you have someone's email address – and consent to further messages – you can follow up on that hot sales lead. Yes, you'll use the email to share a coupon or promotional code… but the conversation doesn't stop there!
Send a welcome email to tell people more about your brand. Send a personalized message that uses the recipient's name or reminds them of their high score in your mobile game.
Email addresses are also essential to your CRM. And they become even more useful if you can connect email addresses with social media accounts – for example, by collecting user-generated content with email verification.
How to use email verification for coupons and promotional codes
One of the most common coupon distribution strategies is via email. Someone shares their email address, you send them a coupon – simple, right?
But as we've discussed, this method is a little too simple. It's a missed opportunity to confirm contact details, build brand awareness, and even add a personal touch to your marketing campaign.
Instead, try one of these more sophisticated strategies:
Send a verification email. When customers click through, they'll receive their coupons as a second email.
Send personalized coupons. This method works best if you run a survey or quiz where customers have to share their opinion. For example, if someone picks blue shoes over a red jacket, then send them a coupon for blue shoes.
Offer the chance to level up. Send an email with a basic coupon… then offer readers an upgrade if they share more contact details, make a purchase, or confirm their email subscription preferences.
With these methods, you can build up a relationship with each individual consumer. When you send dynamic messages and personalized offers, you demonstrate that you're paying attention to their personal needs and wants. Over time, you'll be able to nurture each lead towards a lifetime of repeat sales.

Publication date: 2019-11-04