Posted in: Applications,Applications for Instagram,Digital marketing,Ideas for your websiteLast update: 27/08/21
Basketball is one of the most popular and most practiced sports. Events such as the NBA and ACB league, or simply basketball World Cup turn the world's eyes to elite clubs and teams.
And these big events can be a great opportunity to promote your own basketball club, team or small league! So let's look at some of the propositions that we've put together, so you can get some fresh ideas!

The Internet and social media set on fire every time a new sports tournament or championships go off. Sports news, fun clubs, shopping malls, TV channels… they just won't let you forget about the happening even for a second.
But before we start with the promotion ideas, let's focus on the main values of all kinds of sports. There's fair play, companionship, respect, and perseverance among many others. Include these values in your basketball club marketing campaign, and you're set for a win!
Here are some statistics about sports marketing that you should have in mind:
Instagram is now the most popular platform for football fans to connect, with 41% of them logging-in while sporting events are happening.
64% of fans check Instagram at least once a day for sports content
58% of sports enthusiasts use Facebook – the second most used social network by sports fans
64% of younger audience prefer sports coverage on social media
Young fans prioritize content that makes them laugh over offers and discounts
Crazy, right?! Having the statistics in mind, let's start with some ideas for your basketball club marketing!
Instagram Giveaways to boost the engagement of your basketball club's account
Take a chance to promote your team and boost engagement and brand loyalty at the same time. Organize an Instagram Giveaway! Social media giveaways are always great to achieve a wide range of different marketing goals and connect with new audiences. You drive traffic to your profile and create excitement for your community. To make the giveaway more interesting, ensure that the incentive is attractive. As a basketball team or club, you can offer merchandise… or match tickets!
There are different requirements for followers to enter the Instagram Giveaways. The easier and most effective action recommended by Easypromos is to ask the potential participants to comment on the giveaway post – this will create extra engagement and start conversations between you and your fans. This is a great activity for your Instagram exposure, as accounts that have genuine conversations with their followers have better positioning.
However, there are also other ways to participate in an Instagram Giveaway that are compatible with the platform. Your audience can also enter an Instagram Giveaway by following the organizing account, which in this case is your basketball club. However, if there is also a sponsoring account – for example, a clothing brand or stadium – you can ask the participants to follow it, too. Instagram rules also permit mentioning friends in comments as a requirement to join a sweepstakes. We recommend asking your participants to mention no more than five friends.
You can draw a random winner of your raffle with the Easypromos Instagram Giveaway app.
In this blogpost, you can find out how to do a successful Instagram Giveaway.
Build brand awareness for your basketball club with a Personality Quiz
Focus on your marketing objectives. If you want to build brand awareness, enhance customer relationships, and target new audiences, do it in a fun way! Offer your online community some entertainment! And if you do it well, they will share the promotion on social media, doing the hard work for you!
A Personality Quiz is a great option here. Your audience follows you for a reason; they're basketball fans. So finding out which player of your team they resemble will definitely be of interest. Create a series of questions about likes, standard behavior, physical appearances, sports abilities, or main sports values (as we mentioned right at the beginning of this post). Based on their answers, display a final and personalized message with a player that they resemble the most! Add an Entry Form before displaying the final message, so you can also gain new leads.
You can also create a Personality Quiz based on top basketball players, for example from the NBA league. However, this way you wouldn't expose your brand, but attract basketball fans and convert them into possible leads and followers.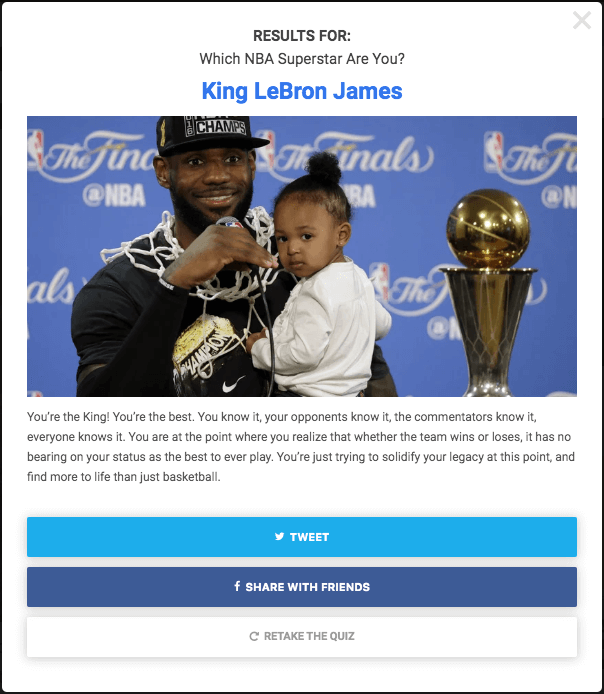 This kind of test can be created with a Personality Quiz by Easypromos. The application allows you to fully personalize questions and esthetics of the quiz.
Knowledge Quiz to raffle prizes between the best participants
Here's another great marketing tool that not only accomplishes your marketing objectives but is also a great way to increase fan engagement and reward loyal fans. Prepare a knowledge test! Test the participants' expertise in basketball. Ask questions about specific championships, important events or basketball in general.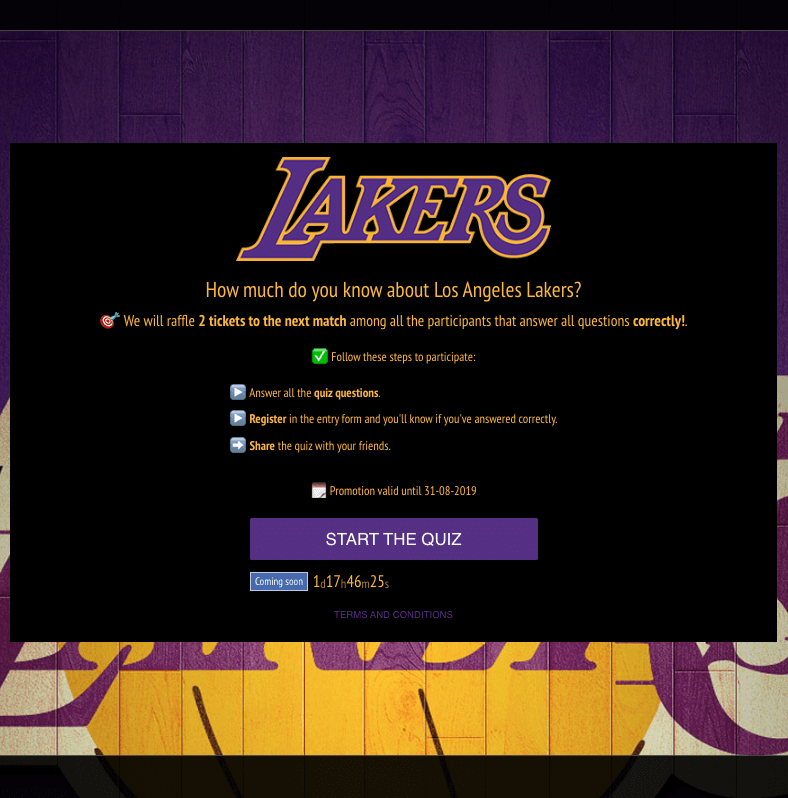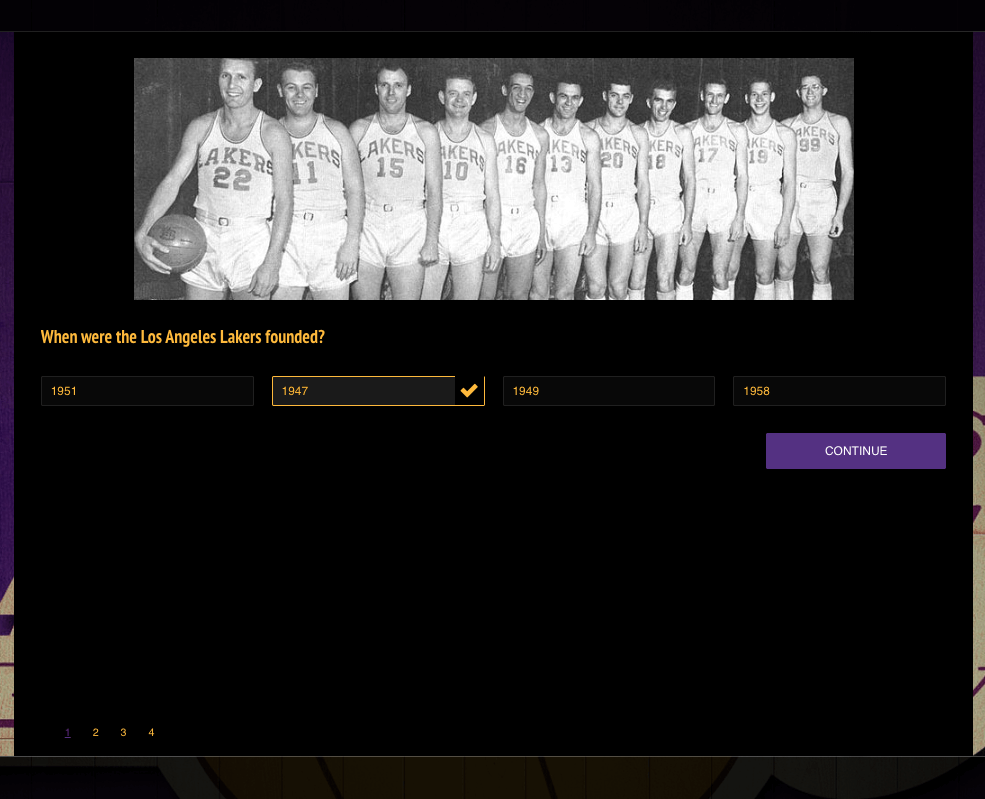 To create more motivation and overall buzz, throw in a raffle for… Match tickets! (Because there's no better prize for sports fans than match tickets!) You can do a random draw between all the entrants that answer all questions correctly. This way you ensure that the community will share your test with their friends and family for their chances to win.
Create your own test with our Knowledge Quiz! Fully personalize it with your team's colors and logo for extra brand awareness.
Hashtag + Mention contest to create buzz for your basketball club
Are there fans that come to each match of your basketball team? Take advantage of your loyal supporters to increase the exposure of your club name on social media networks. For example, ask your fans to upload photos on Instagram and Twitter with a specific hashtag, and mention the profile of your basketball club. The fans will share their pictures with their friends and family on their social media channels. This way the name of your basketball club will be known by a wider community of people! Motivate more participants to join by drawing a prize among all the people that uploaded their pictures.
The Hashtag + Mention app was used to collect UGC during the 2019 Netball World Cup. Learn more about the successful #ThisIsNetball campaign.
How to collect all the photos that have been generated with Mention + Hashtag promotions? There's a great tool by Easypromos to obtain all user-generated content and pick a winner randomly. And in case of any doubts contact us through our Online Chat!

Publication date: 2019-11-27