Posted in: Digital marketing,Ideas for your websiteLast update: 03/08/22
Whether you're working for an established brand or setting up a new business, a good digital marketing plan is key to success. Here's what you should include in your go-to marketing plan – plus some tips on reaching your goals with promotions.

Your marketing plan is like a map that leads to buried treasure. Or the owner's manual for a vintage Rolls Royce. Or, well, any written document that helps you get amazing results. The right marketing plan will organize your strategy, remind you of key milestones, and help you track the results.
A good marketing plan is more than pure theory. It has to contain concrete details – like SMART goals, the tools you plan to use, and the metrics you apply to your campaigns. Read on to find out what your marketing plan should include – and how promotions can help you along the way.
What to include in a marketing plan
Let's get this out of the way: your marketing plan is going to be a big ol' document. There are lots of sections to include here, and they'll all require at least a little bit of research.
However, you can choose how much your marketing strategy includes. For example, you might write a general plan for your whole business – or just a miniature plan for a single product launch.
Most marketing plans cover a year, divided into months or quarters, but you can choose to write a plan which is shorter or longer. (Ideally, you should plan for at least a year; this enables you to schedule seasonal marketing and product launches ahead of time.)
Every marketing plan should include:
An executive summary which describes your business, products and services.
Market research, including buyer personas and information on your competitors.
A quick analysis of upcoming trends, especially threats and opportunities which might apply to your brand.
Your objectives, broken down into smaller, measurable goals.
The channels you plan to use.
The budget available for each channel or objective.
Guidelines for how you will track and report results.
There are lots of tools out there which will help you build and maintain a marketing plan. Use a marketing plan template, like this one from HubSpot, if you need a head start. Apps like Asana or Trello will help you track day-to-day tasks.
Other important tools are apps for market research, creating reports… and, of course, actually executing all the strategies you've written about. In the next few sections, we'll cover some different promotions which fulfil those requirements.
Start with market research
It seems pretty obvious, really: if you want your marketing strategy to be effective, then you need to do the research.
But the question is… How do you figure out what will work for your customers?
There are plenty of places to start. You can commission market research for most industries. Public repositories of information like the National Retail Federation can be very helpful. Audience insights on social media will tell you who's interested in your content.
However, ultimately, there's no replacement for asking your customers what they think.
This can be super informal – as simple as a poll on your Instagram Stories. Or you can set up a quick survey to find out what your customers like, what interests them, and how they'd like to hear from you.
Of course, you want to make it worth their while. The email above is a good example. If you ask people to invest their time in filling out your survey, then you should offer a reward.
Try to make it something relevant to your business, like a giftcard for your store, promotional codes, or branded swag. For a B2B brand, the reward might be an exclusive product demo or white paper.
The best part? A niche prize like this will act as a control on who enters your survey. Ideally, you'll only receive responses from your target audience.
Set achievable goals for your marketing strategy
I've already mentioned this in passing, but it's always worth repeating.
Strategy is not enough. You need to set SMART goals. Here's a quick reminder:
A goal like "go viral on social" is not actually helpful. It's too vague. How do you know when you've reached it?
But a goal like: "Get 20,000 followers on Instagram by the end of June"? Now, that I can work with.
Once you have a SMART goal, you can break it down into specific tasks. Let's carry on with our Instagram example. To get those follower numbers, you'll need to be really active, posting at least once a day. You'll need to build relationships with other accounts, possibly including influencers.
If gamification is one of your marketing goals, discover how to introduce it in your marketing plan with these examples and tips.
A well-timed promotion can make all the difference to a specific task like this. For example, Instagram giveaways are a time-honored way to boost your follower numbers. And yes – a good giveaway really does work.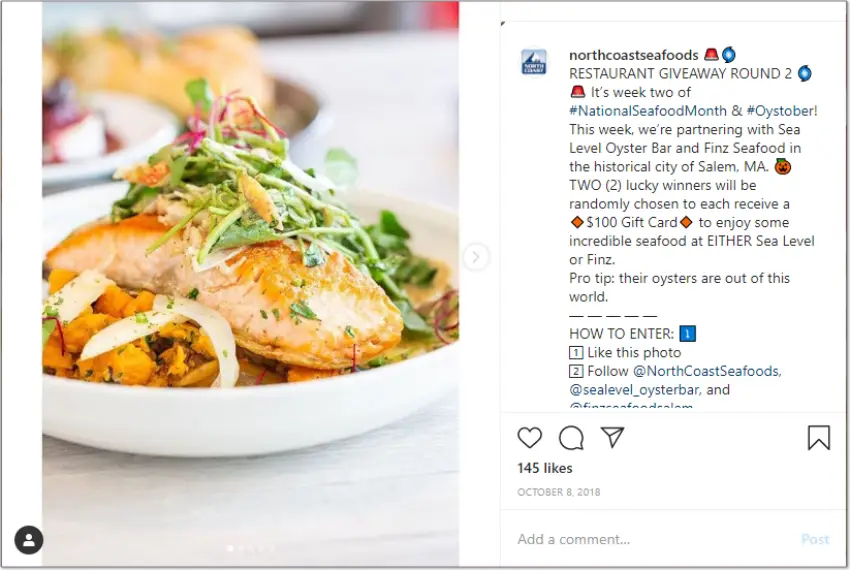 Social media giveaways are an especially popular choice for marketing restaurants, fashion, cosmetics, and lifestyle brands. But product promotions aren't just for social media!
Think outside the box. A tempting discount for email subscribers, a product recommender that highlights new products, a quick game to entertain shoppers while they're queuing up in store… They're all effective, measurable ways to reach your SMART goals.
Measure results against your marketing plan
Let's go back to that word, "measurable". While marketers are learning the value of inbound marketing and content marketing, it's still difficult to measure and report on our efforts.
In fact, a shocking 84% of marketers say they're unable to measure or explain how their campaigns contribute to the overall marketing plan.
Now, I'm holding out hope that we will be able to measure these campaigns one day. But what's the solution in the meantime?
Here's one idea: Tie your content marketing initiatives to actions which are measurable. For example, you could ask people to share their email address before downloading a whitepaper, or seeing the results of a product recommender quiz.
Now you do have something to measure: page views, email subscribers, and the drop-off rate between the landing page and the email confirmation.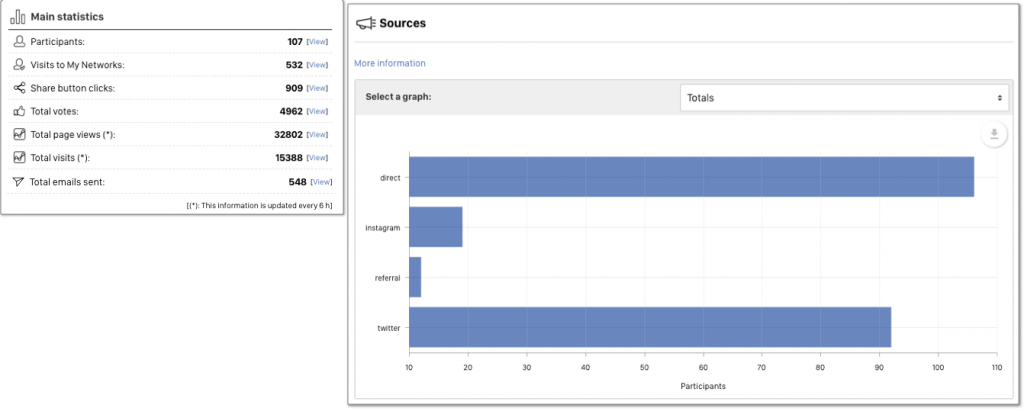 Throwing up an email registration form makes it much easier to collect data and produce reports. The same is true for any other type of promotion – including surveys, coupon campaigns, and even social media promotions.
Do you use promotions in your digital marketing plan? Got some ideas that aren't on this list? Share them with us via our Online Chat that you can also use in case of doubts and questions!
Publication date: 2020-01-29