Posted in: Digital marketing,Ideas for your websiteLast update: 11/08/21
Although Mother's Day is celebrated on many different dates, it is one of the most important and currently commercialized events. Whether you're celebrating on fourth Sunday of lent in the UK, on second Sunday in May in the US and Canada, or May 26 in Poland, it is important that your business celebrates Mother's Day. Read on to discover how to organize Mother's Day giveaways on social media channels.

Important events like Mother's Day are fantastic opportunities to work on your online presence and brand image. And what would be the best way to boost social media engagement right in time for Mother's Day? We say Mother's Day giveaways! They not only increase the number of likes and comments but also improve your brand's trust and credibility, especially if you use an automatic and transparent random comment picker.
Before committing to a purchase, customers like to research their possibilities. One of their go-tos is social media, where potential clients check the brands' credibility and opinions left by previous customers. Social media giveaways are also a great way to show how you connect and engage with your audience. In this blog post, we take a look at ideas for Mother's Day social media giveaways and we discover how they can help your brand.
Do you want to convert social media followers into leads? Launch a Mother's Day Entry Form Giveaway where users register their contact details for a chance to win attractive prizes for their moms.
Mother's Day Instagram Giveaways
Top Dog Social Media reports that accounts that run giveaways grow up to 70% faster than those who don't. Giveaway posts also obtain 3.5 more likes and on average 64 comments more. So if you're looking to increase social media engagement you should start thinking about a Mother's Day Instagram Giveaway!
Here's an example of a Mother's Day Instagram sweepstakes organized by a stationary shop. The promotion is aimed at children looking for presents for Mother's Day. By giving back to the community, the brand is also looking to increase their social media following and engagement. To join the promotion the entrants followed the organizing account, mentioned a friend and explained why their mom is special.
By asking your audience to answer an open question you automatically set for a boost in engagement. Real conversations are something that the Instagram algorithm rewards by better positioning as comments, likes, and views impact feed ranking.
Therefore, bear in mind that no matter what sector your brand falls into, you can still organize an engaging and successful Mother's Day giveaway, as long as you follow the right steps.

Comments, likes, and views impact Instagram feed ranking. Comment-based giveaways improve positioning. 
Click To Tweet
Trust us when we say that any brand can organize a Mother's Day giveaway on social media! Glow Workwear is a clothing brand producing comfortable workwear for professional women working outside. So to celebrate and empower all women working in typically gender-stereotyped jobs, they teamed up with DeWalt to give away a set of professional working tools.
Once again, the giveaway organizers were looking to boost engagement and grow their audience, as they asked their participants to follow their account and mention two friends in the comments. They also allowed their male followers to participate, as long as the prize would be gifted to a woman!
Any brand can organize a Mother's Day giveaway and offer their audience any prize, as long as it is presented and pictured in a nice way. Glow Workwear did their job perfectly by placing flowers around the DeWalt products. This simple action added to the Mother's Day theme.
And what can you do if you think that your product is not adequate as a prize of a Mother's Day giveaway? We have a tip for you. Throw in something that moms will love for sure! Have a look at this Mother's Day Instagram giveaway organized by a coffee shop.
Cafe Martinez San Antonio decided that they wanted to gift their followers something more than just coffee. They gave them a chance to win a designer bag! The prize motivated more users to join the promotion, therefore the brand managed to grow their audience and boost engagement. Remember that the incentive is the biggest motivator to join a promotion. So make sure that your followers are motivated enough to participate in your giveaway!
Are you planning to organize a Mother's Day Instagram Giveaway? Use our ready-made Instagram template for your Mother's Day promotion!
Celebrate Mother's Day with Facebook Giveaways
The Facebook algorithm works on the same bases as the Instagram algorithm. Therefore, in order to get good positioning in the newsfeed, your posts need to be engaging. And Mother's Day Facebook Giveaways can boost your engagement!
Here's an example from Chicco, a baby care brand that was looking to celebrate motherhood and moms.
The main objective of this Mother's Day Facebook giveaway was to promote the brand's products, but also to increase engagement and strengthen customer relationships. The organizers asked their followers to share in comments their favorite childhood memories of their moms. This open question not only encouraged real conversations but also created a sense of belonging with the brand.
Save time and use our ready-made Facebook template for your Mother's Day giveaway! Just edit the dates and prizes and you're ready to go!
The next example is another proof that any brand can give away any product as the prize of social media Mother's Day giveaway. Titan Fitness launched a new barbell, designed especially for women. In order to promote their new product to their target audience, Titan Fitness organized a Mother's Day giveaway on Facebook.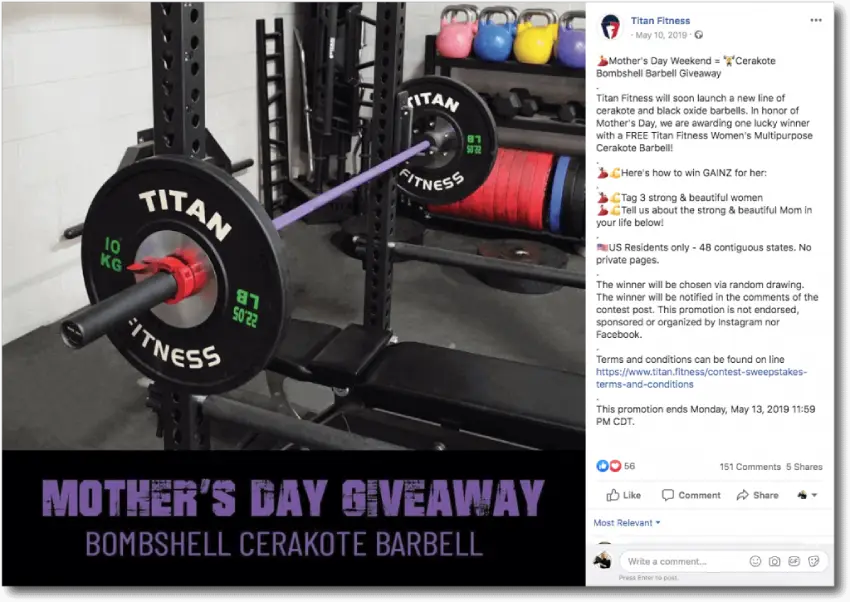 In order to enter the promotion, the participants had to mention three "strong and beautiful women", and also explain who is the "strong and beautiful mom" in their lives. The lucky winner got their hands on one of the new Bombshell Cerakote Barbells, and the brand improved their brand and product awareness.
Promote your new product with a Mother's Day Twitter giveaway
Twitter giveaways are very easy to set up and even easier to take part in! They're also the perfect tool to promote new product launches! And Mother's Day is a great reason to advertise your new release on Twitter.
Let's take a look at this Mother's Day giveaway organized by BumbleZest Drinks on Twitter.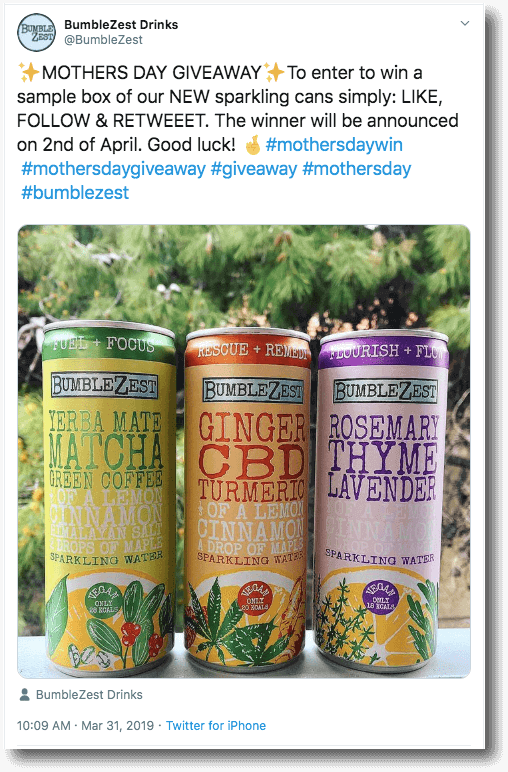 In order to participate in the promotion, interested Twitter users were asked to interact with the promotional post. This requirement helped increase the brand's number of followers, but also the product and brand awareness. And most importantly, someone lucky got to try the new line of drinks!
With our Twitter Giveaway app, you can transparently draw winners of your Twitter sweepstakes! And your first giveaway is free!
Feeling inspired? We hope so! We highly encouraged you to take advantage of the upcoming Mother's Day in order to give back to your community but also to work towards your objectives set in your marketing plan for this year! Remember, in case of any doubts or questions about your Mother's Day giveaways you can chat with our Support Team! And if you're looking for more giveaway applications and benefits, head to our Giveaway Hub where you will discover more information!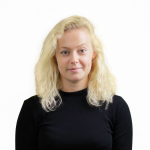 Kamila Palka
She forms part of the Easypromos marketing team and holds a combined honors degree in Digital Media and Marketing, currently studying for a Masters Degree in Digital Marketing. Her tasks include everything that is content-related in English, including social media communications, new blog posts, product demos, and success cases. If she's not working on a new content piece for Easypromos you will find her working out, skydiving, or starting a new series with her rescued cat.
Publication date: 2020-03-03