Posted in: Applications,Digital marketing,Ideas for your websiteLast update: 13/08/21
Product promotion is a key aspect of any marketing plan. Nowadays, social media is one of the most important and powerful channels for product promotion. Audiences gather on social media and this is why your product promotion should also be carried out your social media networks. In order to make profit you must first ensure that your audience is well informed about goods and services that you offer. And this is what we will focus on today. Read on to discover product promotion examples for your social media marketing.

Social media networks are still a growing phenomenon. Social media give you the chance to reach big audiences without much effort. You can accomplish many marketing objectives with social media giveaways. Contests held on social media networks attract the attention of new audiences simply because you can win something without putting much time into it. At Easypromos we always say that a good incentive is the best motivator, therefore the better the prize the more competitors you will see.

There are many different types of giveaways but they all tend to work if your main objective is to disseminate information about your product and brand. The key is to showcase the product in a fun and eye-catching way so that it doesn't go unnoticed. And of course, let's make sure that your product is the main prize in the giveaway! This way will create excitement around your product, and it's no secret that that's what you're looking for.
The key is to showcase the product in a fun and eye-catching way so that it doesn't go unnoticed.
Click To Tweet
Social media giveaways are a no-brainer for increasing engagement and brand and product awareness. Focus your efforts on the social networks that are most important for you and your company, and use them to attract the attention of new audiences and potential customers. Regular prize raffles will lead to an increased number of followers who will be repeatedly coming back for more chances to win.

Now, let's skip the small talk and have a look at real (and successful) examples of product promotion with social media giveaways.
Product promotion example: Instagram giveaways
All social media networks are fantastic for product promotion, however, if you're looking to target younger demographics, then Instagram should be your go-to network.
Tombow USA is one of the brands that everyone should look up to when looking to organize an Instagram giveaway. The office supplies shop delights their constantly growing audience with regular Instagram contests, which entrants join for a chance to win Tombow stationery products.
All Instagram giveaways organized by Tombow are comment-based, which means that followers enter the competition by commenting on the promotional post. The organizers ask their audience a variety of different questions, for example: why would you like to win? What is your favorite pen set?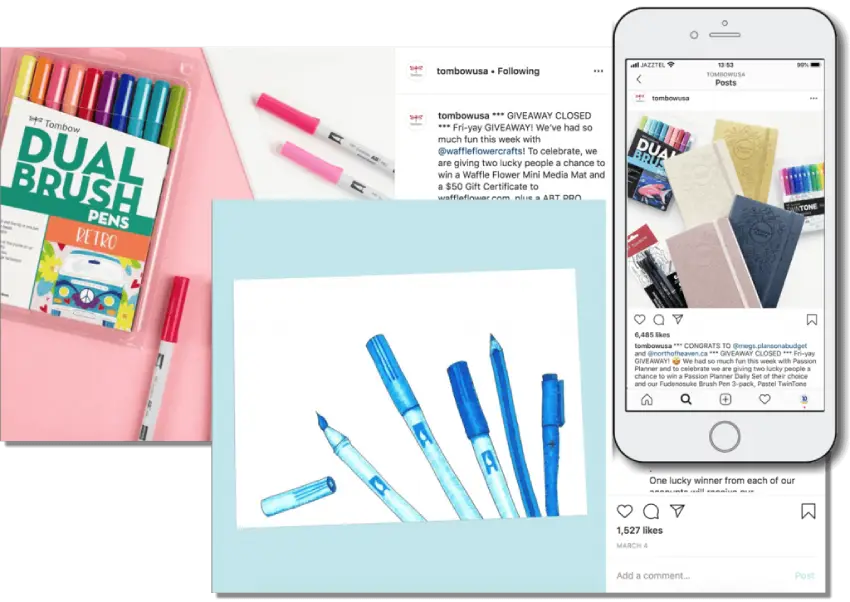 Notice, that all questions are open-ended, therefore they encourage real conversations, which dramatically increase engagement. The brand also asks the participants to mention a specified number of friends in the comments section; this way the promotion gets disseminated and it might attract the attention of potential new entrants (or followers, as another entry requirement is to follow the brand's account).
The giveaway posts organized by Tombow are always accompanied by an attractive and appealing picture, with an eye-grabbing text, to make sure that the post won't be unnoticed by the brand's followers.

But what are the main objectives of these Instagram comment competitions organized by Tombow? It's obviously increased social media engagement, but also product promotion. Notice how well all texts and pictures represent and highlight the brand's products. So here's a great tip for you: make sure that the text and picture showcase the goods or services that you wish to promote.

Also, don't forget to share the competition on your Insta Stories and other social media networks, as doing so will drive more traffic to your Instagram giveaway.
Not sure if giveaways are the right tool for your marketing objectives? Unclear on what you can accomplish with social media sweepstakes? Don't worry! Visit our Giveaways hub to discover all the objectives, features, and characteristics of our giveaway apps!

Facebook giveaways to showcase your products and services
Facebook is a social media network with the highest number of active users. Also, the audience tends to be older, therefore also more mature, but it doesn't mean you can't organize social media giveaways on Facebook. On the contrary, you shouldn't wait any longer!
Just like on Instagram, comment-based giveaways are the most engaging and effective kind of sweepstakes on Facebook. Open questions encourage people to share their views, opinions, and stories, which leads to an increase in brand engagement.
As you can see in the above examples, both images attract attention as the phrase "competition time" is eye-catching. To add to the atmosphere of excitement both brands also showcase the prize that is up for grabs. So just like in the case of Instagram giveaways, ensure that your promotional Facebook post showcases the product and attracts attention. Get these two points done and you're set for success.

A great way to attract even more attention to your promotion is by asking the participants to mention their friends in the comments section. This brings you more potential entrants but also increases your product and brand awareness.
Concert tickets giveaway: example of product promotion on Twitter

Twitter giveaways must be the easiest contests to join in. Ever. You can ask for as little as a simple retweet, or as much as a retweet, comment and friend mentions. The simplicity of Twitter sweepstakes is what makes it so easy for them to go viral and attract tons of attention. So if your target audience is based on Twitter and you're looking to promote a product, Twitter giveaways should be your go-to solution.
The following two examples of Twitter contests show how easy it is to create a successful product promotion on this social network.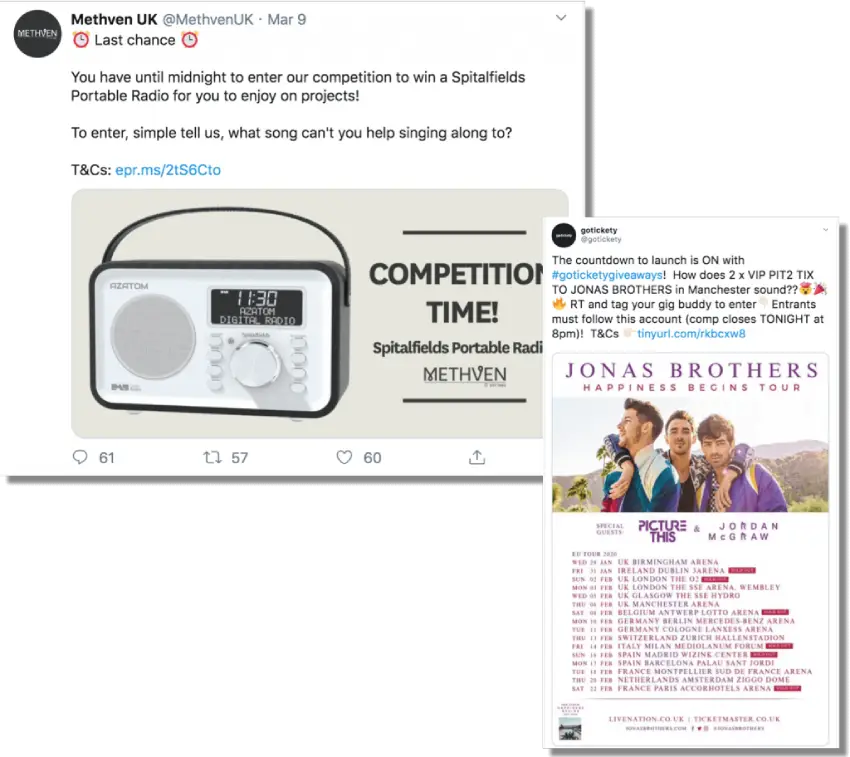 As always, an eye-catching text and image do the job, and the product gets more visibility and awareness. So remember, a short caption to describe the product and picture of it!
Product promotion example: YouTube giveaways
Did you know that YouTube giveaways can increase views and expand your database? In addition, you can also showcase your product and increase its recognition.
It doesn't matter if your YouTube channel is very themed, or if your brand is active on YouTube. As long as you choose a suitable product for your target audience you can launch an engaging and successful promotion. Share a link to your Entry Form Giveaway with your YouTube viewers and encourage them to register their contact details for a chance to win attractive prizes.
Let's remind ourselves again of the two main factors of successful social media giveaways: image and text. And the same goes for YouTube giveaways! As you can see in the above example, a YouTube blogger is doing a "huge makeup giveaway". The word "giveaway" attracts a lot of attention from potential participants, and also the showcased products catch the eye of anyone looking for some free makeup products.

Multi-Network Giveaway for product promotion

Can't decide which network is most beneficial for you? Or maybe you simply want to give a chance to win to your audience across all social media channels? This is not a problem. Pick a prize and launch one giveaway on multiple social media networks! You can then automatically draw a random winner from among participants from all networks. How? With our Multi-Network Giveaway app!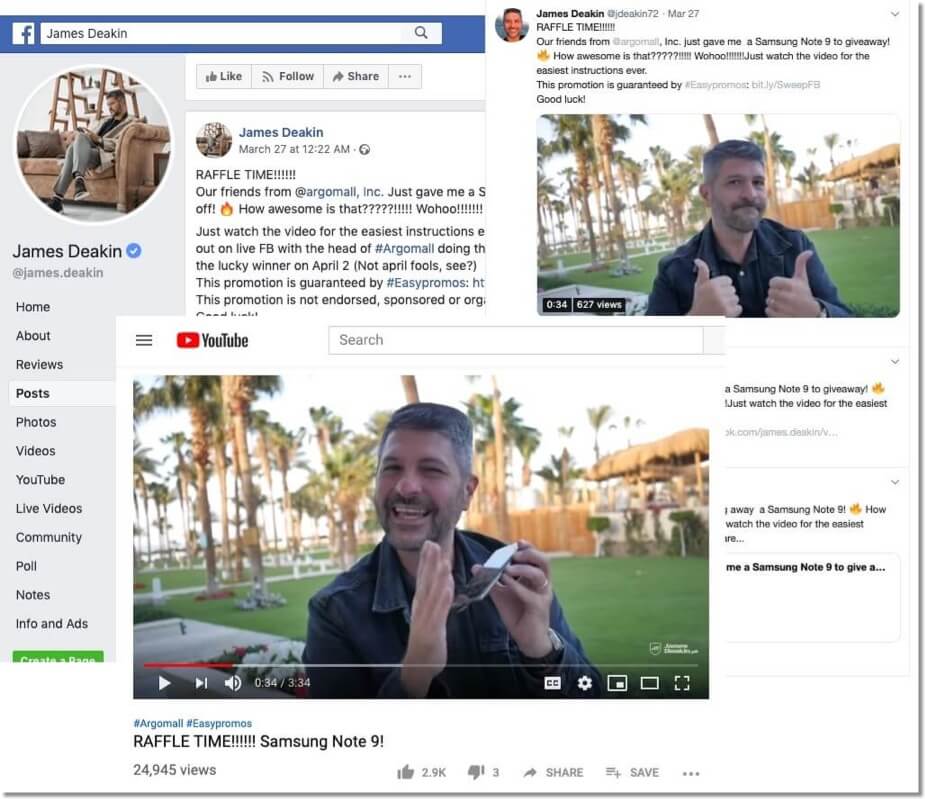 James Deakin wanted to give away a Samsung Note 9 to one of his followers, however, instead of giving a winning chance to his audience just from one social media network, he decided to involve his followers from all social media platforms. He shared the same explanatory video on Facebook, YouTube and Twitter. Comments came in, and James' social media engagement and presence increased dramatically.
So if you're looking to increase your social media engagement, and brand and product awareness, then Multi-Network giveaway might be the one for you. Your brand visibility and online presence will also benefit from it.
So here are five different ways in which you can promote your product with social media giveaways! Do you need some extra explanation? Don't hesitate to contact us through our Online Chat!

Publication date: 2020-03-18