Posted in: Applications,Digital marketing,Ideas for your websiteLast update: 03/08/22
A go-to-market strategy is a must-have when launching a new product or introducing it to a new market. Well executed digital promotions can make your launch much more successful, and today we will show you different reasons to implement promotions into your GTM strategy.

Let's start by making sure we all know the exact difference between marketing strategy and go-to-market strategy.
Marketing strategies are long-term, forward-looking plans aiming to achieve a competitive advantage, whereas a go-to-market strategy is a short-term plan an organization uses in order to introduce a new product.
Go-to-market or GTM strategies are also used to relaunch a product or simply introduce it to new audiences, markets or locations. An American fast-food franchise entering the European or Asian market would be a great example of a company in need of a go-to-market strategy.
Why do you need a go-to-market strategy for your launch?

To outperform your competitors you need to have a great understanding of your target audience and market that you're about to enter. In order to succeed, you must research your competitors and the market. Essentially, market research is crucial not only to succeed but also to survive. For example, you don't want to launch the 100th lipstick company if your product or prices won't be any different from the competitors'. Unless you somehow manage to get Beyonce or one of the Kardashians to wear it, which is not impossible, but highly unlikely… 😉 So once you know that there is a gap in the market that you can fill, and you have spotted ways in which you can outgrow your competitors and acquire customers, you can start thinking about how to launch your product. And this is where you need a go-to-market strategy. So let's break it down.
Identify your target audience and their needs
You cannot start fully working on your GTM strategy if you don't know your potential customer. Forbes reports that about half of small businesses fail within the first five years. So why does that happen? One of the reasons is the lack of research.
Let's stick with the example of an American fast-food franchise, and imagine that you want to open a burger restaurant somewhere in Asia. If you conduct your research carefully, you will opt-out from India, as 38% of the population is vegetarian. Unless of course, you're ready to cater to everyone's needs and offer vegetarian and vegan options.

When starting working on your GTM strategy, the first thing you should have in mind is your potential customer. Ask yourself who, where and why would someone buy your product, focus on what would motivate the public to buy from you, and not one of your competitors. Sometimes this complex task turns out to be much easier if you focus on demographics, goals, needs, and behaviors. These aspects make it much simpler to specifically identify your ideal customers.
Remember, the more detailed you are, the better!
If your product or service doesn't solve a valid customer problem, the probability of succeeding decreases dramatically. So here's where you'd look at different customer personas. Identify different types of potential customers, specify why and when they would be likely to make a purchase and how much they're ready to spend.

Codecademy did a great job by precisely explaining how to create buyer personas for your new business.

Once you discover all these details, you will be able to precisely distribute your time and marketing actions, which will end up resulting in valuable leads for your business.
Research the market and your competitors

If you were on a football team, about to play against another club for the first time, you would definitely look into each player to identify their technique and style of game. You would go over many different matches that the team played, looking for old and new ways of playing, and behaviors that you might expect.
And this is exactly what needs to be done when introducing a new product. You need to focus on your competitors, the bigger and smaller players in the market you're about to enter. Research their product, pricing strategy, promotion techniques so you know exactly what you're about to face. Try to predict their reaction to you entering the market, because surely there will be one!
Ways of product promotion in your go-to-market strategy
Once you decide on your pricing strategy, product distribution and identify where it will be positioned in the market, it's time for the fun part: brand and product promotion. How will you find customers? What content will you share? How will you promote your brand and products?

Your first objectives will be building brand awareness and customer acquisition. Broadening your audience doesn't have to be as complex as it seems, as long as you're open to an innovative approach to online promotions and social media giveaways. Let's have a look at all the different options you can use!
Looking for ways to increase your brand awareness? Head to our website to discover different brand awareness solutions!
Social media giveaways to create excitement around your new product launch
Social media giveaways are the easiest and most important tool to boost social media engagement and social media presence. Such sweepstakes take literally seconds to participate and they're doomed to success. You can set up your social media channels long before you actually launch your new product.
Luxfly Skydive is a great example of a brand-building their audience prior to their grand opening. This indoor skydiving facility set up their social media months before the official opening date, to build brand awareness and attract the attention of potential customers. They even allowed interested followers to pre-order their flying experiences.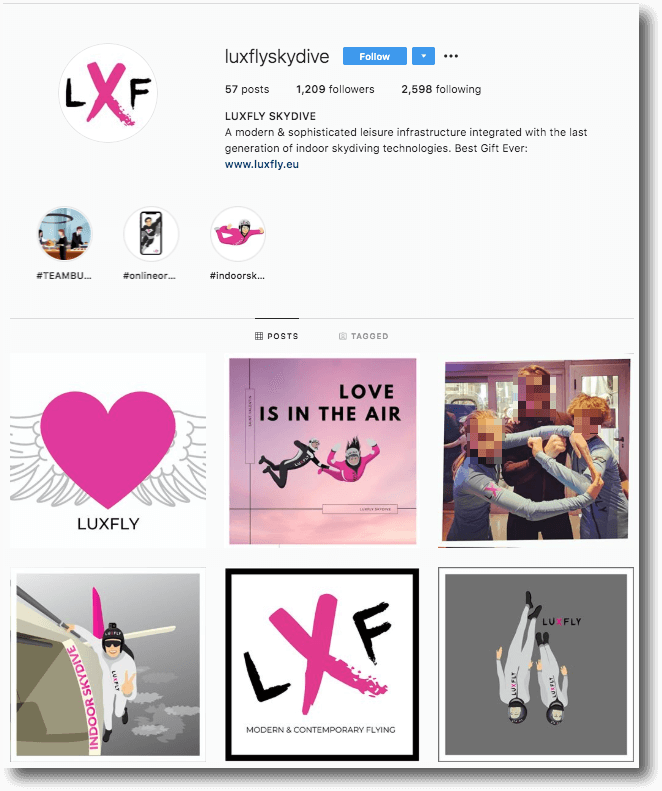 Now, imagine how much success and publicity Luxfly could achieve with an Instagram Giveaway.
Comment-based giveaways are great to boost engagement, as they're easy to enter. One of the best things about Instagram giveaways is that the Instagram algorithm allows you to ask participants to mention their friends as one of the entry requirements. This attracts more attention and also many more possible participants, who will learn about your brand and possibly also enter your promotion.
In this example, you can see how a brand successfully boosted their social media engagement and made followers aware of their new location, by giving away a 50$ voucher for any Cafe Rio location. Social media sweepstakes are the perfect tool for your go-to-market strategy as you can make sure that your potential customers know about your new opening in advance. What would be the ideal prize? Free products or discount vouchers! This way you will drive people to the point of sale.
Incentivized promotions will surely drive engagement to your social media profiles. If you don't go for a Multi-Network Giveaway, ensure that you promote your giveaway on other social media channels, just the way Cafe Rio did!
You can draw random winners of your Instagram sweepstakes with our Instagram Giveaway app. Your first giveaway is free!
Distribute free samples and grow your mailing list as part of your GTM strategy

Gaining customer attention is one of the first objectives you want to focus on. Although, to grab the attention of potential customers you need to give them something to be interested in. And what's better than offering samples of your product?

Communicate your new product launch and create buzz around it by offering free product samples. This way you will not only promote your new release but also build trust and customer loyalty, as the person receiving the sample will automatically feel the sense of belonging. You might ask how you will decide who gets the samples? This is where you can apply another type of promotion into your go-to-market strategy!
Use a simple Entry Form Giveaway to collect new leads and facilitate the expansion of your mailing list. Ask users to provide their contact details in order to receive a free sample of your product. You will use the shipping address to deliver the sample, and the email address to contact the user in the future.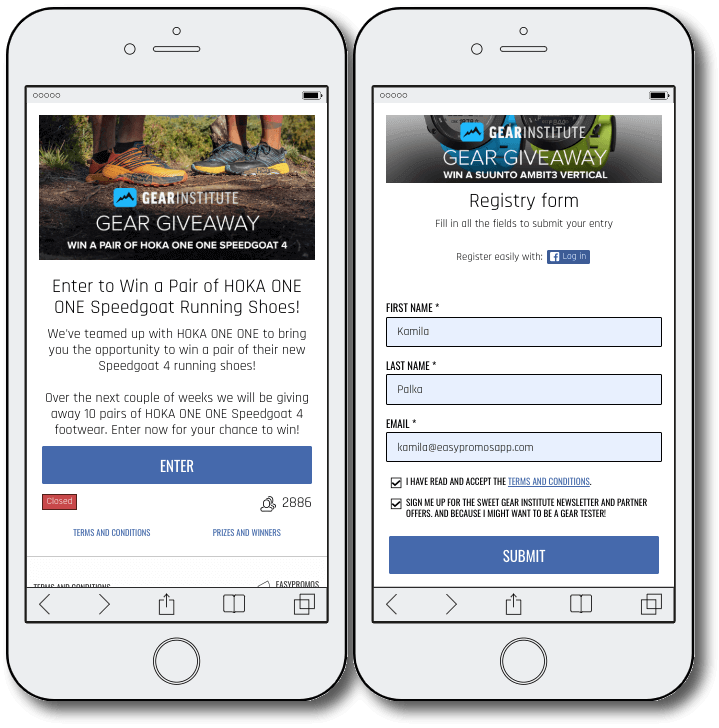 Gamify your go-to-market strategy to acquire and retain customer
Do you believe that your audience would appreciate interactive promotions or games? We have great news! You can make the most out of your go-to-market strategy and… gamify it! Gamification is one of the latest trends in digital marketing and audiences love the challenge offered by branded mini-games.
Spin the Wheel app is an interactive game that allows users to spin a wheel for a chance to win a prize. Online users get excited by the challenge and gambling-style game. The fantastic thing about this application is that it comes with an integrated entry form that can be fully customized in order to collect all the needed details of participants. Therefore you can ask for only and all the information that you need!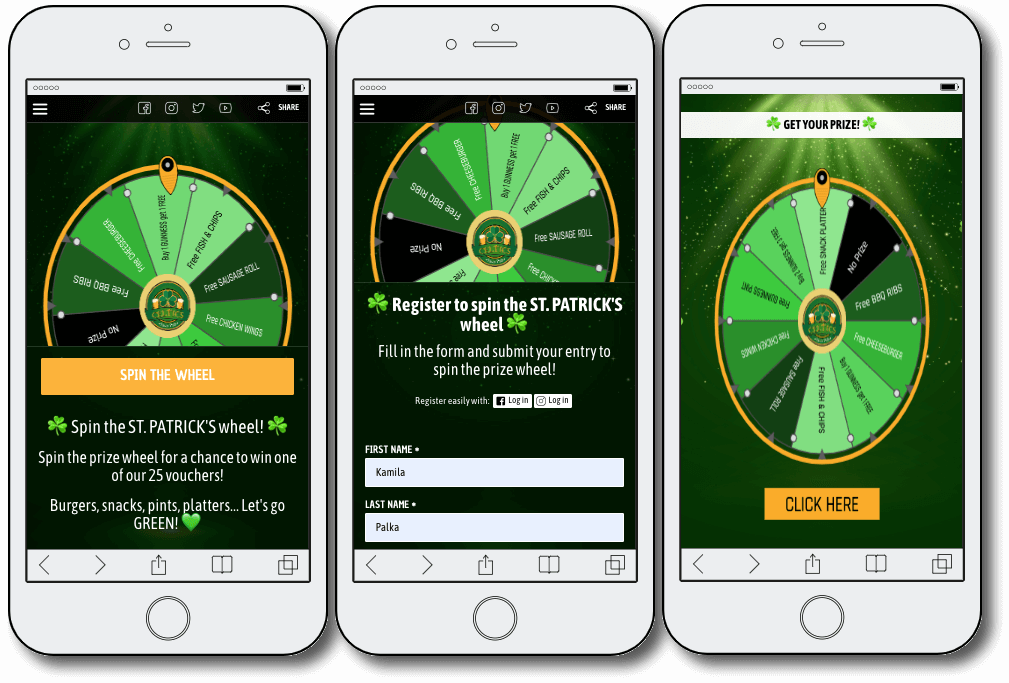 Use the Spin the Wheel app to distribute discount codes and vouchers to redeem in your online shop or in-store. Apart from small discounts you can also give away product samples, or throw in a big prize to motivate even more participants to take part in the promotion.
Try our Spin the Wheel DEMO to discover the real user experience.
And what kind of promotion will be good to expose the users to your corporate image products? Our choice would be a branded Memory game. Let's take a look at this promotion created by a Spanish cleaning products brand.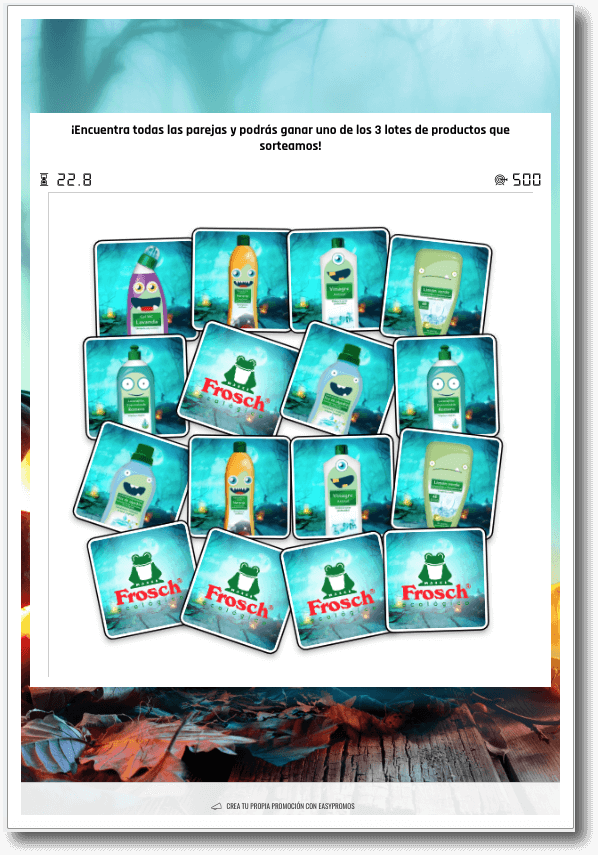 Frosch decided to promote their new products in an innovative way; they used a branded Memory game to expose the audience to their brand, entertain and fully engage. This playable promotion also allowed them to expand their mailing list. All the participants that completed the challenge were entered into a random prize draw of… Frosch's cleaning products.

Check out our Memory DEMO to understand the real user experience!

Make promotions part of your go-to-market strategy
As you can see promotions should be a vital part of every go-to-market strategy. Digital promotions can help you not only acquire and retain customers. With well thought out promotions you can achieve a wide range of different marketing objectives. And most importantly, stand out from your competitors!

Don't worry if it seems complex. Our experienced Support Team is waiting to assist and inspire you through our Online Chat!

Publication date: 2020-03-02