Posted in: Digital marketing,Ideas for your websiteLast update: 01/08/22
The 2020 pandemic has set a huge challenge for small businesses. But there are opportunities here, too. Here's how to take your business online and stay in touch with customers during COVID-19.

How would you rate your digital presence? Small businesses run the gamut, from exclusively direct-to-consumer brands operating on social media, to high street stores which are still working up to sending email newsletters.

But current events have forced us all online. Almost every country is now in some kind of lockdown due to COVID-19; we can't go window-shopping, hang out in local bars or cafés, or visit local stores in person. Instead, everyone is using the internet to stay in touch, stay entertained, and shop safely.
We've put together some ideas and inspiration for small businesses to get online during the lockdown. You don't need to be a digital whiz for most of these ideas, and you don't need a big budget. We've tried to include tips that will work for a range of businesses and confidence levels.
In this article, we'll cover: setting up an online store, growing your community on social media and using your email subscriber list.
If you're looking for more general advice, check out these crisis tips and resources for small businesses from Google.
1. Set up an online store during the lockdown
Let's start with the obvious: you can't do business in your usual store premises. So it makes sense to move online.
There are lots of different ways you can switch to online deliveries. If you already have an online store set up, then check that everything is running smoothly.
Think about changing up your featured products, or offering special bundles and deals to help customers out – like this online pharmacy, which is advertising deals on self-care products for people stuck at home.

Or this bakery, which switched from selling wholesale to restaurants, to delivering at-home baking kits: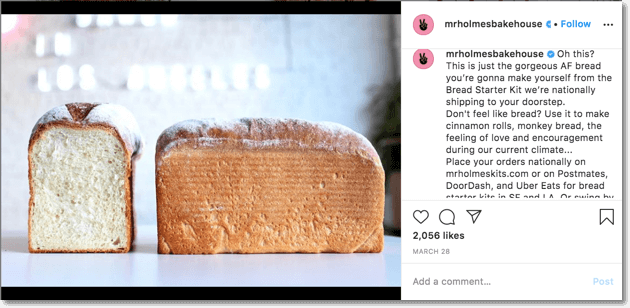 If you don't have an online store already, there are alternatives.
Bars, restaurants, and cafés can look into delivery apps like JustEat, Deliveroo, Glovo, or UberEats. Yes, people really are ordering cocktails online!
Small craft, clothing, or lifestyle businesses can register on Etsy or Not On The High Street.
Use an e-commerce service like Shopify, Woocommerce, or BigCommerce to set up an online store and link it to your website or social media.
Most businesses that sell physical goods can use the shopping features on Facebook and Instagram (you'll need an account with an e-commerce service).
If that sounds too complicated, then you can still do business online. Add a message to your website and social media pages, and encourage people to call or email you to organize deliveries. It's old-fashioned… but you'll still be making sales. This method will also work as an interim measure, while you get your online store up and running.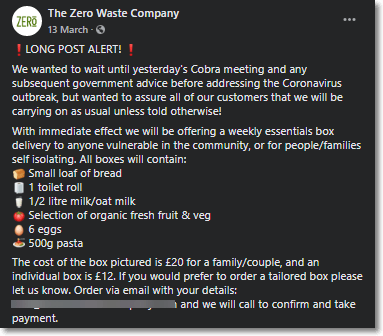 If the crisis has affected your supply chain or delivery options, then let people know. Many businesses are offering curbside pick-up instead of deliveries or limiting their product range to the essentials. You may wish to offer a separate service or priority phone number for vulnerable customers. Do whatever you need to keep your staff and customers safe – just make sure that you tell people what's going on.
Are you looking for tips and ideas for marketing during the lockdown? Why don't you discover 7 ways to keep your marketing out of quarantine?
Once you have a delivery system set up, it's time to get the word out! Check whether your local authority has a directory of businesses that are still delivering. You can also post in local Facebook groups or COVID-19 support groups. Many of them have lists of local businesses to support.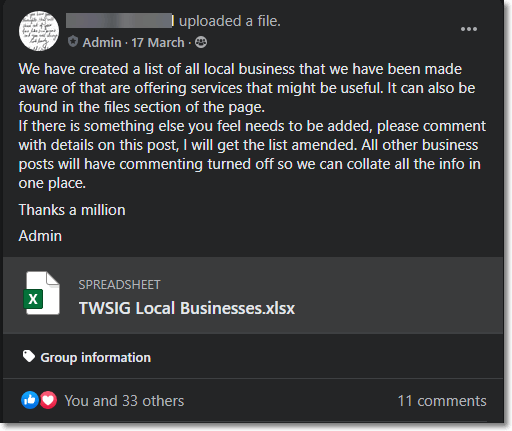 Oh, and speaking of Facebook groups…
2. Use the lockdown to grow your community on social media
Social media has always been valuable to small businesses. Now it's your secret weapon, your favorite tool, your special item to take to a desert island. You need social media more than ever.

There are several ways that social media can help your business right now:

updating customers about your business, such as a new online store, changes in opening hours, or employee safety measures;
sharing valuable content that will entertain, educate and reassure consumers;
building a strong community around your brand;
demonstrating your brand values and commitment to the local community;
keeping your business top-of-mind for when the crisis ends.
You're also likely to see an increase in customer queries requests via social media. We already know that many consumers use social media as a customer service channel, so be prepared!
Depending on your budget and your tech skills, you could set up social media chatbots to handle the most common queries. Another way to speed up your social media responses, at no cost, is by using a feature like Quick Replies for Instagram.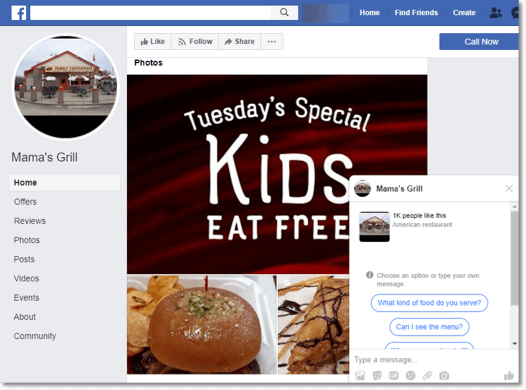 If you have the budget, then make use of social ads as well. It might seem scary to spend money on marketing right now – but according to research from Twitter, consumers want and expect to see advertising content. Don't try anything too experimental, but do keep your regular ads running. And just as you've changed the featured products on your online store, consider looking at crisis-relevant keywords and products to highlight.

If you're offering relevant products, sharing useful information, and keeping people entertained – then you will build up goodwill around your brand. You can magnify the effect by finding ways to support frontline workers and show your commitment to the local community.
For example, you could advertise special deals for healthcare workers on your social media…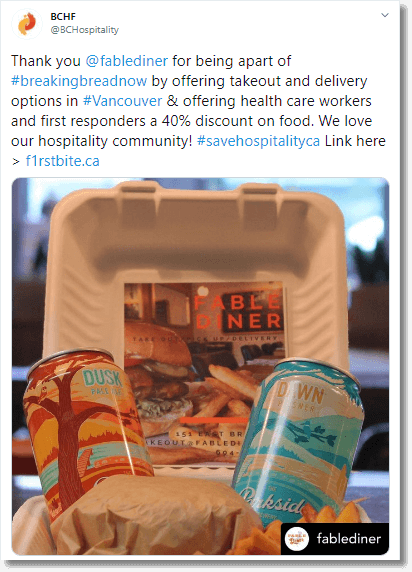 … or give an extra publicity boost to fundraising schemes…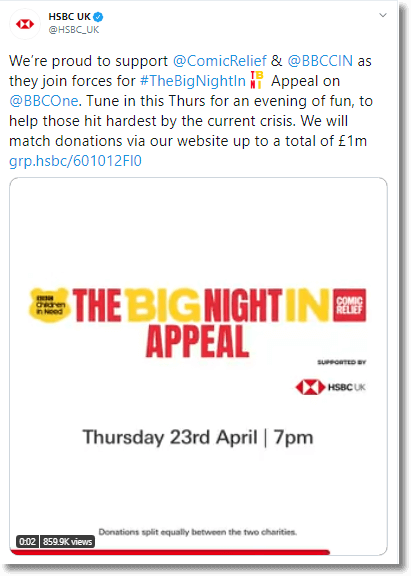 …. or even ask your followers to share their stories, photos, and experiences of the crisis.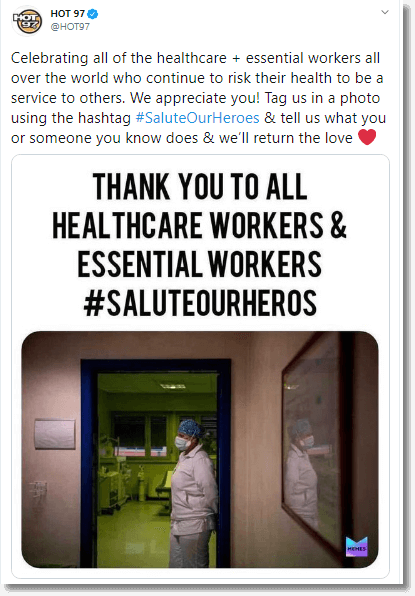 Another option is to show your brand values and boost sales at the same time with a social media giveaway. Giveaways are a great choice because they're fun, easy to join – and easy to manage!
Here's an example from a bar which used their Instagram account to give away vouchers to frontline workers during COVID-19. They created a buzz and collected new followers while supporting the community.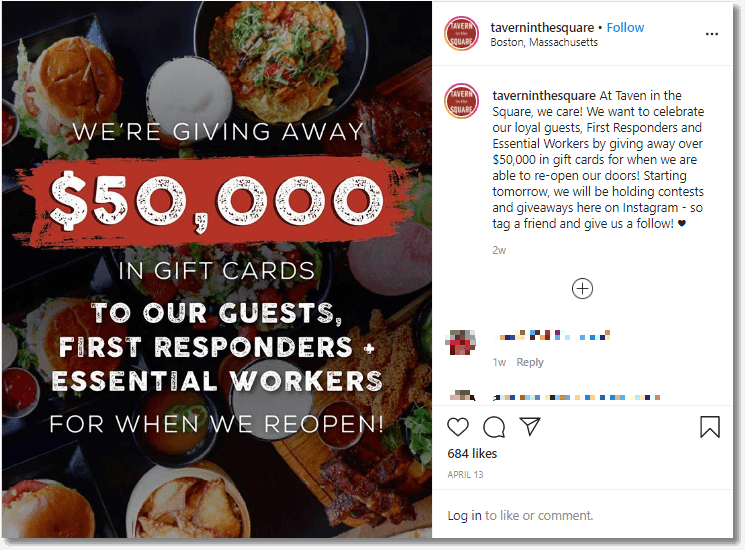 You can also run giveaways that support local businesses, by giving away gift cards or teaming up to give them a social media boost. Both you and your partnering brand will benefit from increased reach and reputation.
This is a fantastic way to strengthen your relationship with other local businesses and highlight your place in the community.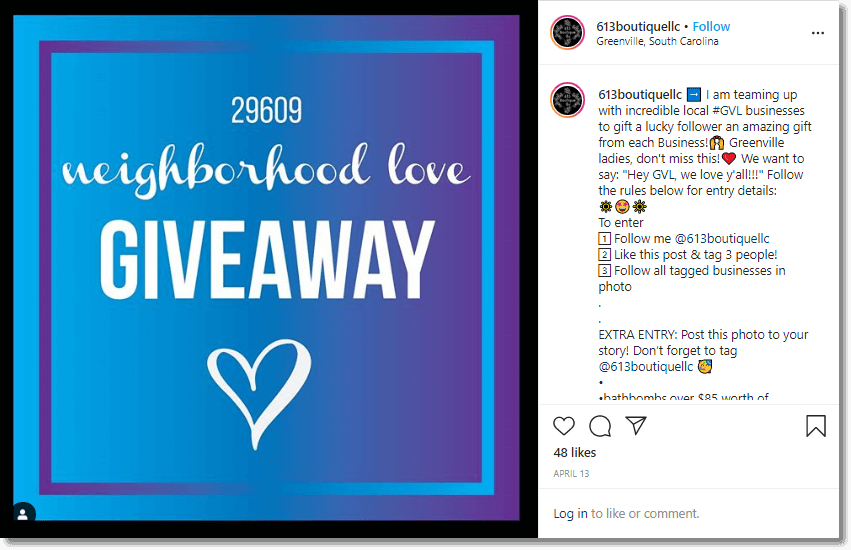 You can also combine giveaway prizes with the social media ideas we mentioned above. Why not give discounts to followers who share their photos, or pledge to donate to healthcare charities?
3. Make the most of email newsletters
Finally, this guide wouldn't be complete without a section on email newsletters. Email is an incredibly powerful tool for small business marketing. Email marketing is easy to do, and it has great conversion rates. (You can check the average open rates for your industry with this guide from Instapage).

You may already have an email newsletter up and running – in which case, all you have to do is adjust your content for the crisis. If you're new to email newsletters, don't despair! Most email service providers (ESPs) have instant templates that make it easy to design your newsletters. There are lots of ESPs which are designed for small businesses; Capterra has a great comparison of your options.

So, what should your newsletters look like right now?

A lot of the information you share via email will be the same as on social media and your online store. Give people information about safety measures, let them know about any changes to the business, and highlight useful products or offers.

However, you can do even more. Your email subscribers are a unique audience: you know they're interested in your products (because they gave consent to hearing from you). They also have a bit more time and attention to spare, compared to your ever-scrolling social media followers.

So you can offer them something special… like exclusive, long-form content about your business: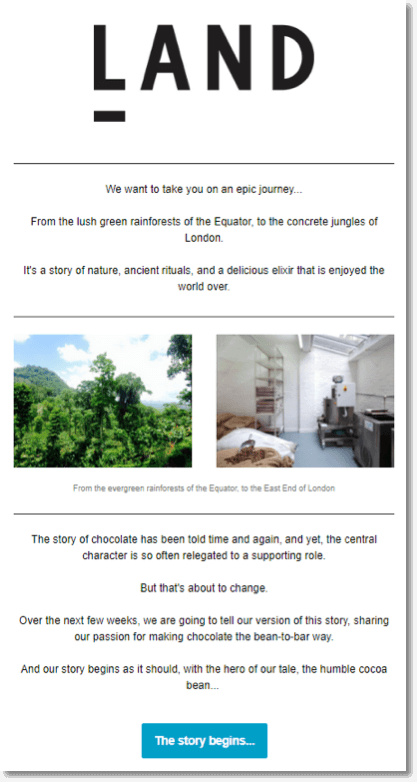 Or special, subscriber-only offers: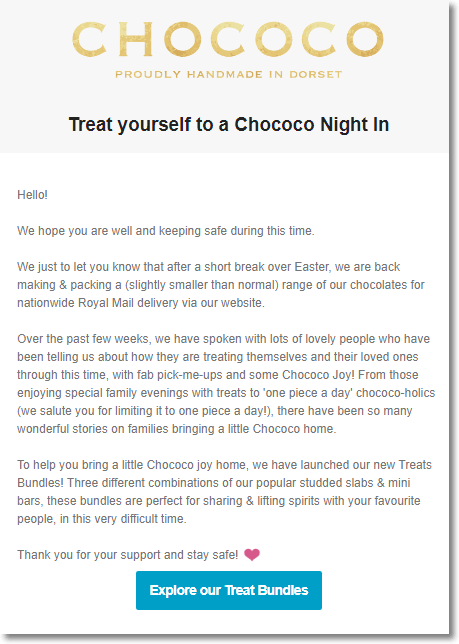 Or anything else that you can come up with – such as family activities, tips for using your products at home, or simply messages of encouragement. Try to send out content that is relevant to your business and sensitive to your customers during the crisis. When you get your messaging right, you'll see an increased interest in sales.

Last of all, don't miss the opportunity to grow your subscriber list. Tell people about your email newsletter when they visit your social media profile or your online store. You could tempt them to sign up with online offers, exclusive content, or even a giveaway for new subscribers!
Have you changed your online strategy during the lockdown? Have you tried giveaways to grow your social media or email list? Contact us to talk about your business goals and see how we can help.

Publication date: 2020-05-06