Posted in: Digital marketing,Ideas for your websiteLast update: 04/08/22
So we've set up your brand, launched new products, established your social media accounts, and even identified your target audience. Well done! What's your next step? How can you make sure your brand doesn't get lost in the crowd? How will you achieve a highly differentiated positioning in the market? If you ever find yourself asking these questions this blog post is for you! Today we take a look at building a strong brand positioning with a little help of interactive marketing campaigns. Read on!

Why is brand positioning important?
Any business owner has one ultimate goal: to be the brand of choice for their target market. But with thousands of companies and products out there your message might often be unheard in all the marketing noise. So put simply, brand positioning is placing your brand and product in the target customer's mind.
Brand positioning is placing your brand and product in the target customer's mind. 
Click To Tweet
Before we proceed to actual tips and examples that will help you place your brand in a better position, let's look at just a few brands and products that have been positively accepted by the public and continue to be highly recognized. In other words, their position is solid! Here we go:
Whenever thirsty we ask for a coke
While relaxing in the park we sometimes throw a frisbee around
We all use super glue
Who doesn't like to chill in a jacuzzi?
Yes, you've guessed it! Coke, Frisbee, Super Glue, and even Jacuzzi are brands and tradenames that positioned so well in the market that they continue to be used as general words by billions.
As you can see brand position in the market is a very important aspect for any business. And every marketing plan should be working towards reinforcing brand positioning. Let's now take a look at how digital promotions help brands differentiate themselves from their competitors.
1. Strengthen your brand positioning by adding important campaigns into your marketing plan
First things first; advertising is important. It's the way to reach your customers, connect with potential clients, and promote your brand and product so that you can boost sales. However, we've all come across adverts that are boring, irrelevant, and just don't have that "something" to attract our attention for more than half a second.
Customer communication is a vital part of strengthening customer relationships throughout the year, however, big events like Christmas, Mother's or Father's Day, Valentine's Day or Black Friday is when customers are on a lookout for better deals more than ever. And that's when the way you communicate with your target audience is also very important. This is when digital promotions come into the picture.
Online communities tend to respond to interactive content very positively, which leads to businesses obtaining great results. Gamified promotions, giveaways, and contests create excitement and tap into customer's loyalty and trust, meaning they also improve brand position in the market. Here's how to take advantage of big events and holidays to position your brand in your customer's mind. 
Position your brand by giving away Christmas presents
Holiday shopping tends to be the best period for many businesses, with average Americans spending almost 1000$ on Christmas shopping. A big chunk of that money could end up in your till. So reaching your target audience and convincing them to purchase your brand is one of your top priorities. Here's how SPAR Botswana reinforced their brand positioning last Christmas. As part of their marketing plan, the supermarket chain launched a simple giveaway with registration in which they raffled a new mobile phone and store vouchers.
Remember, brand positioning is the place you want to own in your target customer's mind. By giving away presents and coupons right in time for Christmas SPAR differentiated themselves from competitors and reinforced customer loyalty. What do you think was the first supermarket the giveaway participants thought of when going shopping for Christmas dinners?
Differentiate yourself from competitors with a gamified promotion
Many of your target customers turn to social media for entertainment. So it seems quite obvious that one way to differentiate yourself from similar brands and product providers is by offering your customers some high-quality content to engage with!
Gamified promotions are the most recent trend in digital marketing and let us tell you – they work!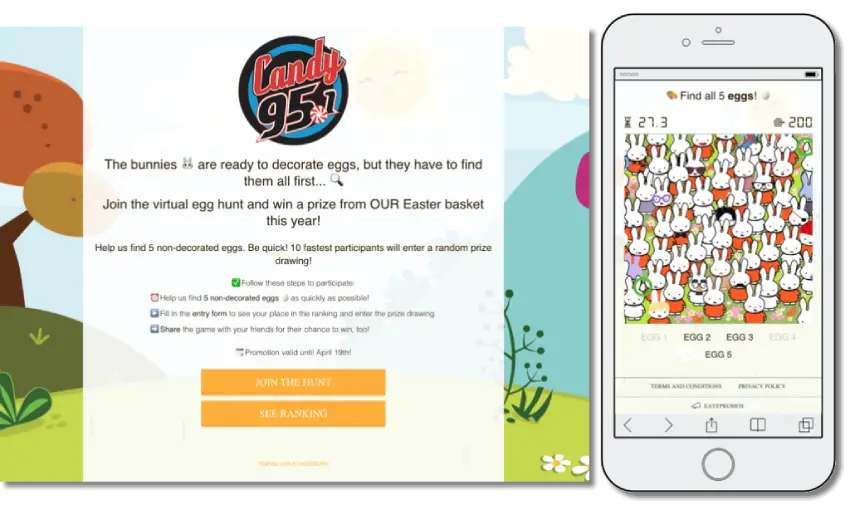 This radio station from Texas – Candy 95.1 – gamified their marketing plan. As part of their Easter campaign, the brand launched an online egg hunt in which participants looked for hidden Easter eggs. Imagine coming across this promotion on social media channels. What would be the radio station you'd search for next time you'd be getting in your car? Because we'd look for Candy 95.1!
Apart from creating solid brand positioning digital promotions tick off many other objectives from your marketing plan. All Easypromos applications come with integrated entry forms for expanding your mailing list and can be fully customized to reinforce brand and product awareness.
There are many other holidays that you can take into account when putting together a marketing plan. Launch games, contests, quizzes, and giveaways to celebrate events like:
Mother's Day
Father's Day
Summer/Winter/Fall/Spring
Valentine's Day
Singles' Day
Halloween
Black Friday & Cyber Monday
Let's not forget about all the smaller events like World Environment Day, World Animal Day, or International Cat Day. Any event is a great excuse to work on your brand positioning!
2. Change the way online communities perceive your brand through sponsorships
Consumers trust companies that have authority in their market and one way to gain it is through sponsoring local events and sports clubs. Sponsorships put your brand right in front of new audiences and potential customers. Your business automatically gains recognition when tied to high-profile events and brands.
Here's an example of an Entry Form Giveaway organized by Joma, a Spanish sports clothing manufacturer that happens to be one of the sponsors of Swansea City AFC.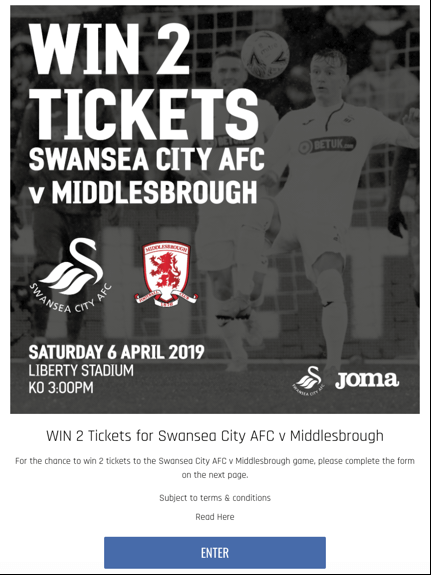 Joma regularly raffles tickets to Swansea City's football matches. By doing so, the clothes manufacturer positions themselves in a differentiated situation. Football clubs tend to have very loyal fans whose perception of Joma changes as they realize they're the sponsor of the ticket giveaway.
Sponsorship is the perfect tactic to get your name and logo out there. 
Click To Tweet
Here's another great example, this time of event sponsorship. Garmin was one of the sponsors of The Valencia Trinidad Alfonso EDP Marathon. The event organizers along with Garmin launched an Instagram Giveaway to promote the event and its sponsor. Interested participants entered the raffle by following the organizing accounts and mentioning one person friend in the comments section.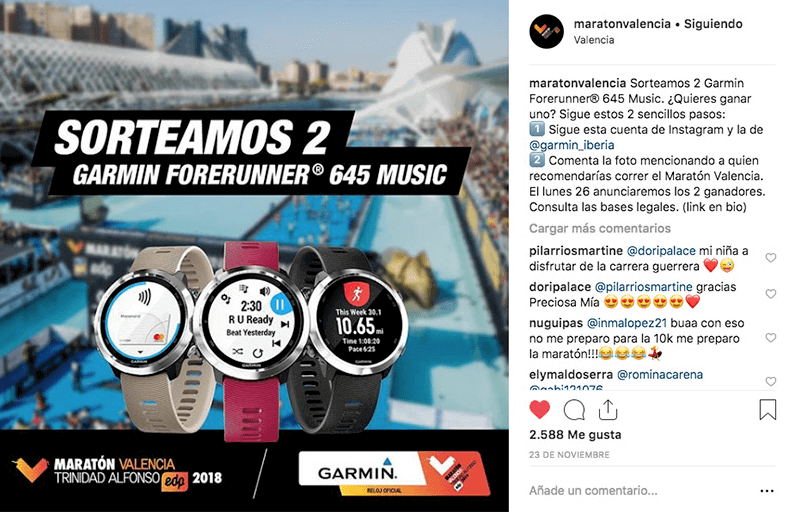 More than 8,000 people participated in the Instagram promotion, boosting the social media engagement of both brands. Garmin improved their brand positioning and occupied a better place in the target customer's brain as they came across as a well-established brand giving back to their community.
Read more about the promotion organized by Garmin and The Valencia Trinidad Alfonso EDP Marathon.
3. Celebrate brand anniversaries to reinforce your brand positioning
Celebrating milestone anniversaries is a great way to reinforce your brand and build credibility. Apart from celebrating the achievements, it's also a perfect way to recognize your customers and thank them for choosing you over the years. It's also a great opportunity to improve the way your target audience perceives your brand.
Collect user-generated content to build credibility
Here's an example from Live The Dream Travel, an Australian travel agency. The company launched a Photo Contest to celebrate their 10th anniversary. The plot twist? Only the previous clients of Live The Dream Travel could participate in the contest.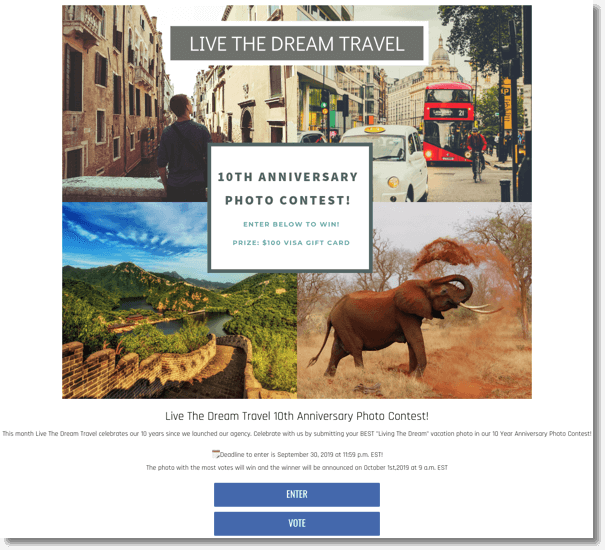 Photo Contests provide brands with very valuable user-generated content, which tends to be one of the most authentic content pieces brands can share on social media.
By organizing a promotional campaign available only for your existing customers you reinforce their loyalty and trust and strengthen customer relationships. These then lead to your brand occupying a better space in your target customer's brain. Next time they need something they'll walk through your doors instead of your competitors'.
Boost sales while converting new customers
Who doesn't like sales, discount codes, or vouchers? We all do, and so do your target customers. Freebies and special offers quite often convert social media followers into loyal customers.
Can you already see what we're about to say? By celebrating anniversaries you build credibility and trust, and by distributing sales and prizes you convert customers. Is there a better way to reinforce your brand positioning?
Here's an example of a promotion created by us to celebrate our 10th anniversary. Throughout a whole week, we distributed free Easypromos subscriptions with the use of our Spin the Wheel app.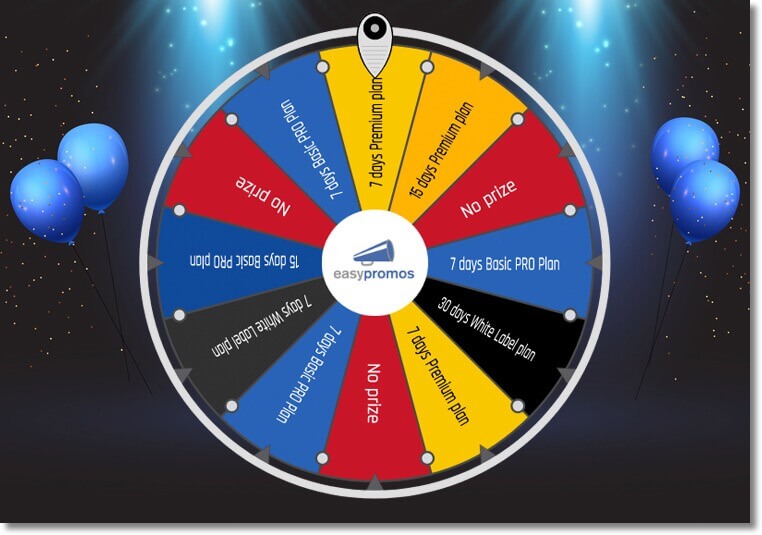 Another example comes from GoGreen. The diving school took it to social media to celebrate their 2nd anniversary with their audience: divers. The brand raffled a bunch of fantastic gifts for any diving enthusiast. Such generous promotions improve brand positioning as customers think of the brand with a bit of more emotional attachment.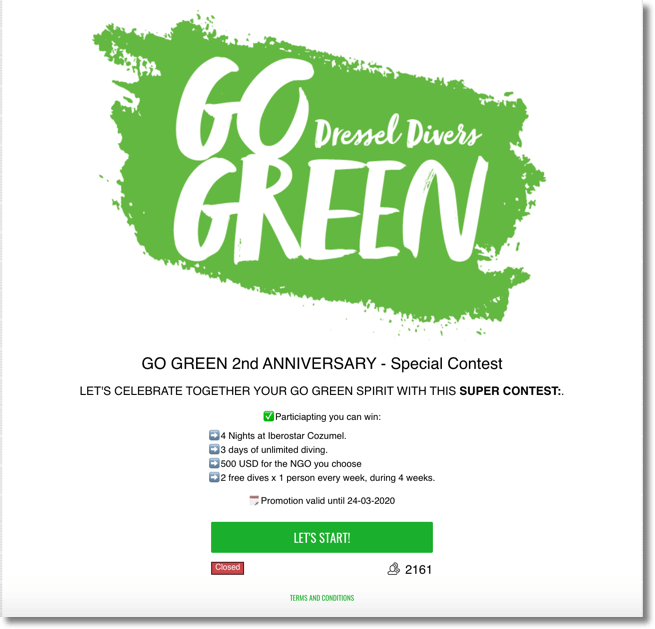 4. Promote core values to better brand positioning
The XXI-century customer is more conscious when it comes to choosing a brand to purchase. We're more concerned about the environment, sustainability, animal welfare, and gender equality among others. Customers want to purchase from brands that share their views and opinions.
Another great way to better brand positioning is by sharing your core values with your customers. Organize social media giveaways in which you promote your brand values, launch a branded mini-game to educate your audience about your approach to sustainability, or simply launched a quiz in which you educate your audience about the environment, the way ByHours did.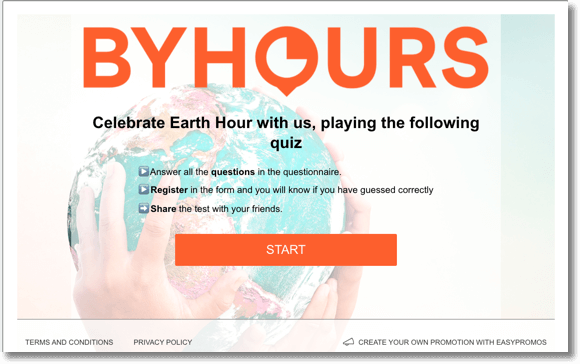 The brand prepared a series of questions about the impact we have on the environment. It was a great tactic to position themselves as an environmentally conscious brand.
Is improving your brand positioning part of your marketing plan? If so we hope to have helped! But don't worry if any doubts or questions arise, contact our Support Team via our Online Chat.
Publication date: 2020-06-25