Posted in: Digital marketing,Ideas for your websiteLast update: 04/08/22
Want to increase customer loyalty? Interactive content helps to keep your customers engaged, interested, and informed about your products. Try these ideas for interactive content that will improve customer retention rates and e-commerce stickiness.

How customer retention and loyalty programs have changed
The way we shop has changed – and so has customer loyalty.
In the past, people would head out to the high street to shop. They'd probably stick to the same few shops. They'd build up a relationship with local sales staff over time.
Now many of us prefer to shop online (especially during lockdown!). Around 2017, online shopping became the first choice for over 50% of consumers. There's more choice on offer via the internet. And, because people have so much more choice, they're less likely to stick with one brand over time.
This means that loyalty programs and customer retention strategies have had to change. Now that people have so much more choice, they're pickier about which brands they return to. Modern consumers are looking for:
a seamless experience across online and in-store shopping
high speed customer service
instant access to product information
added value in the form of exclusive access and entertainment
a feeling that brands recognize and remember repeat customers
There's one key factor which unites all these priorities. They're all linked to customer interactions. New product features are nice to have, but when it comes to customer loyalty, people make decisions based on their interactions with your brand. They also expect you to remember those interactions and learn from them.
That's one reason why interactive content is such a powerful sales and retention tool. Every time someone clicks a link, watches a video, fills out a survey or plays a game – that's another chance to create a positive interaction. It also gives you actionable information about your customers.
How interactive content supports customer retention strategies for e-commerce
Customer loyalty strategies have always worked by offering added value to customers. Whether it's discount coupons, a free book of recipes, or even a "buy 10, get 1 free coffee" card, the goal is to incentivize repeat purchases over time.
Customer retention is equally important when it comes to e-commerce. People aren't physically visiting your business, but they still have lots of ways to stay in touch: via email newsletters, on your website, through customer forums, and even branded apps. You can share interactive content on every one of those channels.
Let's review our list of consumer priorities, and see how interactive content can help with each one:
1. A seamless experience across online and in-store shopping
Let's start with the obvious stuff: any coupon, discount or special feature you offer should be available both online and in store. Make it easy for customers to purchase from you!
But you can go further. When someone creates an account with your business, that will help you track their purchase history across e-commerce and high street shopping. If they interact with a survey, game or puzzle, you can add more information to the picture. And this will also help with the second point…
2. High-speed customer service
With a simple identifier (such as a loyalty card, email address, or online account), you can pull up each customer's profile. As well as providing a seamless shopping experience.
3. Instant access to product information
Content marketing works because customers want information. They want to know how your product works, and all the different ways it can make their lives better. They want to know how your products are made, where they come from, even the origin story behind your business.
You should have all of this content readily available on your website, and give people access through newsletters, social media links, and ads. When customers interact with you, they'll give clues about the content which interests them most. So you can follow up with relevant, timely information and close the sale.
4. Added value in the form of exclusive access and entertainment
Here's the big one. Most people use the internet for leisure and social reasons: watching videos, playing games, and chatting with friends. And they expect the same entertainment value from branded content.
Try offering interactive content like branded mini-games, videos, surveys, and customer forums. You can also create exclusivity with branded events (on or offline!), behind-the-scenes photos or videos, and interviews with your team.
This kind of content is tempting because it feels like insider information. Increase that feeling – and build your customer profiles – by asking people to log in to their account or share contact details in order to access content.
5. Feeling that brands recognize and remember repeat customers
People want to feel seen. But in order to recognize your customers, you need to know something about them!
I'm not just talking about cookies and retargeting ads – which are effective, but not necessarily popular with consumers. Instead, I'm talking about e-commerce accounts and online profiles. Use the information you get from your customers to send them targeted content, offers, and support.
For all these points, remember that you want to make the experience as seamless as possible. Keep it simple!
For example, if you allow people to log in with social media tokens or an email link, that's easier than asking them to remember yet another password. And whether people are shopping, filling out a survey, or trying out a new app from your business, they should be able to use the same account everywhere.
In the next section, we'll look at 5 examples of customer retention strategies that use interactive content.
How to build customer retention with examples of interactive content
First things first: we all know that email newsletters are one of the most powerful weapons in a marketer's arsenal. Emails work.
As soon as a customer comes onto your radar, you should be aiming for a newsletter sign up. It's also a good idea to link email subscriptions with e-commerce accounts – in other words when someone creates a shopping account, they should be offered the chance to receive emails as well. Then you can follow up with interactive content and encourage repeat purchases.
In this example of a customer retention strategy, the brand sent out a newsletter to people who had recently purchased from them. When customers clicked the link, they filled out a survey about their recent order.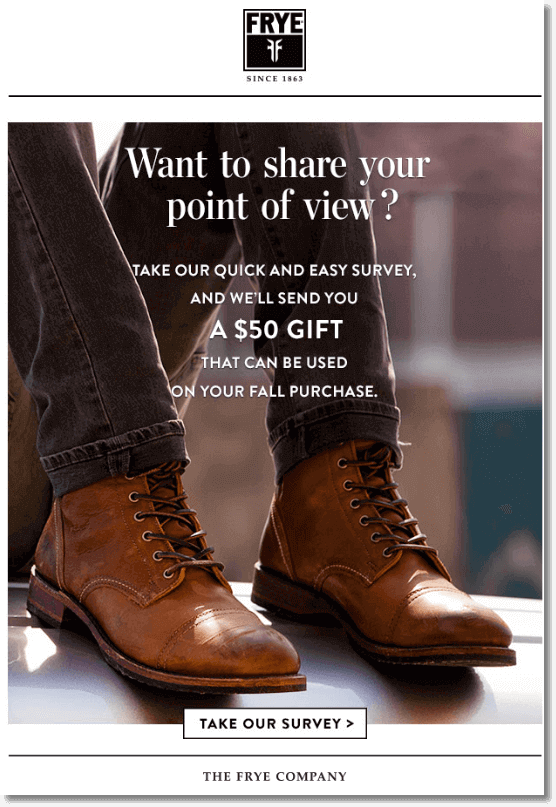 So why did this strategy work? First of all, it gave the brand more information about each customer, directly linked to their order history and account. Second, the brand offered an exclusive reward to encourage repeat purchases.
You don't have to offer a discount in order for this to work. In our next example, a homewares brand tried a similar strategy, with a prize draw instead of a discount code.
Notice how they highlighted the benefits of sharing more information. They wanted customers to see the advantages of staying loyal and filling out the survey: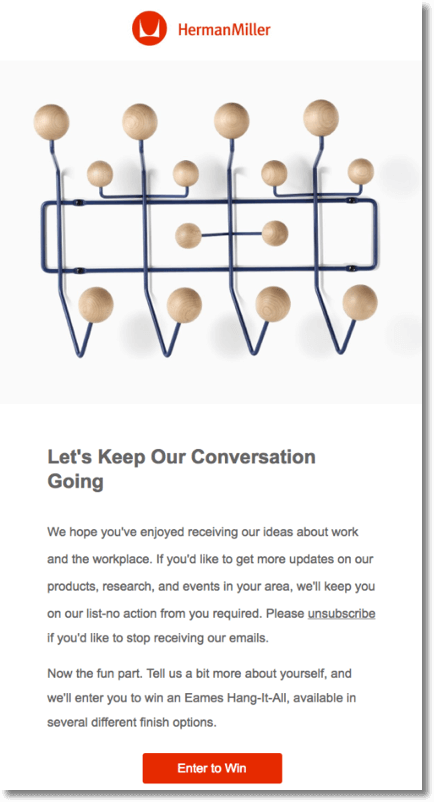 You can also feature surveys, games and other activities on your website or ecommerce storefront. Just like in the examples above, it's a good idea to link each interaction with a customer account. Ask people to log in or share information so they can start playing, like in this example: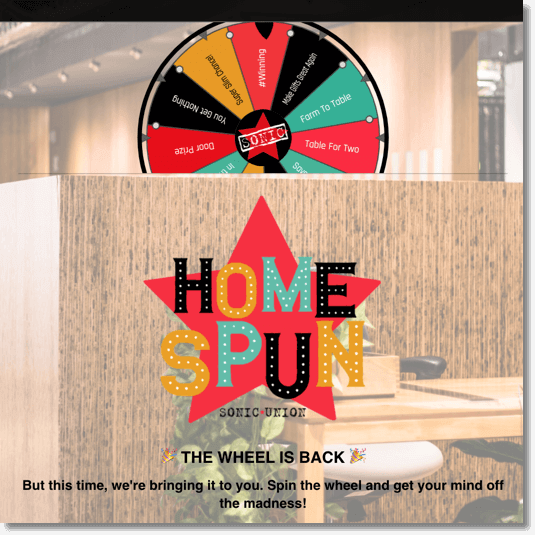 You can display your prize wheels as pop ups. But there are lots of other ways and opportunities to get people to sign in to your store. Here are some other ideas you could try:
a banner on each page of the site, which links to exclusive interactive content
a pop up on the checkout page, where users have an immediate incentive to win a discount
a pop up or banner on the "sale" section of your website, where users log in and play to access the sale
If someone doesn't yet have an account, then interactive content can tip them into signing up. Invite them to create an account with the triple benefit of smoother customer service, fun interactive content, and potential discounts to win.
In all of these ideas, the key is that customers have to log in to play. Every time they choose to access content, they'll add information to their customer profile and make it easier for you to sell.
Learn more about interactive content with Easypromos auto-login. Add games, surveys, and puzzles which integrate seamlessly with your CRM and customer accounts!
Do you have questions or doubts? Don't hesitate to contact us via our Online Chat! We're already ready to help!
Publication date: 2020-07-14