Posted in: Applications,Ideas for your websiteLast update: 02/02/21
YouTube is the second most visited website in the world. Therefore, turning to this page for brand and product promotion is no brainer. What would you say is the best way to engage the viewers of your corporate YouTube channel? Because we put our bets on comment-based YouTube giveaways! In this blog post, we share with you some examples of YouTube sweepstakes launched with Easypromos.

Some of us have our favorite brands that we closely watch on social media. We like to see their new products, tips, advice, tutorials, and even user-generated content submitted by fellow social media users. And now think about YouTube for a second. Think about the number of active users that visit the video-sharing platform on a daily basis in search of new engaging content. So how to make them land on your channel?
Our suggestion is to run a comment-based YouTube Giveaway. Read on to find out why and how to do it!
How the Easypromos YouTube comment picker tool works
Our YouTube Giveaway app has been developed to help brands and YouTubers in organizing transparent comment-based giveaways. This is the most complete automatic application to import comments from your videos and pick the winning one. Here's why:
The application automatically imports all comments left on your video and carries out a random draw. It is not limited like other comment pickers that only import the last 100 comments. Our tool connects with the YouTube API to obtain all the comments.
The app can pick up to 1000 winners and alternates.
You can add the comments of up to 10 videos in the same giveaway.
It generates a Certificate of Validity, proving the transparency of the winner selection. You can then share it – along with the winners' page – with your social media followers.
When the giveaway is finalized you can export all participant details and comments into an Excel file.
The app generates an animated video presenting the winners of your giveaway. You can use it in your next YouTube video, or share it on other social media channels to inform the audience about the lucky winners.
The Easypromos YouTube comment picker tool comes with free resources like a terms and conditions template. It's exactly what you need to make your giveaway more transparent.
Just create an Easypromos account, select the YouTube Giveaway app and our tool will help step by step to pick winners easily and straight away.
Sounds great, right?! So why don't we show you some real examples of YouTube Giveaways launched with Easypromos!
Get to know your audience with a YouTube giveaway
The great thing about comment-to-win YouTube giveaways is that you can ask your audience any kind of question you wish. However, the best are always open-ended questions, as instead of a simple "yes" and "no" answers your viewers can properly express themselves. You could ask them about their likes, preferences, or even personal experiences. No matter the topic, open-ended questions always lead to real conversations between you and the participants.
You can easily reply to comments, seek more information, or simply thank the participants for sharing their views with you. A nice response from the organizing brand normally generates additional engagement, as the audience replies with more comments and likes. What a great way to boost engagement!
Film Supply Club is popular for sharing great photography product reviews, behind-the-scenes shots, and interviews with analog photographers.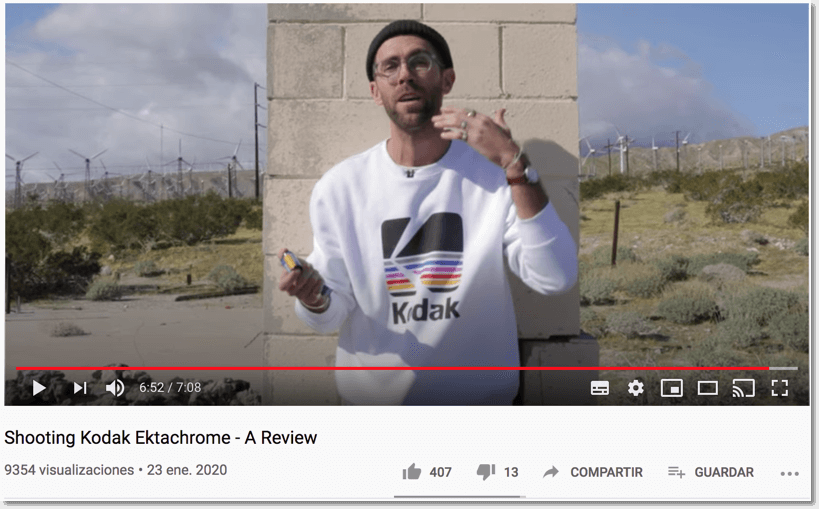 This time, the YouTubers looked for a way to engage viewers and boost engagement of their YouTube channel. Concurrently, they were also trying to promote Kodak and their products. So they launched a giveaway! In the video, the blogger asked the audience why they would like to shoot the Kodak Ektachrome. The viewers commented for a chance to win three rolls of a newly released Kodak film, and the organizers got to better understand their audience.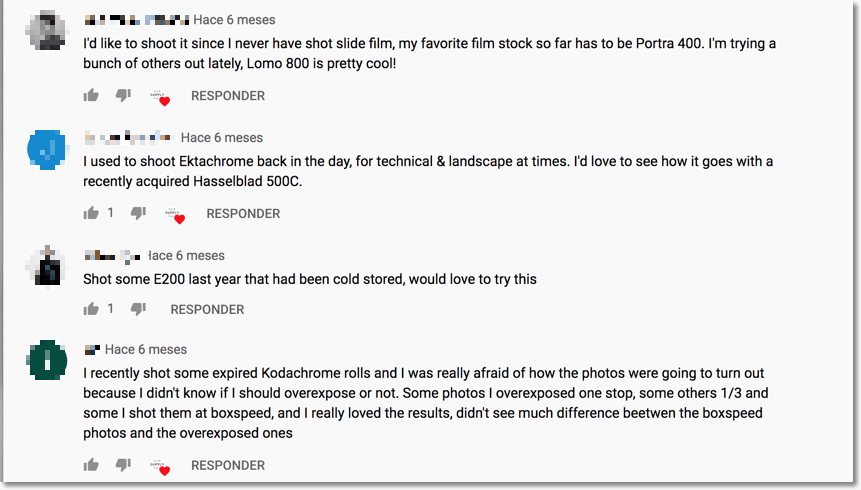 Film Supply Club promoted the Kodak products to their viewers, boosted the engagement of their channel, attracted more photography enthusiasts, and tapped into customer loyalty by carrying out automatic and transparent Youtube giveaway.
Collaborate with YouTubers to launch product promoting giveaways
Would you like to create some rivalry within your target audience? Why don't you challenge them a bit further?
James Deakins is a popular television host and blogger who regularly launches social media giveaways for his active followers. He's always on a lookout for new creative ways to engage his fans, and a while ago he went for a fun YouTube giveaway, in which he raffled a new smartphone provided by a shopping mall sponsoring the promotion.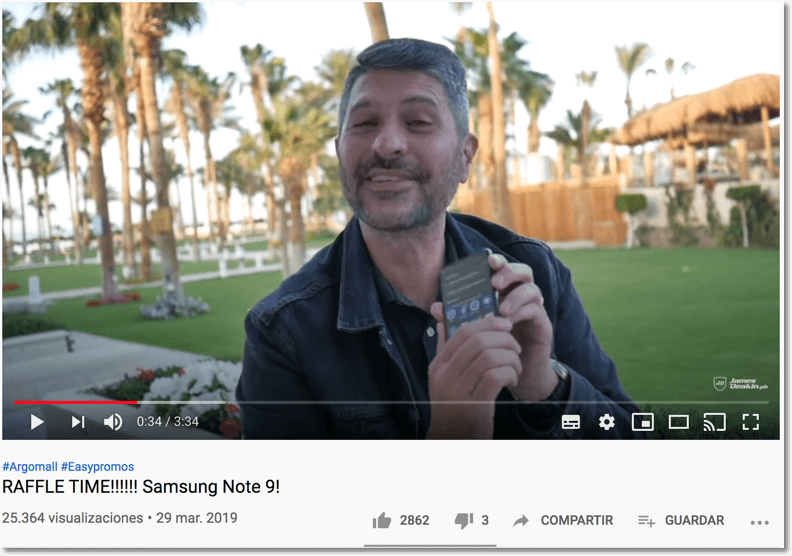 The users commented on the video using the #Argomall hashtag. One lucky winner was picked with our YouTube comment picker tool.
Can you see how easy it is to launch a YouTube giveaway in collaboration with another brand or Youtuber? In this promotion, the shopping mall reached a new audience – James' followers – and promoted one of the new products. In return, James boosted engagement of his YouTube channel and once again tapped into customer loyalty and trust. So don't worry if your brand doesn't have an impressive following yet. Reach out to the YouTubers popular in the field you wish to conquer and launch a comment-based YouTube promotion!
YouTube giveaways can boost the engagement of your channel
Brands with high social media engagement benefit from better marketing reach and return on investment, as engagement affects the visibility of your content. So how can you easily convince your audience to hit the like and subscribe buttons or scribble a few words? Once again, we'd go for a YouTube giveaway.
Here's an example of a YouTube comment-based sweepstakes organized by a YouTube channel that regularly launches giveaways for their audience. This time the organizers went for a cash giveaway! You can only imagine how many participants this promotion attracted…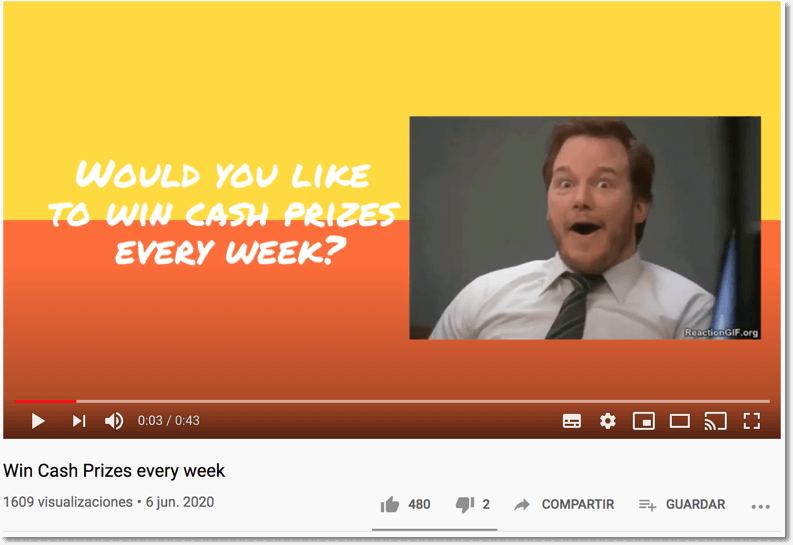 Entry requirements? The subscribers had to leave a comment saying "I want to win" for a chance to get some free cash.
Reinforce loyalty and retain subscribers with regular giveaways on YouTube
We all know how important it is to retain customers, and when it comes to YouTube, subscribers. And if you're looking to build a loyal fan base on this video-streaming platform, you should give your audience something to make them want to stay. Apart from delivering high-quality engaging content, you can also offer your subscribers some extra entertainment and excitement. And launching regular giveaways is one way to do it! Carlo Ople does daily videos reviewing sneakers and technology gadgets. And his audience keeps on coming back! Why? Because they know that every now and then Carlo gives them a chance to win trendy sneakers, gadgets, and other attractive prizes!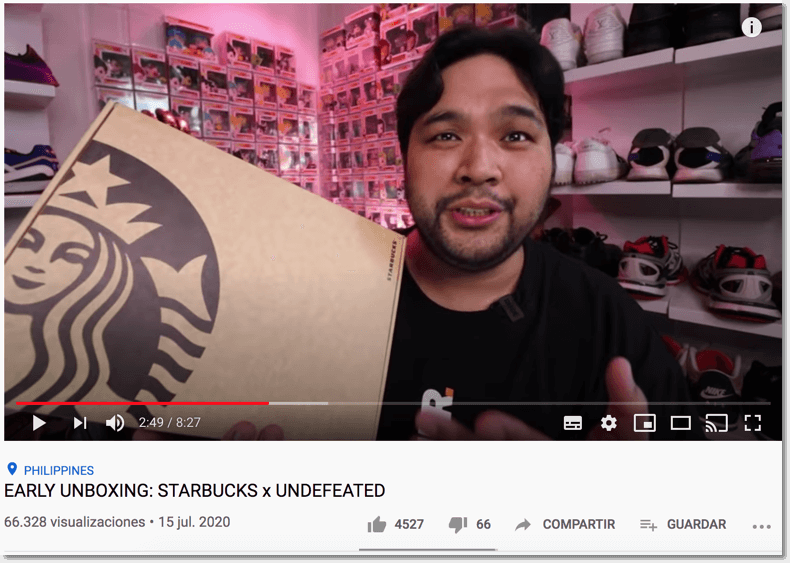 You can choose to launch YouTube giveaways as a way to celebrate big events like Christmas, Mother's Day, or Halloween, but you might as well launch promotions to energize your online fan base. Between YouTubers, it's popular to launch weekly, bi-weekly or monthly giveaways. Once your audience knows when to expect another promotion, they will come back to your channel, in the hope to put their hands on some cool prizes!
Have we convinced you to bring your YouTube channel to life with comment-to-win promotions? Please, don't hesitate to contact us in case of any questions or doubts. We're always happy to help!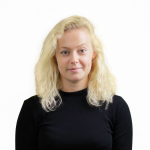 Kamila Palka
Easypromos marketing team
Publication date: 2020-08-03