Posted in: Ideas for your websiteLast update: 19/04/22
When planning online promotions of goods and services that are more difficult to understand, a key part of the task is to share deeper knowledge about the promoted product or service. Direct purchases are difficult to generate if the target customer doesn't fully understand how the product works, or what benefits it brings. The combination of quizzes with product information videos is an excellent way to educate customers and provide them with valuable content about your products and brand. In this blog post, we look at how brands inform their audience about new products through quizzes and videos.

Advantages of running online quizzes
Questionnaires and Knowledge Quizzes with right and wrong answers have gained recognition thanks to the great marketing results they bring about. Over the years, marketers have also learnt that in order to attract more participants to their trivia, they must:
Offer incentives that appear to the target audience
Engage, entertain and challenge the participants
If you're looking to boost customer engagement, you should definitely take a look at the Easypromos quiz applications. They allow you to create easy quizzes with fun questions and answers, and can also be combined with photos, videos, dropdown lists, etc. PaperOne is a manufacturer of premium quality home and office paper products. The company wanted to educate their customers on the circular economy. On the welcome page, they shared a short informative text about the circular economy and then asked three questions based on the previously shared text.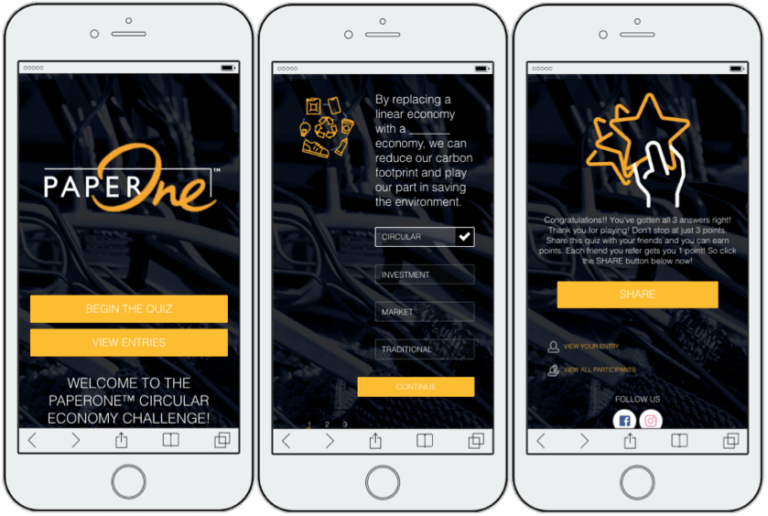 Another advantage of trivia apps is that they come with customizable integrated registration forms, which help brands achieve their lead generation goals. Apart from sharing their contact details, users also accept terms and conditions, Privacy Policy, and optional newsletter opt-ins, thereby, giving you permission to contact them with promotional content. As you can imagine by now, online trivia can successfully help anyone looking to expand their mailing list, or simply identify users potentially interested in their products and services. 
But that's not all, there is another less visible but equally important benefit for anyone running online Knowledge Quizzes. Online trivia apps give brands the opportunity to promote products and services more profoundly, concurrently reinforcing trust and relationships with potential customers. Quiz promotions generate more customer engagement and dwell time, as users spend more time interacting with your branded content, as they focus on providing the correct answer to your questions. It's time spent on direct interaction with your brand, and this is worth its weight in gold!
Check out this quiz launched by Hello Padel Academy, provider of padel courses for player and coach's needs. The organizers wanted to reconnect with their online community and therefore launched an online Knowledge Quiz, in which they reengaged their social media followers and also tested their expertise on padel. By sharing the trivia on their social media channels, Hello Padel Academy successfully converted online users into new leads.
How to combine videos and quizzes
Let's take a look at how you can combine videos with Easypromos quiz making apps, and therefore educate customers on topics and products that you want to disseminate. It is a great option for brands that already invested in audiovisual content and wish to share it with their target audience.
Bear in mind that the popularity of audiovisual content is still on the rise, and brands that use video marketing grow revenue 49% faster than those who don't. Also, the average user spends 2.6 more times on websites with video content.
So how can you incorporate videos in online quizzes? There are many different ways which we're about to explain in more detail. But the most important thing is balance. Make sure you don't overuse audiovisual content because users might feel like they're wasting too much time, which can lead to many participants abandoning the promotions. More often than not, it's better to introduce a 2-minute video at the beginning of the trivia and then create video-related questions than adding long videos to each question.
Introduce videos in certain quiz questions
Brands often help quiz participants by first sharing the correct answers. The popular and effective way is to provide an external link to a website or blog, where the participants find all the information to complete the quiz. Apart from educating the user, the organizer also drives traffic to their website and improves the domain positioning.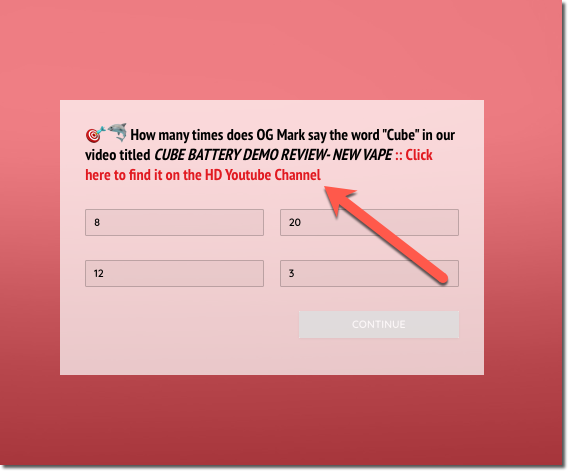 Another way to share videos in trivia apps is by embedding them in the header of each question. This option works well if you don't want the participant to leave the promotion and be redirected to another page. Any public YouTube or Vimeo video will work.
Check out the example of a Halloween quiz that could be launched by any brand looking for a better way to bring new customers in, while also working on lead generation. Notice how all answers were accompanied by embedded videos; it's an effective way to boose engagement and video views, apart from also heightening brand awareness.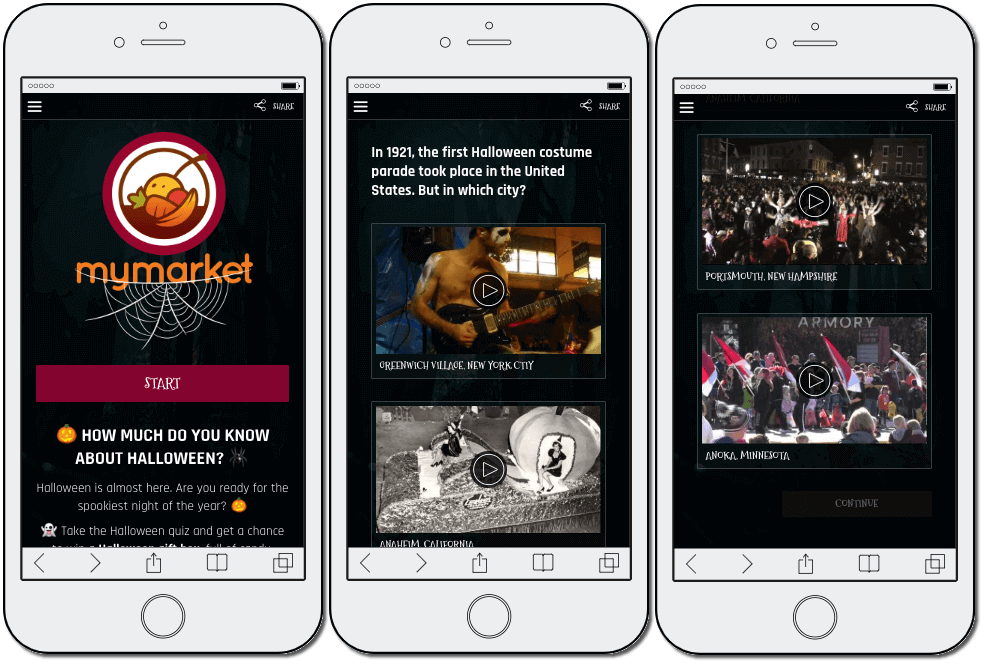 Take a look at the next example from Bonpreu Esclat – a Spanish chain of supermarkets – and see how they tested their customers' knowledge about fruit. The plot twist? The contestants referred to a video embedded in one of the questions to find the correct answer.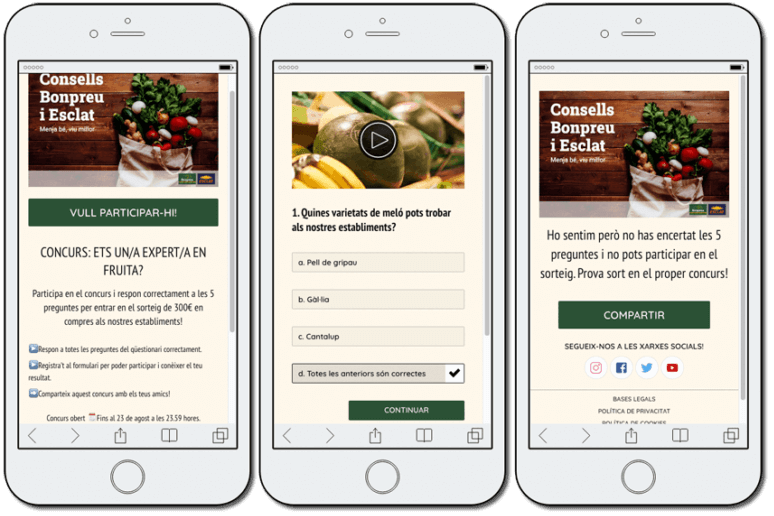 Watch a video to gain access to a quiz
Do you want to make sure that trivia participants watch your video? This one's for you!
Did you know that you can now add participation requirements to your promotions? That's right, only those who fully watch the video you want to promote can participate in your promotion. The next example demonstrates how a coffee brand displays a short video about their products before proceeding to the questions. These are the participation steps:
Register
Watch the video
Answer the questions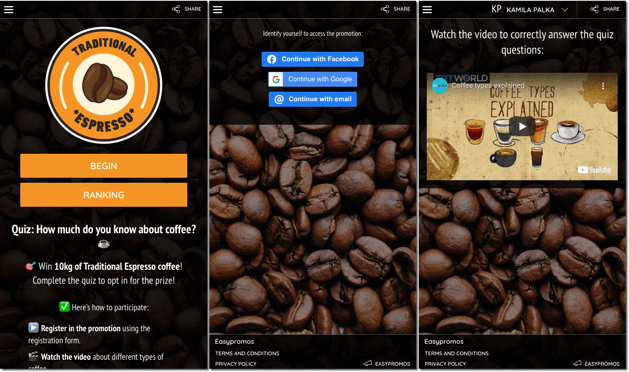 Try our DEMO with a participation requirement and if you're interested in activating your own promotion, copy the ready-made template, and start editing!
In the above example, you can see how the video became a compulsory part of participating in online trivia. By incorporating participation requirements (in this case videos) brands ensure that the users are exposed to branded content, and therefore informed about the newest products, offers, etc. To find a balance between the brand's goals and user engagement, promotion organizers can decide to give the users several opportunities to participate in the trivia, and they can also choose whether the participants must watch the video every time they access the quiz, or if they prefer to display it only the first time the user accesses the promotion.
This tactic also works very well if you're organizing online events – such as webinars or even online classes – and want to evaluate the knowledge of your event attendees. Argentinian Michelin Tyre Experts Club designed a digital course for the club members. They educated their audience with several YouTube videos that users accessed from the promotion landing page. But instead of redirecting participants to YouTube, you can embed the same videos directly into the app, improving the user experience and still boosting your video views.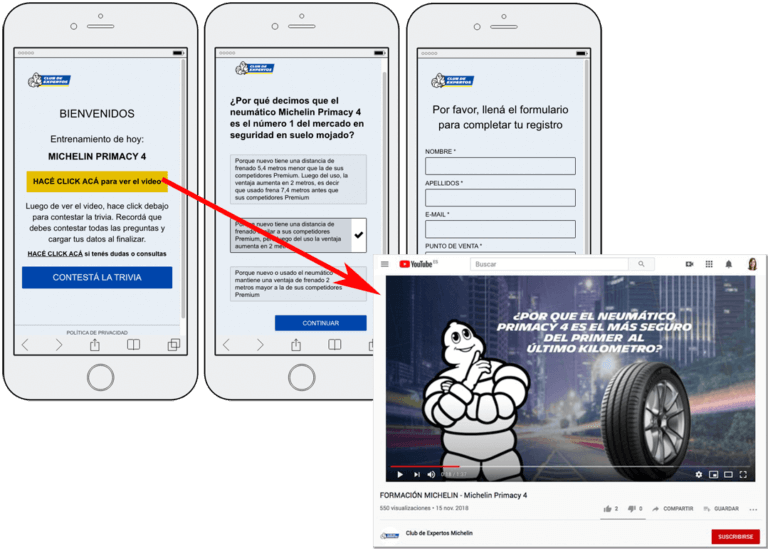 The "Watch a Video" requirement is now available for all quizzes, games and Entry Form Giveaways. All you need to do is activate the option in the promotion editor.
Share a video in the first trivia question
Another way to disseminate a video in your online trivia is to add it in the very first question, exactly the same way Les Arts de Valencia did. To promote the upcoming exhibition, they shared a short exhibition trailer, and then asked three short questions about it. The other two questions were accompanied by images.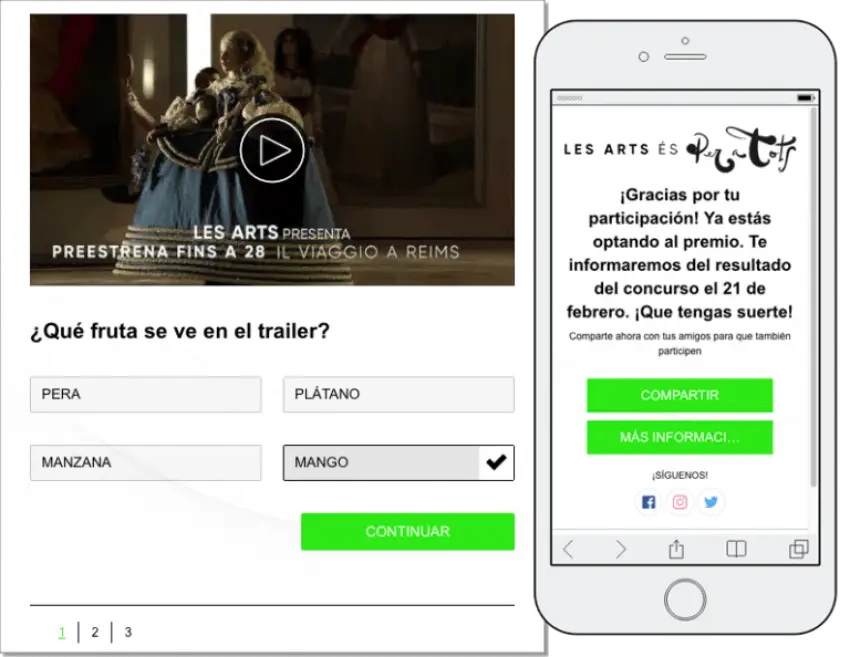 Improve the final trivia messages by introducing videos
Videos don't always have to be shared before or during the questionnaire. A lot of brands add videos to their final messages. As you probably already know, you can customize the final messages and display them based on the participants' answers. If you launch a Product Recommender or Personality Quiz you can then display the personalized final messages with videos promoting different products or services.
All trivias and online quizzes can come with embedded videos and therefore increase user engagement, boost videos views and improve product and brand awareness. The Easypromos platform allows you to embed public videos from YouTube and Vimeo: on the welcome page, as a participation requirement, in the questions and answers, in the "Thank you" page and even with personalized final messages. So if you have videos that can better explain your product or service then edit and use them to engage your audience and generate more sales!
Do you have questions about trivia or participation requirements? Chat with us! 
Publication date: 2020-09-21