Posted in: Digital marketingLast update: 19/04/22
Today, 33% of the most viewed Instagram Stories belong to brands. Stand out and make the most of your Instagram giveaways' potential with these tips.

Want to announce a giveaway or contest in your Instagram Stories, but don't know where to start? In this post, we'll show you everything you need to know to target your ideal audience with Instagram Story Ads.
The key is to show your ads to the right people. If you don't reach the right people, you lose time and money — and who exactly are you talking to, anyway?
Currently, 500 million people use Instagram Stories each day. And 33% of the most viewed stories belong to brands, according to 99Firms.com.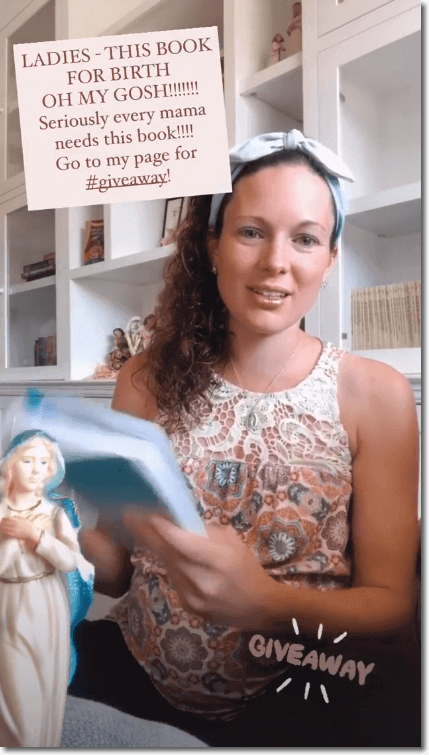 But wait, there's more. Did you know that 59% of Millennials and 70% of Gen Z see and identify with Instagram Stories?
There are three key benefits of using Instagram Story Ads:
You reach your target audience with their favorite content at the right time.
Higher targeting accuracy means you pay less per impression.
Story Ads can be more effective than other ad formats, given the right strategy.
So what do you need to start publicizing your brand or giveaway with Story Ads?
When you're announcing a giveaway — or any other Story — Instagram recommends one key method: promoting your Stories as ads.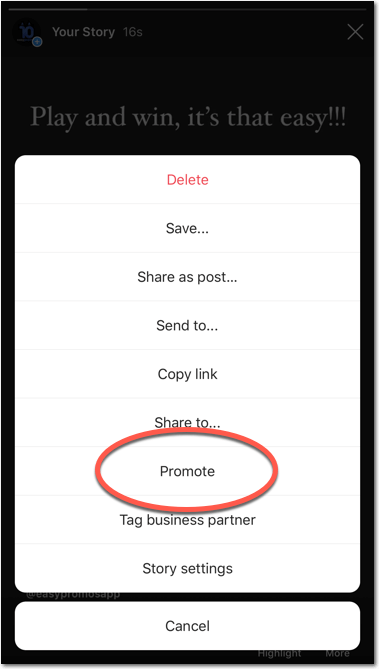 It's simple. Open the Story you want to promote, and you'll see three points in the lower right hand corner. The final option in the menu is Promote, and after a few easy steps, voilà! Your giveaway is announced to the world.
But our advice is: DON'T DO THIS!
Instead, use Facebook Business Manager. Here's why…

Facebook Business Manager and Instagram Story Ads
Facebook Business Manager is an essential tool for agencies, brands, and small-to-medium businesses that want to share content with specific audiences on Facebook and Instagram.
So how do you get it?
Again, it's simple. Follow the steps, and you'll be set up in no time.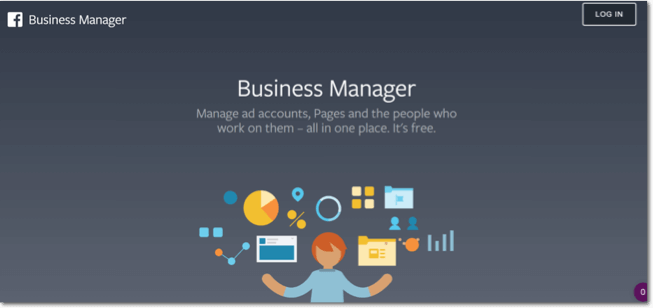 Why use Facebook Business Manager?
Imagine that you want to run a campaign on Facebook and Instagram. You'll have to do double the work, in two separate apps. It will be difficult to keep track of all your ads.
With Business Manager, you'll be able to link your Facebook Page, Instagram profile and even your Whatsapp Business account. That means you'll have everything in one place — including the option of making Story Ads on Facebook.
But there's one more reason…
If you want to create an ad in the Facebook or Instagram app, your targeting options are very limited. Let's take Stories as an example.
If you're planning a giveaway, then you probably want to direct people to your profile. But when you select an audience, you can only target based on location, interests, age and sex. That's all.
In contrast, let's see what Facebook Business Manager offers us…
How to segment Story Ads: targeting options
Facebook Business Manager gives us three main audiences which we can design from the ground up. Here are some tips which are based on years of experience with giveaway ads:
Saved audiences
This option allows you to define an audience with some basic criteria. Choose the features that match the people you want to reach with your ads and Instagram giveaways.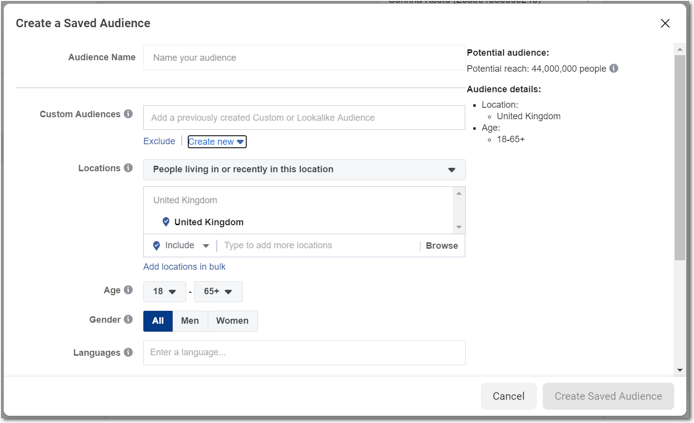 Locations: cities, regions or countries
Demographics: age, gender, level of education, profession
Interests: hobbies and interests
Behaviors: for example, previous purchases or device use
Connections: include people who have liked or interacted with your Facebook page
Custom audiences
This option allows you to create unique audiences, based on your own database of leads or customers.
Customer list: reach people in your CRM or email lists. This is especially useful for remarketing campaigns.
Website: once you've set up a Facebook pixel on your website (a small fragment of code that monitors visitors), you can create an audience of people who are already interested in your products and services.
App activity: similar to the "website" option, this creates a list of people who interact with products and services in your app.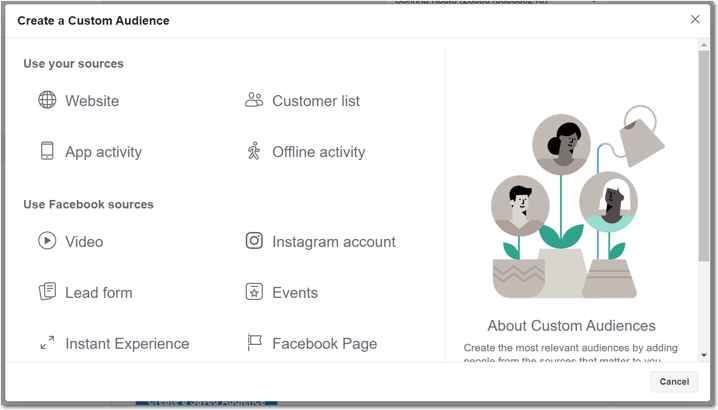 Lookalike audiences
Use this option to reach new people with similar interests to your customers. Facebook uses an algorithm to match interests, behaviors and more to find the audience which most closely matches your base.
You can use a range of data to describe the precise audience you want: website visitors, people who've interacted with your website in specific ways,or your saved audience.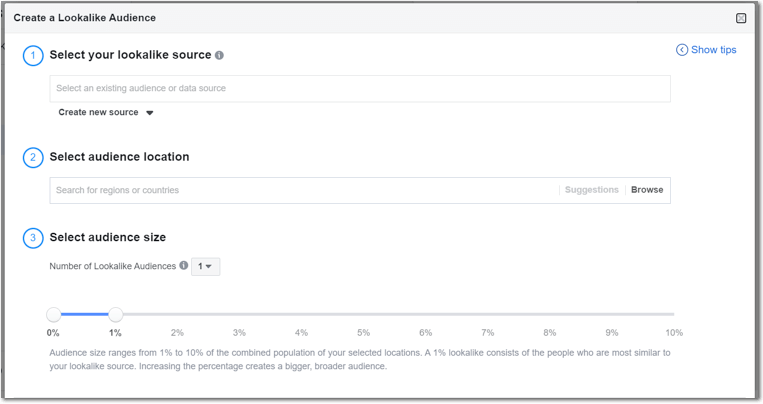 How to start segmenting a Story Ads campaign
Now you've decided to use Facebook Business Manager, the next step is to choose a marketing objective for your campaign.
Here are all the objectives available for an Instagram Ads campaign: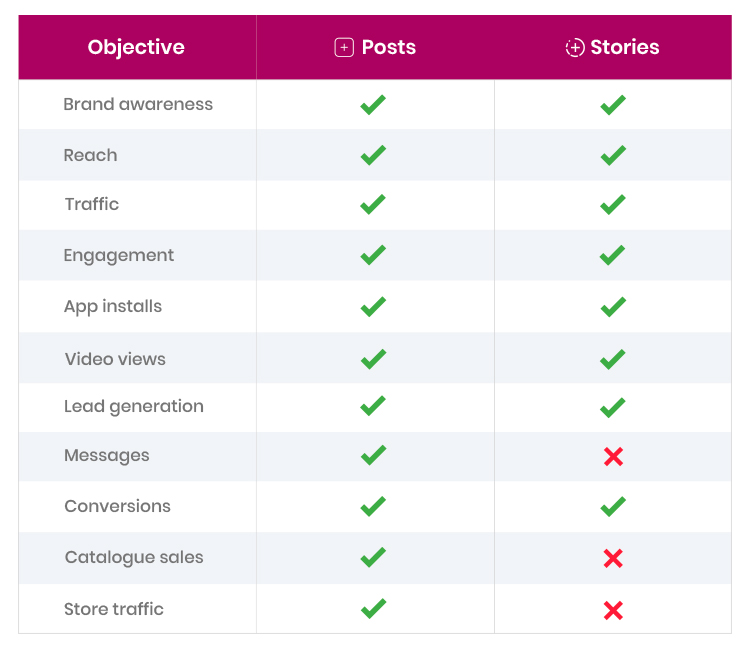 When you start creating an ad, you'll need to adjust the Business Manager settings so that you are only posting on Story Ads.
Next, here are our tips for successfully segmenting your Story Ads. We know that we have three kinds of audience available – so why not combine them?
One of the options for your custom audience was "Facebook Page", which focuses on people who follow you or interact with your posts.
In the Facebook Business Manager menu, you'll need to go to the Audiences section and create an audience with these characteristics.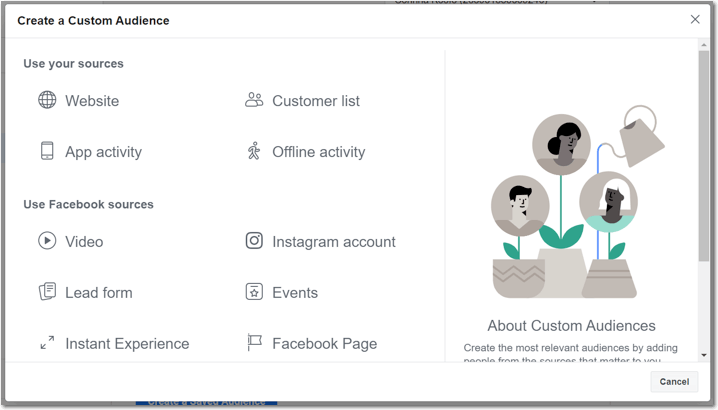 Don't worry if it takes a little while to generate the audience. Once it's ready, combine it with the third option: Lookalike Audiences. Using these two audiences together, we'll create an audience with a much higher potential reach.
When you set up a lookalike audience, your ads will be shown to between 1 and 10% of the potential audience. The closer to 1% you go, the higher quality your audience will be.
That percentage will be important whenever you run campaigns focused on performance. But in this case, we want to reach as many people as possible with our Instagram giveaway Stories. So the ideal percentage would be between 4 and 5%.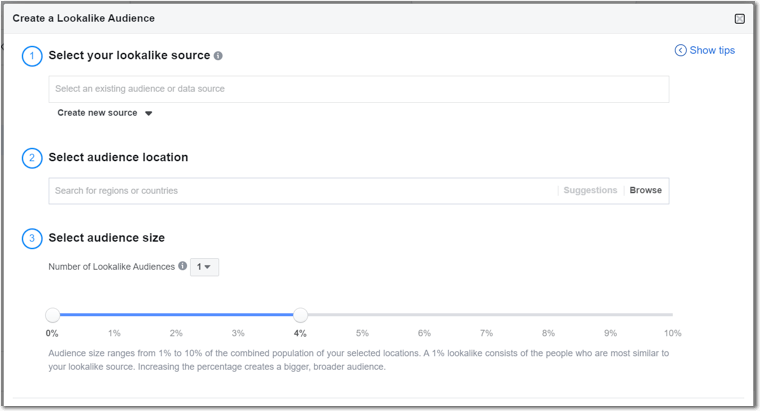 Voilà! Now you have access to one of the most precisely targeted audiences available on Facebook Business Manager.
You can use the same concept of combining audiences in many different ways. For example, you could combine audiences based on interests and behaviors, or mix a lookalike audience with visitors to your website.
Check your Story Ads targeting for Instagram giveaways
Before spending your budget on testing audiences and interests, do you know which Facebook platform includes a free tool called Audience Insights?
Yep, you guessed it.
Audience Insights is a powerful tool for analyzing audiences, which you'll find in the main menu of Facebook Business Manager.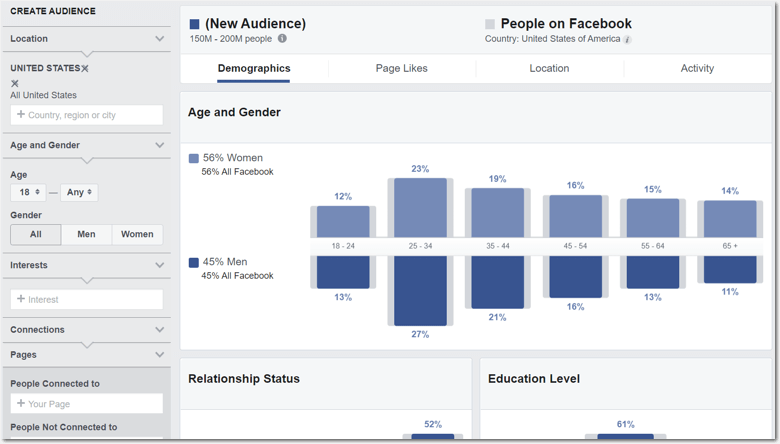 This tool enables you to refine your audience and spot new interests or parameters that match your ideal audience.
For example, you could mock up an audience for your ad campaign before you spend a single dollar. Then you could check how many people the campaign would reach, and identify other audience characteristics that match your customer base.
Why does this matter?
When we talked about running ads in the Instagram app versus Facebook Business Manager, we showed that the first option was pretty limited. The Instagram app gives you very generic audiences, which means your ads will appear to too many people. You want to avoid a broad audience which might include low quality leads.
But with Facebook Business Manager, you can optimize your budget, campaign objectives and audience parameters to get the best results from your Instagram giveaways.
Discover more ideas to advertise your giveaway with Instagram Stories.
Want to run your own Instagram giveaway? Or maybe you have questions about Story Ads for Instagram Giveaways? Get in touch with our support team and we'll help you out.
Publication date: 2020-09-10