Posted in: Applications,Ideas for your websiteLast update: 19/04/22
Christmas – the busiest time of the year for most businesses! Improve social media visibility and grow your audience with Christmas Twitter Giveaways. Read on to see examples of successful festive sweepstakes and use our tips to run your own engaging promotion!

For us marketers, Christmas is also known as the period that has a huge impact on our yearly marketing objectives. Whether we accomplish the goals outlined in the marketing plan often depends on how well we do over the Christmas season.
An average user spends 2 hours 24 minutes on social media every day. Thus it's no surprise that social media have become the main communications channel for many brands. Corporate Facebook and Instagram accounts have thousands and sometimes even millions of followers, however, many companies seem to have forgotten about the power that Twitter has. In the second quarter of 2021, Twitter boasted of 206 million daily active users! Isn't it a good enough reason to incorporate Twitter into your Christmas marketing campaign?
In this blog post, we take a look at how brands from different business spheres used Twitter to promote their products right in time for Christmas. Read on for 5 Christmas Twitter Giveaway ideas!
Cadbury UK and their 31 Christmas Twitter Giveaways
We all remember chocolate Advent Calendars and the excitement of opening up a new door every day! Many brands have now transformed the traditional excitement into digital experiences by organizing digital Advent Calendars. Cadbury UK went a step further, as a few years ago they launched their #Cadvent campaign.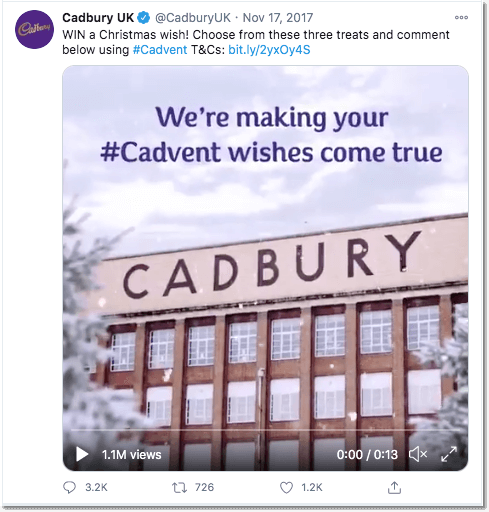 The confectionary brand launched a series of three different tweets, each tweet showcasing three different Christmas treats. They then asked their community members to choose their favorite product, and comment on the post to explain what was their choice. Each commenter entered Cadbury's Christmas Twitter giveaway for a chance to win their product of choice.
Over 31 days the company rewarded 24 different users. Cadbury's social media engagement went through the roof as the brand generated thousands of user interactions, with each post getting at least 3,000 replies.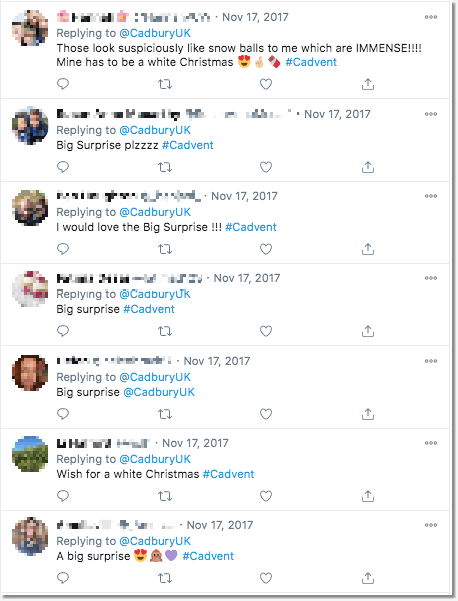 Cadbury chose Twitter as the channel to engage their audience and drive their message. It was also a great way to heighten product awareness, as Christmas and chocolate do go together…!
Reinforce customer relationships with a Christmas Twitter competition
Let's list some main reasons for running Christmas Twitter giveaways:
Increased social media engagement
Expanded social media audience
Heighten brand visibility and therefore reinforced brand awareness
Reinforced customer relationships
Fostered customer trust and loyalty
Not bad for a simple social media giveaway, right? With all these goals in mind, let's take a look at the next example from National Express. There are many people visiting their friends and family during the Christmas season, and for that reason, the coach travel company looked to promote their travel destinations. To do so, they organized a quick and easy Christmas Twitter Giveaway in which they invited their social media followers to simply share where they would like to go this festive season.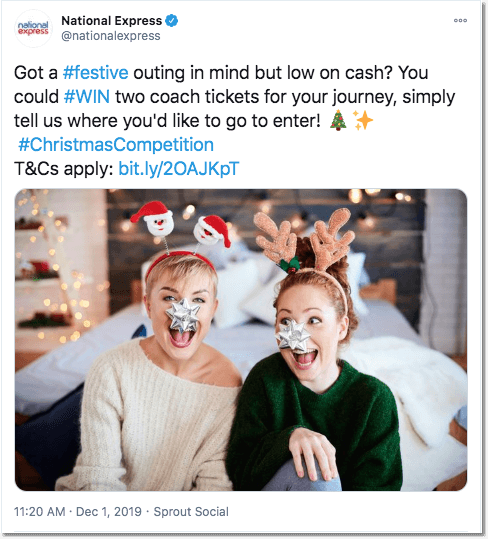 National Express shared a jolly image to add to the atmosphere and create a Christmassy vibe.
Are you planning to launch your own Christmas Twitter giveaway? Make sure to use our Twitter Giveaway app, to choose a random winner of your promotion in an automatic and transparent way.
Reach your target audience with attractive Christmas prizes
We always say that the prize is the best motivation for users to participate in online promotions. And it's true! For example, followers of a chocolate company won't be interested in winning a hamper full of butter. Therefore, if you want your promotion to attract as many participants as possible, ensure the prize is relevant for your target audience.
Christmas Twitter giveaways can be organized by any brand, that includes professional cycling teams!
Take a look at the fun series of Christmas Twitter giveaways organized by Team Sunweb, a professional German cycling team. They entertained their audience with selfies of "mystery rides" – team members covering their faces.
To get a chance to win, the team's followers had to guess the name of the mystery riders and retweet the post. Among the raffled prizes were goodie bags and neckwarmers.
Note that this giveaway was organized only for the team's followers. Launch a Twitter giveaway for Christmas only for those who follow your account to grow your brand and Twitter audience.
Another Christmas giveaway on Twitter was organized by Cycle SOS – The Cyclist's National Helpline. To celebrate the merry season, Cycle SOS also launched a series of easy to enter giveaways.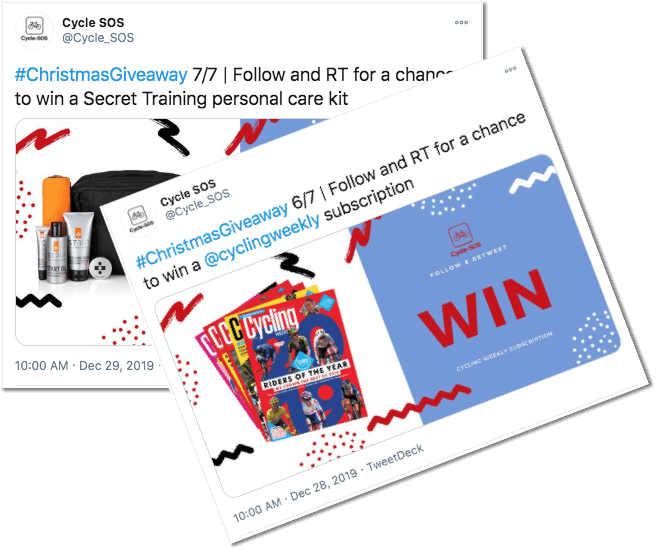 Interested participants followed the organizing account and retweeted the promotional posts for their chance to win daily prizes for cycling enthusiasts. Throughout the campaign, the company got to grow their Twitter audience, as well as improve their social media presence.
Promote your tech brand with a Christmas Twitter Giveaway
Twitter giveaways tend to attract many interested participants because of quick and easy participation requirements. It normally takes seconds to participate in a Twitter giveaway. It doesn't mean, however, that you shouldn't opt for more creative options. Next up is an example from Inateck, an electronics company.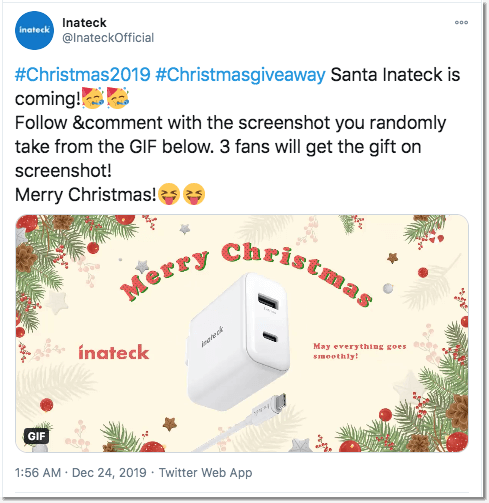 The company shared a festive GIF with different Inateck products. Users had to screenshot the gift and tweet the screenshot as a reply to the promotional tweet. Three lucky winners won the products they screenshot! It was a great way to showcase multiple products and engage the audience for a moment longer!
We hope the above examples have shown you that creating Christmas Twitter giveaways is really easy! But don't worry in case of unsolved questions. Our Support Team is ready to help!
Publication date: 2020-10-28