Posted in: Digital marketing,Ideas for your websiteLast update: 19/04/22
Do you use Campaign Monitor for email marketing? Here's how to set up an integration with Easypromos, and seamlessly bring promotion participants into your email marketing funnel. We share all the information and ideas you need for successful email integration.

Easypromos now offers a long list of integrations – including your favorite email marketing service. In this blog post, we'll cover how to set up an integration between Campaign Monitor and Easypromos. We'll also share some examples of how email integration can support your marketing campaigns.
What is Campaign Monitor?
Campaign Monitor is an email marketing service (EMS). You can use it to design branded emails and send them out to customers. You can schedule emails to send automatically at specific dates and times, and divide your email list up into different segments to send targeted and personalized emails.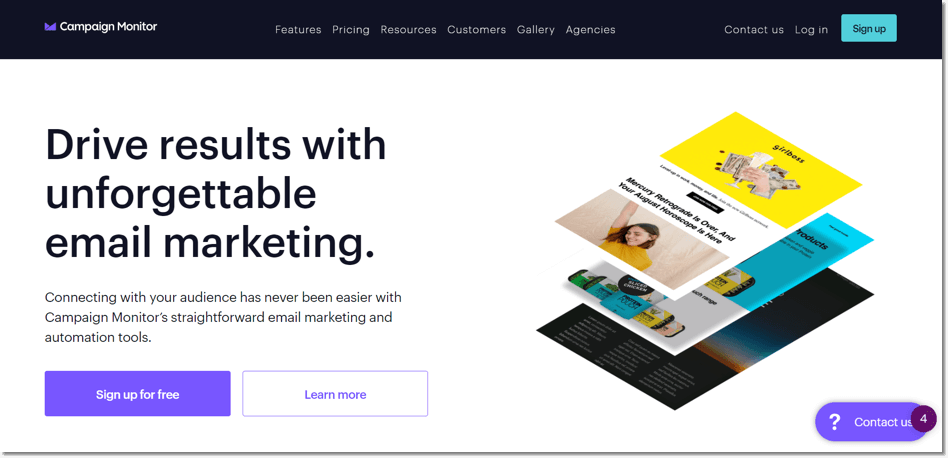 There are a lot of different EMSs on the market. You've probably also heard of MailChimp, tinyletter and several others. So what makes Campaign Monitor different?
Campaign Monitor mainly stands out for its design tools. Like most EMSs, it uses a drag-and-drop editor with plenty of templates to save you time. But it also has a great range of customization tools for creating really beautiful emails. Campaign Monitor has also recently added more features for collecting, managing, and acting on data from your email subscribers.
Why you need Campaign Monitor integration with your promotions
If you've ever built a promotion with Easypromos before, you'll know that it has a built-in email editor. You can send basic emails to welcome participants, remind them of deadlines, announce the winners and so on.

So why would you need an email integration?
Simple: because your promotion is only the beginning.
Online promotions are an amazing way to raise brand awareness, reach new customers, and collect data. But you have to follow up. That's where the email integration comes in.
When you integrate your promotion or contest with Campaign Monitor, it automatically syncs the list of participants with your list of email subscribers.
As well as email addresses, you can include other fields on the promotion registration form, and even check that participants have consented to email communications.Then you can add them to your regular newsletter list, or send follow-up emails to encourage them to shop with you.
We'll cover some more detailed examples later in this blog post. But for now, all you need to know is that the integration between Easypromos and Campaign Monitor will help you to generate, nurture, and finally convert your sales leads.
How to integrate Campaign Monitor with Easypromos
Integrating Campaign Monitor with your Easypromos contest or promotion is really simple. Before you start, make sure that you have an Easypromos Corporate or White Label account, and your Campaign Monitor account is active.
You'll need to do some quick admin in Campaign Monitor. First, set up a new email list so that the integration has somewhere to put all those new contacts. Then go to "API keys" in your account settings, and create a new key to use with Easypromos. The API key will "unlock" the connection between Easypromos and Campaign Monitor.
Now it's time to work with your Easypromos account. To get started, click the "Integrations" tab of your promotion in Easypromos. You'll see a list of all our integrations, including integrations via Zapier. Pick Campaign Monitor: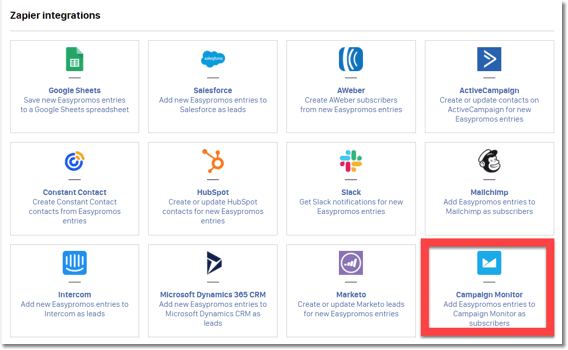 You'll then be asked to enter your API key and client ID from Campaign Monitor. Once the integration is established and secure, you can choose which email list to send data to. You can also choose which data from Easypromos to add to your customer data on Campaign Monitor.
For an even more detailed guide, read the Campaign Monitor integration tutorial.
How to use email integrations in your promotions
Now you're all set up, let's talk about how to use the data from your promotions and contests. Email marketing has consistently been shown to be one of the most effective ways to reach customers – so it only makes sense that you'd follow up with promotion participants via email. Here are three ideas you might like to try.
#1 Send targeted follow-up emails
When you run a promotion with Easypromos, you can collect a huge amount of information to qualify your leads. From basic details, like location or gender, to more specific traits, like whether people prefer to shop online or in-store… you'll have it all at your fingertips.
And you can use that data to follow up with very specific messages.
For example, if someone checks a box saying that they prefer to shop online, you can send them an online-only discount.
Or if they choose product A instead of B from a Product Recommender, then you can send them more information or a retargeting email about product A.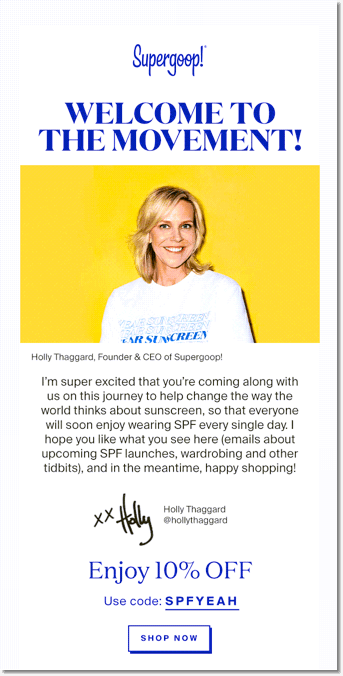 The beauty of an automated email service like Campaign Monitor is that you just have to create the content of those emails. Then Campaign Monitor will use the data from your Easypromos promotion to make sure you're sending the right emails to the right people.
#2 Learn more about your email list
What if you already have a great database of email subscribers? You already know how to contact them – you just don't know very much about them.
Promotions can help you collect more information about existing customers, followers, and email subscribers. In the example below, this hosting survey asked people to fill out a survey about what types of content they'd like to see. And in return, participants could win a free t-shirt.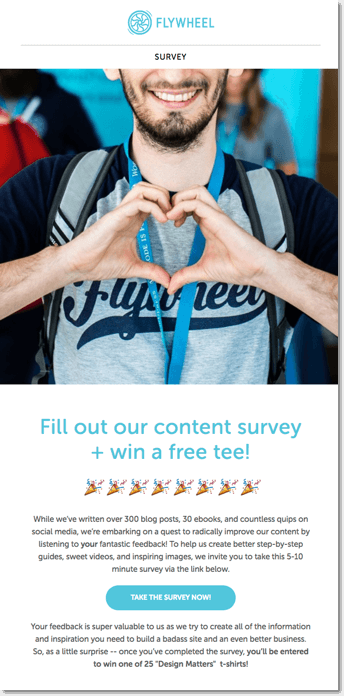 So, to recap: you could use your Campaign Monitor account to send a promotion to all your subscribers. And then you could feed all that information back into your Campaign Monitor account, helping you to send more personalized and targeted emails… and, ultimately, increasing your conversion rate.
#3 Bring new subscribers into your community
We've already discussed following up with new subscribers after a promotion. But once again, you need to keep the long term in mind.
As well as sending targeted emails related to your promotion, you should also make an effort to include new subscribers in your existing community. That means welcoming them to your newsletter, perhaps sending a few onboarding emails, and setting expectations for regular contact.
Here's a great example of an email built with Campaign Monitor, providing lots of added value for subscribers and encouraging them to connect with the brand on a range of platforms: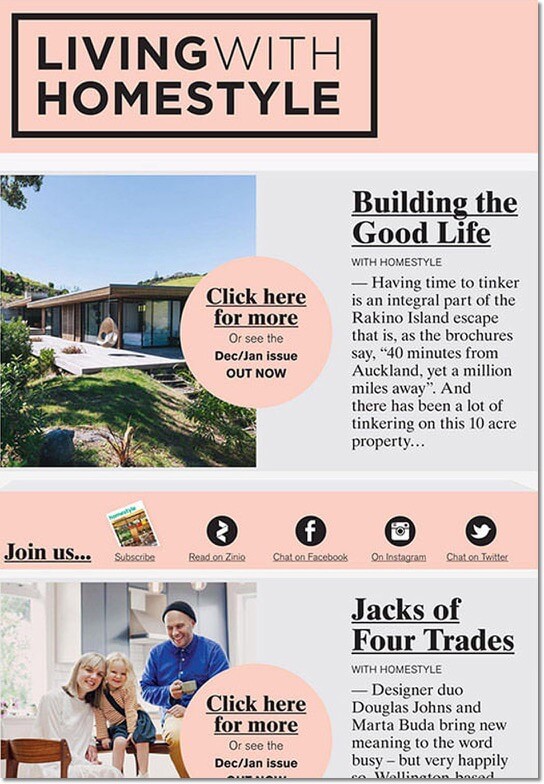 Want more ideas, tips or information about Easypromos integrations or promotions? Chat live with our support team!
Publication date: 2020-11-19