Posted in: Digital marketing,Ideas for your websiteLast update: 19/04/22
Consumers are spending more time online and are turning to online platforms to explore and plan their purchases. This presents a massive opportunity for your business. But don't just expect consumers to discover your store and start shopping right away. Set your eCommerce store apart by implementing these 7 proven practices to boost your sales and conversions.

More consumers are shifting their spending online than ever before.
Global retail eCommerce sales are projected to reach $6.5 trillion US dollars in 2022. And that figure is only expected to grow as more consumers around the world connect online.
The rising growth in online sales represents a massive opportunity for your business. But don't just expect your audience to discover your store and start shopping right away.
In this article, we'll look at proven eCommerce business practices that you can implement to boost your sales and conversions.
1. Give something away
Who doesn't like getting things for free?
It may sound counterintuitive, but one of the best ways to drive more sales to your eCommerce site is to give something away.
23% of consumers said that receiving a free giveaway with an item they purchased would make them more likely to become repeat customers.
Here's an example from Dermstore:
Dermstore gives away free samples and gifts with a purchase as long as a shopper's cart meets the minimum order. It's a small gesture that likely doesn't cost the company much, but has undoubtedly resulted in more sales.
TOP TIP: To encourage more spending, set a reasonable target that shoppers need to hit before they can receive a free gift. Look at your average purchase order and set the minimum to 10 to 15% higher.
Be sure to offer something that has practical value. If you simply offer a promotional item like a pen or a bottle opener, customers likely won't go out of their way to hit the minimum threshold. Ideally, you'll want to choose something that's a good fit for your brand and audience. For example, if you sell makeup, you might offer something like a compact mirror or brush.
Experiment with different giveaway items to see what works best for your business.
2. Run a social media giveaway
Running a giveaway is another proven way to drive more eCommerce sales.
Palmer ran their giveaway on Instagram. They provided information on how to join their "ThanksGiveaway" and when winners will be chosen in the caption: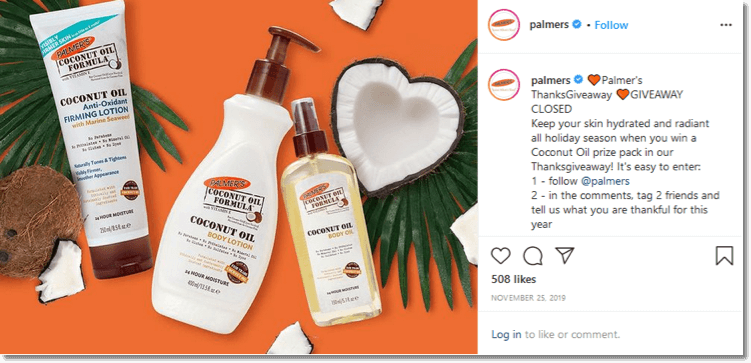 This required their audience to 1) follow their page, 2) tag 2 friends in the comments, and 3) comment what they're thankful for this year. Tailoring the giveaway to a holiday celebrated throughout the country also helped Palmer connect with their audience on an emotional level.
Another way to run a giveaway is to create a branded hashtag and have users submit a photo using that tag on Instagram or Facebook.
This gives your business an opportunity to collect user-generated content — content like text and images your audience creates.
Why is this important? Because UGC's authentic nature reinforces customer trust, which then impacts their purchasing decisions. Running a giveaway gives your brand an opportunity to showcase content that your audience has created.
The way it works is rather straightforward — announce a giveaway and promote it on social media channels like Facebook or Twitter to spread the word.
Your audience can then participate by commenting on a photo on Facebook, sharing your post on Twitter, or tagging a friend on Instagram. After the promotional period is over, you announce a winner and reach out directly to them to give them their prize.
Another way to run a giveaway on social media is to share a direct link to a giveaway organized outside of social media. Here's an example of a giveaway that Absolut promoted on Facebook and used it to collect new leads from social media through their website's registration form.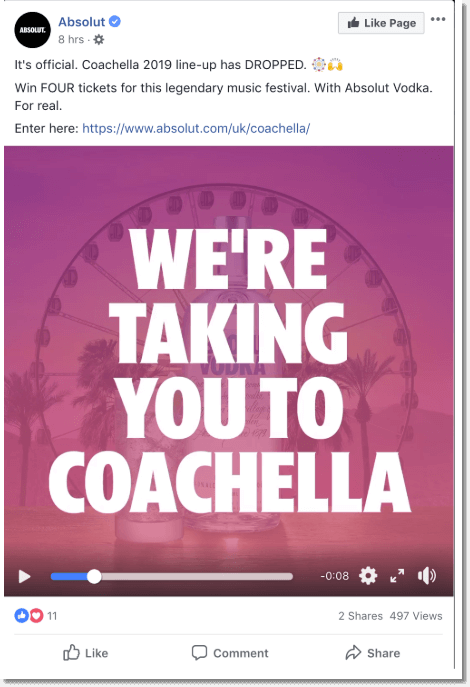 Fans could enter the giveaway and win tickets to an all-expenses-paid trip to Coachella — an annual music and art festival held in Indio, California.
No matter what kind of giveaway you're running, it's important that you adhere to all legal requirements. For example, you can't charge a fee for people to enter your giveaway and you absolutely must choose a winner randomly.
Get started with your own branded giveaway with the Easypromos giveaway applications. The apps are fully responsive and come with ready-made templates that you can use to run giveaways on platforms like Facebook and Instagram.
3. Create an online quiz
If you've ever lost a few hours scrolling through Facebook, chances are you've seen or even taken an online quiz. These are typically short and simple quizzes that ask you a few questions and give you a result.
Here's an example of a quiz from Buzzfeed: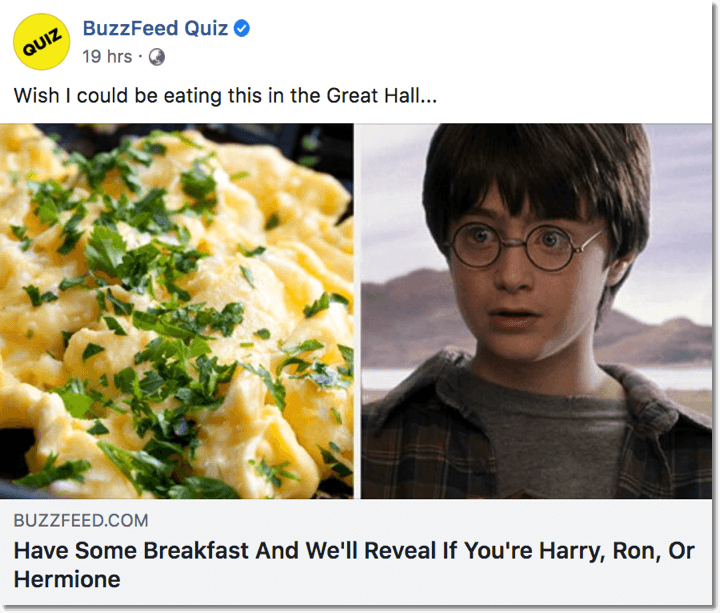 These quizzes may seem silly (I was Ron in case you're curious!), but they're a powerful marketing tool that can bring more social media users to your online store and boost sales.
Here's an example of a Knowledge Quiz that you can create with the Easypromos quiz maker app: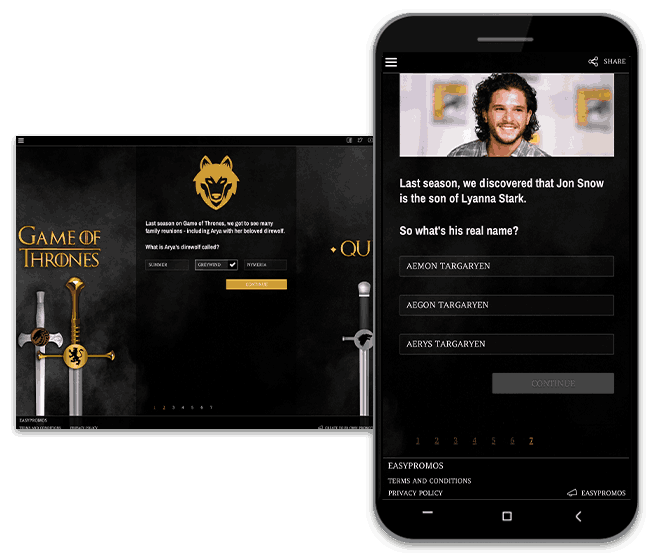 You can easily customize the quiz and combine different question types. After users finish the quiz, you can give them instant feedback or display a summary of their results.
Then you can finish your quiz with a registration form and reward participants with promotional codes they can redeem at your online store.
4. Offer discounts with new accounts
If your eCommerce store is still relatively new, you may have trouble convincing shoppers to purchase from your store.
That might be due to your store just not having the same brand recognition as retail giants like Amazon and Walmart.
Offering discounts is another way you can entice new visitors on your site to make a purchase. Discounts are extremely attractive to shoppers as it allows them to maximize their savings.
Here's an example of how Converse offers a discount to new shoppers: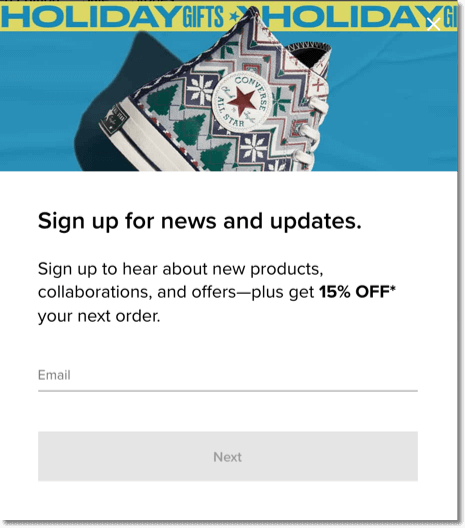 By signing up with their email address, visitors can get 15% off their next order.
Offering discounts with new accounts has another benefit — you can send promotional offers and announce new products. You can even combine a discount with a free sample to further incentivize new visitors to create an account and make a purchase.
Use the Coupon Codes app to create coupon codes. You can easily customize the sign up form and track coupon downloads to measure their effectiveness. 
5. Create limited-time promotions
Have you ever jumped on a deal because it was only available for a limited time? That's an example of just how powerful limited time promotions are.
And the reason is that these types of promotions take advantage of FOMO — Fear of Missing Out or the feeling you get when an opportunity slips through your fingers.
One way you can leverage this psychological tactic is to incorporate a countdown timer that displays how long a deal is available for.
Here's an example of a product page from Newegg: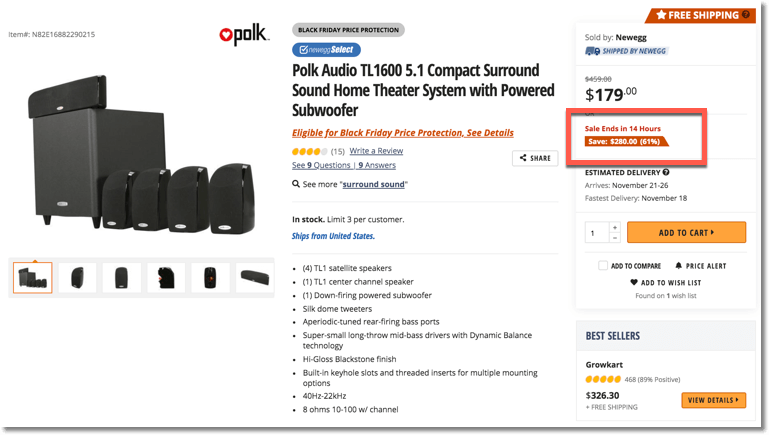 On the right hand side, shoppers on this page can see that the deal ends in 14 hours. If they wait longer than that, they won't be able to take advantage of nearly $300 in savings and the product will go back to its regular price.
You can take a similar approach by using a countdown timer on a product page.
This might be a good idea, especially around holidays like Black Friday or Christmas. Be sure to set a strict end date with a limited-time promotion.
6. Offer free shipping
Shopping cart abandonment is when a visitor adds a product to their shopping cart and leaves the page before checking out. The average shopping cart abandonment rate is 69% based on 41 different studies.
One of the top reasons why shoppers abandon their shopping carts is because of extra costs like shipping and tax: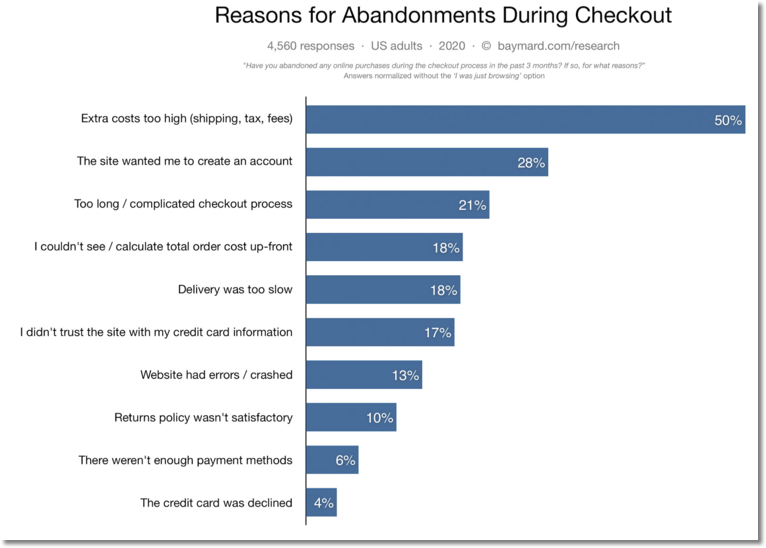 If shoppers on your site are abandoning their carts at a high rate, you can reduce that percentage by offering free shipping.
Another reason why shoppers abandoned their shopping costs (18%) is that they couldn't see the total order cost. If offering free shipping isn't an option due to high overhead costs, you should make it easy for shoppers to view their shopping cart's total.
In addition to displaying the price of the product itself, you should also display taxes and other costs that may change the total order amount, such as shipping charges.
7. Buy a premium web hosting service
Nothing is more frustrating than visiting a site only to continue staring at a blank page after what seems like an endless amount of time. If this sounds familiar, you're definitely not alone.
Online users today expect a fast shopping experience. Most users simply don't have the patience to wait for a page to load when they're trying to buy something.
A few seconds delay can lead to higher bounce rates and visitors abandoning their shopping carts.
It is always recommended to invest in a premium web host for your website. Having a web hosting provider that's reliable like Bluehost can ensure a smooth experience for your visitors.
Customers should always be able to browse and shop from your site with ease. And they shouldn't have to wait long for your product pages to load.
The digital landscape is extremely competitive. One way you can set your eCommerce store apart and drive more sales is to implement these proven business practices.
By offering something for free and running a giveaway, you can entice shoppers and encourage more spending. In addition, you can also consider using online quizzes and coupon codes to raise brand awareness on social media channels like Facebook and Twitter.
Have any questions about the Easypromos apps?
Use the Easypromos online chat to get in touch with the Easypromos Support Team, always happy to help.
Publication date: 2020-11-27