Posted in: Ideas for your websiteLast update: 16/08/21
Australia Day is a fantastic opportunity for brands to reconnect with their social media communities. Today we share some simple ideas for Instagram and Facebook giveaways for Australia Day. Promote your brand and products, boost engagement, and stay top of mind with your customers! Find out more!

Australia Day is usually a day full of fun celebrations, family gatherings, and fireworks. People around the country fire up their barbeques, head to the beach, put on their most festive t-shirts and hats with the Australian flag, and enjoy the festivities that their town has to offer. Generally speaking, Australia Day is all about being proud of your country, lifestyle, climate, and landscape.
Are you wondering how your brand can join the celebrations on January 26? You're in the right place as we're about to show you some great examples of Australia Day giveaways! Discover how to boost engagement, tap into customer loyalty, and stay top of mind with your clients.
Celebrate Australia Day with a giveaway on Instagram
Instagram is now the most popular social media network for running giveaways! And chances are that the majority of your target audience are active Instagram users. Therefore, running an Australia Day sweepstakes on Instagram is a great opportunity to reconnect with your customers and reinforce your brand. Let's start by pointing out the most recommended practices for running Instagram giveaways:
To automate your giveaway with the Easypromos Instagram Giveaway app, ask participants to:

Follow you
Comment on the post
Tag their friends

Showcase the prize
Include the promotion dates and share terms and conditions
Why should you follow these rules? Because we believe you'd want your Australia Day giveaway to be "deadly", right?!
Are you planning to launch an Australia Day giveaway on social media? Use our pre-configured templates to save time and effort!
Now, let's take a look at some examples!
Australia Day Giveaway: Fashion and accessories brand
Let's start by stating the most important fact. ANY brand can organize an Australia Day giveaway! You can't go wrong if you're based in Australia or if you have Aussie customers.
Here's an example from Veldskoen Shoes.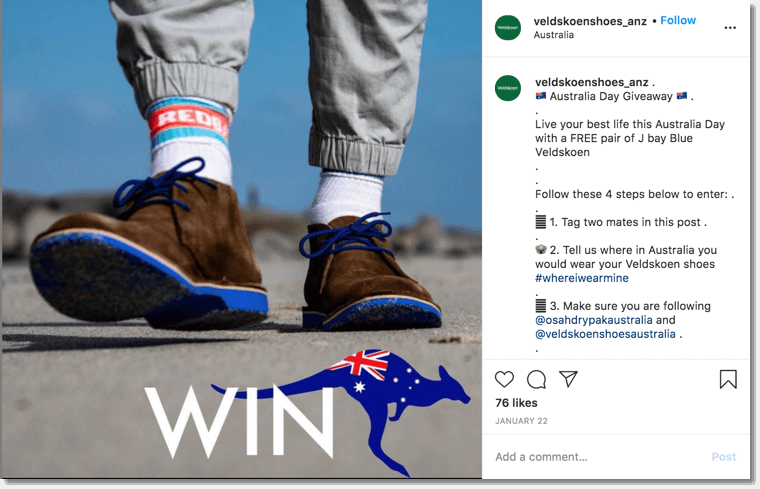 The brand wanted to reconnect with their Australian customers and therefore they ran an easy social media giveaway. The organizers asked the participants to follow the organizing accounts, mention two mates in the post and also explain where in Australia they would wear the shoes. One lucky winner walked away with a pair of Veldskoen shoes.
TIP: As you can see, the picture clearly showcases the prize. And the kangaroo rocking the Aussie flag automatically suggests that it was an Australia Day giveaway!
Australia Day giveaway: Health and beauty brands
Another brand that grew their audience and boosted social media engagement around Australia Day is Temt, a women's apparel brand that collaborated with another clothing brand. Surprisingly, they didn't raffle their products. They gave away a gorgeous beauty package!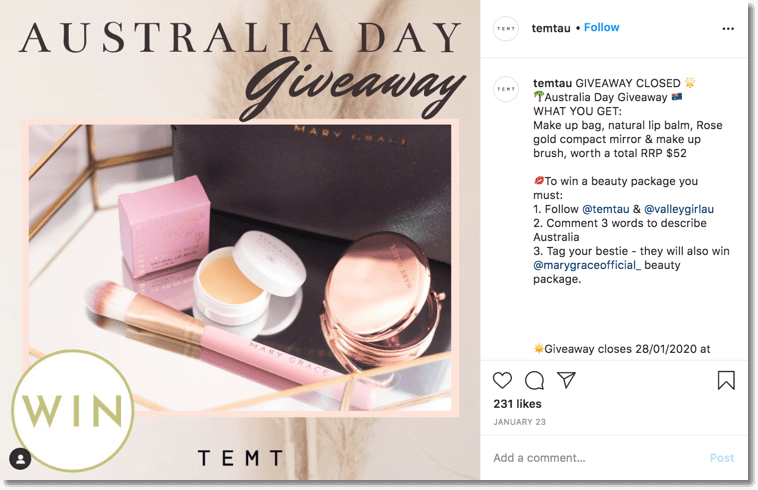 Participants followed the organizing accounts, tagged their besties, and liked the promotional picture. If you ask your followers to do it too, you will have to manually check if the winner liked your photo! Also, remember that Instagram is removing the likes in some countries, so it's probably not the best requirement to ask for!
Do you have a big audience on another social media network, for example, Facebook? Make sure you promote your Instagram giveaway on other platforms. It's a great way to drive traffic to other networks to easily grow your audience. Temt did exactly that!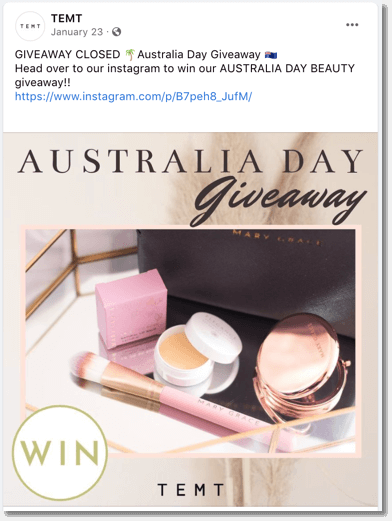 Australia Day giveaway: idea for the food and drinks industry
Luckily for Australians, January is the middle of their summer! Family gatherings wouldn't be the same without the sunny weather. And neither without a cocktail set from Good Cocktail Co!
As part of their countdown to Australia Day, the brand decided to give away one cocktail set every day throughout the week. Apart from promoting their products, boosting engagement, and growing their audience, they also stayed top of mind with their customers.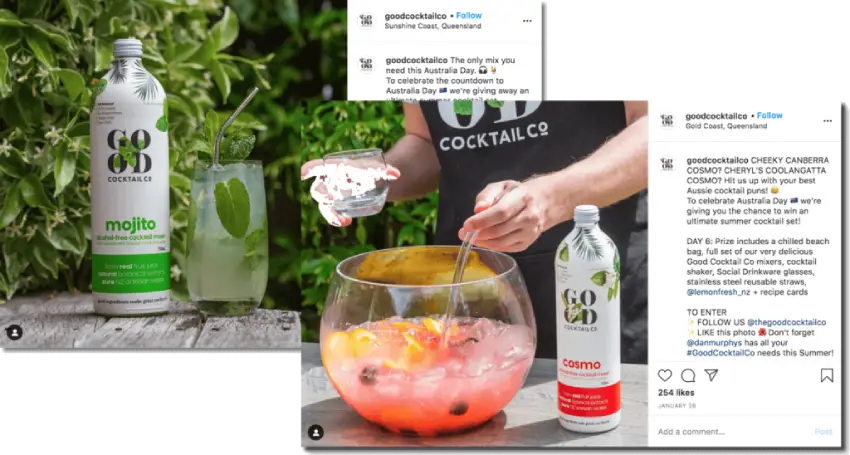 Some brands might not be able to run multiple giveaways but if you do it's a fantastic way to keep your followers engaged and coming back for more!
Promote your product with a Facebook giveaway
Did you know that Facebook is still the favorite social media network for Gen Z and Millennials? So if your brand is family-oriented or simply sells products that can be enjoyed by the whole household, make sure you celebrate Australia Day on Facebook! Take a look at how Otway Pork and Matador promoted their products right in time for the best day for barbequing in Australia!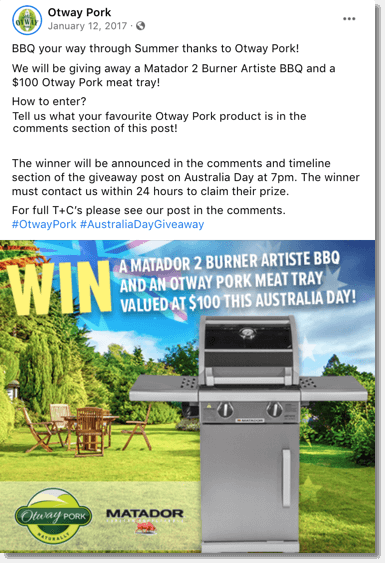 To generate engagement, Otway Pork asked their audience to comment on the post and explain what is their favorite Otway Pork product. One lucky winner won a brand new barbeque, as well as a tray of Otway Pork meat valued at $100.
What was in it for the organizing brands? Chances are, the brands were top of mind with the participants, even though there was only one winner!
So… Are you now ready to run Australia Day giveaways on your social media channels? Remember, any reason is good enough to reconnect with your audience… And any brand can organize a social media giveaway! But don't worry if you have any questions. You can chat with our Customer Support Team!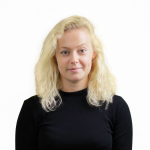 Kamila Palka
Easypromos Marketing Team
Publication date: 2020-12-23