Posted in: Applications,Ideas for your websiteLast update: 19/04/22
Our daily lives are filled with sports events, contests, as well as major cultural events. We are surrounded by championships and competitions that take place in various rounds or stages. Now imagine being able to benefit from the excitement that these events bring about… Read on to discover how Multi-Round Predictions can help you generate brand awareness and customer engagement over an extended period of time.

Don't we all enjoy sporting or cultural events? The excitement increases as participants go through different stages and rounds leading up to the big final. You can now benefit from all the buzz and turn it into high-quality engagement for your brand. Wondering how?
The Multi-Round Predictions application allows you to launch promotional activities for an extended period of time, with new challenges periodically. You can raffle prizes among participants of each round, reward those who participate in each stage or simply give direct prizes to those who correctly predict the winners or scores of each round. 
With the Multi-Round Predictions app, you get to give your audience the chance to predict the results of soccer championships, basketball leagues, cycling tournaments, award ceremonies (yes, we're talking Oscars or The Grammys!), or even music contests like Eurovision. As participants progress through stages, you can update the ranking so that the entrants can see who the leader is. It's a great way to generate additional excitement and rivalry.
The key to success is to motivate participants with a long-term campaign and overall ranking that gets updated as the competition or championship progresses. The best thing about it? You can fully customize the application so that you get to expose your audience to your corporate image – logo, colors, typography, etc.
What objectives can you accomplish with the Multi-Round Predictions application?
The Multi-Round Predictions application is quite related to gamification since it's a playful and fun dynamic that has the same attributes of a game: competitivity and skills, which generate high levels of engagement and brand exposure. 
What may seem like a simple betting pool becomes a very valuable weapon when it comes to achieving marketing objectives. The application allows you to:
Attract new potential customers and grow your online community.
Reward and retain users who are already customers by offering fun and competitive experiences. You can make the promotion even more exclusive by presenting the betting pool in a private customer area or mobile app.
Convert website visitors into leads by embedding the betting pool on your website.
Maximize lead generation as all participants must register through a registration form.
How does the Multi-Predictions application work?
The Multi-Round Predictions application enables you to create a single promotion with multiple rounds. In each round, users share their predictions and their points are then displayed in the overall ranking.
Here are some of the most important features:
You can create your Multi-Round Predictions with a customizable default template.
The questions can be fully customized, which means that you can create a betting pool for any event. You can add multiple questions to each round.
Each round is new participation. Configure the dates of each round. You can activate new rounds daily, weekly, bi-weekly, or even monthly.
Users must register before accessing the promotion. They fill out a registration form and the system saves their details so that they don't have to repeat the registration process next time they access the promotion.
You can fully customize the application. Add your logo, branded images, corporate colors, etc. Simply put, expose your audience to your corporate image!
Manage the results of each round; you can update the correct answers once you know the final score of the competition or championship and then recalculate the points obtained by each participant.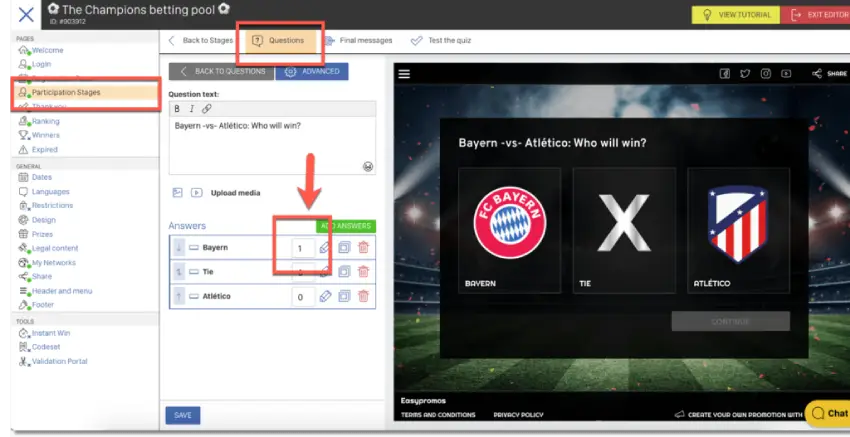 There are many different ways to choose the winners; it all depends on the prizes that you want to distribute and how you planned your promotion.
You can fully customize the registration form so that you can collect all the details that you need for your database. You can then export all new contact details to your CRM or as a CSV/Excel file.
Now that you know a bit more about the Multi-Round Predictions application, would you like to test it? Try our Champions League DEMO!
Thinking to create a Multi-Round Predictions promotion for your brand? Head over to our tutorial to learn more about the configuration process.
Ideas and examples of Multi-Round Predictions promotions
It's time to see some great examples of Multi-Round Predictions campaigns! But first, let's start with six important aspects you need to bear in mind when creating your own promotion:
Choose one event and make sure you know when each round takes place.
Make a plan. Think of the prizes, decide how you'll choose the winners, etc.
Configure the registration form and choose how users can access the promotion (using their Google and Facebook account, or email address).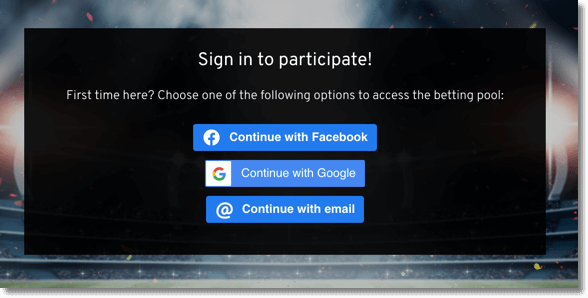 Once the promotion is ready to publish, use the Test Mode to check if everything works the way it should. It a great moment to check if all images and texts have been edited.
Don't forget to update the official results and recalculate the points.
Choose winners and contact them to congratulate them on their winning!
Now we can take a look at two different examples!
Here's an example of a Champions League Predictions promotion with multiple rounds. As the teams progressed through the next stages, new promotion rounds were open so that users could share score predictions. The organizer had to carefully follow the matches to know which teams progressed to the next round so that they could open new stages with the correct teams.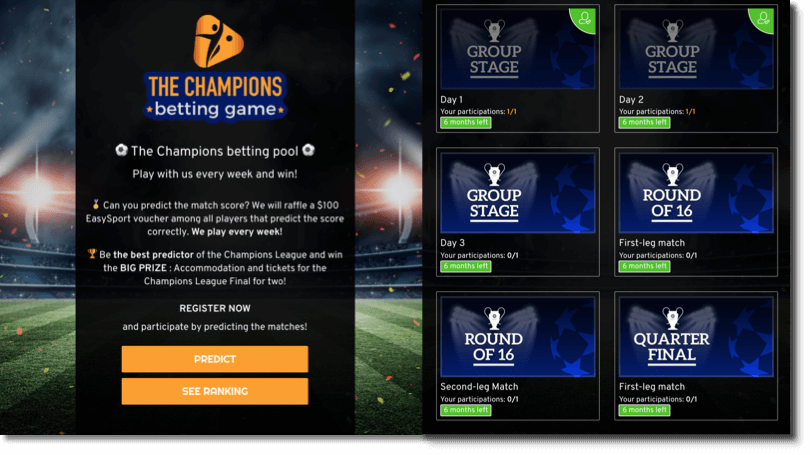 Inside each round, there are up to two questions for the participants.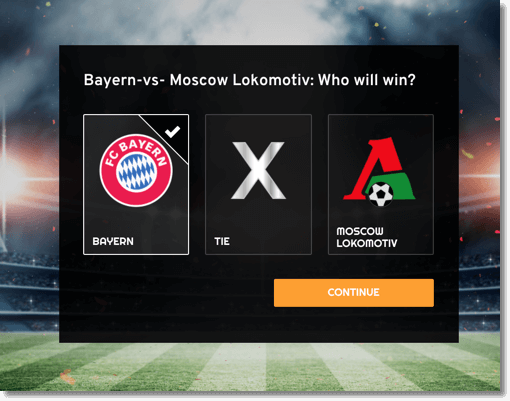 The next example shows a tennis – NITTO APT Finals – predictions promotion. Just like in the previous example, users participated in different rounds, trying to predict the scores of the tournaments for a chance to win attractive prizes.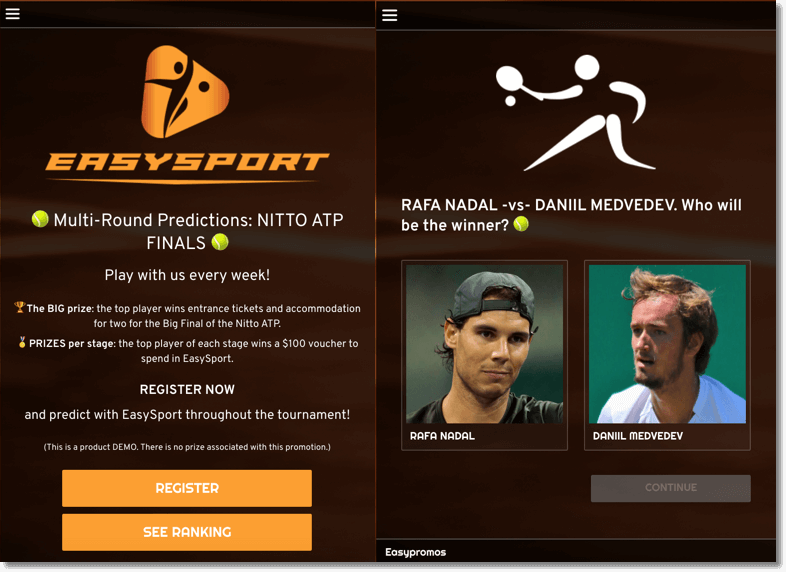 In this case, each round came with multiple questions, letting the participants predict the winners of the matches played on the corresponding week.
How to distribute prizes in Multi-Round Predictions?
There are many different ways for you to distribute incentives. Here are the most popular tactics:
Reward participants based on their ranking position. You can for example reward the user with the highest score, the top 10 players, or run a random prize draw for the top 20 users.
Reward the best players of each round. Just like in the previous point, you can reward the top player or players, depending on the number of prizes you have to distribute.
Random prize draw among all participants is a great way to boost the loyalty and trust of all entrants.
Random prize draws for only those who participated in all the rounds.
Direct prizes for participating. They can be different for every round!
How can I try the Multi-Round Predictions app?
It's free to great a draft version of a Multi-Round Predictions promotion in the editor. Log in to your Easypromos account and choose the app you want to test. You won't be asked for any payment until the moment you decide to activate your promotion. Bear in mind that the Multi-Round Predictions app is only available for White Label and Corporate clients.
Do you have questions or doubts? Don't hesitate to contact our customer support, ready to answer all your questions!
Publication date: 2020-12-14