Posted in: ApplicationsLast update: 12/07/22
Planning a viral campaign to raise brand awareness on social media? For most people, a video contest or video challenge is top of the list. There are lots of different ways to collect user-generated content, but social media is usually the easiest route. Here's how to run a video contest with hashtags on social media.

When you decide to run a video contest with hashtags, you have two options:
Ask users to post videos on social media.
Create a separate, online form where users can upload videos directly.
Both options can work – but they have their own advantages and disadvantages.
Let's start with a classic Internet approach: expectations versus reality.
Expectations: running a video contest with hashtags
In an ideal world, you could ask users to share videos on Instagram, Twitter, Facebook or TikTok and tag each post with your hashtag. Then you could collect all the videos automatically and pick a winner. Oh, and if social media likes could count as votes, that would be even better.
You'd get lots of engagement because it's so easy for people to share videos on social networks. You wouldn't have to worry about collecting contact details from each participant. They'd take care of sharing the video and promoting the campaign. And you could pick a winner quickly and easily.
Sounds perfect, right?
Reality: running a video contest with hashtags
Unfortunately, social networks have made it more and more difficult to collect social media content automatically.
Here are the latest rules for the biggest social networks:
Facebook doesn't offer any tools for running a video contest with hashtags.
Instagram stopped allowing you to collect content via hashtags in December 2018, although you can still use mentions.
Twitter doesn't allow you to display or embed videos on external websites.
What's more, you can only collect videos from public profiles on social media. So when you run a video contest with hashtags, you could miss lots of potential entries from private profiles.
Now for the good news… There is another way to run a video contest with hashtags. And you can still get the brand exposure and social media engagement that you need.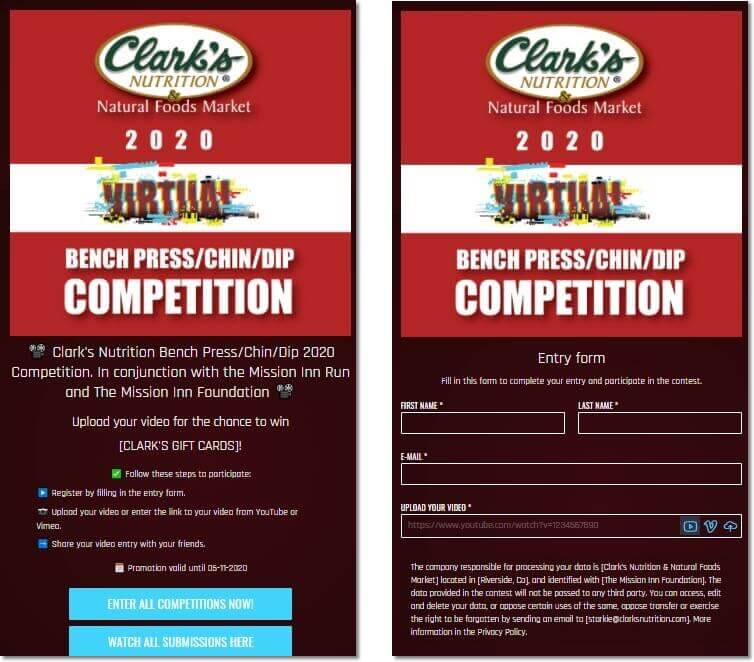 How to run a video contest with hashtags: the easy way
The Easypromos Video Contest app has all the features you need to run a fast, effective contest.
The basic app has four built-in stages:
A welcome page that explains the rules of the contest and how to join in.
A registration form where users share their contact details, agree to the terms and conditions, and upload their videos.
A thank you page which confirms that the videos have been received correctly.
A gallery where people can watch all the videos and share or vote for their favorites.
This might seem a bit more complex than running a video contest with hashtags on social media. But it has several major advantages:
It's easy for participants because there's only one way to participate. This means you'll get fewer questions and issues raised by users.
Users don't have to use social media to join the contest. So if they want to keep their profile private (or don't use social media at all!) they're still included.
You can add extra features for brand safety, such as video moderation and anti-fraud tools.
How to get more participants in your video contest with hashtags
There's just one question left. If your video contest isn't held on social networks… how do you get more participants from social media?
According to research by Easypromos, the biggest obstacle for users is creating their video. Once someone has made the effort to film a video, they'll be motivated to share it with their friends to collect more votes. They'll post the contest on their social networks and send it via email, direct message and chat.
So if you want your contest to go viral, then the best strategy is to ask people to vote for their favorite videos. You can even set a minimum number of votes that users have to achieve. Then your participants will do all the work of publicizing the contest for you!
Ready to create your own video contest with hashtags? Try our Video Contest app DEMO! And if you have any questions, our support team is ready to help via live chat.
Publication date: 2021-01-21