Posted in: Digital marketing,Ideas for your websiteLast update: 04/08/22
For everyone's safety, the traditional International Women's Day marches won't be happening this year. But that doesn't mean it shouldn't be celebrated. And it doesn't mean that your company can't make the most of the day. It's a great occasion to get workmates to interact with one another, now that everyone is sitting at their home office. We give you some ideas on how to celebrate International Women's Day with your coworkers.

Each year, IWD launches a theme for the day that celebrates the social, economic, cultural, and political achievements of women, on March 8th. This year the campaign theme is #BreakTheBias; "Celebrate women's achievement. Raise awareness against bias. Take action for equality.". This is a good starting point to plan how to celebrate Women's Day with your co-workers.
Why celebrate Women's Day with your employees
Many companies constantly look for ways to create connections between their employees now that most of them are working from home. A way to do it is to use the popular occasions on the calendar to create some buzz and fun. A Women's Day celebration is a great way to engage colleagues and make them interact and feel, yet again, part of the team.
Another reason to celebrate Women's Day internally is to highlight the brand values and therefore create a strong connection with audiences. This is what is called brand purpose. Nowadays, users prefer two-way communication and look to support brands that have the same values as they do. So if you want to really engage and gain visibility, show what your brand really cares about.
Engage employees by testing their knowledge about Women's Day
We've all heard of International Women's Day since it is one of the most relevant 'International days' celebrated during the year. But how much do your colleagues know about the history of the day? To find out, you can invite them to participate in a quiz.
One of our suggestions would be to organize an educational quiz. Moreover, you can add feedback to the answers, so the participants can learn more about the history of the event. This is an easy action to get the co-workers to participate in since it's simply answering some questions.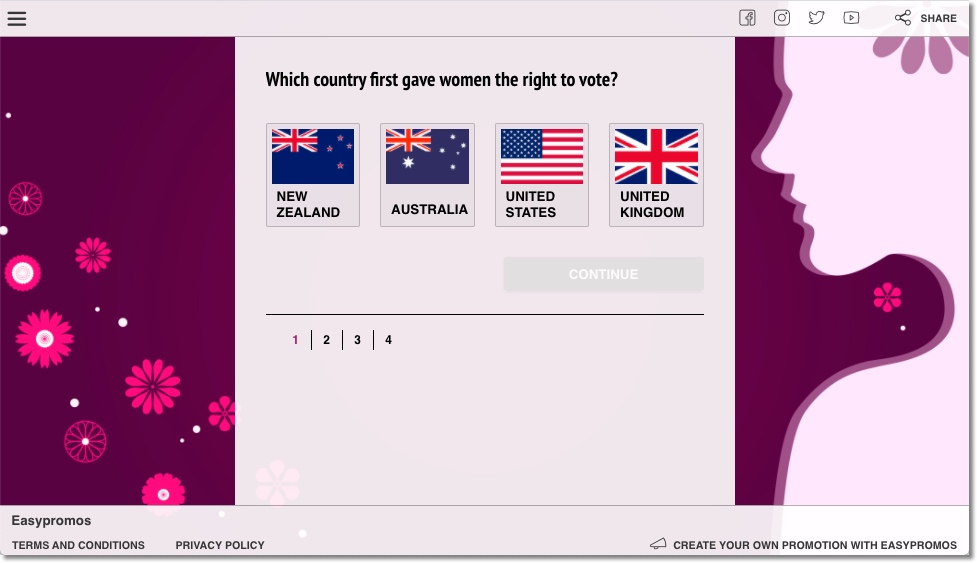 You can use our ready-made Women's Day quiz template if you want to create a knowledge quiz. It will only take you a couple of minutes to customize it. It's that easy!
However, if your ultimate goal is to really engage the employees and generate a sense of rivalry, go for a Timed Quiz. You can opt for a regular 'Pop Quiz' where users go through all the questions but on time. Another option is to make it a 'Repeat Round Quiz' where participants don't get off the hook before they answer everything correctly. Or the last option is a 'Sudden Death Quiz' which means that if you get a question wrong, you're not allowed to answer the remaining questions. In this type of quiz, you can let your colleagues try a number of times during the campaign and create a lot of competition by publishing the ranking. This is great fun – we've tested it! 
Another fun idea for celebrating Women's Day with your co-workers is a Personality Test to see how much of an equity fighter the employees are. In this test, you can create the personalities yourself, and you could even make them match your company. When the employees have their test results, they can share them with each other. This can be a fun activity that can help create a dialog about why this day is so important.
Make employees women's rights advocates
Most people don't mind showing where they work on social media. Especially if they like their job and feel part of a community in the workplace. A Mention + Hashtag contest can be another way of celebrating International Women's Day with your team members. This can be a great way to encourage them to interact with each other, both on the company chat and on social media. While creating your own company contest, your company also supports the IWD campaign and shows the world that you care. You can even download Selfie Cards from IWD for employees to use in their photos.
If you think your co-workers won't feel like posting their photo online, or maybe they're not that big on social media, organize a photo contest with a registration form. This way, they just have to go to the link you post and upload their photo. You can activate voting to create some incentive for the employees and encourage participation. And with their permission, you can share some of the entries on the company's social media channels to be part of the international campaign. Remember to use hashtags when you share.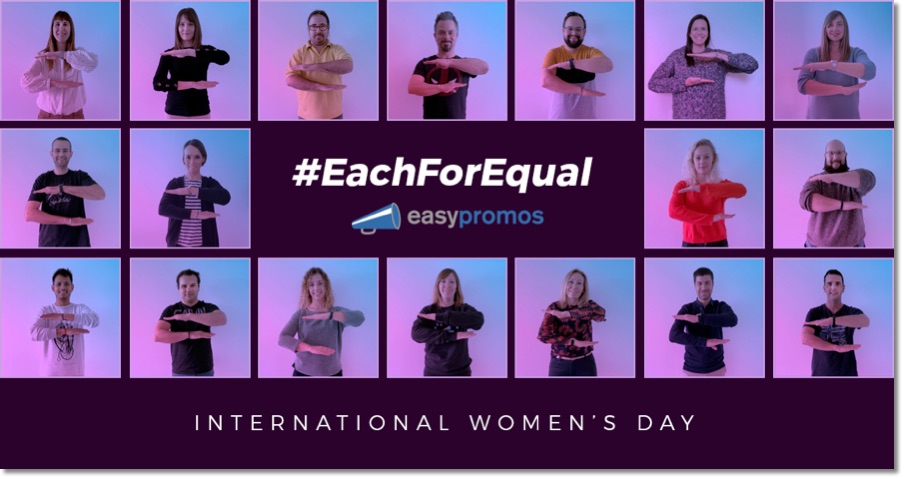 You can take the photo competition even further and let your colleagues add a frame and stickers to their photo while they upload it to the competition site. Like a virtual photo booth. Add your company's logo and corporate branding and some stickers that go with the occasion. Once again, we recommend voting and adding a prize for the most creative employee.
Let your co-workers express themselves about women's rights
You can also use the occasion of International Women's Day to let your co-workers express themselves. You can ask them to share their opinion on the current state of equity in society or in the company. Or what they do to challenge inequity. You can do this with a Writing Contest.
If your colleagues are bold, go for a Video Contest! Choose the question/theme they should talk about or show in their videos and let them register their content on the contest site. Are your colleagues TikTok users? Then you can ask them to upload to TikTok first, using the official campaign hashtags and tagging your company, and then ask them to upload it to the contest site. This will create visibility for both the campaign and your company. Here you can also activate voting. This way they will compete to create the best video.
As you can see, there are many ways to celebrate International Women's Day with your co-workers. With Easypromos, you can pick and choose and customize your campaign to match your corporate image. And if you have any questions, we're happy to help in the live chat.
Publication date: 2021-02-08