Posted in: Digital marketing,Ideas for your websiteLast update: 03/08/22
Having an e-commerce website has never been as crucial as it is right now – with millions of people becoming frequent online shoppers over the last year. We have also seen a great number of brick-and-mortar stores taking on the new brick-and-click approach, while others digitalized their customer relationships by becoming active on social media channels to continue offering their products and services. This is how online businesses have now more competitors than ever before, while online shoppers have better possibilities of finding good price deals. If you own an online store that you want to promote, you should take a look at the following tips and advice and implement them into your business strategy.

Online shopping has reached levels never seen before – due to the pandemic, mobility restrictions, and lockdowns, consumers are spending online more than ever. Only in the United States, in 2020, customers spent $861.12 billion with retailers online – it's a 44% increase from the previous year. While sectors like tourism saw tremendous profit losses, others – for example, fashion, food and beverage, and household appliances – increased and in some cases doubled their turnover.
75% of online users shop online at least once a month. The e-commerce trend has affected shoppers from different age groups all over the world – Baby Boomers too.
But the growing audience is not enough to drive more visitors and paying customers to your online shop. You need a consistent strategy and knowledge on how to generate traffic and improve conversion rates. Here are some tips that can help you optimize your e-commerce approach and boost online sales.
Monitor your competitors, their strategy, and products
Do you know your competitors? What about their e-commerce platform, strong and weak aspects? It's easy to track the competing stores in your neighborhood, but when it comes to Internet retailers the task becomes more tricky.
Luckily, there are product information monitoring tools that allow you to monitor the price and current stock of your competitors. Find out if other online retailers sell products that you haven't introduced to your catalog and learn how other e-commerce companies change their product strategy based on availability and demand. You can even improve the product pages once you analyze how your competitors do it. The task is to stand out from the crowd and provide the most relevant information!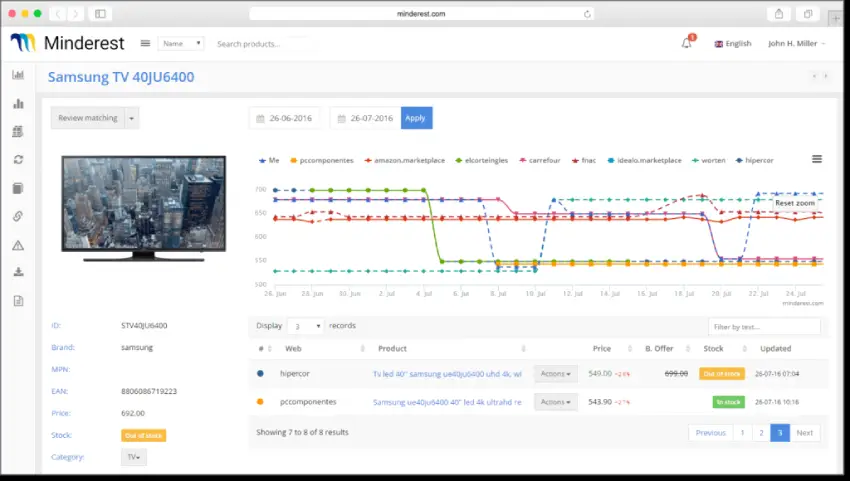 Compare your pricing strategy with your competitors' and make it more attractive
According to an IAB 2020 e-commerce study, pricing strategy is one of the aspects that influences shopping trends. The research reports that 91% of customers make their purchase decisions based on price. Although there are also other factors like convenience (98%) and offers, discounts, and sales (95%).
As you can see, the ability to discover and compare the prices of your e-commerce products with the main competitor websites is essential to establish a pricing strategy that drives sales. You can then compete with other online stores and anticipate the key moments to win sales. 
Convert e-commerce visitors into newsletter subscribers
How many website visitors end up leaving their contact information? Often there is no easy way to identify and communicate with anonymous website visitors until they place the first order. But there are captivating techniques to collect contact details long before your visitors become customers. So what's the best way to do it?
Offer your e-commerce visitors a reward or prize for interacting with your brand. Discounts in exchange for contact information are the most common and effective dynamic, as apart from collecting new leads you also increase the possibility of converting users into paying customers. But apart from coupons and vouchers, you can also incorporate a banner or pop-up with a playable promotion. Gamification generates high levels of quality engagement and attracts new users. Convert more visitors into qualified leads by adding an instant prize or enter all registered users into a random prize draw.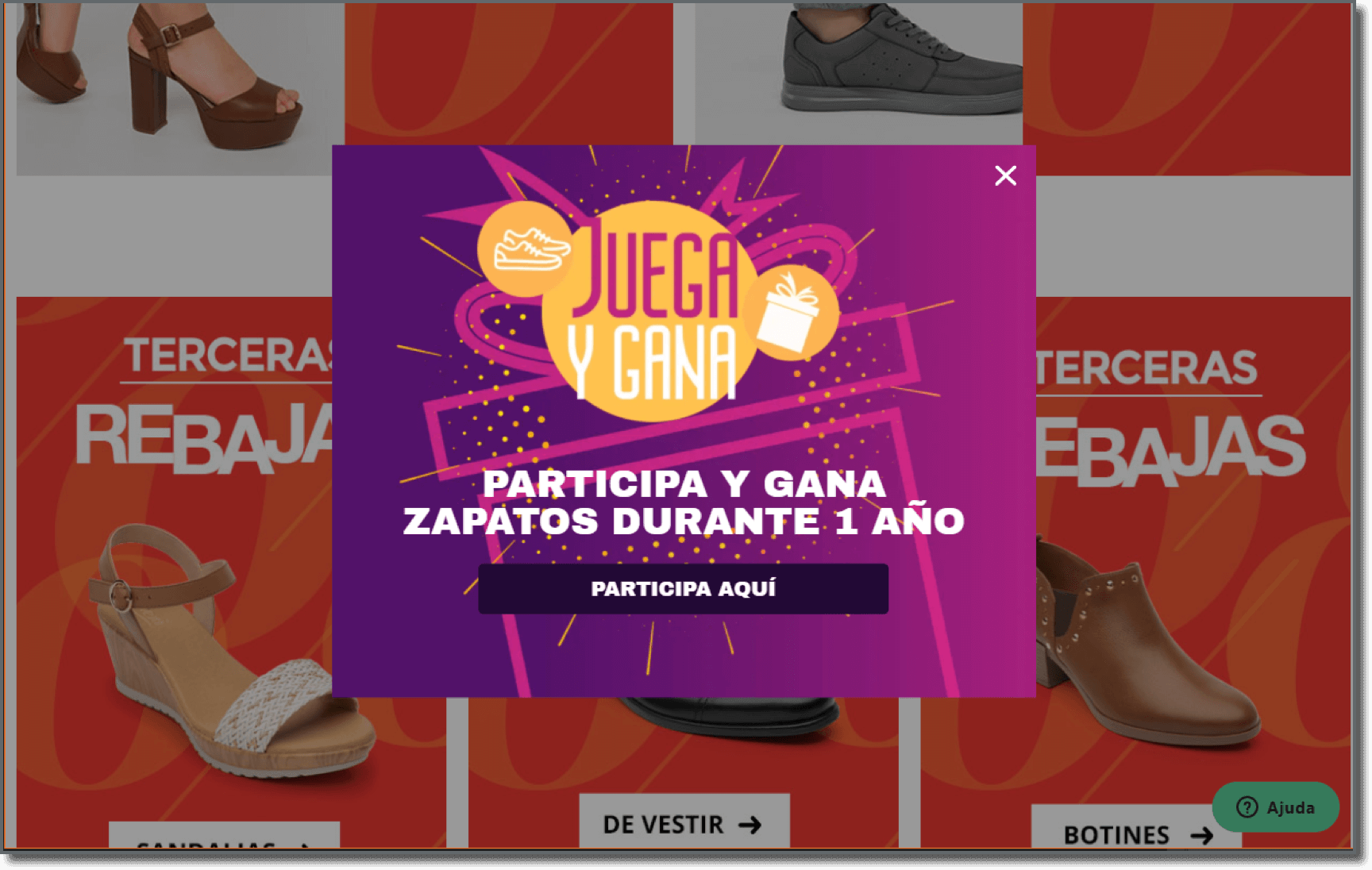 Take a look at the above image to see how Flexi – a Mexican shoe retailer – captured visitors' attention with a gamified campaign. By clicking on the pop-up, users were redirected to a microsite with a branded Puzzle game. Incorporating this gamified promotion meant that Flexi managed to collect contact details even of the users that didn't end up going through with their purchase.
How many sales opportunities do you lose by not trying to convert the anonymous visitors into leads? By implementing promotions and games with incentives you can improve your conversion rates. Don't miss out!
Analyze the visits to your website and improve your online shop
Do you know which products attract the most customers to your website? Do you know which landing page is the most visited or if users hesitate on a page that is important for conversion? Where do they spend most of their time and where do they click? Tools like Google Analytics and Hotjar will help you understand how users interact with your e-commerce site and which aspects of your website should be reviewed and improved.
Focus on the most relevant products or pages for your conversions and dedicate one day per week or month to analyze the data that you obtain – draw conclusions and apply changes. Your website visitors might be clicking on a static element that has no links, maybe there are descriptions that generate confusion, or there might be an area or button that attracts a lot of attention and you're not aware of it. It's time to fix it!
Reward e-commerce customers with promotions that encourage repeat purchases
It's much easier – and cheaper – to maintain customer engagement rather than attract the attention of a new user. This is why one of the most important aspects of your strategy should be encouraging repeat purchases.
There are key aspects to establishing long-term relationships of trust with your customers; providing a high-quality pre and after-sales service and incentivizing clients for their purchases are just some of the aspects you must have in mind. Reinforcing customer loyalty can come from:
Sending a satisfaction survey once the customer has received the order
Personalized newsletter with news and offers
Personalized discounts and vouchers for special occasions like birthdays
Client-exclusive games and promotions with random prize draws
Remember, your e-commerce should be as perfect as possible – in terms of pricing, products, and customer experience. Make shopping easy, fun, and satisfying and your sales will surely soar!
Do you have more questions about promotions for e-commerce? Don't hesitate to Live Chat with us! 
Publication date: 2021-02-25