Posted in: Digital marketingLast update: 14/04/22
Looking to create lifelong customers? It's time to introduce digital promotions into your strategy. In this blog post we take a look at how to boost brand engagement, customer loyalty and sales with a good relationship marketing strategy.

Relationship marketing is an important aspect for all brands looking to create lifelong customers. And like any other relationship, customer relationships need time and effort to grow. Therefore, relationship marketing is a long-term strategy, focused on customer retention, product benefits rather than features and high emphasis on customer satisfaction. Luckily for all you fellow marketers, you can create and maintain customer relationships with digital promotions like giveaways, contests and games. Let us show you how to stay ahead of your competitors and become a relationship marketing expert.
Learn more about your customers and offer tailored promotions deals
Buying birthday presents is a difficult task but it's surely much easier to buy for someone we know. The fact that they prefer wine over whiskey or red over yellow is a great indicator of what gifts have less chances of being turned to the shop the day after the birthday party. A very similar situation applies to sending deals and offers to your customers.
So here's a tip: learn more about your customers!
A great way to collect information about your clients is by launching online surveys and quizzes. Apart from analyzing the client's previous purchases, ask them directly to share their likes and preferences. The following example shows how a beauty brand can collect more insights about their target audience. Customers answered a series of questions about their beauty routine, favorite products and aspects they look out for when purchasing.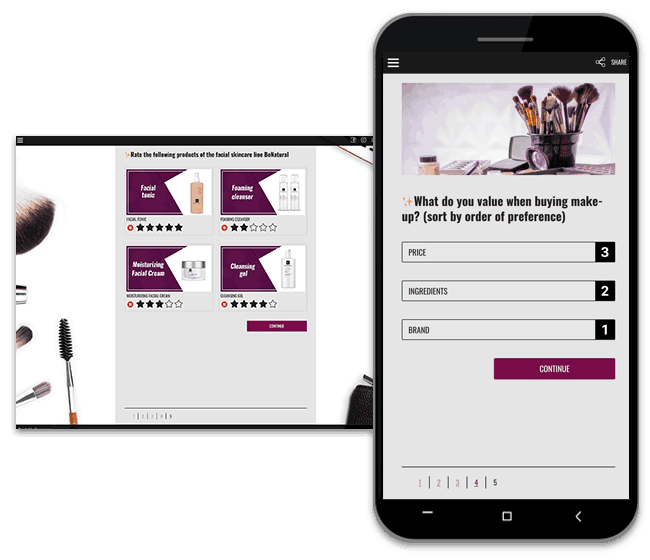 After completing such a product survey, give out discount codes or vouchers for the next time the participants want to buy something from your brand. You will further boost customer loyalty and strengthen the relationship if the coupon is valid for longer than just a few days. Additionally, you can raffle a product bundle among all registered respondents. 
Work on relationship marketing by giving rewards for repeat purchases
Would you like to increase the average customer lifetime value? If so, it's time to encourage repeat purchases. More often than not customers are on the lookout for the best deals; they'll often buy from the company that offers the best price at the moment when they need the product.
Customer loyalty schemes are often a great tactic to ensure your customers choose you over and over again. Who hasn't owned a loyalty card from their favorite supermarket or cosmetics brand? However, with the amount of businesses taking on these initiatives – recently, even big companies like Mango (Mango Likes) take steps to reinforce customer relationships – you must opt for something unique, something that will make you stand out from the crowd. Have you ever thought about inviting users to redeem codes for a chance to obtain financial benefits?
Redeem Codes promotions should be one of your go-to tools and strategies when it comes to relationship marketing.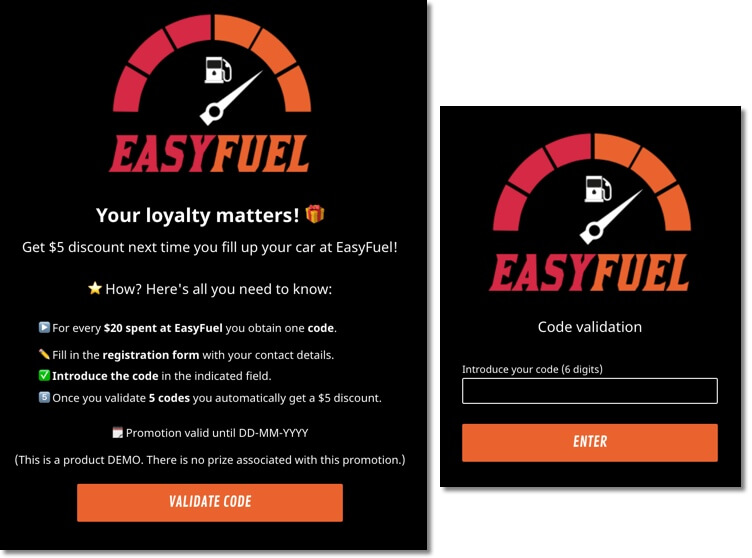 Here's an example of a promotion that can be launched by any brand; users receive a code for every $20 spent in the organizing store. Once they accumulate five codes, they receive a $5 voucher for their next purchase. We love this example as it clearly shows how brands can work on customer relationships. Brands that give something in return naturally attract more users.
Touch base with gamified campaigns – and boost customer trust like never before
Relationship marketing is all about customers and connections. This is why it's so important to send birthday messages or celebrate milestones, like the anniversary of your client's first purchase. Of course, the best case scenario is offering some discounts, free products or vouchers.
Another way to reconnect with your audience and remind them that you're still there is by launching client-exclusive campaigns. Seeing the results from our clients we can surely say that gamification is a great way to touch base with your audience and improve customer relationships. 
According to the recent study conducted by Facebook, the majority of mobile phone users that play mobile games don't consider themselves gamers, however, they still engage with games to relieve stress or pass time. So what better way to reconnect with your clients?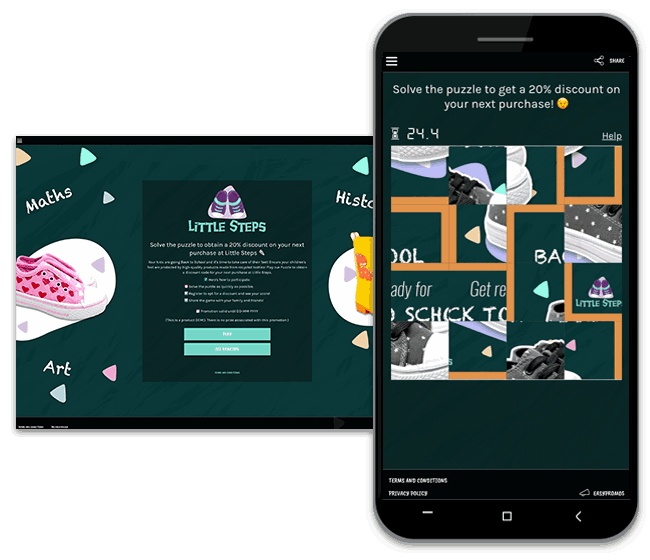 Imagine you own a shoe shop that's preparing a Back to School campaign. A great idea to reengage your customers would be to email them a direct link to your branded mini-game, like in the example above. By launching client-exclusive promotions you show your customers that the relationship matters to you – this will then boost customer loyalty and trust, and hopefully increase your sales. In the Puzzle game from the above example, users receive a 20% discount on their next purchase once they completed the game.
Do you have more questions about relationship marketing? Don't hesitate to contact us! 
Publication date: 2021-04-29