Posted in: Applications for Instagram,Digital marketingLast update: 21/05/21
At Easypromos we constantly watch social media giveaways and there's one aspect that we particularly love: the extent to which social media managers go to when it comes to experimenting, trying new tools and generating engagement. Instagram TV rocked the social media world in 2020 and some content creators tried their hand at organizing giveaways on this new content format. However, until not long ago, there were no tools to automatically import all comments from IGTV. But it's finally possible to organize IGTV giveaways and with Easypromos, automatically! Do you want to launch a giveaway on your Instagram TV video? You're in the right place if you're looking to discover some tips, ideas and most importantly the tool you need to finalize your IGTV giveaway in a transparent way.

Instagram is one of the most popular social media channels, with the number of active users constantly growing. To attract more users, Instagram regularly launches updates, as well as new functionalities, one of them being Instagram TV. The platform allows users to upload videos of up to 10 minutes or up to 60 minutes for popular and verified accounts. Many brands and users also organize live videos that they then save as IGTV posts; in this case, the videos can be of up to four hours! Additionally, Instagram TV videos are a great way of connecting with your most loyal followers; engage with them in order to generate a more lasting connection between you.
IGTV has become one of the most usual ways of consuming video content on Instagram. An activity that often begins with watching a 15-second teaser on Stories has only been available for a little over a year. Also, until May 2020, live Instagram videos were ephemeral and could not be saved. But with the arrival of lockdowns, Instagram made it possible to post-save live videos so that more users could engage with the content. It also helped boost IGTV.
IGTV giveaways: organize comment giveaways on your Instagram TV
The introduction of Instagram TV has allowed brands to generate closer relationships with their followers and customers. It also made it possible for content creators to better identify their target audience, as the users that interact with their IGTV videos bring more than those who skip through Instagram Stories. Live videos are an example of close relationships with your audience, however, their short life span makes convoking with other viewers more difficult. This is why many Instagrammers and brands choose to save their live videos on IGTV. That way the rest of their community can view and interact with the videos afterward.
Until not long ago, the comments from IGTV could not be pulled by external tools like Easypromos. However, Instagram has now made it possible to retrieve all comments left on IGTV videos. It means you can now organize automatic and transparent giveaways for all users that comment on your video!
Things to remember when organizing an IGTV giveaway
As you probably already know, you can upload your videos directly to IGTV and then disseminate them through Stories and promoted posts. But there are also days when you might want to record a live video and then save it on your Instagram TV. Keep in mind that Instagram only allows us to access the comments left on IGTV once the video has been published as a post, not the ones left during the live. Once the live videos are published on your IGTV, you don't get to see any comments left by the viewers during the live, they're simply gone. So if you're looking to organize an IGTV giveaway here are some tips:
Record the giveaway video in advance
Upload it to IGTV
Share your video on Insta Stories, publish it as a post on your feed and allocate some of your budget to sponsored posts.
Take for example this video of a healthy recipe. If the content creator wishes to organize a giveaway for those watching the video she must indicate that users must comment on the video once it's published on IGTV.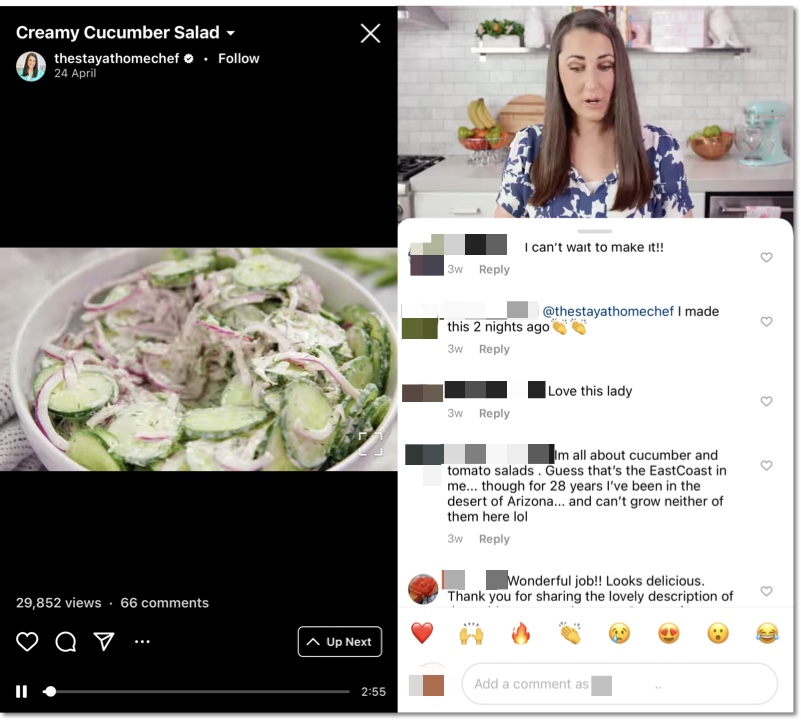 What you can't do with IGTV:
Do a giveaway during your live video
Import comments left during your live video
Import comments that mention your brand during you live videos
What you can do with IGTV:
Organize a giveaway for those that comment on your videos once it's published on IGTV
Filter the users by the minimum number of mentioned friends
Choose multiple winners and alternate winners
We recommend organizing giveaways on previously recorded and edited videos for the following reasons:
You won't lose any previous comments (left during the live video).
You can better explain the participation requirements, present the product, prize and terms and conditions.
The participants can clearly see or hear the participation dates so they know if they can still enter the draw.
Can I organize a giveaway on Instagram Live?
Instagram terms and conditions don't prohibit content creators from running giveaways on live videos, however, there are no tools that can monitor and automatically collect all the comments left during your live broadcast. In addition, tools that scrape the content from Instagram users are against Instagram terms and conditions of use.
In the following example, a popular brand organized a giveaway for their live viewers. With the help of a moderator, the brand monitored all the comments, manually copying them into some type of document and then doing a random draw among all the comments.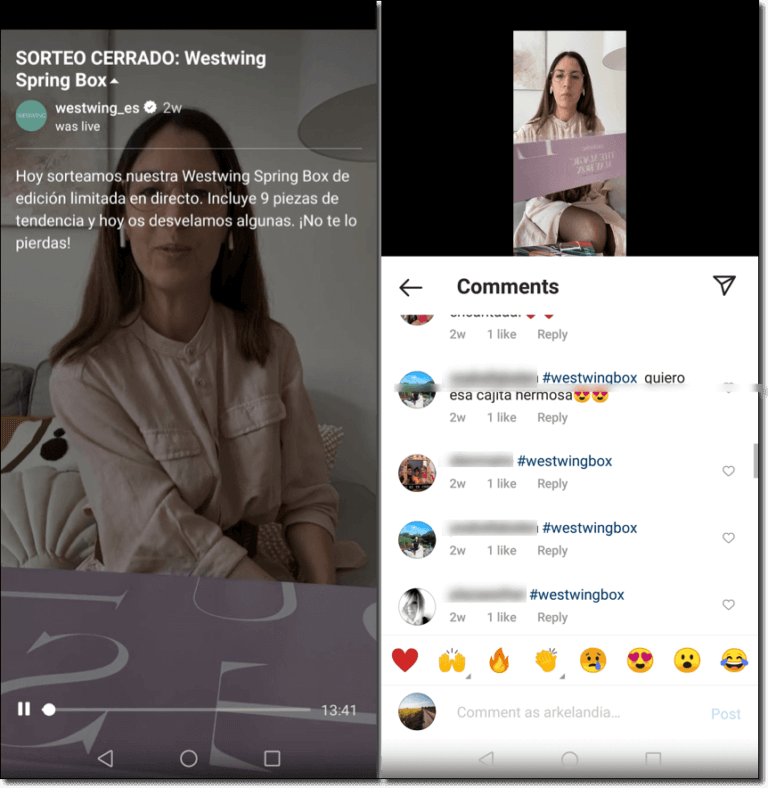 If you launch a giveaway on Instagram Live, you have two options:
Get one of your colleagues to help you monitor all the comments left during the live, and manually add them into a list. You can then use our List Giveaway to select a random winner and alternates.
If you realize that all the comments from your Live video have disappeared once you published it, just be honest. Inform your followers of what has happened, apologize and once again invite them to comment on the IGTV post so that you can finalize the giveaway with an automatic tool.
How to select a winner of your IGTV giveaway?
Importing comments from your IGTV video with Easypromos is pretty straightforward. Access your Easypromos account and select the Instagram Giveaway app. As usual, it will ask you to connect your Facebook account to be able to access the Facebook-Instagram API in order to pull all the comments from your post. Once you authenticate the application, you will see a list of your publications with comments and among them, you will now see your videos published on IGTV.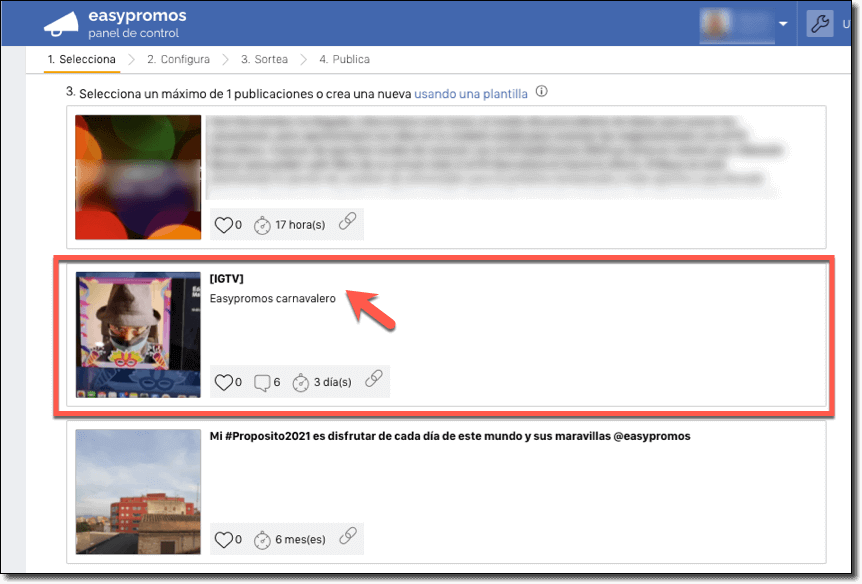 All you have to do is select your IGTV video or videos and continue with the process of importing all the comments as if it was a traditional Instagram giveaway. The Instagram Giveaway app allows you to:
Exclude users from your blacklist
Exclude previous winners
Indicate a minimum number of characters that each comment must have in order to participate
Indicate a minimum number of mentioned users
Exclude users who participated outside of participation dates
Why organize IGTV giveaways?
Most of all, IGTV giveaways allow you to identify and reward the most loyal followers and especially those that interact with your content. You can raffle free entries to events, courses and webinars, give away prizes from your sponsors or even reward users with products related to your industry.
By using the Easypromos Instagram Giveaway application you ensure that your giveaways are carried out with maximum transparency.
If you have any doubts or questions about running giveaways on IGTV, contact us via chat – we're always happy to help!
Publication date: 2021-05-21