Posted in: Applications,Digital marketingLast update: 21/04/22
Would you like to run client-exclusive promotions that boost customer loyalty and trust? Learn how to organize giveaways for your paying customers that upload pictures of their receipts or invoices from your store or e-commerce.

"Retaining existing customers is cheaper than acquiring new ones" – we're all familiar with this statement and at Easypromos we definitely share the same view. So if retaining customers and boosting client loyalty is something you want to work on, then it might be time to launch customer-exclusive promotions, giveaways, and contests.
Discounts, coupon codes, loyalty programs, and post-purchase rewards are popular with customers across all industries. Who didn't have at least a few loyalty cards filling up their wallets a few years back? These plastic cards have now been replaced by mobile apps and QR codes – and we continue to accumulate points for purchases at our favorite shops.
But now there is another way to thank your customers for their purchases and loyalty. With our new Validate Receipts app you can not only foster customer loyalty but also encourage repeat purchases and attract new customers – without having to spend extra money on lead acquisition.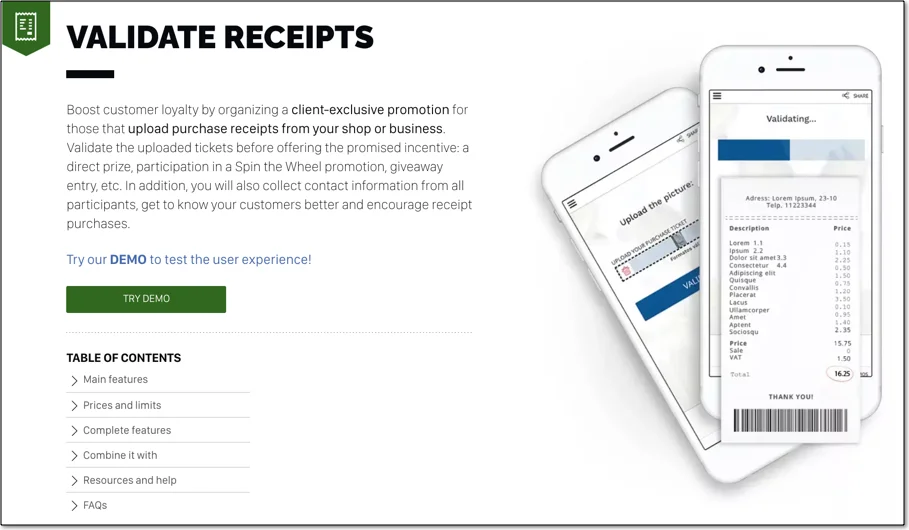 The new Easypromos application allows brands to organize customer-exclusive promotions and giveaways for clients only. To participate, users register in the promotion and upload their purchase receipts to prove that they're one of the paying customers. If the ticket is valid, the user enters a prize draw, receives a direct prize, or gets to spin a prize wheel. Ready to find out more about the Validate Receipts app, its recommended use, and advantages?
Why launch promotions with the Validate Receipts app
Customer loyalty: Offering special perks to your customers is one way to reinforce their loyalty and trust. Give discounts, prizes, and coupons to those that buy your products or use your services. By giving back to your clients you increase the likelihood of repeat purchases and create potential brand ambassadors.
Lead generation: Each participant must fill out a registration form as they upload their receipt. By entering your promotion they become a new member of your database.
More sales: Offer attractive incentives to drive more people to your point of sale or to your online shop. You can also specify the minimum spend amount to indicate how much customers must spend in order to qualify for the prize or enter your giveaway. This will encourage some customers to spend a little more so that they get a chance to win a prize or obtain the reward involved in your promotion.
Brand recognition, visibility, and awareness: Whenever you launch a promotion you work on brand awareness and visibility. Make sure you inform your in-store customers, website visitors, newsletter subscribers, and social media followers about the special campaign that you're running. Chances are they will share it with friends and family, spreading the word about your brand. You can also invest in social media ads for further visibility.
How does the Validate Receipts application work
There are two ways to validate purchase tickets with the Validate Receipts app by Easypromos:
Manual validation: Users register and upload pictures of their tickets from a desktop or mobile device. Once you choose a random winner of your giveaway, manually validate if the ticket uploaded by the winner is valid. This is why choosing alternate winners is important. (For Premium plans).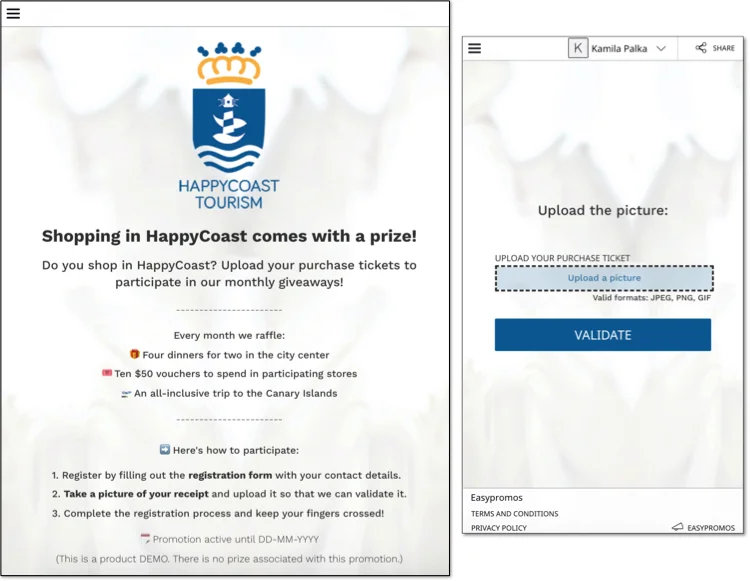 Don't wait any longer – try our Receipt Validation DEMO to test the real user experience.
Automatic validation with OCR (Optical Character Recognition): Whenever a user uploads their receipt, the application automatically scans and checks the ticket – you can choose what information must be included on the receipt, for example, the name of your store, specific dates, products, or minimum spend amount. The application will automatically accept all valid tickets and reject the ones that don't comply with the requirements. (For White Label and Corporate plans). Find our more about automatic receipt validation with OCR.
Different ways to use the Validate Receipts app
Depending on the version you're using, there are different dynamics that you can launch with the Validate Receipts application:
Random giveaway for all participants – users share pictures of their purchase receipts for a chance to win one of the prizes you raffle. The prize draw will take place after the participation period ends. *For Premium and White Label versions.
Weekly giveaways – is your promotion running over a few weeks? Do you have more than one incentive to give away? Run weekly – or even daily – giveaways for participants that entered your promotion in the given period of time. *For Premium and White Label versions.
Direct prize or participation in a Spin the Wheel promotion

For Premium promotions – this dynamic can be organized only for in-store promotions. You can reward customers with direct prizes or participation in a Spin the Wheel promotion, however, you will have to monitor the participation. Once a customer spends the required amount in store, inform them about the campaign and invite them to participate in your promotion via a tablet at the point of sale.
For White Label promotions – this dynamic can fully take place online. Allow users to spin a prize wheel or give direct prizes to those that share valid purchase tickets. There's no need for manual intervention or validation, as the OCR system will take care of everything.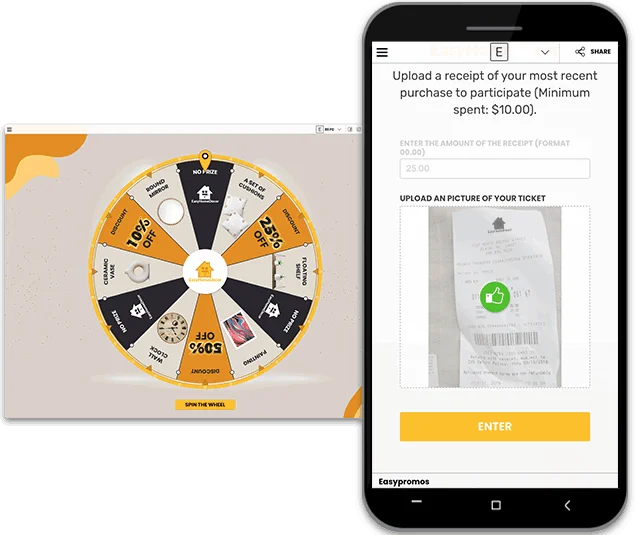 Interested in running a Spin the Wheel promotion with OCR? Give our DEMO a try – and discover the real user experience.
Why use the Validate Receipts application by Easypromos?
Creating your own Validate Receipts promotion is simple and straightforward – just like running any other campaigns with Easypromos. You don't need any programming experience to launch a Validate Receipts campaign and in case of questions, doubts, or struggles, our experienced Customer Support Team will happily guide you through the setup. The application can be fully personalized so that your branding colors and logos are visible throughout the participation process.
With the Easypromos application, you can display your privacy policy and terms and conditions in an easy and transparent way. The registration form can be fully configured so that you can obtain all the user information that you need for your database. Download your new leads at any moment and send them directly to your CRM.
Are you ready to launch your own promotion? Before you start, you can take a look at more Validate Receipts DEMOs and templates for extra inspiration.

Publication date: 2021-08-26