Posted in: Digital marketingLast update: 03/08/22
Do you remember the coupon booklets we all held so dearly years ago? The thrill we all felt whenever we put our hands on a sheet full of discount coupons to our favorite shops and restaurants was sometimes equivalent to the excitement of opening new presents and toys as kids. However, all aspects of our lives have changed with the development of technology – including coupon booklets. And although we moved away from the printed vouchers, they're still very much alive, in a digital form.

Shopping malls, restaurants – among other businesses – all over the world use discounts to acquire and retain customers, encourage repeat purchases, boost sales, and foster customer loyalty. More often than not, brands use multiple discounts at the same time to generate extra profit. However, this sometimes generates a new barrier to overcome. Companies look for ways to give visibility to their special deals and offers, as some email communications end up in spam folders, while social media posts might get lost in between all the noise. Have you ever thought about launching a coupon directory website for your brand? Let us tell you why it should be your new go-to idea!
A coupon directory website is nothing different than a digital version of a coupon booklet. You can launch a site with your corporate image, branding colors, and logo that will collect all the coupons and deals that you're currently offering to your customers. Don't you think it'd be easier to publicize one coupon directory rather than numerous deals every week or month? Let's start by listing a few different uses for a coupon directory app:
Shopping malls: there are normally dozens of shops in popular commercial centers and they all usually have at least one active coupon at a time. Create a coupon directory for a shopping center by listing all the active discounts. Another way would be to embed your online coupon directory on your website or mobile app and make it accessible only to registered – or most loyal – users.
Restaurants: different days, different discounts? Fast food restaurants often offer special deals on different days. Publicize them all in one place and allow users to sign up for the offers that they're interested in.
Grocery stores: popular supermarkets all over the world attract customers with discounts and special deals. Deals like "buy one, get one free" are especially popular with families – give away coupons to those that register for them.
These are just a few of the most popular types of businesses that often use coupon directory websites. What do you need to create your own? Let's take a look.
Create a coupon directory app with Easypromos
Thanks to the Multi-Stage applications by Easypromos you can now launch an online coupon directory app in a short amount of time. All you need is a creative idea – and coupons to share with your audience! Take a look at the following example of a customized coupon directory that could be launched by any brand, association, or shopping mall.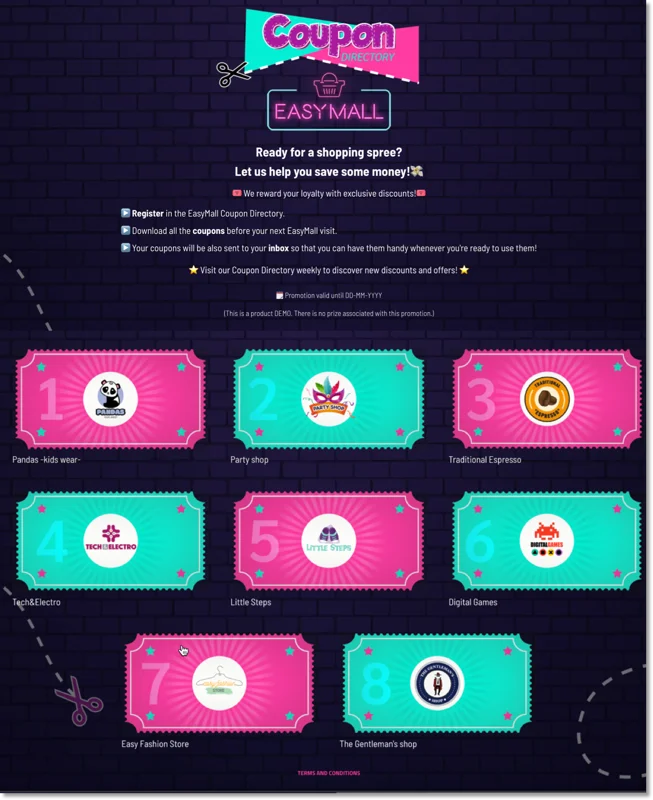 Each coupon that you see on the above image is a special offer to a different shop located at EasyMall. Note, how all of them follow the same design – this is because the Easypromos coupon directory app can be easily customized. In this specific example, users click on the coupon they're interested in. They will be then asked to register in order to download their voucher. Why's that? So that apart from boosting sales you also get to expand your mailing list!

Once the user registers, they automatically see an animated gif that their coupon is being downloaded. It can be then displayed as an image, QR, or alphanumeric code – or all at the same time! Additionally, you can use the Easypromos email platform to send the coupons directly to the participant's inbox.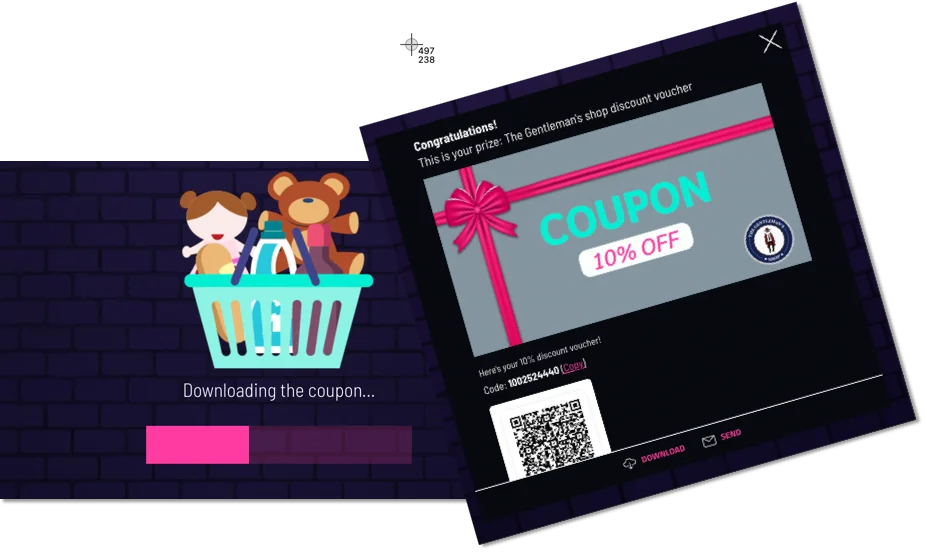 Interested in finding out more about the Easypromos Coupon Directory app? Try our DEMO and contact us via chat to launch your own coupon directory website.
Online coupon directory software: extra features that matter
We hope that so far you have easily understood the features and benefits of the Easypromos Coupon Directory app. We would now like to point out all the features that you can make use of when launching your own coupon directory app.
Single registration: as customers access your coupon directory website for the very first time, the application will ask them to register their contact details; otherwise they won't be able to benefit from your offers. However, the participants won't be asked to repeat the registration process next time they want to download another coupon.
Coupon editor: the Easypromos platform comes with an integrated coupon editor. You can fully customize your vouchers; edit the text, colors, and images visible on your coupon so that it fully represents your corporate image.
Email platform: we've already mentioned the email platform. But did you know that you can automate email sending to participants? Each user can receive a personalized communication with their coupon. You can then send follow-up emails to encourage users to redeem their vouchers if they haven't done so already.
Coupon download on the Thank you page: users participate in your promotion and are then redirected to a Thank You page where you can customize a special message to all participants. Additionally, users can download their coupon directly from the last page and save it on their computers or mobile devices.
Redeem Codes system: make sure users don't misuse your promotion by activating the Easypromos system for redeeming codes and coupons. Codes can be redeemed using desktops or mobile devices and can be tracked so that you have complete information on how users are using your coupons. Find out more about the Easypromos Redeem Codes system.
Track redeemed coupons and statistics: want to know the outcome of your promotion or how successful it was? Or maybe you want to track the number of redeemed coupons? Thanks to the Statistics section you get insight into all the information about your promotion.
Launching an online coupon directory is also a great way to identify the most loyal customers. Wondering how? As you've already seen, users register to download the coupons for special deals and bargains. You can either share generic vouchers that are the same for all the customers, or each coupon can come with a unique coupon code. If that's the case, you can track which codes have been actually used by their holders – and then you can identify those customers that redeemed the most coupons. Apart from knowing who enjoys your bargains most, you also get to know which users might be worth targeting with additional promotions and deals.
Please, note that the Easypromos online coupon directory software is available to White Label and Corporate customers.

Publication date: 2021-09-15