Posted in: Digital marketingLast update: 28/04/22
Do you work for a company with a presence in several countries and want to launch a multinational promotion? Do you want to carry out a contest in a country other than that of your fiscal residence? There are a number of considerations to keep in mind when organizing international promotions. Some of these include: Which legal frame applies? Are some countries more complicated than others? How to draft the terms and conditions?

Do you work for a company with presence in several countries and want to launch a multinational promotion? Do you want to carry out a contest in a country other than that of your fiscal residence? Here are some keys to organizing international promotions, and some considerations to keep in mind. Some of these include: Which legal frame applies? Are some countries more complicated than others? How to draft the terms and conditions?
In this article we will provide an answer to many of these issues with the help of Sonia Travaglini, director of Promosfera; an agency specialized in international promotions with experience in over 90 countries.
Which legal framework applies when organizing an international promotion?
When you organize a promotion in several countries, the terms and conditions must comply with the rules and regulations of each country. Therefore, when planning a contest or giveaway in a different country, the first step is to review the local regulations and make sure that you are not launching an illegal or forbidden promotion.
Laws regulating promotions may vary widely from one country to another. Some countries do not have a comprehensive law that governs promotions, but rather a series of different regulations compiled in different laws. These could be distributed among legal codes covering consumer protection, privacy, fiscality, copyrights, antitrust laws, etc.
If you aim a single international promotion at different markets at the same time, it becomes necessary to evaluate a set of parameters to see if it's possible to make up clusters of countries where the regulations can be unified.
Here's an example of terms and conditions that include several countries.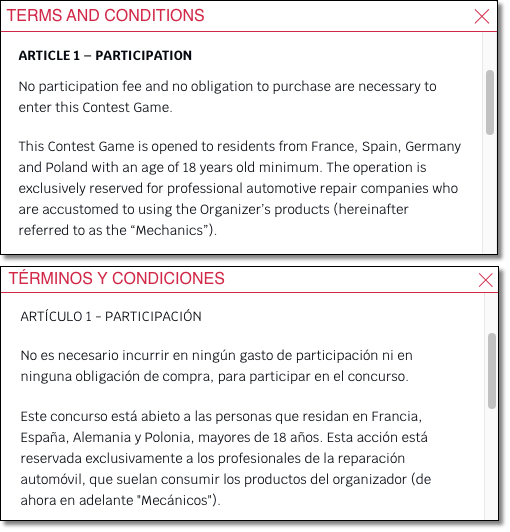 Are some countries more complicated than others?
There are countries with very lax regulations, particularly those that do not tax promotions. However, it is necessary to draft terms and conditions that comply with the rules and regulations regarding promotions for every country.
You should be equally vigilant in every country and some have more restrictive and complicated regulations than others. Some countries impose hefty penalties for noncompliance with their regulations. Some of the countries with the most complicated regulations include Brazil, Mexico, Italy, Portugal, Turkey, and Poland. These are only some examples and there are many more countries with restrictive regulations regarding promotions.
Countries that require special attention
Each country applies different regulations. Many countries require a local branch or legal representative in order to organize a contest or giveaway. This requirement is more common in countries that tax contest organization and prizes, and where this obligation does not fall upon the winners.
Italy and Portugal, but also many other countries, involve rather complicated red tape in addition to the fiscal requirements, which includes notifying the relevant ministries. In some cases, it is even necessary to obtain specific authorization from the authorities before launching the promotion.
Check out our article on how to run contests, sweepstakes and social media giveaways in Italy, or this other one for contests and giveaways in Portugal to learn more about what to keep in mind.
Randomly picked or skill based prizes
There are many aspects to consider when organizing international promotions. First of all, you have to consider the dynamics of the promotion: random or skill based contest, social network contest, online or traditional offline, free or purchase associated contest, etc. Many countries' requirements may be different if you pick winners randomly or if it is a skill based contest.
Some countries forbid random raffle giveaways, such as Belgium and Sweden. In order to organize a promotion that includes these countries, you will need to modify your promotion so that it includes some sort of skill based activity.
Other countries like the USA or Switzerland forbid raffles conditioned to purchases and it is compulsory to include a free entry route to the contest.
Software and communication of the promotion
Sometimes, you will have to adapt online contests to particular conditions. In Italy and Russia, for example, it is mandatory that the servers where the contest data is stored, are located within their borders. In other countries, such as Portugal and the Philippines, the authorities have to inspect and approve the contest's software.
You should also take into account the language used to present and communicate the promotion. Not every country will allow you to communicate the contest in English to avoid having to translate everything. France, for example, requires to communicate the promotion in English. Switzerland requires to translate everything into its three official languages. The same goes for Belgium, where everything has to be presented in French and Flemish. And the list goes on as there are many countries where language is a key issue.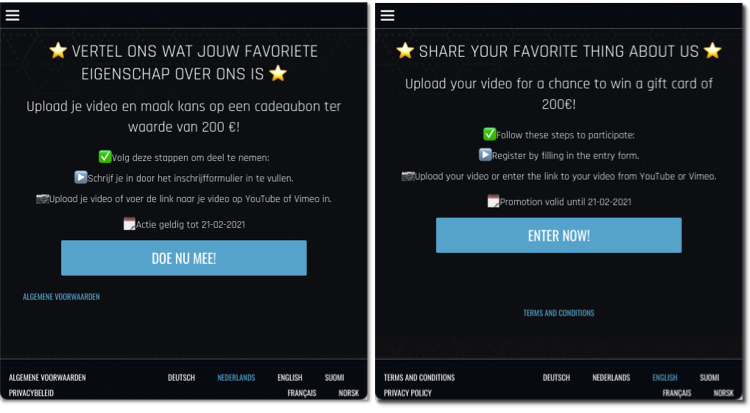 Another very important aspect is communication. Each country has its own requirements regarding form and content. There are countries that require specific information for every communication format. This may include, the minimum age to participate, gratuity, prize value, participation deadline, etc.
Download this ebook to learn more about international promotions and how to create them using Easypromos' tools and options.
Prizes in international promotions
Prizes are another important consideration. Some countries forbid cash or financial product prizes, others alcoholic beverages or weapons. There are countries that set a limit to the value of the prize, as is the case in the Netherlands or Japan.
The most important moment in any promotion is the prize delivery: from the legal standpoint this is the moment to fulfill the "public pledge" and every country sets its own time and modality. It is at the moment of delivering the prize that we will encounter the biggest differences among countries.
Some examples of this:
From 30 days to deliver the prize in Brazil to 180 in Italy
With prizes valued over 600USD, tax authorities must be notified through a specific form.
Hong Kong: the winners list must be published in a newspaper.
Mexico: prizes with a high value must be delivered in the presence of a government official.
In many countries unclaimed prizes (or the monetary value) must be handed over to an NGO or a public institution.
Common examples of international promotions
We are often asked: Can we run a promotion in Spain, France, and Italy? The answer is not a simple yes or no. If Italy is involved, complications arise: sometimes it is possible and other times is not. It depends on the kind of contest, its characteristics, and its organizer. This is why we always recommend looking for an expert's advice.
A more simple example could be that of a contest that includes Spain, Chile, Germany, and the UK: in this case, it would be possible to organize a single promotion with shared terms and conditions.
When a client contacts Promosfera regarding international promotions, the first question is:
Does the organizer have a branch office in the country where the promotion will take place?
What kind of prizes will be offered and what is the value?
What is the dynamic? Is it random or skill based?
Is it conditioned to purchases or is entry open to anyone?
And obviously, in which countries?
As we have seen, running a simultaneous promotion in several countries can be complicated. At Easypromos we offer tools to organize promotions that comply with different regulations but, there might be additional requirements involved. We recommend always contacting a specialized agency to make sure that launching a promotion is entirely legal.

Publication date: 2021-10-20