Posted in: Applications,Digital marketingLast update: 21/09/22
Announcing and communicating the winners of a giveaway might well be the single most important stage of your promotion. After all, what good does it make to go through all the process of carrying out a giveaway if by the end of it it isn't clear who's the winner?

More often than not, the bulk of the work of organizing a giveaway goes to the rest of the stages of the giveaway. As much as these stages are fundamental and have to be well thought and executed, it's important to keep in mind that without a proper selection of the winners and an effective communication of who they are, all the previous hard work you've put into your promotion could go to waste.
What to consider before the Giveaway Winner Announcement
Before we go into the specifics of how to select and announce the winners, let's take a minute to quickly go over the good practices of how to set up your social media giveaway.
Decide the social medium for your giveaway
Pick the king of giveaway that best suits your brand and marketing objectives. In principle, you can organize giveaways on pretty much any existing social network: Instagram, Facebook, Twitter, Linkedin, Twitch, etc. If more than one of them meets your needs, you may consider running parallel giveaways or running a multi-network giveaway. Bear in mind that if you run separate giveaways on different networks, you'll have to allocate a prize for each of the giveaways. If, on the other hand, you opt for a multi-network giveaway with one single prize, you will need a tool to gather all participations into a single batch from which to pick the winner.
Clearly specify the participation requirements
Whether you are basing your giveaway on comments, hashtags, likes, or filling out an entry form, it's fundamental to make it perfectly clear to participants. Draft clear instructions on how to participate and make them visible on the giveaway post.
Inform participants of the dates
Include the following information in the giveaway post: when the participation stage begins, when it closes, and when the winners will be announced. State the dates clearly and completely, day, month, year, and local time. In case your giveaway is taking place in more than one timezone, use the GMT format.
Terms and Conditions
This is something that might be easily overlooked but we can't overstate its importance. Include a link to the full terms and conditions of the giveaway and make sure that all relevant information is there. Easypromos offers terms and conditions templates that will make it much easier for you.
Winners, alternates, communication, and selection method
Make it clear for participants when and how winners and alternates will be chosen. Additionally, make it clear how winners will be informed. This might include posting the winners' names on the giveaway's post, and contacting them via DM, e-mail, or whatever channel you chose.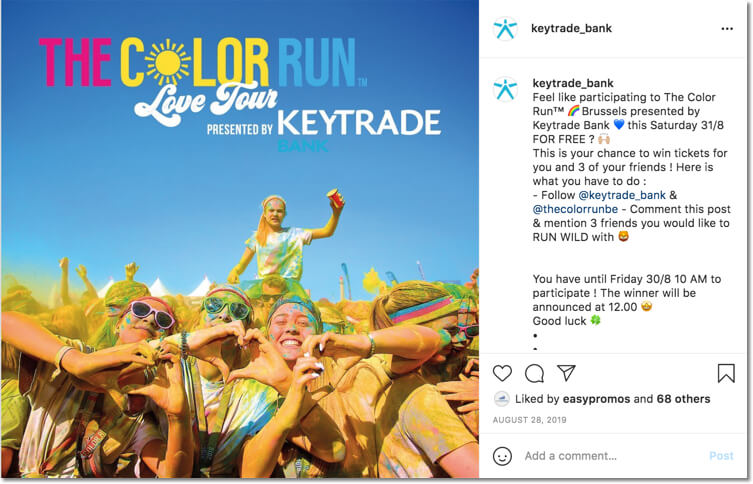 To learn more about how to customize the show mode announcement and how to save it as a template, take a look at this tutorial.
How to make the giveaway winner announcement
So, you have checked all the boxes, and your giveaway, is looking good and the time to announce the winners has come. If you have gone the smart way and are using Easypromos to do it, here are some tips and ideas on how to make the most of our tool and finish off your giveaway with a bang.
But first, let's take a look at some of the advantages that our Show Mode offers:
Full Video Customization: If you have a Basic Pro plan or higher, the show mode video can be fully customized with your colors or brand images to offer a truly personalized experience. 
Save the Show Mode as a template: Once you have customized the Show Mode video to your liking, you can save the settings as a template for your next giveaways.
Download a video of the Show Mode announcement or share it through its URL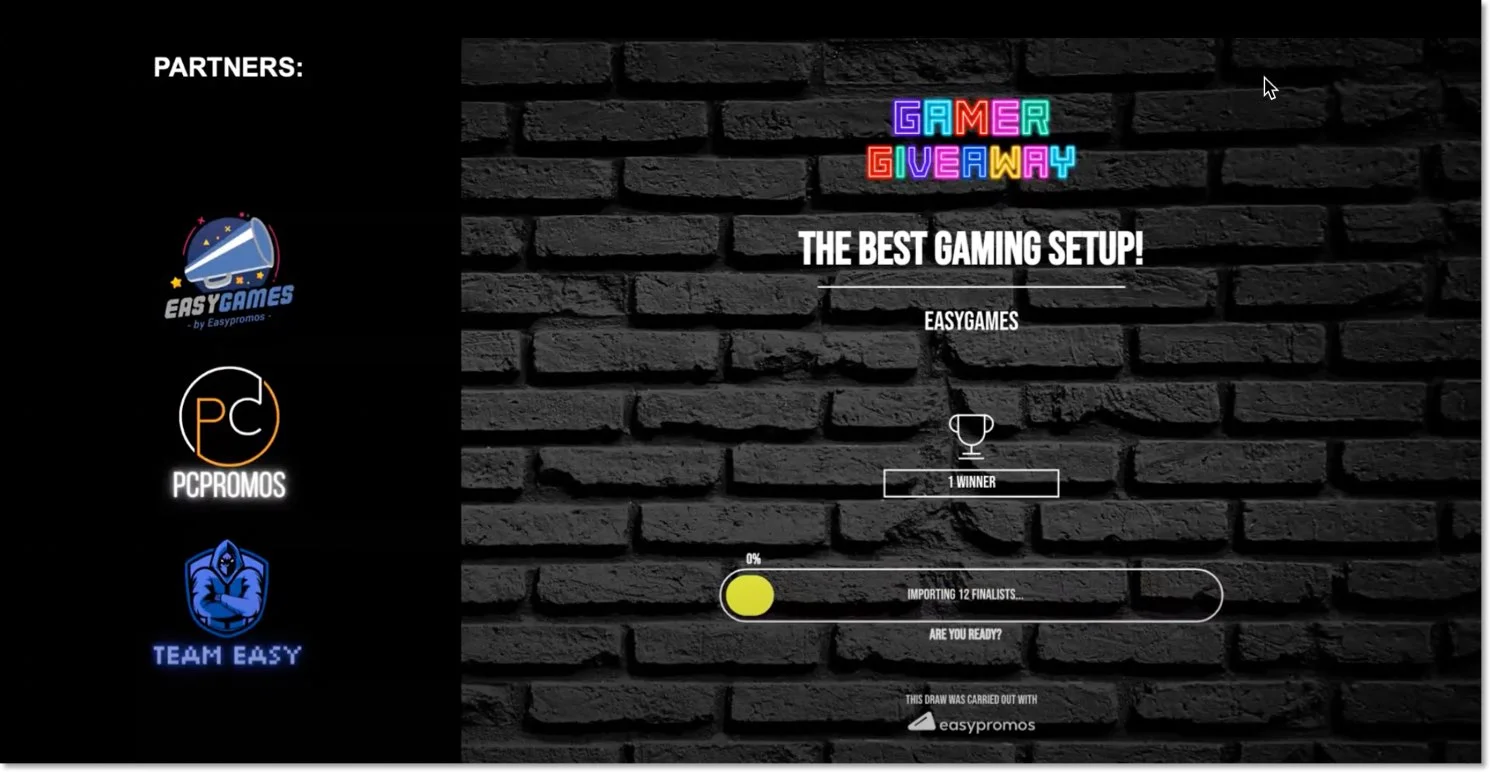 Announcing winners on social media giveaways
As we have previously mentioned, your giveaway post should include information on how the winners will be announced, for example through a direct message or by posting their names on the post. However, you can also use Show Mode to announce the winners to add a little more excitement. The animated presentation of the "show mode" prize draw is available for all Easypromos accounts through an URL that opens the animation in web format. All you have to do next is post the URL on your social media so users can click on it to find out who the winner is.
Giveaway winner announcement on Instagram Stories
The vertical format option of the animated Show Mode is perfect for announcing the winners on Instagram Stories. Make sure you inform your followers when the announcement will be posted so they can tune in and find out if they have won.
Share the Show Mode video on Social Media
As the Show Mode tool also allows you to download the announcement in video format, you can also share it on the rest of your social media like Facebook or Twitter, either by uploading the Show Mode video or by posting the URL to the web format video.
Entry Form Giveaway winner announcement
The Show Mode is also available for Entry Form giveaways and you can use it to share the results in a variety of ways. Which one is entirely up to you and the characteristics of your giveaway. Let's take a look at some possible scenarios:
Online Entry Form Giveaway
Let's say you have organized your giveaway to be shared and carried out fully online. A rule of thumb would be to use the same channels to announce the winners as the ones used by the users to register and participate. If you have embedded the giveaway on your website, publish the link to the URL on your website or upload the video directly. It is also a good idea to notify the winners via email to make sure they know they have won.
Entry form giveaway as part of your email marketing strategy
Using email marketing to share your giveaway is a good lead capturing strategy. Hence, if participants have registered for your promotion via a link in the email and have subscribed to your newsletter, include a link to the show mode in your next newsletter to announce the winners and encourage them to sign up for future promotions.
Announcing winners giveaways in live events
If your strategy is to draw foot traffic to your brick-and-mortar shops or if you are doing a giveaway as part of a live event, the show mode is the perfect icing on the cake. Use the screens in your shop or event to showcase the announcement to generate expectation and excitement, it works much better than just reading out a name. Not to mention that it will give your giveaway much more credibility. You can also print out a QR code that links to the Show Mode URL so participants can access it at any time.
We hope you find these tips and ideas helpful for the next time you have to announce the winners of your next giveaway. If you have any questions or need help, don't hesitate t contact our customer support team via live chat. We will be happy to help.
Publication date: 2022-05-02