The Agency

Playbrand is a marketing and strategic communications consultant specialized in the construction and positioning of brands in digital environments. It employs a multi-disciplined team of consultants specialized in interactivity, social networking and Web 2.0, and in the redesigning of processes based on the new digital paradigm.
The Client
Editorial Empúries was established in 1983 and has since then dedicated itself to publishing books by Catalan authors, as well as translations into Catalan by the most iconic foreign writers. It currently belongs to the company Grup62.
One of the books published by Grup 62 towards the end of 2012 was 'La vacant imprevista', a translation of J.K. Rowling's first novel for adults, The Casual Vacancy.
The Campaign
In order to promote the publication of this title in Catalan, various actions were carried out across the social networks. These included some contests generated using the Easypromos application. The case detailed below is the one which had the most success. A sweepstakes combined with recruiters was held in which contestants who had correctly answered a question about the book had the chance to win a trip to London.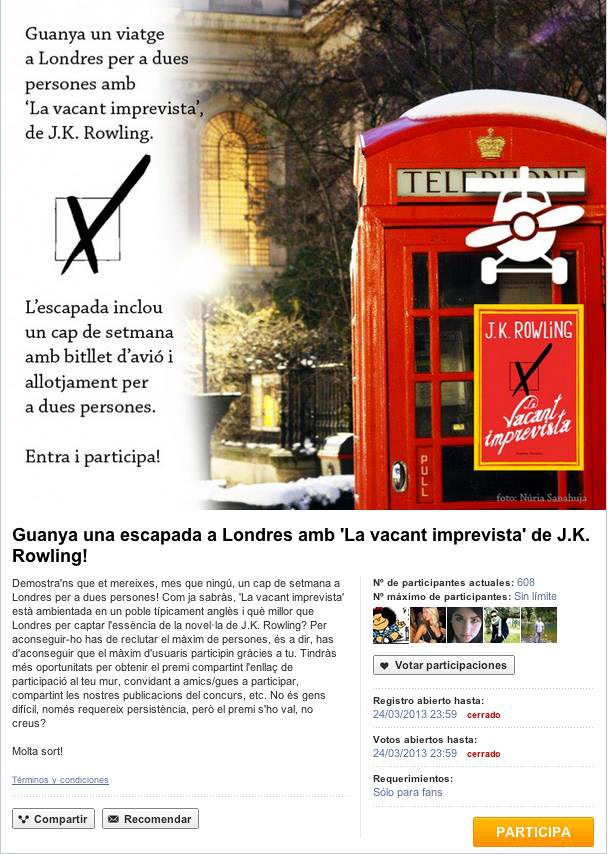 The Challenge
The main objective was to promote the publication of J.K. Rowling's book in Catalan among as many people as possible. A viral campaign was needed.
Other objectives included obtaining more Facebook fans and attracting their interest in the novel, thus increasing sales of The Casual Vacancy.
The Solution
Creating an Easypromos contest with the following requirements for participation:
Becoming a fan of the page
Answering this question: "What's the name of the fictional town where J.K. Rowling's novel is set?"
Rowling's novel takes place in a typical English town and offers a parody of British society, so the prize was, logically, a weekend in London for two.
To ensure that the contest reached a greater number of Facebook users, the Easypromos participants recruiting system was chosen. Users were made aware that the more participants they managed to recruit, the more opportunities they would have to win the fabulous prize. Each participant was offered the chance to share the application on their Timeline and send invitations to their social network contacts.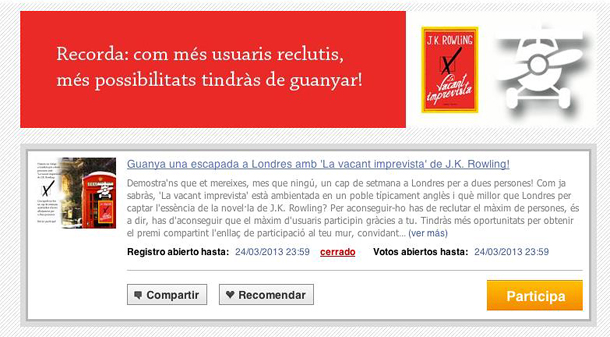 The Benefits
609 people took part in the contest
Editorial Empúries gained 479 new fans for their Facebook Page.
Do you need more resources, examples and ideas to configure your promotion? Read more success cases here!