The Agency

BeRepublic is an interactive advertising agency for new media that specializes in developing online marketing actions, social media, eBusiness solutions, mobile marketing, eCommerce, SEM and SEO, with a clear focus on the needs of its clients.
The Client
The campaign was developed for the chewing gum brand, CLIX, which belongs to the company Fleer Española. Fleer began making chewing gum in 1965 and their factory is in Olesa de Bonesvalls (Barcelona). They produce chewing gum, both with sugar and sugar free.
The Campaign
Titled "Show how much you know about CLIX and win a towel-backpack", the campaign objective was to raise awareness of the brand and its products among consumers during the summer period, thereby increasing their number of Facebook followers.
The promotion consisted of a quiz in which users had to answer questions about the brand and its products – all presented with a touch of humor.
A sweepstakes was held among all those who answered the 7 questions correctly, in which various objects, each personalized with the brand logo, were given as prizes. This was a branding exercise.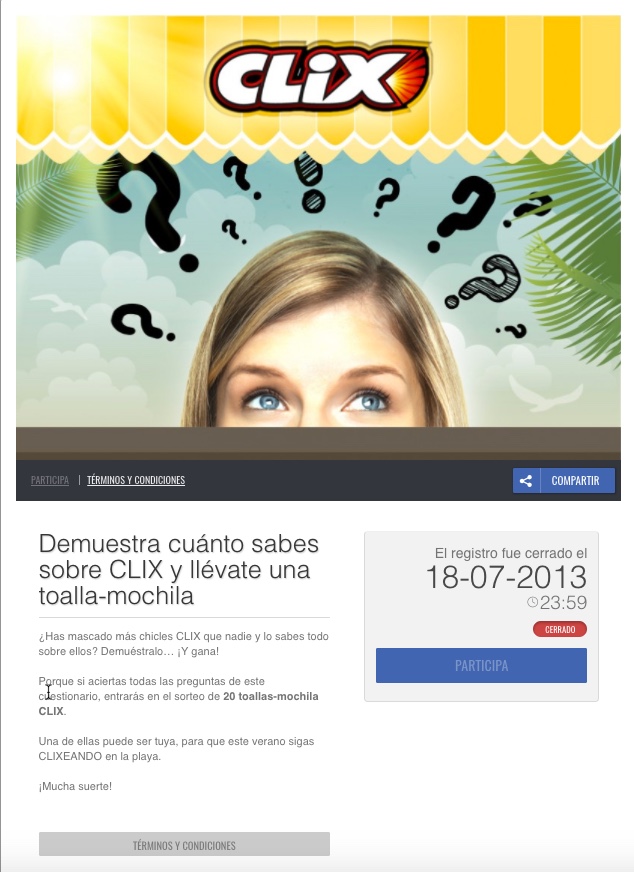 The Challenge
The contestants had to answer all the questions in the quiz correctly in order to enter into the sweepstakes. The challenge was to encourage the users to consult the brand's online channels (web and RRSS) in order to obtain the answers, thus increasing visibility and awareness of both brand and products among the target audience.
The Solution
Easypromos Premium version was used as the support from which the quiz was launched and to capture new users. Each user could only participate once. In order to enter the sweepstakes they had to answer all 7 questions correctly.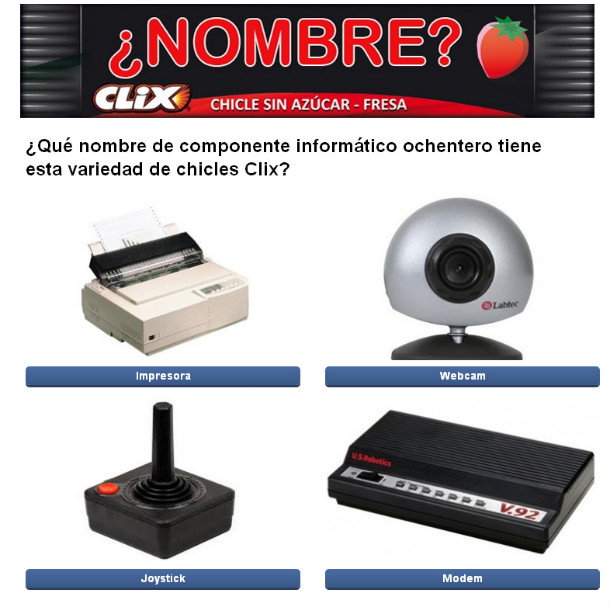 The Benefits
The campaign had over 2,000 unique participants, among whom more than 70% answered all the questions correctly and 17% only got one answer wrong. The contest exceeded all expectations, becoming the promotion with the highest level of participation that the brand had ever carried out online.
Thanks to this contest, CLIX gained over 1,000 new followers on Facebook, so not only did the campaign have an impact on their existing followers, but it also reached new consumers.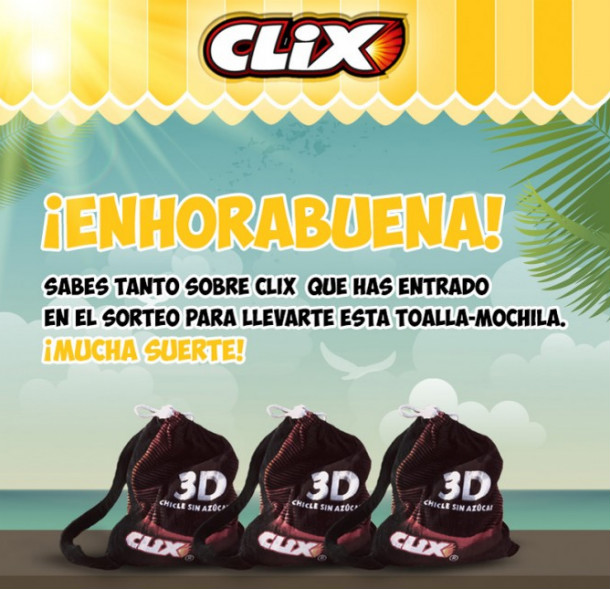 Do you need more resources, examples and ideas to configure your promotion? Read more success cases here!